Set Your Sights on Tech!
Set your sights on Tech! That's the message the Women's Recruiting Team at Georgia Tech is sending to young women across the country.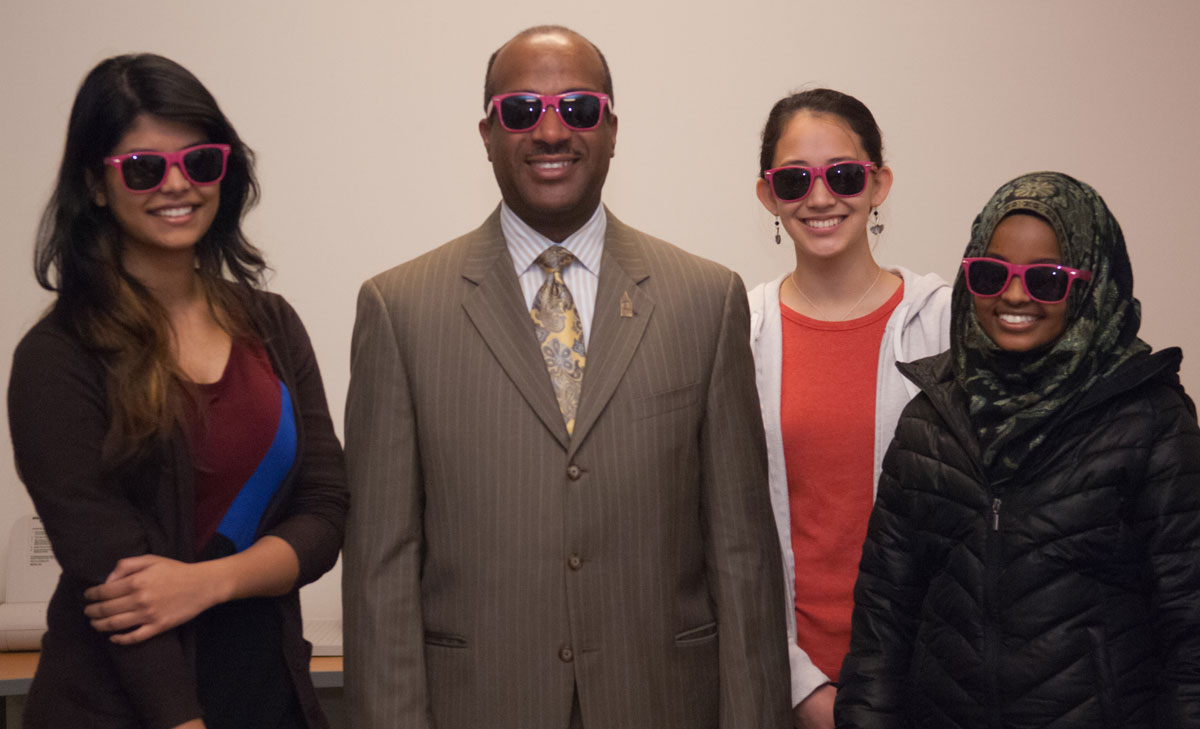 The welcoming words accompany specially designed pink sunglasses adorned with Tech's logo. About 1,000 girls in Georgia, Florida and North Carolina already admitted to Georgia Tech will receive a pair of shades.
The glasses, which are being mailed to coincide with Valentine's Day, are just one piece of a multi-pronged approach to make sure prospective female students know they are welcome on campus, said Jill Doty, an assistant director of undergraduate admission who advises the Women's Recruitment Team.
The team's calendar is packed throughout the year with football, basketball and volleyball games; online chat sessions; special lunches and coffees; overnight programs and other events designed to introduce girls to the campus and other women at Tech.
"This is about doing something special just for them," Doty said. "Women may be fewer in number, but their presence is strong on campus."
Women comprise 37 percent of this year freshman class.
That figure has steadily increased in recent years and is expected to only grow, said Rick Clark, director of undergraduate admission. Female applications for next fall are up 50 percent, Doty said.
A team of about 70 current female students works with Doty to coordinate events and help with recruiting. They want to dispel stereotypes associated with Tech and expose girls to the campus environment.
Hayley Laszlo, a business administration major, said the culture for women at Tech is unique and couldn't be replicated anywhere else.
"We encourage each other to do the best we can and to push ourselves further, past our comfort zones," Laszlo said.
Doty, Clark and others already hand-delivered some acceptance packets and pink sunglasses to admitted girls throughout the metro Atlanta area.
Gary May, dean of the College of Engineering, handed them out to three girls from Chamblee High. He wore a pair and posed for pictures with the trio.
May will host a roundtable discussion on women in engineering to confront the challenges and celebrate the successes. The Feb. 13 event, which will take place in Washington DC, is sponsored by Georgia Tech.
Nicole Garcia, a materials science and engineering major, is also a member of the Women's Recruiting Team. She remembers meeting Tech female students when she was still in high school. She keeps a list of the unique opportunities she's had at Tech – meeting an astronaut, working at a Fortune 50 company and being an extra in a movie.
"Anyone can read a textbook," Garcia said. "But a Georgia Tech education gives you so much more than that."
Writer: Laura Diamond
Photographers: Rob Felt, Fitrah Hamid