Six Weeks in the Forest
Things went back to normal during the fall semester for third-year chemical and biomolecular engineering Ph.D. candidate Lu Xu after a summer trip that was anything but typical. He and four other Georgia Tech graduate students spent six weeks in Alabama's Talladega National Forest, surrounded by thousands of acres of nature. Don't confuse it for a camping trip amongst friends.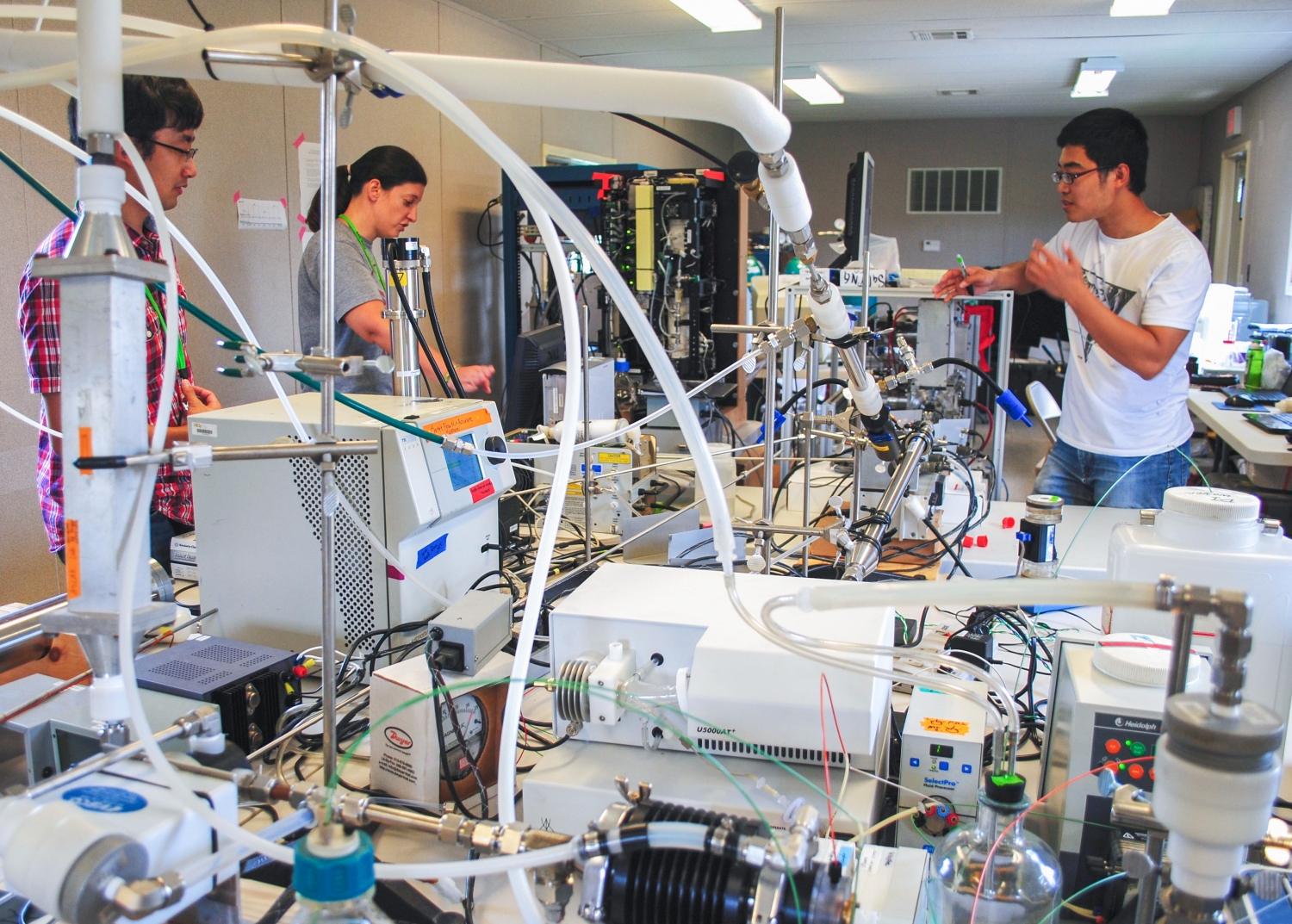 Inside the Georgia Tech trailer, graduate students and researchers measure the chemical composition and cloud forming potential of atmospheric particles.
Instead of pitching tents and relying on their wits and primitive tools, the students were holed up in temporary labs, working with sophisticated research instruments. They spent a month and a half participating in the largest U.S. atmospheric chemistry field project in decades – the Southeast Atmosphere Study (SAS). The initiative brought together dozens of national and international institutions. The research teams used instrumentation onboard aircraft and ground sites aimed at better understanding how chemicals emitted by human activities and plants interact with each other and affect air quality and climate in the southeastern United States.
"It was a very exciting experience," Xu said. "But it was not easy."
​
Long days were the norm for the researchers. Xu, Katerina Bougiatioti, Kate Cerully, Hongyu Guo and Laura King arrived at a community of trailers in the forest each morning around 7:30. That's where they oversaw an organized maze of tubes, filters and specialized instruments that constantly collected and analyzed molecules and particles from the atmosphere. Data were acquired and preliminary analyses were discussed daily between the team and with the other scientists on site. The days ended in the evening, when all five students went back to the same cabin to unwind and rest.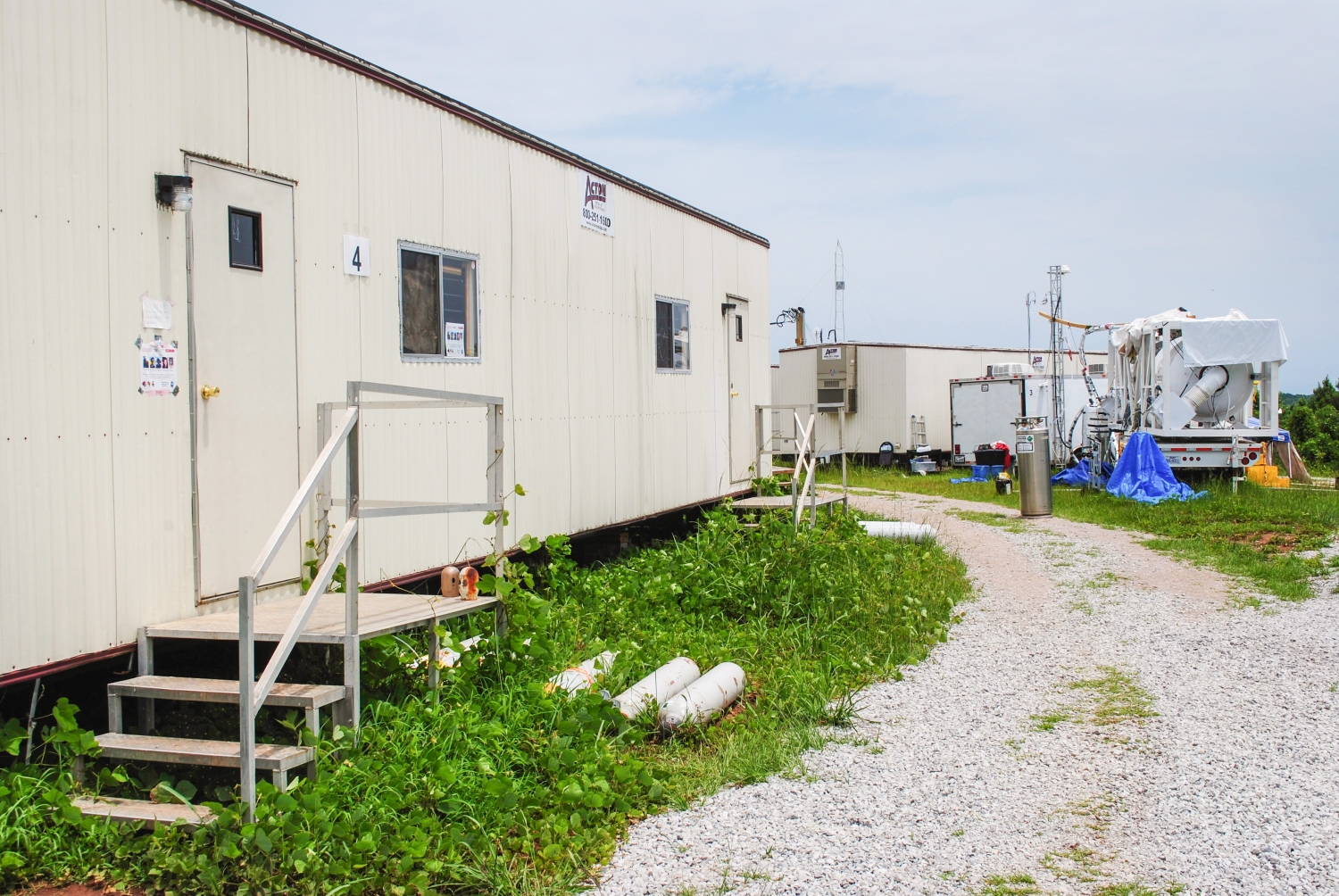 The group used a cloud condensation nuclei spectrometer, high-resolution aerosol mass spectrometer, particle-into-liquid-sampler and a custom-built thermal denuder to measure aerosol properties. The instruments provide unique insight on how organic emissions from trees affect the relationship between air chemistry and climate change. Integrated in a way never done before, the new measurement capability was made possible through combining the expertise of Georgia Tech faculty members Athanasios Nenes, Rodney Weber, Michael Bergin, Nga Lee Ng and their students. The team, representing Georgia Tech's Colleges of Engineering and Sciences, also used instruments onboard specialized airplanes that flew all over the southeastern United States, including over the research site, gathering samples at higher altitudes.
According to the National Science Foundation, one of the funding agencies that supported the SAS initiative, scientists have known for years that human-made pollutants can interact with plant-emitted organic compounds, turning them into airborne particles.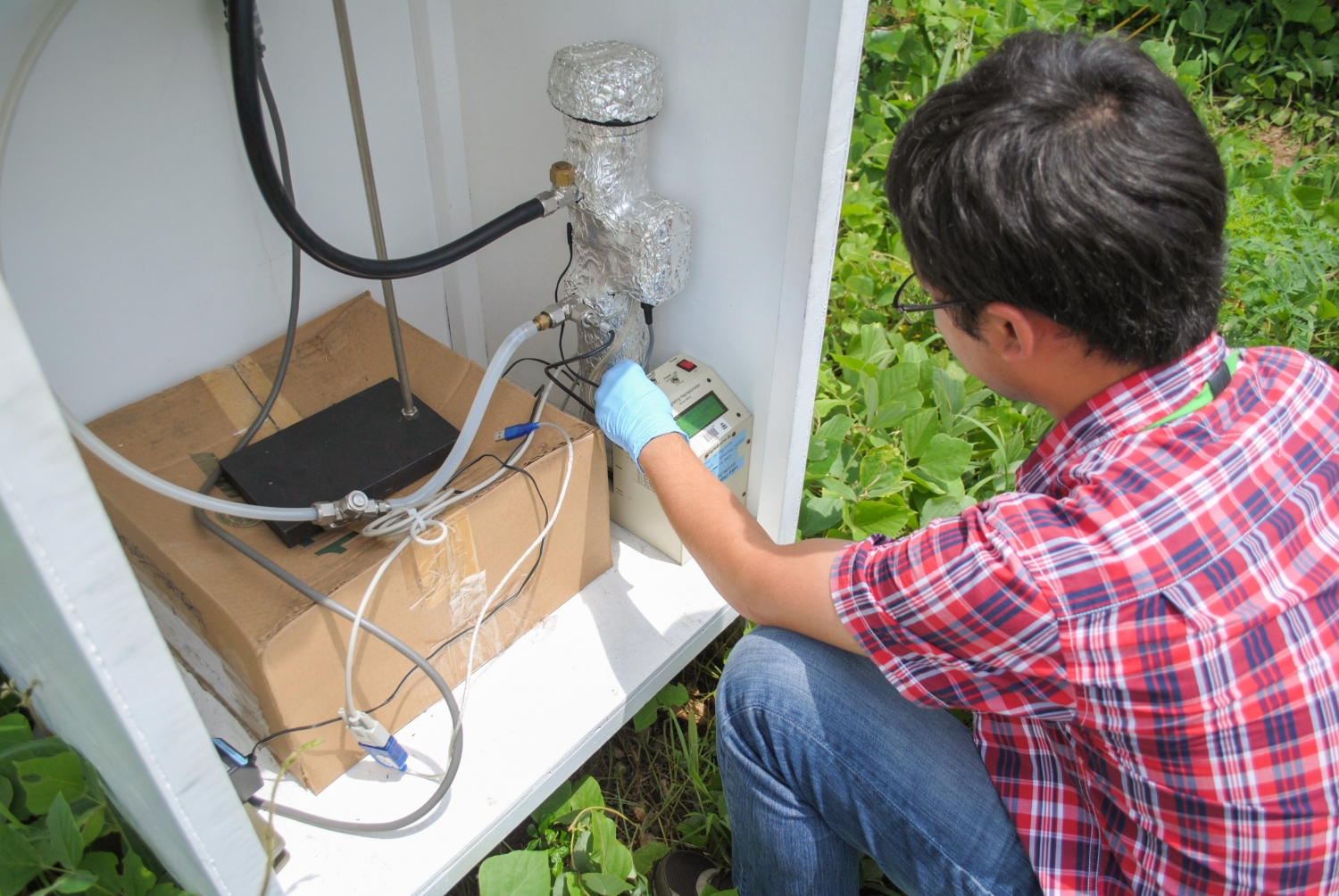 School of Earth and Atmospheric Sciences graduate student Hongyu Guo measures how atmospheric particles are interacting with sunlight.
Those particles may affect air quality, human health and climate. Because the southeastern United States is one of the few places on the planet with a cooling trend over the last century – an effect thought to be caused by aerosols – the SAS put down roots in rural Alabama.
"The fact that so many institutes and universities were gathered in one location, each using different techniques to study the same thing, is amazing," said Bougiatioti, a postdoctoral researcher in the School of Earth and Atmospheric Sciences (EAS).
"Biogenic and anthropogenic emissions on their own can make significant amounts of particles," said Nenes, Professor and Georgia Power Faculty Scholar in the Schools of Earth and Atmospheric Sciences (EAS) and Chemical and Biomolecular Engineering (ChBE). "What is really interesting is that upon mixing, anthropogenic and biogenic emissions make considerably more particles. We don't really know why. The data collected in Alabama is the most complete to date for helping us answer the question."
Weber (EAS) saw evidence for this possible effect a number of years ago while studying aerosols on the Georgia Tech campus. He has since been actively investigating what makes aerosol formation in this region unique.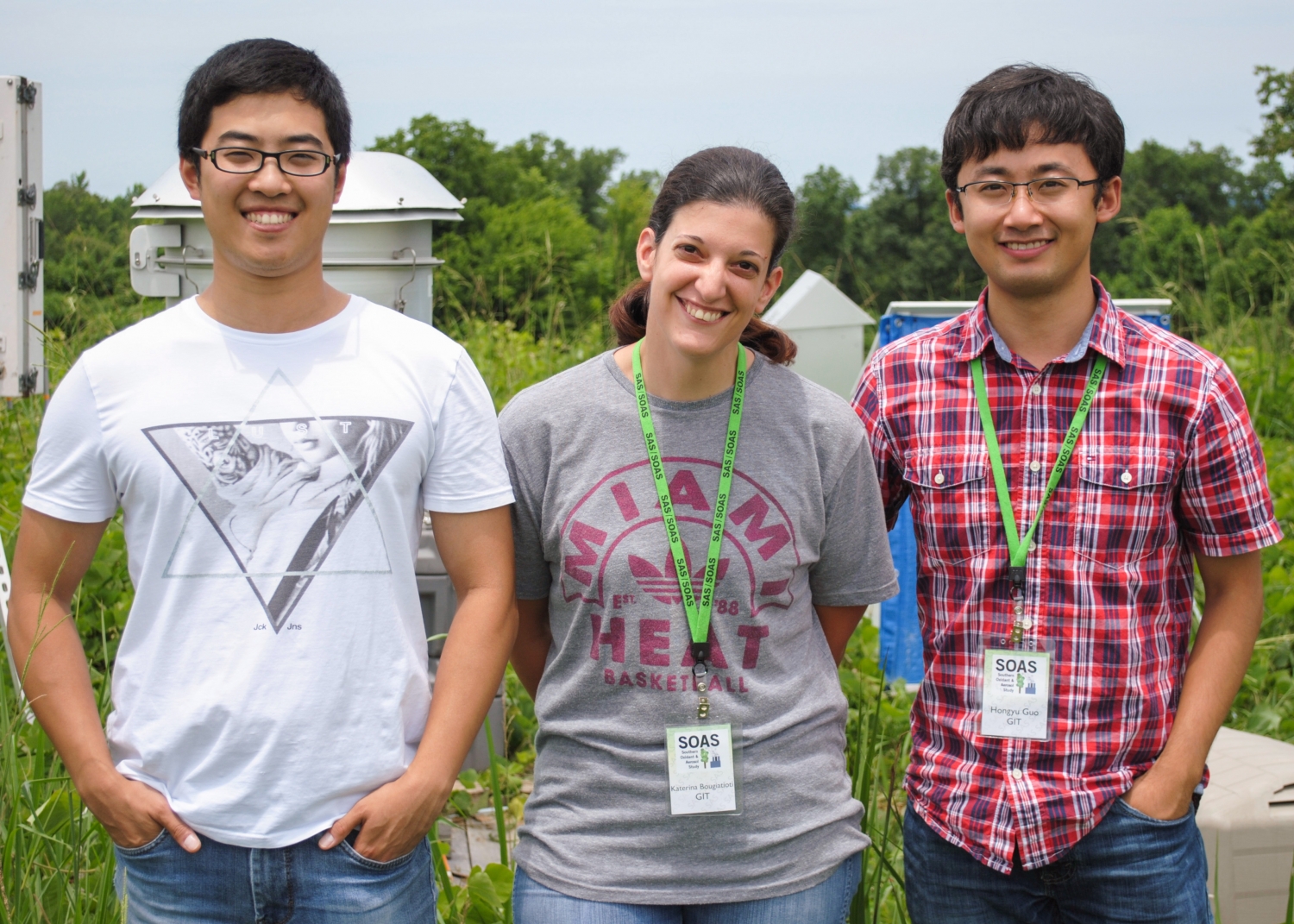 (L-R) Lu Xu, Katerina Bougiatioti and Hongyu Guo are three of the five Georgia Tech graduate students and researchers participating in the SAS field study. 
"This extensive new data set may help us finally put all the pieces together and lead to the development of a more comprehensive picture," Weber said.
"Many prior laboratory studies have shown that anthropogenic pollutants such as nitrogen oxides can have complex implications on biogenic particle formation," noted Ng, as assistant professor in ChBE and EAS. "The extensive data set from the SAS campaign can also provide important insights for constraining future laboratory experiment parameters to obtain a fundamental understanding of the underlying chemical mechanisms of this anthropogenic-biogenic interaction."
What they learned is still months or even years away from being known for certain. Now that the SAS is over and classes are back in session, the students and advisers begin the challenging and exciting process of making sense of all the data collected.
The SAS was supported by the National Science Foundation, National Oceanic and Atmospheric Administration, the Environmental Protection Agency and Electric Power Research Institute.
Writer and Photographer: Jason Maderer
Georgia Tech Participates in NSF Aerosol Study