Spring 2014 Commencement
2014 Spring Commencement Gallery

2014 Spring Commencement

2014 Spring Commencement

2014 Spring Commencement

2014 Spring Commencement

2014 Spring Commencement

2014 Spring Commencement

2014 Spring Commencement

2014 Spring Commencement

2014 Spring Commencement

2014 Spring Commencement

2014 Spring Commencement

2014 Spring Commencement

2014 Spring Commencement

2014 Spring Commencement

2014 Spring Commencement

2014 Spring Commencement

2014 Spring Commencement

2014 Spring Commencement

2014 Spring Commencement

2014 Spring Commencement

2014 Spring Commencement

2014 Spring Commencement

2014 Spring Commencement

2014 Spring Commencement

2014 Spring Commencement

2014 Spring Commencement

2014 Spring Commencement

2014 Spring Commencement

2014 Spring Commencement

2014 Spring Commencement

2014 Spring Commencement

2014 Spring Commencement

2014 Spring Commencement

2014 Spring Commencement

2014 Spring Commencement

2014 Spring Commencement

2014 Spring Commencement

2014 Spring Commencement

2014 Spring Commencement

2014 Spring Commencement

2014 Spring Commencement

2014 Spring Commencement

2014 Spring Commencement

2014 Spring Commencement

2014 Spring Commencement

2014 Spring Commencement

2014 Spring Commencement

2014 Spring Commencement

2014 Spring Commencement

2014 Spring Commencement

2014 Spring Commencement

2014 Spring Commencement

2014 Spring Commencement

2014 Spring Commencement

2014 Spring Commencement

2014 Spring Commencement

2014 Spring Commencement
Visionary leaders receive honorary doctorates at Tech's spring commencement ceremonies
Georgia Tech awarded honorary doctor of philosophy degrees to Muhtar Kent, chairman and CEO of The Coca-Cola Company, and Sue Van, president and CEO of The Wallace H. Coulter Foundation, at the Institute's spring commencement exercises.
Both Coca-Cola and the Coulter Foundation are longtime, vital partners with Georgia Tech in furthering the Institute's mission of improving human life on a global scale.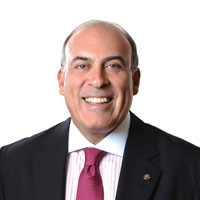 A corporate leader with a truly global perspective, Muhtar Kent joined Coca-Cola in Atlanta in 1978 and has held a variety of marketing and operations leadership roles throughout his career in Europe, Asia, and the Middle East. 
In 2005, Kent was appointed president of Coca-Cola International, with responsibility for overseeing all operations outside of North America. Between 2006 and 2009, he assumed the roles of president and chief operating officer, CEO, and chairman of the board.
Active in the global business community, Kent is chairman of the International Business Council of the World Economic Forum, co-chair of the Bipartisan Policy Center's CEO Council on Health and Innovation, a fellow of the Foreign Policy Association, a member of the Business Roundtable, immediate past co-chair of the Consumer Goods Forum, a past chairman of the U.S.-China Business Council, and chairman emeritus of the U.S. ASEAN (Association of Southeast Asian Nations) Business Council. Kent was appointed by President Barack Obama as a member of the Eminent Persons Group for ASEAN. He serves on the boards of 3M, Special Olympics International, Ronald McDonald House Charities, Catalyst, and Emory University.   
Kent holds a bachelor's degree in economics from the University of Hull in England and a master's degree in administrative sciences from Cass Business School, City University, London. 
Under Sue Van's leadership, the Coulter Foundation continues the late Wallace Coulter's practice of providing risk capital for innovative initiatives through its grant programs. As trustee, Van has fiduciary responsibility for the vision, strategic plan, and operations of the Foundation. She is integrally involved in every aspect of its programs, from creation to implementation and establishing the metrics for success. 
The Wallace H. Coulter Foundation continues Coulter's lifelong work through its three main initiatives:
The Translational Research Partnership Program promotes academic translational research based in biomedical engineering.
The Biomedical Societies Program supports leading medical societies to bring the latest education and standards of care to resource-limited countries.
The Asian American Pacific Islander Program focuses on building a consortium among organizations to establish one cohesive community to promote collaboration and partnership in civic engagement and health disparities.  
Prior to establishing the Foundation, Van was executive vice president, chief financial officer, and treasurer of Coulter Corporation, a privately held, leading global diagnostics company. In this capacity, she was responsible for the company's long-term strategy as well as its financial and legal affairs.
Van holds a bachelor's degree in political science from American University and a master's degree in international affairs from George Washington University.
Writer: Dan Treadaway
Photographers: Rob Felt, Fitrah Hamid