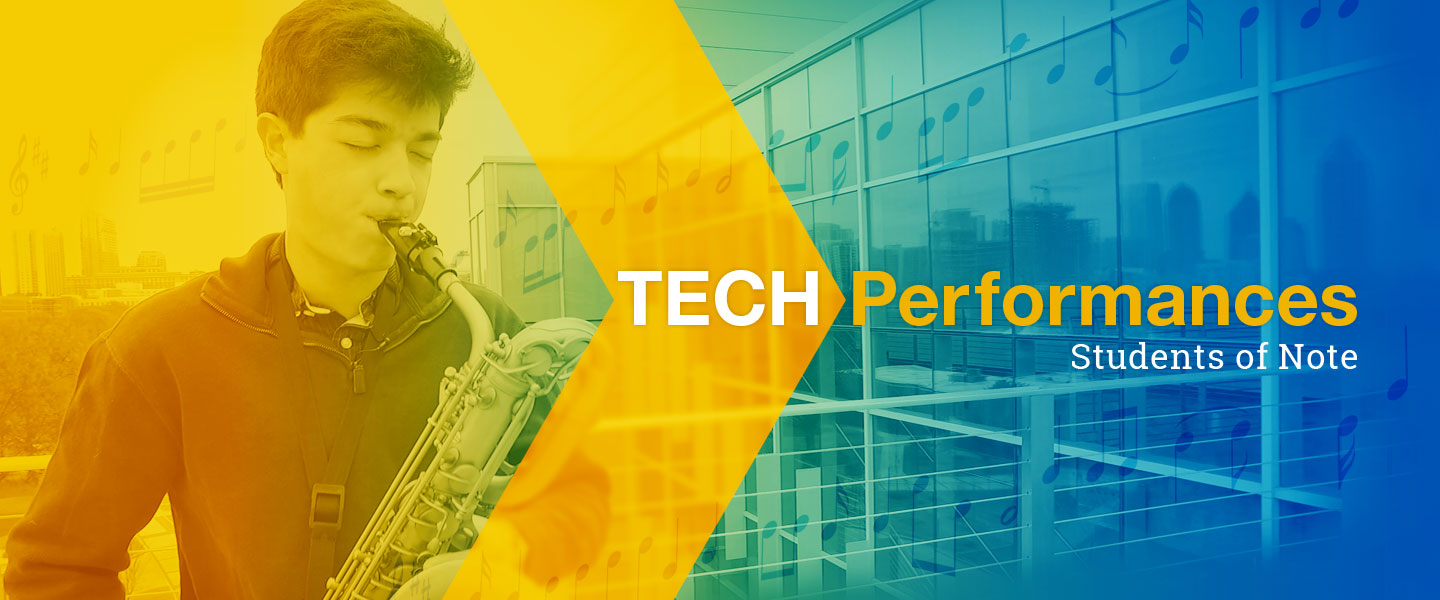 Tech Performances: Students of Note
By Brigitte Espinet March 6, 2017

Creating the Next at Georgia Tech takes shape in vastly different ways — the most unexpected ways, sometimes.
So, yes, there are, for instance, biomedical engineering majors working to create the next medical device and up-and-coming computer scientists creating the next big app. But, there are also Yellow Jackets making music — either through a formal academic track within the School of Music or purely as a pastime.
Ever since 1906 when the Men's Glee Club was formed, music has played an important role in Tech's culture and academics — from the composition of the world-famous Ramblin' Wreck fight song to the establishment of the Georgia Tech Center for Music Technology, an international center for creative and technological research in music.
 
Meet some of the students taking advantage of the opportunity to make and study music at one of the nation's leading technological universities that is beautifully integrating the arts into technology.


Dawn Andrews
Aerospace Engineering
"I'm very thankful that Georgia Tech has opportunities for me to continue pursuing music. It's my emotional release. It's a little hard to connect aerospace engineering with piano playing. There aren't really pianos in space. But, I like to think that it's two different sides of a coin. Aerospace engineering is where I can be practical and detail-oriented, and music is my creative outlet. But the two balance each other pretty well."



Avrosh Kumar
Music Technology
"It's such a multidisciplinary field. We are not just doing music or software. We are actually doing everything that's based around something that will improve the music. It's all about looking for that next sound. That's what drives me."



Skylar Lee
Electrical Engineering (minoring in Music Technology)
"The thing that brings me joy when I play violin is always seeing the reactions of people who listen to me. It's not something that I can just bring out in a piece of code."



Nicholas Doss
Chemical and Biomolecular Engineering
"The music program at Georgia Tech has helped me tremendously with adjusting to life at Tech and allowing me an escape from the formulas and the rigorous coursework here. My mind can just be set free; I don't have to think about any formulas, or any loss of thermodynamics, or physics, or anything. I just play."



Mike Winters
Music Technology
"One day it clicked how I could use music to convey information about physics and about science. It's really inspired me to go further in music and do things with it that I would have never thought possible."



Adam Fultz
Chemical Engineering
"I really enjoy being able to interpret what people have written and turn that into something that sounds really cool."