Three Brothers. Three Valedictorians. Three Yellow Jackets.
Georgia Tech has seen its fair share of siblings studying on campus together. But not many of those siblings can say they were born 30 seconds apart. Not many are triplets, either.
For Adam, Rommi, and Zane Kashlan, the journey to Georgia Tech has been a climb to the top. "We've always had some healthy competition between us," explains Zane, the oldest. From a young age, they competed in triathlons, club swimming, and water polo. They also competed in the classroom.
"We might have had different classes, but we would still want to see who would get the highest grade," Zane says.
As the brothers navigated Advanced Placement courses like calculus and biology, and then college-level courses in high school, that competitive spirit helped propel them toward the top of the class. "We all took different classes, but they were all weighted the same way," Adam, the youngest triplet, explains.
They didn't find out until the very end of their high school careers that they had reached the summit — and they had done it together. All three graduated with a 4.72 GPA. Those higher-level courses rocketed them above a standard 4.0 scale. Adam, Rommi, and Zane were all named valedictorians of their graduating class at West Forsyth High School, just north of Atlanta. Each earned a Zell Miller Scholarship to cover tuition at Georgia Tech.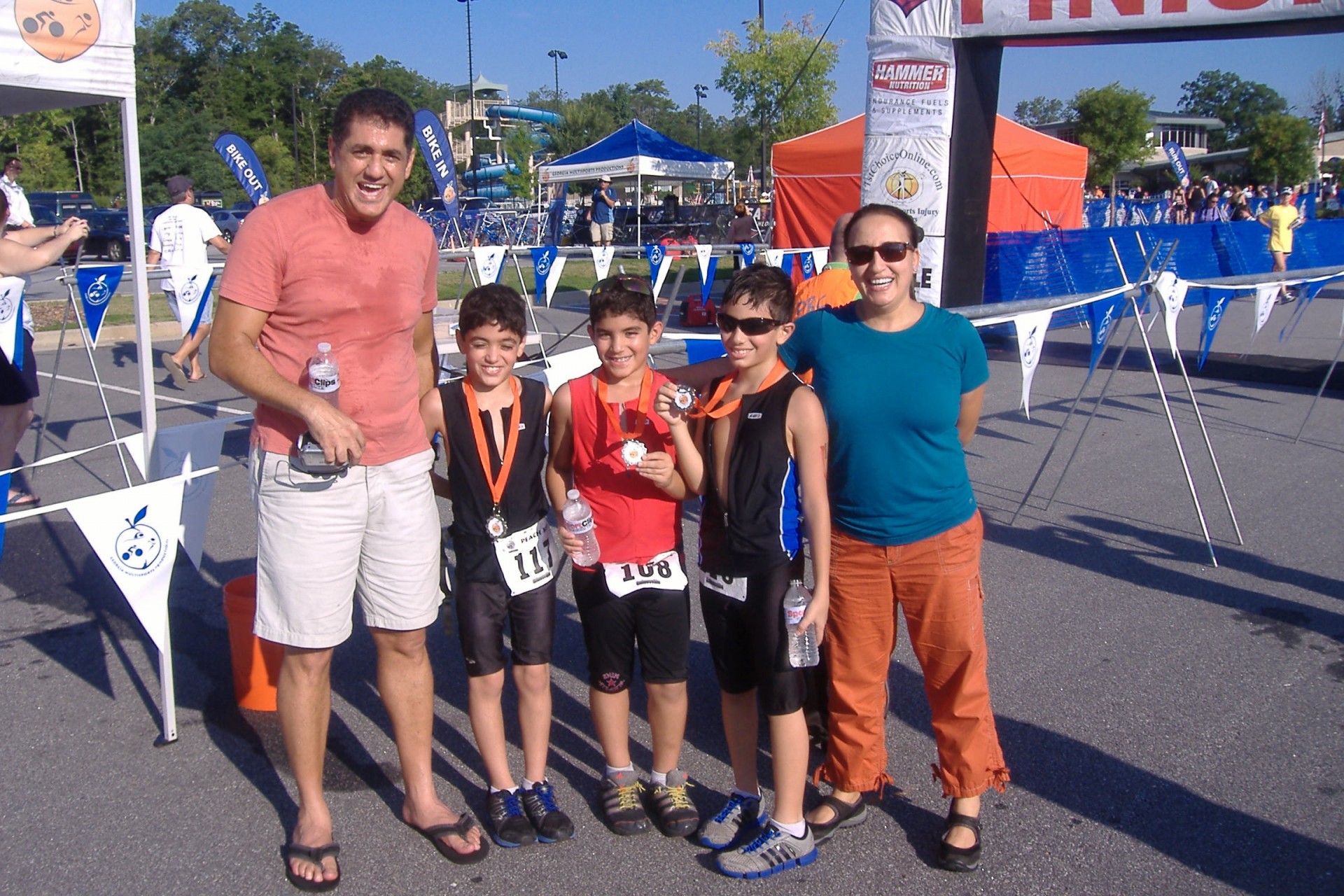 The Kashlan family after competing in a triathlon.
Along with that healthy competition came a sense of brotherly support. "I wasn't afraid to sit down and help Rommi or Zane with AP chemistry. I knew that's something that I was strong in," Adam explains.
Not only did the Kashlan brothers graduate at the top of their class, they did it early, at the age of 16.
The Kashlans are now in their first full year at Georgia Tech. Rommi is studying biomedical engineering. Adam and Zane are neuroscience majors. Sophomores by credit hour, they all agree that their age has never limited their aspirations.
"It's doesn't make a difference," Rommi says. "Tech has had such a welcoming environment."
Adam adds, "Age is just a number. It isn't something that defines you."
The young men put their heads together after receiving offers from dozens of schools. They say they learned compromise at a young age. But the decision to come to Tech was something they easily agreed on.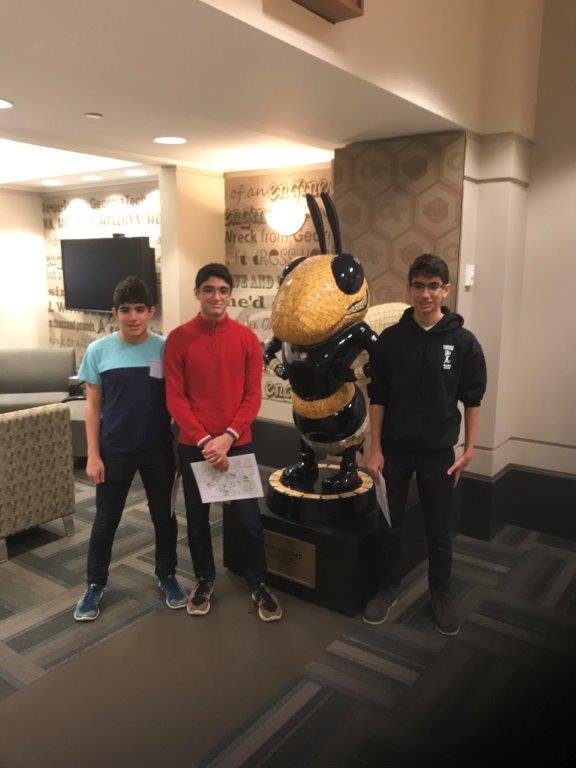 Kashlan brothers visiting Georgia Tech campus.
"Tech has always been a home for us," Zane says. Their parents used to drive them to campus for swim meets and for events like the Capstone Senior Design Expo to show them what the Institute had to offer. The brothers are grateful for their parents' help in preparing for their journey to Tech. Their father, Dean, helped advise them in the college application process. A Georgia Tech engineering alumnus himself, Dean was thrilled when the boys decided to stay in the Atlanta area to continue their education.
"He was so excited when we accepted. He was literally dancing," Zane recalls.
The brothers started their collegiate career early, enrolling in the iGniTe summer program and beginning core coursework in June. "It was great to acclimate to the Georgia Tech environment and get used to what the classes would be like," Adam says. "It's how we learned the best places to eat on campus, where the libraries are, and the quickest ways to class. It's made the fall semester much easier."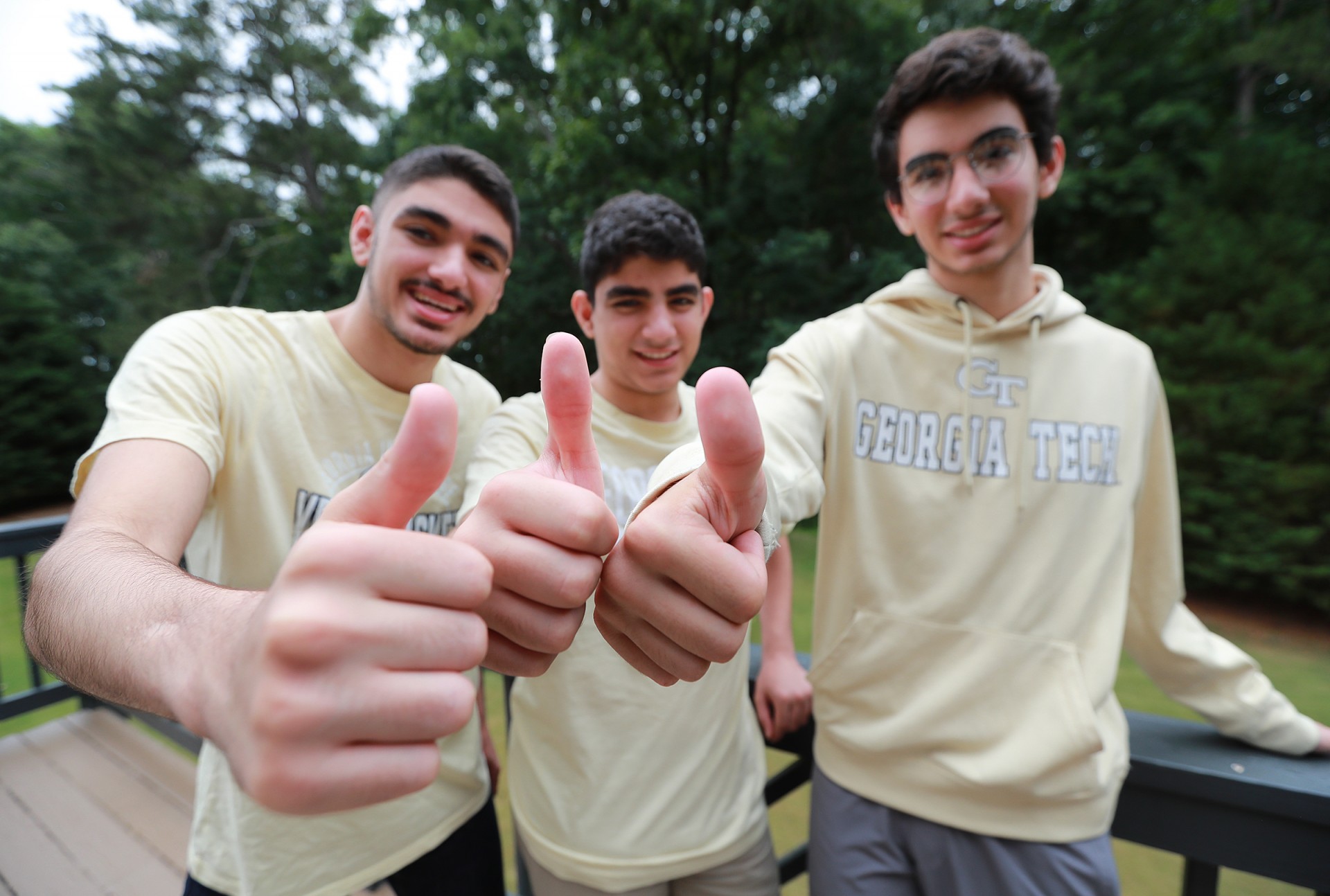 (Left to Right) Zane, Adam & Rommi Kashlan.
The boys are also taking advantage of the college experience, from movie nights in their residence hall and exploring Midtown to getting jobs on campus. "I'm going to be working at the Campus Recreation Center this fall," Rommi says.
They have also been actively involved in research, something they say has prepared them for the academic rigors of Georgia Tech. Rommi is working in biomedical lab 3D-printing living tissue to help provide treatments for cardiac birth defects. Adam has been working with Georgia Tech's research partners at Emory on non-invasive treatments for epilepsy. And Zane is studying a genetic disorder linked to autism called Fragile X that causes delayed language development.
"Through research we can change the world," Zane says.
"It's also good exposure to what kind of work we may do in the future after graduating," Rommi adds.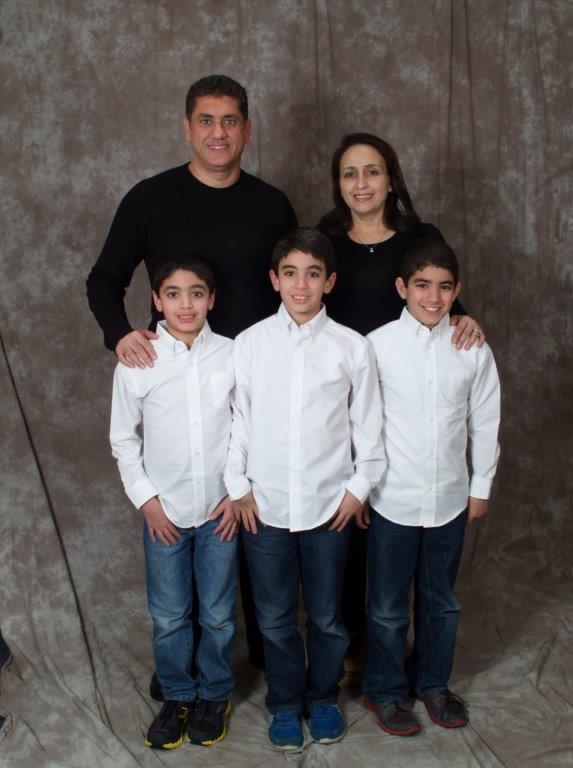 Kashlan family photo.
The brothers continue to support each other along this new leg of their journey. "Adam has always been a natural leader. I'm sure he'll find something here to be captain or president of," Rommi says, patting his brother on the back.
"Zane knew he wanted to focus on neuroscience from day one. I'm excited that he'll be able to branch out and possibly take some engineering courses as well," Adam says.
"In high school Rommi always gravitated towards robotics. I'm sure he'll build things at Georgia Tech – and I also think he'll build a really great group of friends," Zane says.
The future seems limitless for these triplets. They are prepared and eager to make the most of every possibility at Georgia Tech.
"The opportunity is here to succeed, we just have to take it," Zane says.