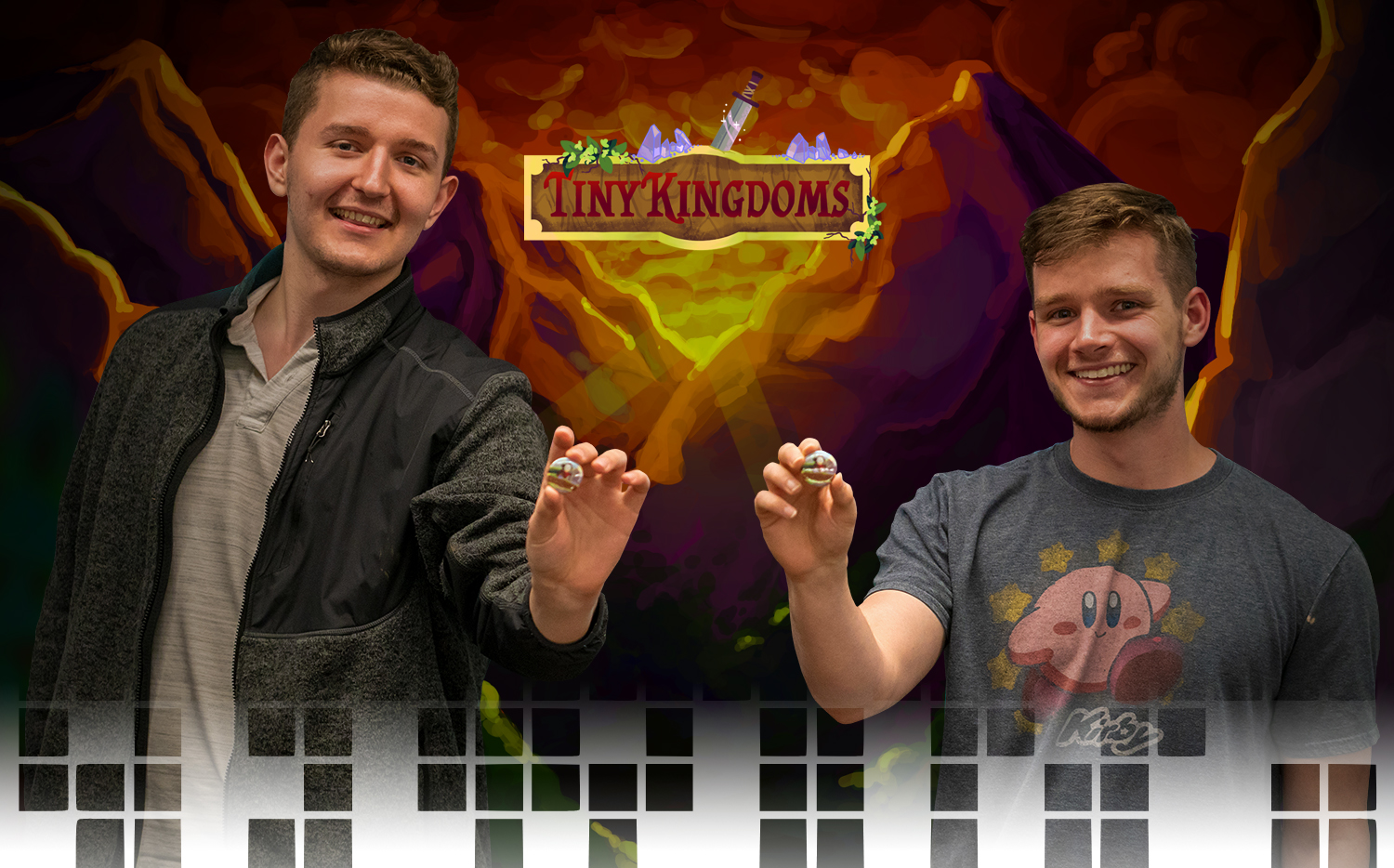 France is a country that nurtures revolutionary ideas: the Braille system, the pasteurization process, the ideals of modern democracy.
So, when computer science major Kyle Suter was struck with an inventive spark to rethink the current state of real-time strategy (RTS) video games, it was fitting that he was studying abroad at Georgia Tech-Lorraine in Metz, France.
"I had a lot of downtime [in France]," Suter remembers. "I started prototyping my first RTS. It was bland and generic. The artwork was horrible."
Enter computational media student and Suter's friend, David Neil Daniell. A competent programmer, Suter pitched his idea to Daniell in the hopes of building a partnership. Suter's plan was to streamline RTS games, which can traditionally take hours to complete, to a target time of 20-30 minutes. Kyle wanted to make his game highly customizable, but quick to play, to give it a "Mario Kart type feel that is easy to learn, hard to master."
"I thought it was really cool," recalls Daniell. "I thought it was really innovative and taking RTS in a new direction."
Suter and Daniell began work on the project in the fall of 2018. The game is designed for online play and is a multiplayer experience. Suter focused on the code while Daniell started building out the visual elements. The pair used the computational media showcase in the Clough Commons Undergraduate Learning Center to debut the game to fellow Yellow Jackets.
They arrived 45 minutes late with a rented server and fully functional game. The response invigorated them.
"Everyone thought the game was really cool," Suter says. "People were asking about a name and we hadn't even thought that yet. It was a big confidence booster to see people appreciate our prototype."
Daniell's interactions with players that day solidified the belief that the team was on to something. "The defining moment was when people started giving us advice about what we should put in the game and asking when the game was coming out," he says. "We thought, 'Hey, let's make this a game, try and sell it and make something out of it.'" 
After the showcase, Suter and Daniell recognized that they needed more elements to make the game successful. A music score needed to be created, more pixel artists brought in to keep up with the growing game functions, and a vector concept artist to build campaigns, lore, and splash screens.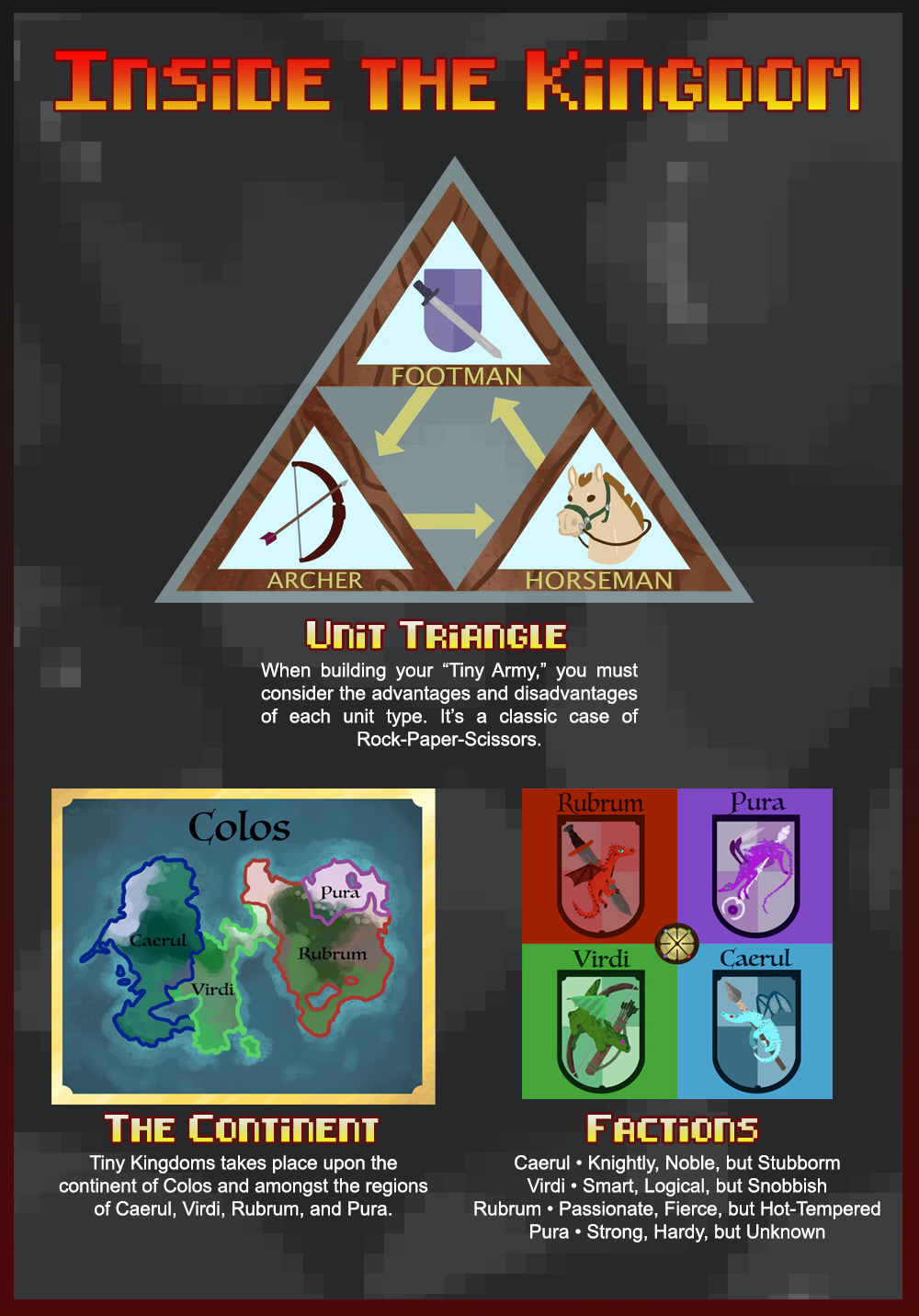 Look to your left, look to your right. Suter and Daniell knew just where to find the talent to help form MultiPath LLLP... Georgia Tech.
"There are seven of us and six of us are Georgia Tech students with one Georgia State student," notes Suter. "Going to Georgia Tech, you know everyone has a foundation, a skill level and integrity. We also understand that Georgia Tech is kind of hard. If people are slammed because of assignments and can't finish something on time, everyone on the team understands and we can work with that."
The group convenes on campus once or twice a month to share progress and discuss the direction of the game that became known as Tiny Kingdoms - ranging from the introduction of new characters and lore to merchandising opportunities and their Kickstarter campaign.
For Suter and Daniell, creating a video game is a pursuit of passion and a doorway to future opportunities. The two are using a critical eye to put a new spin on the popular genre of real-time strategy.
"RTS games now are overly complicated and associated with the hardcore gaming community," Suter says. "Growing up, I used to play games and think, 'This is a cool game, but this game could be better.' That's why I'm even in computer science. One day I stopped just playing the games and I wanted to know how they worked."
 Daniell believes that online RTS games are attractive to people because they tap into a marginally hidden cerebral pleasure. "I think people like knowing that they have a strategic advantage over somebody else, but the other person doesn't know," he says. "That core feeling is appealing and fun to have."
The process of building a kingdom takes time, and Tiny Kingdoms is still under construction. The team launched a Kickstarter in late March and plan to release a fully functional game on Steam, a computer platform that provides an opportunity for independent video games to be purchased by the gaming community, in December.
 

Composed by Georgia Tech student Patrick Moore, the above music is the introduction track for Tiny Kingdoms.

Tiny Kingdoms' Kickstarter campaign is primarily designated to purchase dedicated servers for the game at the time of launch. Servers will maximize game play and allow for additional content to be added after it is available to the public.
Suter, Daniell and the MultiPath team plan to use the revenue from Tiny Kingdoms to supply baseline funds for designing and prototyping gaming hardware for the competitive world of e-sports.
Tiny Kingdoms is a condensed, unique version of the traditional real-time strategy game, but Suter and Daniell have big aspirations for where MultiPath can grow in the future. Still, this pair hasn't forgotten the essence of the video game experience and the effect of hundreds of hours of programming, designing, creating, and campaigning can have on just one person.
"It's so cool to sit down and code for several hours and put a game together, and you just give it to somebody," says Suter. "And you just let them play it and they're having a fun time. If you can bring that to thousands of people simultaneously, that's pretty cool."
"The fact that we could create a game and anybody in the world can get on and play - not a lot of people can do that," says Daniell.
Right now, most of the game testing is still done by Suter and Daniell, along with other members of the team. So, in the battle of the creators of Tiny Kingdoms, who wins?
"Whenever Kyle and I play, I like to absolutely destroy him," laughs Daniell. "Nobody has really beaten me so far."
In September, Suter and Daniell hope to have many challengers.
***