Turning Research into Companies
Ayanna Howard has a heart for children with disabilities. So when a National Science Foundation grant led to development of an input device that would allow kids with disabilities to operate tablet computers, she wanted to commercialize the technology to get it into the hands of the children.
But after talking with more than a hundred potential users of the device, she learned the real need was for a generic interface system able to connect a wide range of input devices – big button switches, joysticks, sip-and-puff straws and others – to the tablet computers. And it turned out that the market was much larger than Howard imagined, extending to adults with disabilities and potentially even persons with Alzheimer's.
A professor in the Georgia Tech School of Electrical and Computer Engineering, Howard has now launched a company to commercialize the device, and a prototype has already been developed. The company, run by a former graduate student, won't be the next IBM, but it will help disabled children do what all kids want to do: play video games and interact with computers.
Assistance with refining the device came through the Innovation Corps (I-Corps™), a National Science Foundation program that helps NSF-funded researchers learn about starting up a company – and by talking to potential customers, determine whether there's really a market for what they've developed.
"Without I-Corps, I wouldn't have thought to pursue this," said Howard, who holds the title of Motorola Foundation Professor. "They showed us how to talk about the technology in terms that the general public could understand. And I-Corps made us take a step back and ask if what we had developed was really of value to potential customers."

An electronic system developed by an I-Corps team allows children with disabilities to use interface devices like this turtle to operate a tablet computer.
I-Corps Innovation
A dozen Georgia Tech teams – each composed of a faculty member, entrepreneurial lead, and industry mentor – have now gone through the six-week I-Corps program. About a third of them have, like Howard, revised their plans and decided to move forward with forming a company and creating a product based on the results of NSF-supported research. The program is part of a national effort to turn research discoveries into new companies and new products, supporting economic development and building understanding of what it means to be an entrepreneur.
"Through the Innovation Corps, NSF seeks to accelerate the development of new technologies, products, and processes that arise from fundamental research," said Rathindra (Babu) DasGupta, the NSF's program director for I-Corps. "The goals of I-Corps are to spur translation of fundamental research, to encourage collaboration between academia and industry, and to train students to understand innovation and entrepreneurship."
The program provides mentoring and funding designed to move the results of NSF-supported research through the early stages of company formation. "NSF investments strategically strengthen the nation's innovation ecosystem by addressing the challenges inherent in the early stages of the innovation process," DasGupta added.
I-Corps at Georgia Tech
Because of its long experience with forming companies from university research, Georgia Tech was selected in July 2012 to be among the first institutions to become "nodes" teaching the I-Corps curriculum. The program is basically a boot camp that shows what it's like to form a startup company – and ensures that there's a real market for a fledgling company's proposed product. About 25 teams from universities around the country participate each time the program is taught at one of the I-Corps nodes, including Georgia Tech.
"The I-Corps process is very similar to the scientific method, which scientists and engineers are familiar with," explained Keith McGreggor, who directs the I-Corps program at Georgia Tech. "We use this process to turn fiction – what you might think is true – into fact by doing experiments and testing hypotheses in the real world with customers instead of in the laboratory."
I-Corps puts faculty members and graduate students through a pressure cooker environment that simulates a real startup. Not everyone is cut out for entrepreneurship, McGreggor noted. Faculty members often have a skill set – collaborating with other researchers, teaching students, and publishing papers – that's different from the skills needed to produce products and services that non-researchers are willing to buy.
The centerpiece of the program is "customer discovery" in which the teams must talk with at least 100 potential customers about their proposed product. This interaction with the real world almost inevitably leads to what I-Corps calls "the pivot," which occurs when the teams, based on the customer feedback, realize they've been developing a product for which there isn't a market. In many cases, that realization leads to new, and successful, directions for the technology.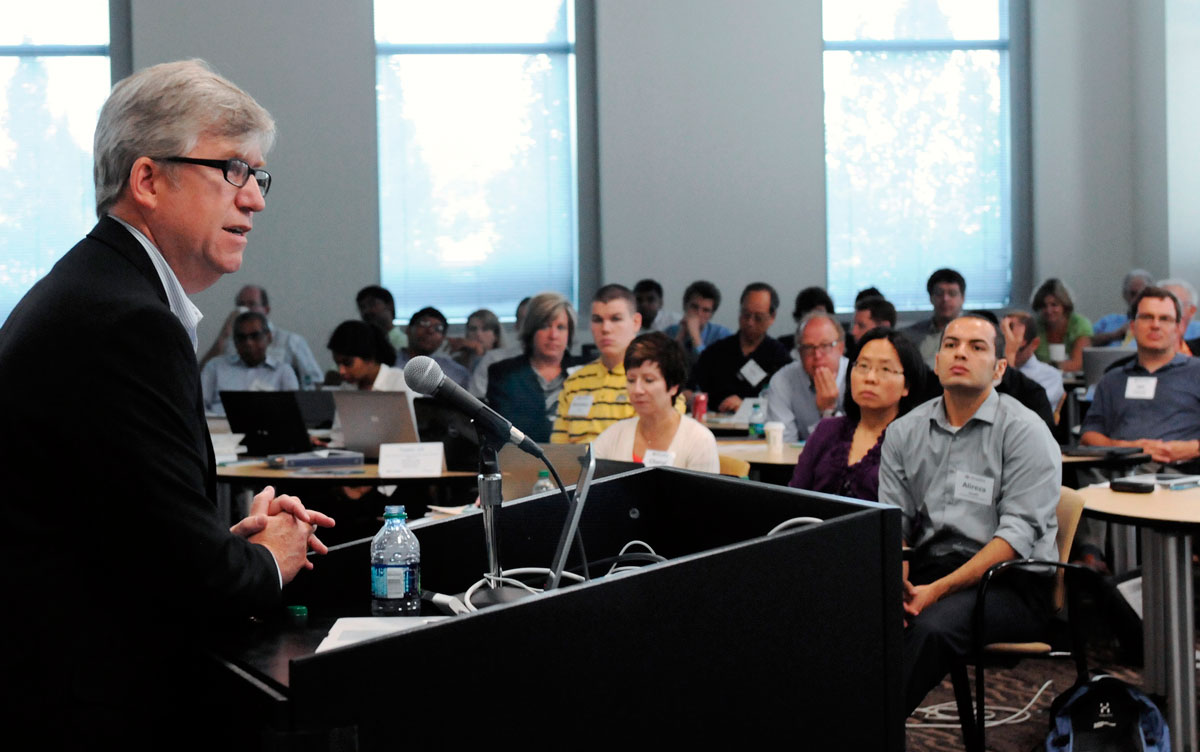 Keith McGreggor is shown addressing a group of I-Corps teams at the start of a program held at Georgia Tech in 2012. McGreggor directs the I-Corps program at Georgia Tech.
"Everyone starts out with one idea about what they want to do, and they almost always change to something else that they are also capable of doing," McGreggor said. "It can be difficult for people to switch gears, but what's beautiful about this program is that they do switch."
At the end of the six weeks, the teams decide whether or not to go forward with their idea. For Georgia Tech teams, fledgling companies that emerge from the process can join VentureLab, a program that helps researchers form companies, create prototypes, bring in experienced management, and obtain early-stage funding. VentureLab companies can go on to be members of the Advanced Technology Development Center (ATDC), Georgia Tech's accelerator program that helps entrepreneurs launch and build successful companies.
Marketing MOFs
Krista Walton and David Sholl used the I-Corps process to confirm the market need for metal-organic frameworks (MOFs), a new materials technology with a broad range of potential market applications. With NSF support, the researchers had developed a way to scale up the synthesis of MOFs, a class of nanomaterials, but weren't sure what direction to take next – a classic problem for technologies that have many possible applications.
"By talking with more than 100 potential customers, we went through numerous refinements in our understanding of how we can create a sustainable business with our technology," said Sholl, who is now chair of Georgia Tech's School of Chemical and Biomolecular Engineering. "We saw over and over again that the issues that obsess researchers doing fundamental research and the issues that matter to customers are often not the same."
Talking with the customers required a large investment of time, but Sholl – who is also a Georgia Research Alliance Eminent Scholar in Energy Sustainability – was pleased with the level of interest in the technology. The potential customers he and Walton interviewed also identified applications they had never considered.
As a result of the process, Sholl and Walton – an associate professor in the School of Chemical and Biomolecular Engineering – formed Inmondo Tech, and are working with several initial customers to develop a first product.
Smartphone Questions
For Gregory Abowd, the benefits of I-Corps were different. A serial entrepreneur with a record of launching successful companies, Abowd felt he knew how to commercialize technology he developed that helps connect young patients with their doctors through handheld devices. But he wanted to apply I-Corps' systematic process to starting up a new company.
"I've had some successful and unsuccessful startup efforts, but I really didn't understand what were the important elements of the successful ones," said Abowd, who is a Regents' Professor and Distinguished Professor in Georgia Tech's School of Interactive Computing. "I was intrigued with the idea of being a little more structured going into this one, because I had learned there are an infinite number of ways to make mistakes in the business world."
The company, established as L.S.Q. LLC in Georgia, will provide a way to ask questions of smartphone users at times when they aren't actively using their handheld devices. Building on the original purpose of the technology, which was to boost interaction with children who have chronic diseases, Abowd sees many possible applications, including surveys designed for the small screens of mobile devices.
"We'll ask questions at a point when people are interacting with their phones, but at a point of pause," he explained. Abowd has assembled a team and is talking with potential customers. He expects to form a joint venture with a market research firm in early 2014 and develop a product quickly.
Advice to Others
What advice do the teams give faculty members and graduate students thinking about the I-Corps opportunity?
"There is a growing network to help with commercialization, both at Georgia Tech and around the country," noted Abowd. "A successful startup requires a lot of effort, and it's more than a full-time job. I-Corps gives you a six-week exposure to help you determine whether this is right for you."
I-Corps requires a large investment of time, something that can be difficult if faculty members aren't prepared for it, Howard noted. To be successful, at least one member of the team has to be available nearly full-time during the six-week program.
"I would recommend this 100 percent, and have already talked with other faculty members about I-Corps," she said. "This process is very different from what we normally do in research and teaching, and it has changed the way I think about what I do. It was a great experience for us."
I-Corps teams follow a rigorous application process designed to determine whether team members are truly committed to launching and building a startup, McGreggor noted. That can be daunting.
"I-Corps simulates a startup, so it puts a lot of heat on the team to see if they are going to stay together when they get into a company," he said. "We challenge the researchers in ways that they have probably not been challenged since they were graduate students. It is exquisitely uncomfortable for some people."
Broader Impacts
I-Corps has also changed the way that Georgia Tech approaches startup companies. Customer discovery and early pivoting to serve the marketplace, for instance, are now at the core of Georgia Tech's VentureLab and Flashpoint programs, which serve all researchers regardless of their funding sources, McGreggor said.
"Faculty members are forced to look into the face of a world that may not want what they have produced," McGreggor said. "What we've learned is that when entrepreneurs get it wrong, it's usually because they are building something that nobody really wants. This has really changed our approach to doing things in VentureLab."
Rathindra (Babu) DasGupta is program director for the National Science Foundation's Innovation Corps (I-Corps).
The I-Corps approach has also changed the role of graduate students in the startup process and opened it more to junior faculty members. In the past, VentureLab had assumed that only tenured faculty would have the time and flexibility to commit to a startup. Now, he says, the program makes no distinction among researchers, and realizes that the graduate students involved in developing a technology may be the right team members to go forward as part of the new company. That makes creating a startup a real alternative to traditional post-graduation opportunities.
Beyond the new enterprises begun, the I-Corps program is having a larger impact on the universities whose faculty members have participated.
"Additional successes of the program have been far-reaching," said the NSF's DasGupta. "Faculty are taking what they learned in I-Corps about innovation and technology transfer back to their universities and training their students differently. The participation of students and postdoctoral fellows in I-Corps has also had favorable impacts: they report that their employability is enhanced by their participating in I-Corps."
The program was launched in 2011, and continues to evolve as NSF tracks the results. In addition to its teams of researchers, entrepreneurs, and mentors, I-Corps is also focusing on nodes and sites to bring the concepts to a larger group of NSF researchers.
"We continue to explore ways to expand the program's impact nationally, and at the state and local levels," DasGupta added.
Writer: John Toon
Videographer: Maxwell Guberman