Urban Atlanta, BeltLine serves as architecture laboratory
By Laura Diamond november 22, 2017
The assignment took the architecture students out of the classroom and put them in the heart of the one of Atlanta's most transformative projects. Their challenge was to design a new bridge for the Atlanta BeltLine directly above North Avenue.

Students had three weeks to complete the project. There were some practical rules: movement across the pathway could not be interrupted; North Avenue must be linked to the BeltLine in a thoughtful way; and the design had to capture rainwater.


Beyond solving a practical problem, faculty in the School of Architecture wanted students to complete the exercise with a grander understand of design.

"World cities are defined by remarkable public spaces and that was one of the ambitions of this project," said Michael Gamble, an associate professor and director of the school's Master of Architecture program. "By rethinking something as simple as a bridge over North Avenue we sought to charge the space with something that would not only be inspirational, but would be spectacular. "

While the students' designs varied widely, each was dramatic and provided opportunities for people to gather and reflect. The designs, which were on display earlier in the semester at the Clough Undergraduate Learning Commons, played with light and shadows, allowing the mood to change depending on the time of the day and the position of the sun.
Rachel Cloyd, a first-year master's students, designed a two-story bridge. The double-decker design offered a fast-moving path up above while the bottom level provided pedestrians with a public park space. As an added bonus, the upper level provided shade for those walking down below.

This was the first project Cloyd completed in the master's program.

"We're not just talking about theory," she said. "We really get to see how these theories are put into practice and whether they are working or not in the context of Atlanta, which is great."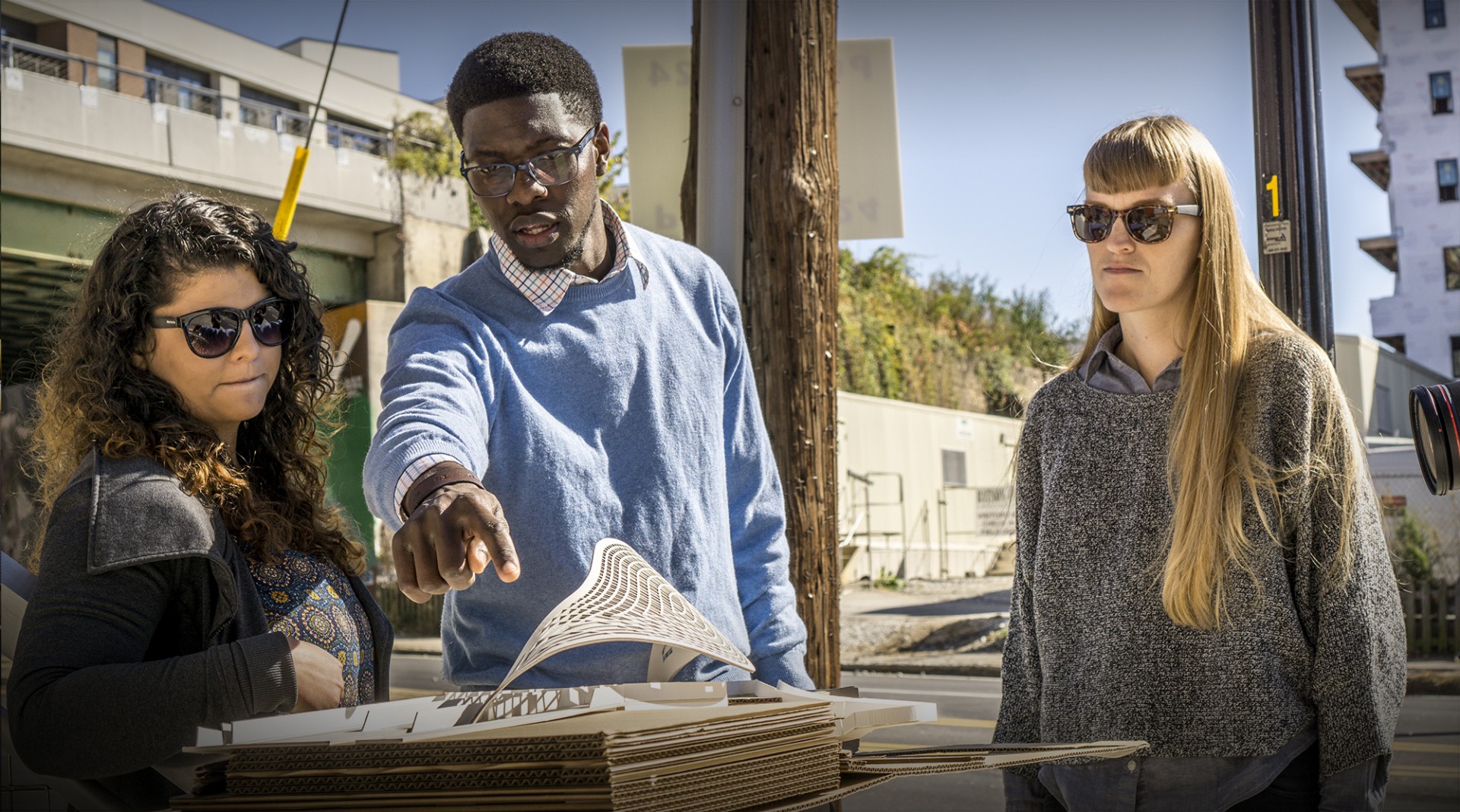 Solangely Rivera Hernandez (left), Joel Jassu (middle) and Rachel Cloyd (right) look at Hernandez's model by North Avenue. Photo by Yash Tulsiani.

There has long been a connection between urban design taught at Georgia Tech and the real-world implementation around the city of Atlanta. After all it was a 1999 joint master's thesis in architecture and city planning from Georgia Tech graduate student Ryan Gravel that served as the basis for the BeltLine.

The project is a 22-mile transit greenway that transforms old railroad corridors throughout the central city with light-rail transit, parks and multi-use trails.

The city is serving as a "wonderful laboratory for the School of Architecture," Gamble said.

"Atlanta is becoming what it is today because of the School of Architecture's interest in treating the city as a laboratory."