Urban Farming
Published Oc. 10, 2013
If urban farming is the cure for food deserts, Georgia Tech students and faculty are leading the way to an oasis, using the Institute's place in the city to spark the growth of small-scale urban agriculture.
With projects encompassing urban farms, gardening, hive research, and digital developments, a growing population of students, faculty, and staff are finding ways to study and source food for campus and the community.
Buzzing on the Rooftop
If the wind is just right and you listen carefully on Tech Walk, you might hear a faint buzzing sound. It's not coming from Tech's beloved mascot: It's the sound of thousands of bees in their hives atop the Clough Undergraduate Learning Commons.
​
​
The Urban Honey Bee Project, developed by Jennifer Leavey, the integrated science curriculum coordinator for the College of Sciences, gives students from all majors an opportunity to conduct their own hive-related research with scientists and students from other disciplines.
The project garnered so much attention on campus that Leavey began offering introductory beekeeping classes, enabling anyone to join in the activities of the rooftop apiary. 
Leavey is interested in looking at community and rooftop gardens to compare the productivity of gardens that have bees with ones that don't. The group is currently in discussions with a variety of community groups to set that up.
Bringing the Farm to the City
Steven Van Ginkel, a research engineer in the School of Civil and Environmental Engineering, has worked with people across the city and country to bring local, sustainable food sources to these so-called food deserts — areas with limited access to fresh, affordable groceries. Van Ginkel, who grew up on a farm in Iowa and holds degrees in fisheries and environmental engineering, leads a net zero water, energy and nutrient, high-intensity aquaponics initiative.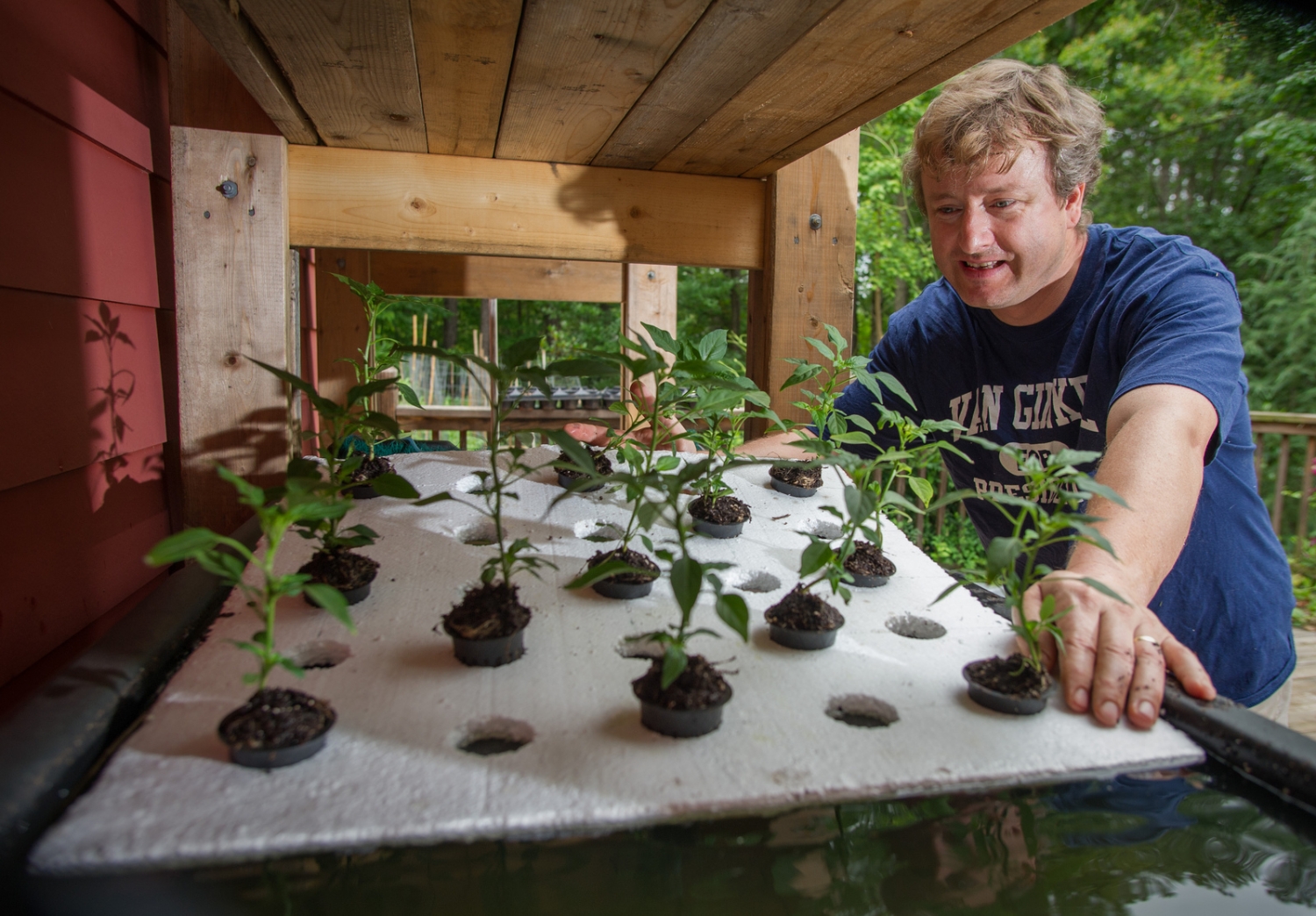 Steven Van Ginkel tends to an aquaponics system he constructed. He envisions having one on campus.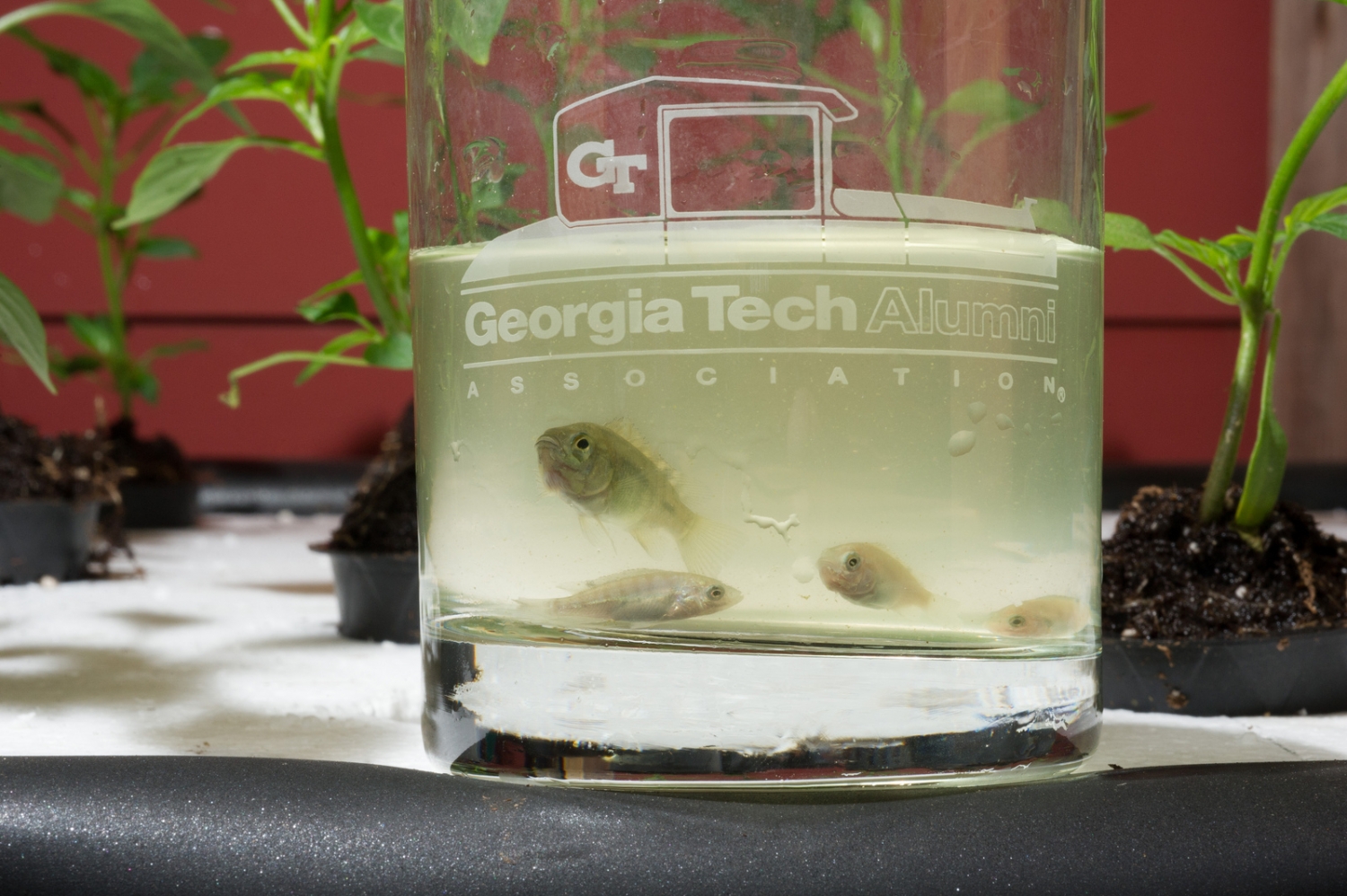 Aquaponics, which allows people to grow both vegetables and fish with the same resources, is ideal for small urban spaces. Systems can be built at any scale and size, with multiple ways to nourish produce and fish. Van Ginkel is working to install a system at Underground Atlanta that could help revive the waning tourist area. Representatives from Hartsfield-Jackson Atlanta International Airport have voiced interest in constructing an aeroponics system, similar to hydroponics, for the airport's atrium. He has even consulted with students on building a system at their fraternity house.
Van Ginkel envisions an aquaponics system on campus that would use food waste from dining halls along with rainwater and solar energy to grow fresh food to then be consumed in dining halls once again. 
Another urban farming initiative is led by the student group ArkFab. Just a few blocks south of campus in the Old Fourth Ward neighborhood, ArkFab has constructed a vertical farm at the Wheat Street Garden next to the Martin Luther King Jr. Historic Site. The partnership with Truly Living Well, an Atlanta nonprofit that supports sustainable urban agriculture, brings a local, sustainable food source to the downtown area.
The idea, which emerged from the 2011 Ideas to SERVE competition, won a Ford Motor Company Grant in 2012 and has drawn together groups such as Engineers Without Borders, Engineers for a Sustainable World, and Alpha Phi Omega service fraternity. It's lead by Jeanette Yen, a professor and director of the Center for Biologically-Inspired Design in the School of Biology, and recently earned two additional grants totaling $100,000.
Sowing the Seeds of Technology
Like many people at Georgia Tech, Carl DiSalvo is looking at how technology can enhance our everyday lives. The assistant professor in Tech's digital media graduate program studies the products and process of interaction design, and his research centers on a basic goal: providing technology tools to help people who want to pursue community-based agriculture projects.
"Many people participate in community gardens," he said. "Others have sizable gardens, and they might sell their produce at a local farmer's market or even give their food away. That's really important to food banks and churches and other services that provide fresh fruits and vegetables to people in need."
Carl DiSalvo helped develop a web-based application for the manager of the English Avenue Urban Farm to better track the farm's yield over time.
One of DiSalvo's high-tech strategies is to use Hackathons, now a common occurrence in the computing community, to create the interactive solutions he is after. He's developing a series of hackathons in Atlanta that will focus on designing better software to support local food systems, partnering with local organizations such as the Atlanta Local Food Initiative, City of Atlanta Mayor's Office, and Atlanta Community Food Bank.
"Our hope is that on a pragmatic level something will get built — an idea will be generated, and over the course of the next year an actual tool gets produced that will be used by the citizens of greater Atlanta," he said.
He puts his research into practice with one of his classes at a space just west of campus called the Friends of English Avenue Farm. The two-person endeavor is run on a vacant lot, and every other week fruits and vegetables are given away to the people in the neighborhood. His class studies the operation to determine what kinds of tools could help manage the farm, attract donors and volunteers, and communicate its mission to a wider audience. So far, they've created a web-based application that converts raw data into various graphic formats, enabling the farm's manager to track yield over time.
"Using this tool she can show in a compelling visual format how much produce and the variety of produce that the farm has contributed to the community," DiSalvo said. "It's a very special place, and a wonderful service."
Tending Campus Soil
Back on campus, on the southeast side of the Instructional Center lawn, six garden beds are home to fresh produce maintained by Students Organizing for Sustainability (SOS). 
"People are confused about where their food comes from, but it's something you should know," said Stephanie Kehl, vice president of SOS. The garden is a cooperative effort of students, faculty, and staff with all levels of gardening experience. Those who take up tools in the garden may harvest whatever produce they want, and SOS donates leftovers to local soup kitchens.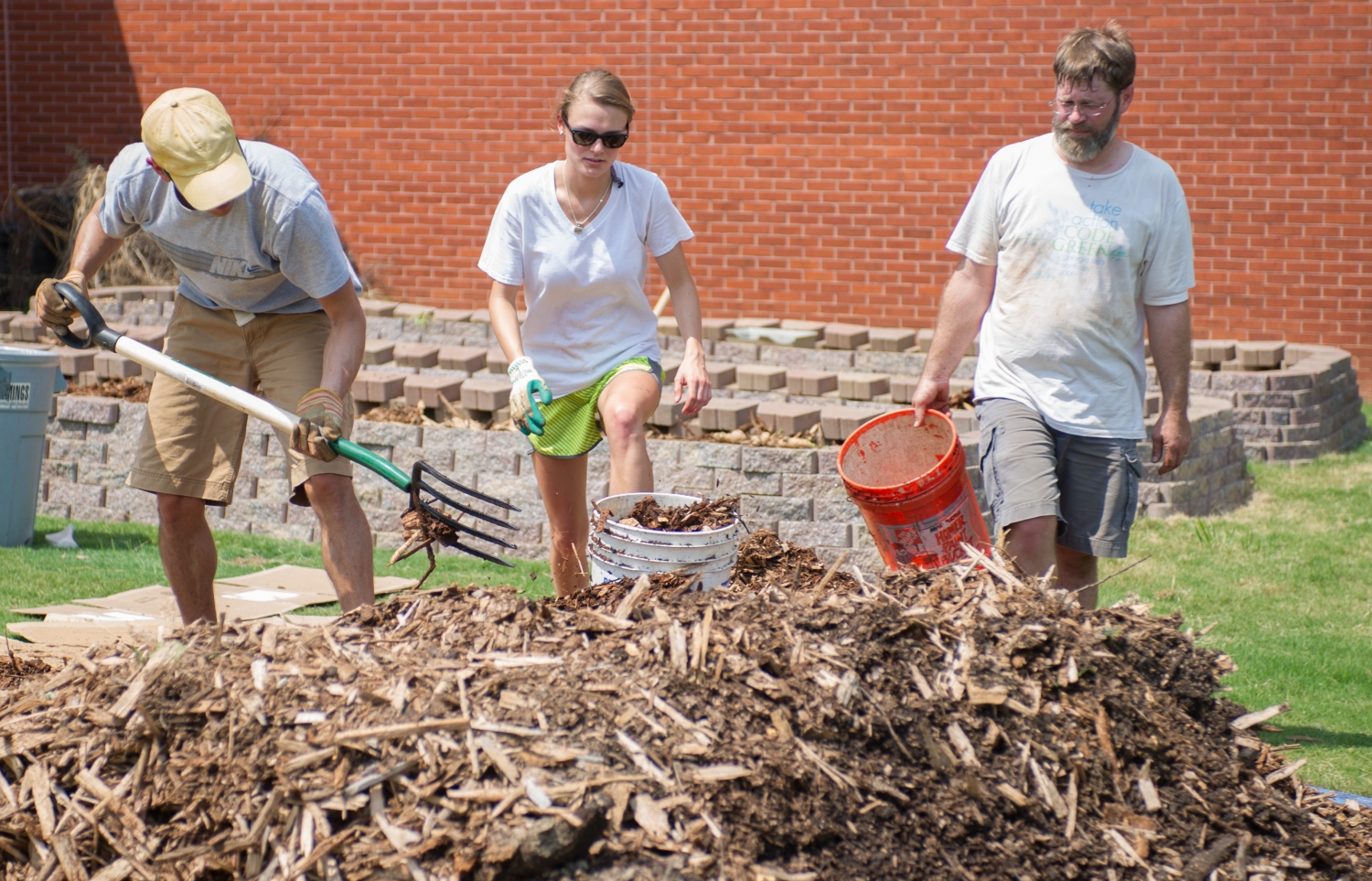 On a September afternoon, gardeners gathered to clean up and mulch the beds in preparation for a fall planting.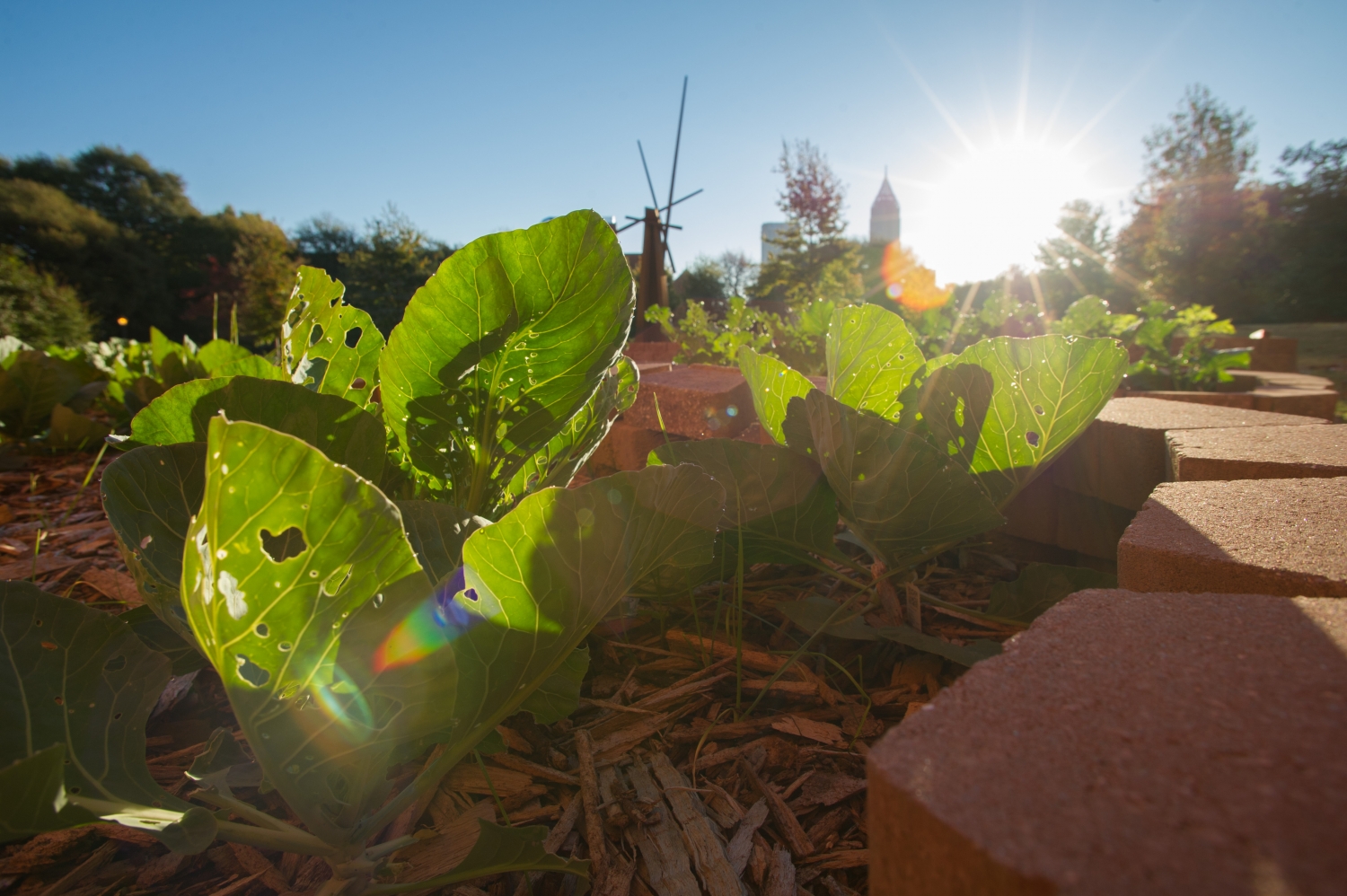 SOS participants typically gather to tend the garden about once a week. It's home to more than a dozen crops – all grown without chemical fertilizers or pesticides – giving gardeners an array of take-home options.
"Diversification is more interesting than having just one variety," Kehl said.
Local food from outside campus can be found on Tech Walk every Thursday in the spring and fall at the Georgia Tech Farmers Market, and a sustainable dining committee lets students be involved in reducing the negative environmental impacts of on-campus dining services.
Writer: Kristen Bailey; Contributing Writers: Rebecca Keane, David Terraso