Welcoming a New Class
Admission Recruits Most Qualified, Diverse Freshman Class in Tech History
This week, 2,800 new students arrive on campus as the 2014 freshman class. The RATS (Recently Acquired Tech Students) officially began their careers as Yellow Jackets on Sunday evening at New Student Convocation.
As in recent years, this class is the highest achieving and most diverse in Tech's history.
Building this year's class, though, was different. This was the first full admission cycle using the Common Application, which Tech's Office of Undergraduate Admission switched to with the goal of having more students apply from around the state, country and world.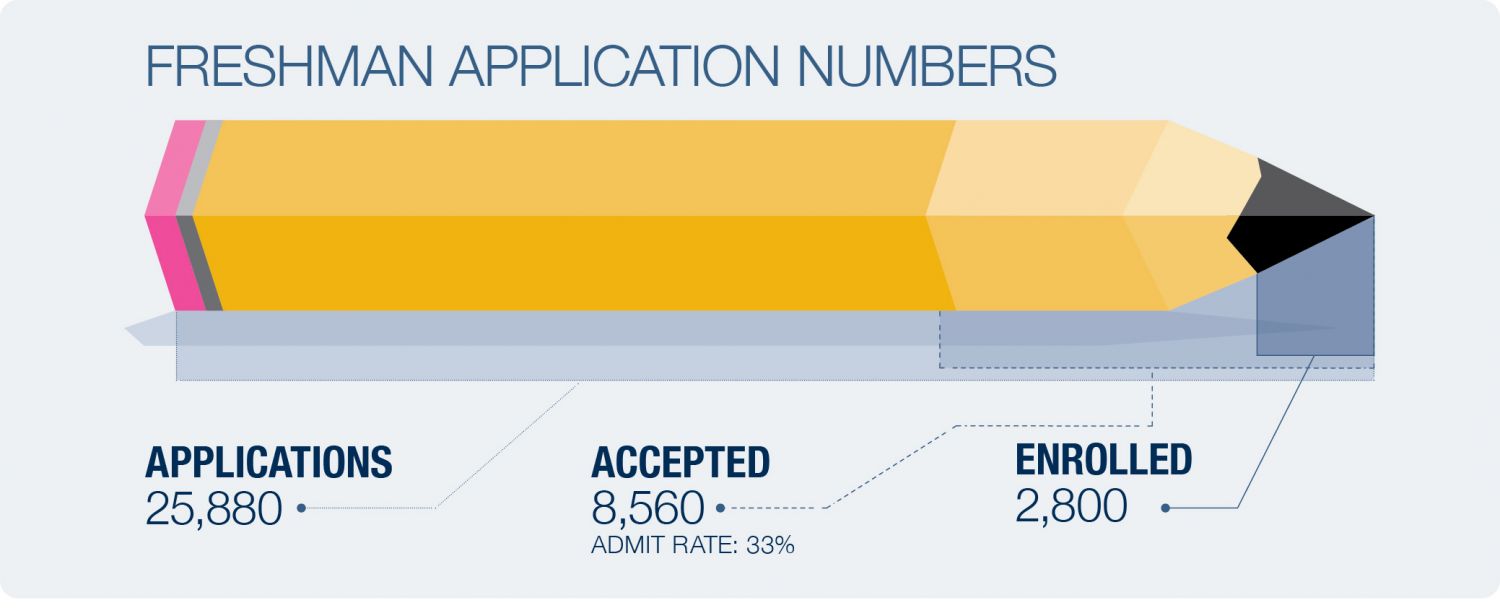 The switch worked. Applications increased by 46 percent, and in areas that Admission was targeting. Not only did the quantity of applications increase, resulting in a 33 percent admit rate, but the quality increased as well. The average SAT score jumped from last year's 2098 to 2134, and 94 percent of incoming students have taken at least AP Calculus or an equivalent course.
Rick Clark, director of Undergraduate Admission, attributes the quality of the class to the efforts of the whole campus.
"Alone, there is simply no way our staff would have the time or resources to compete against some of the other fine schools in the country," he said, "especially given the scholarships and other incentives some schools leverage, without the whole of campus pitching in."
In March, once all admission decisions had been made, Clark asked the campus community to take an active role in recruiting admitted students, asking them to be "welcoming, accessible experts." The campus-wide effort is evident in the 2014 class, which includes more Hispanics, more women, more underrepresented minorities, and more Georgia residents than last year.


"There are so many reasons to be proud of the Georgia Tech community and family, but I believe every class we bring in is a physical manifestation of that collaborative, unified voice and effort," he said. "Thank you for your time, expertise and invaluable recruitment contribution."
Though the campus played a role, Admission staff worked year-round to adjust to the new application system and a new yield prediction model. The switch to the Common App was not without glitches: the app crashed just as many universities had their early action deadlines, causing Tech to extend its own deadline by a week.

The staff kept its cool amid the chaos, and Clark was contacted by many national news outlets, including the Washington Post and Inside Higher Ed, to talk about how Tech was handling things. Prior to the technical issues, Clark also was featured in a segment and blog post on This American Life about college admissions.
"Recruiting and enrolling students of this quality is incredibly challenging, yet vital to the future of Georgia Tech," Clark said.
Though the freshman class of 2014 is just arriving, Clark and his team already have their eyes on building next year's class. They hope, for one thing, to shatter one glass ceiling — "the ratio." The incoming class of 2014 is 39 percent female, but Clark's team is going for 40.
"We don't work on quotas, but it'd be great to hit that number," he said. "It'd be a triumph for us and for Tech, and a real indication of our efforts."
Overall, if last year was for pouring the foundation of a new recruiting process, this year is for laying the bricks.
"We're excited to gain a little mastery rather than just sort of surviving," Clark said.