Getting the Graduation Shot
Updated november 22, 2019
On Dec. 13 and 14, family and friends will join together to celebrate the accomplishments of this year's graduates at Georgia Tech's Commencement ceremonies.
As the big day approaches, graduates across campus have already been spotted sporting regalia and posing for photos. Luckily, Tech offers many picturesque locations, with plenty more available across Atlanta, providing stunning backdrops. Visit one of the sites below — or all of them if you're feeling ambitious — and take a few tips from a professional photographer on how to compose the shot.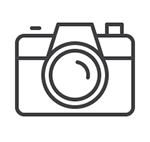 THE BEST OF CAMPUS
These locations are great for classic Tech graduation pictures. To make the photos unique, consider bringing along some props — a sign with 2019 written on it, a RAT Cap, balloons, or something significant from your extracurricular or social activities.
And of course, if you can manage it, grab a selfie with Buzz or President Cabrera before you turn your tassel.