By Stacy Braukman | Photos by Allison Carter | Video by Adam Karcz July 31, 2019
This is the 11th installment of a yearlong series about women at Georgia Tech. See the full series.
Cuba native Diley Hernandez was in high school when she became fascinated by psychology and decided she wanted to pursue it as a field of study. Her father, who was a musician, and the rest of her family had not attended college and didn't know how to help her get into the University of Havana. So, she remembers, "I had to figure that out myself." And she did.
In 2003, before completing her degree, Hernandez and her husband left Cuba to pursue academic and economic opportunities in the U.S. They moved to New Mexico, and she graduated from New Mexico State University, followed by the University of Arizona for a master's and Ph.D. in educational psychology.
She spent two years teaching in the Graduate School of Education at Rutgers University, and then it was on to Georgia Tech in 2011.
Today, Hernandez is a senior research scientist at the Center for Education Integrating Science, Mathematics, and Computing (CEISMC), where she serves as the program director for GoSTEM, which aims to strengthen the pipeline of Latino students into postsecondary education. She is also the director for Culturally Authentic Practice to Advance Computational Thinking in Youth (CAPACiTY), an NSF grant-funded program to develop the new curriculum for the Introduction to Digital Technology course taught in Georgia high schools.
"My work is a combination of research, curriculum development, and teacher professional development," she explains. "I have the great luck to actually be able to implement programs and strategies to help students in K-12 deal with a lot of the social and psychological consequences of those factors that prevent them from pursuing careers in STEM."
Hernandez talks about her work at Georgia Tech.
Hernandez says the work is most fulfilling "when we actually get to talk to the students who are in our programs, when we visit the schools and we see in action the work that we've been doing, or hear from the students about the impact of that work. You realize that what you're doing matters to people, that it is actually making a difference in their lives, even if it is small."
She describes one event that is especially important to her: the Annual Latino College and STEM Fair, which attracts between 500 and 1,000 Latino students and their families. Held at the Student Center, the event helps attendees envision a future at Georgia Tech — and feel like they belong.
"Sometimes, when they're having conversations and they're asking questions as part of this event, you really feel that the stories of other Latinos who are professionals, or STEM leaders, or faculty really resonate with the students," says Hernandez. "And you can see on their faces, 'That is possible for me,' or 'I could do this.' It's like a little light that turns on. You can see the magic of something wonderful happening. Just to be able to be part of that is very rewarding."
She sees a lot of potential at CEISMC and is committed to making an impact on the educational lives of Georgia's students through innovative teaching methods, particularly in STEM fields. "It is an incredible opportunity to bring about real change, and to contribute to what is happening in terms of the educational pursuits of all students in Georgia."
Throughout her career, and especially at CEISMC, Hernandez has been driven by curiosity, both as a researcher and as a student of culture. Asking questions about other people's experiences is central to her professional life.
But the lines between professional and personal are, inevitably, blurry. She is deeply inspired by art and has devoted years to studying it and playing it. "Music was my family's trade," she explains. "Music has always been with me. It is everywhere. It informs, in powerful and small ways, practically everything I do."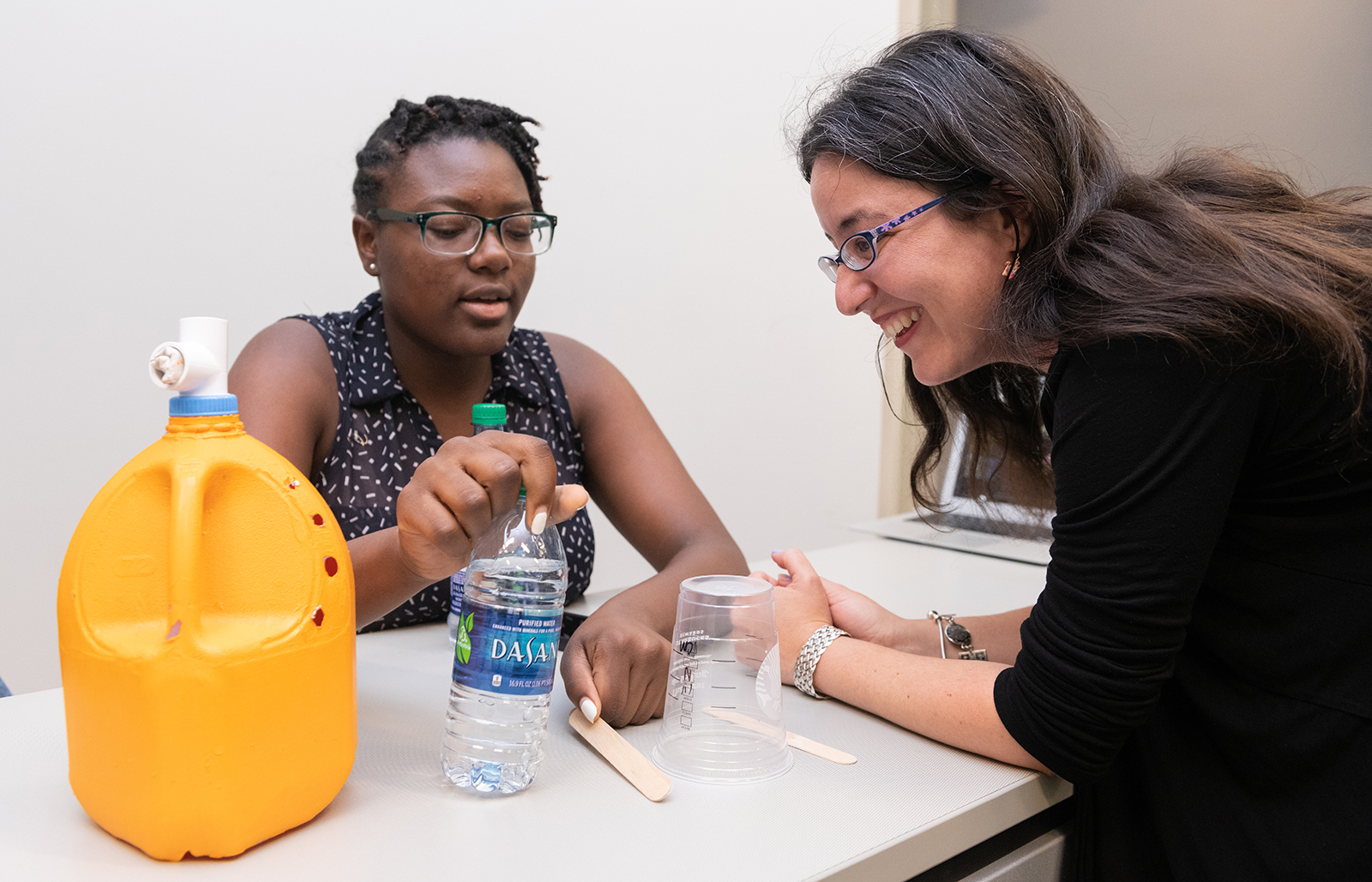 That includes being a singer-songwriter and member of the Decatur-based Porchlighters, a modern international folk band.
It also includes pedagogical approaches that incorporate music and connect young people to digital technology and computing in new ways. As part of her work in CAPACiTY, in one workshop with local high school teachers, Hernandez and her colleagues use tools that help them teach students about computational thinking in culturally authentic ways — tools like EarSketch, which helps the students learn coding by doing music mixing.
"I get a wonderful opportunity to have music and art as part of my work," she says.