By Laura Diamond | Photos by Allison Carter February 22, 2019
This is the sixth installment of a yearlong series about women at Georgia Tech. See the full series.
Joycelyn Wilson didn't just grow up around music, she grew up around the lyrics. She wanted to know what artists were singing and why.
"I remember sitting and writing the lyrics," she said. "They spoke to me. Music has been a learning space for me for a long time. It's just in me."
Wilson's research examines hip-hop and what it says about the world we live in. A pioneer of hip-hop education as a practice, she uses it to address issues of civic engagement, race, and politics and to inspire future leaders in science, technology, engineering, and math.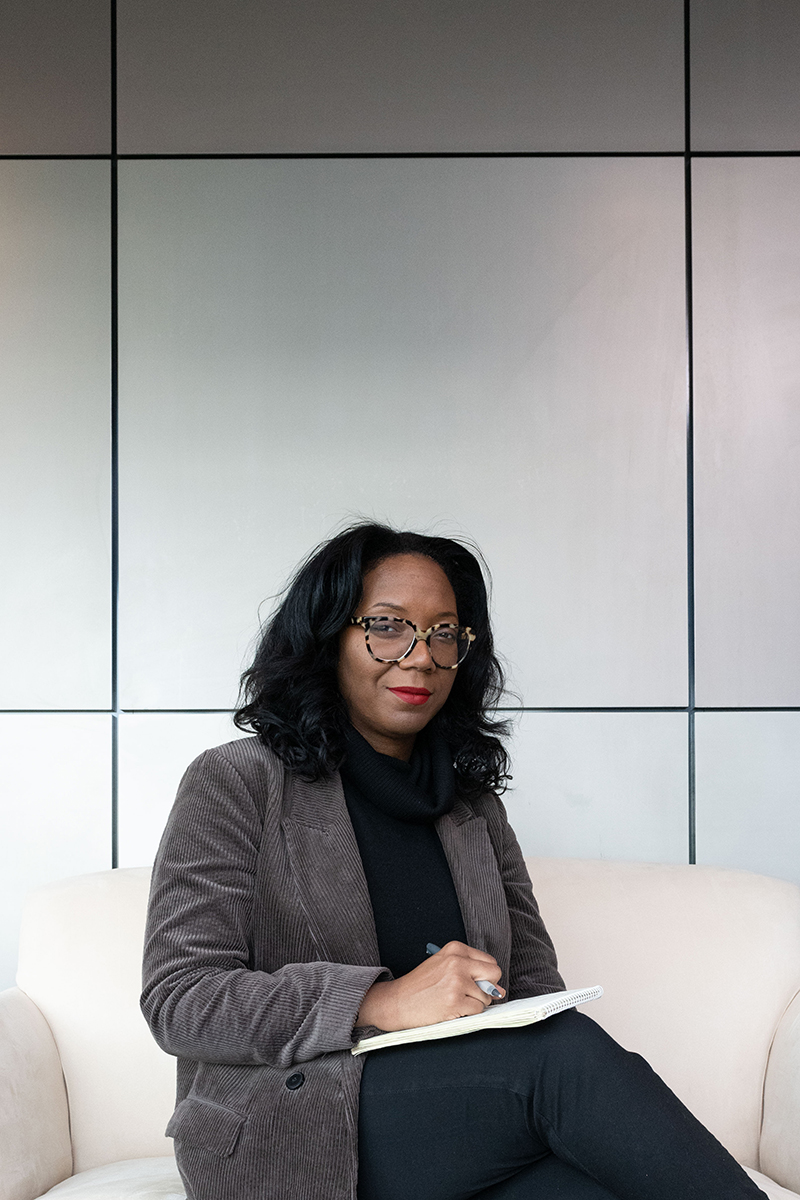 A graduate of Atlanta's Mays High School, Wilson is assistant professor of black media studies and an educational anthropologist in the School of Literature, Media, and Communication. One of her most popular classes uses the music of Outkast, Kendrick Lamar, and other artists as texts to explore larger issues.
She is also the founder of the HipHop2020 Archive and Maker Space, located in the School of Literature, Media, and Communication. HipHop 2020 boasts a curriculum of artifacts and digital resources designed to facilitate post-secondary humanities and computational media instruction through the lens of hip-hop inspired cultural practices and design aesthetics.
"We're using hip-hop as a tool to discuss societal issues," Wilson said. "My goal is for students to think about them and consider how their decisions can help communities."
Older cousins and other family introduced Wilson to hip-hop. Her first piece of vinyl — "Rapper's Delight" from The Sugarhill Gang — was a gift from her dad. The song is credited for taking hip-hop mainstream.
"I remember transcribing 'Rapper's Delight' and learning every bit of it," she said. "It's a long song but I wanted to experience it. Hip-hop became my escape."
She was known as the kid who had the mix tapes and would share them with friends. But Wilson never wanted to be a rapper and didn't expect to make a career with hip-hop. She discovered this surprising path in her early 20s.
She was teaching algebra at a Los Angeles high school in 1997, trying to find a way to manage the classroom and connect with her students. They knew she was from Atlanta, and Outkast was the biggest act around. So Wilson used her love of math and the popularity of the rap duo to create an engaging learning environment.
That classroom experience opened her eyes to new pedagogical possibilities. She went back to school to earn a Ph.D. and wrote her dissertation on southern hip-hop, looking at what the genre had to say about school — specifically, issues surrounding curriculum, teachers, and desegregation.
"Embedded in hip-hop is technological innovation," Wilson said. "It takes something and completely turns it into something else. That's innovation and technology."
Hip-hop's history is based on sampling, remixing, and turning the turntable into an instrument, she said.  
"Hip-hop is building something new. You see that at places like Georgia Tech, which has a strong liberal arts focus as well as technology," she said. "We are building something here with our research and with our classes and with our students. We just have to show people how to do it."