Caps Off to Innovation
Georgia Tech's Capstone Design Expo is an extravaganza of technology, prototypes, and ingenious solutions
Jackie Borinski didn't know exactly what she was looking for, but she knew what she wanted. "When you pick a Capstone Design project, you have to consider what it allows you to do as well as what you want out of it," Borinski explains. "We wanted a project with a mechanical base, but also a pressing clinical need. This was the perfect combination of the two."
By "this," she means the challenge posed by Dr. Denise Kim at Emory University Hospital, who needed a better surgical method for repairing severely drooping eyelids. Borinski and her team answered the challenge, and their OculoSTAPLE surgical device was the overall winner of Georgia Tech's 2014 fall Capstone Design Expo.
The Capstone Design Expo is a judged showcase of the senior projects of students across multiple disciplines, including mechanical engineering; biomedical engineering; aerospace engineering; electrical and computer engineering; industrial systems and engineering; materials science and engineering; industrial design; and public policy.
The students work in either mono- or interdisciplinary teams and are given a $500 budget to develop prototypes for real-world applications.
But long before they arrived at the Design Expo, each student had to decide on what real-world problem to focus, and then get to work to find a solution for it.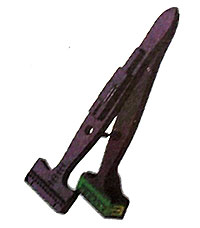 Diagram of the OculoSTAPLE
Every engineering student is required to take the Capstone Design course in order to graduate from Georgia Tech. Each senior spends an entire semester with their fellow teammates, advisors — and oftentimes industry and research partners — to design, build, and test prototypes that will solve real-live problems.
For example, Team OculoSeal's challenge was to find a better way to correct ptosis, which is the severe drooping of the upper eyelids. The condition is common in the elderly, and can lead to impaired vision and an increased risk of injury if left untreated.
The team designed and created the OculoSTAPLE device, which simultaneously resects and seals the muscle that is responsible for elevating the upper eyelid. This combination shortens the time needed to perform the surgery. And because the procedure is shorter, it can be done in a doctor's office under local sedation, unlike the current approach, which calls for an (expensive) operating room and an anesthesiologist.
While this inspiring team won the overall title, the expo didn't lack for equally impressive projects. In fact, in addition to the overall winner, prizes were awarded to the top project registered in each major.
The fall Capstone Expo was jam-packed with remarkable ideas and passionate student inventors who were eager to tell visitors, judges, and potential employers about them.
For an overview of the event, watch this quick highlight video:
Big Ideas and Big Savings
"The [Capstone Design] course has been offered for several years, but the focus toward hands-on design-build and emphasis on prototyping started around 2008," says Amit Jariwala, director of design and innovation. "The Woodruff School of Mechanical Engineering started the expo, with new schools joining in every semester."
And in fact, adds Jariwala, "The number of companies participating has grown tremendously over just the past few years."
Increasingly, businesses and research partners are catching on to the fact that, for a low cost of entry, they can capitalize on the "maker mindset" of Georgia Tech students to solve their toughest problems. The students apply their creativity, innovation, and resourcefulness to come up with real solutions to these real problems.
The results can be astounding.
The 2013 overall Capstone winners, Nuttin' But Trouble, redesigned an industrial pecan cracking machine to more efficiently cut pecans into halves. Jariwala estimates that their simple tool could save $7 million per plant annually for the local Georgia company.
Another Capstone project sponsored by GM produced a "lug nut starter that can save time on assembly lines." Adds Jariwala, the product saves the company "an estimated $1 million annually, per plant."  
In addition to mechanical tools, Capstone solutions can also be statistical tools. Team Chik-fil-A created a tool that more effectively forecasts demand for Chick-fil-A's peach and peppermint chocolate chip milkshakes. Says Jordan Avery, an industrial design major, "By using our forecast, Chik-fil-A could save $280,000 per year."
Another benefit of their tool, Avery explains, is the shorter time it takes to run a forecast. "[Chik-fil-A's previous] forecast took three weeks to run, but ours takes a couple of hours … so they can now forecast in the middle of the milkshake season and make adjustments."
Benefits for Humanity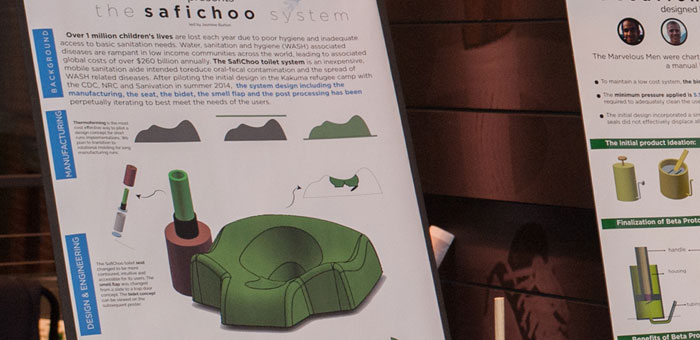 The Safichoo Manual Bidet brought home the top prize in the Industrial Design category. The bidet aims to reduce the spread of water, sanitation, and hygiene-related diseases in refugee camps in Africa.
Oftentimes, the results transcend financial gain to become life saving. A team sponsored by the U.S. Centers for Disease Control and Prevention (CDC) developed a statistical program that can more accurately assess whether a donor organ is carrying infectious encephalitis.
The data also assists both the doctors and the patients in making much better-informed decisions when evaluating whether to accept or reject an increased-risk organ, and remain on the waiting list with the risk of not getting another liver.
"Right now in the transplant community, if an organ is found to be infected, they destroy it instead of transplanting it," explains CDC team member Dylan Buczek, an industrial design major. "Each day, 21 people on the transplant waiting list die."
Continues Buczek, "According to our data, about 55 percent of patients who died would have had a higher chance of survival after one year if they had taken the liver — which had a 100 percent infectious risk — instead of rejecting it."
Another team that worked with the CDC, The Plaintains, developed an ingenious solution to killing mosquitos. Their device is a rainwater-filled bucket, which will attract mosquitos, which then lay their eggs in the water.
The team's E.L.I. device electrifies the water every 24 hours, killing the eggs. Says Peymaun Ghafouri-Kia, a biomedical engineer, this simple but powerful device "gets us pretty close to a 100 percent kill rate."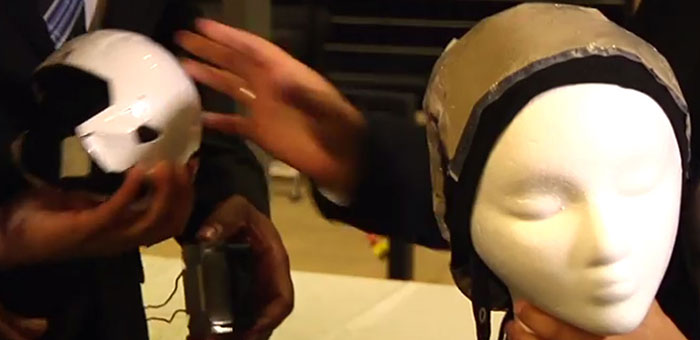 The cold cap uses thermoelectric coolers to constrict blood vessels and save the hair of patients undergoing chemotherapy.
In addition to the nuisance factor, mosquito-transmitted malaria is a life-threatening disease — and a huge problem — in Africa, Southeast Asia, and South America.
In addition to saving lives, many of the Capstone project goals are to improve lives.
Team CIA improved upon cold cap therapy for cancer patients who are undergoing chemotherapy. These extremely cold caps are worn on patients' heads to constrict hair follicle blood vessels in order to preserve their hair.
"We were inspired by somebody whose wife underwent chemotherapy," says Christina Bright, a biomedical engineer. "But because the cold cap she used did not effectively cover all of her scalp, she lost all of her hair."
After several iterations of their cold cap, the team feels confident that their final prototype can truly improve the odds that cancer patients keep their hair during chemotherapy.
Hands-On Process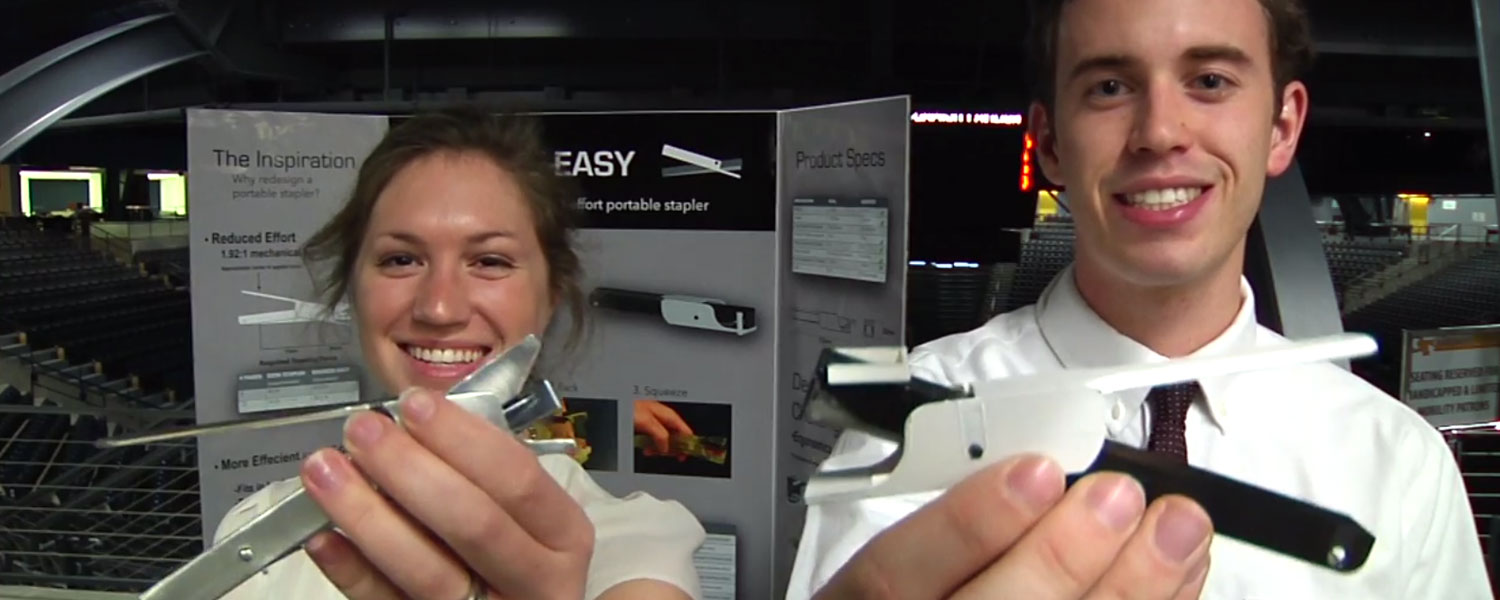 To develop working models to test their ideas, the students not only conceive and design their idea, but also build prototypes from scratch with their own hands.
And sometimes their initial concepts fail.
But, "that's the benefit of prototyping," says Abhishek Thumaty, a materials science and engineering major and member of Wear Conditioning. "You build things the way you think they are going to work, and then you see how wrong you were. And in that process, you really learn."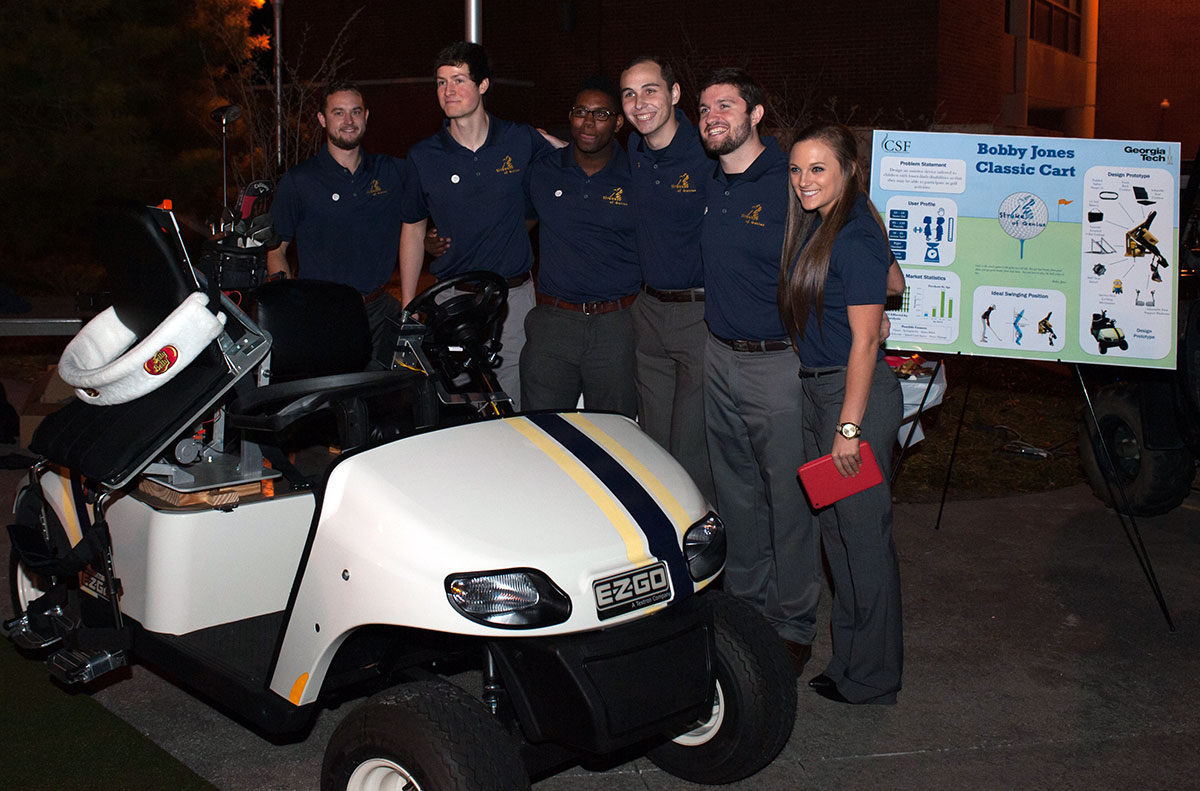 Team Red designed the Bobby Jones Golf Cart, which will allow children with paralysis to participate in golfing activities. Their project won in the Interdisciplinary category. Photo: Fitrah Hamid
Continues Thumaty, "It's more beneficial than theoretical learning, because with theoretical learning, you assume that something works. Here, we assume something works, and then we recognize that something else contributed to its failure. And ultimately it makes us better."
The Wear Conditioning team created a stylishly simple wristband that keeps the wearer comfortable, no matter what the temperature. Explains Thumaty, "You place the band on your wrist, at your pulse point. The band heats or cools your blood, which is traveling through your body, and you essentially act as a radiator."
While this sounds like pretty inventive stuff, Thumaty is quick to point out that they initially got the idea from the Wristify team at MIT, who won first prize in their MADMEC competition. Says Thumaty, his team set out "to take a different technology approach and optimize the product."
What sticks out here isn't necessarily the fact that they succeeded in improving the design (the Wear Conditioning doesn't need a battery like the Wristify does), but the fact that this group of students felt confident and capable enough to improve upon a first-prize MIT design.
But capable is exactly what Georgia Tech students are. They are used to rolling up their sleeves and bringing their ideas to life, aided by maker-spaces like Tech's Invention Studio.
The Invention Studio is a 3,000-square-foot, student-run "design-build-play" space that is open to all students across all disciplines. The Studio exists in order to foster creative, self-initiated learning and help students turn their ideas into reality. In fact, many of the Capstone Design Teams relied on the space to build their prototypes.
You can read more about the Invention Studio in this feature story:

From Concepts to Cash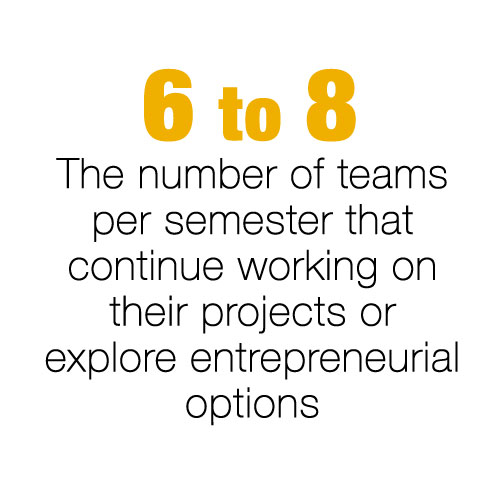 Many of the Capstone projects seem so market-ready that they beg the question, "What next?" Do any of the teams market their inventions or evaluate the commercial interest in their technologies? "About six to eight teams per semester continue working on their projects or explore entrepreneurial options," confirms Jariwala.
Team CIA is considering creating a startup company with the Cold Cap, and Team OculoSeal "filed an application for a provisional application for patent this morning," states Borinski.
The CDC team plans to continue working on their data through the CDC, and hopes to one day bring the application to market for all organ donations. "Ultimately," says Buczek, "We want to see this get to the patients who really need this."
'The Sky's the Limit'
For those who decide not to head down the path toward entrepreneurship, there is still much that is gained from the interdisciplinary collaboration and challenges of the Capstone course.
"I really enjoyed working with an interdisciplinary team," says Thumaty. "While it took longer to get things done and longer to agree on things, at the end of the day, we had a better product because we had all that feedback and perspective."
The hybrid aerial rover for mapping can be used for stability analysis of bridges and construction sites.
"It really challenged me to use a lot of different skills and push myself in a lot of different ways," agrees Oliver Moreno, an electrical engineer with team PV2. The team's hybrid aerial rover for mapping won the expo's top prize in the computer and electrical engineering category.
"When I was first trying to get discounts for our materials, it was much different in the beginning than after I had some practice doing it, and learned how to talk more professionally," he says.
With the addition of new technical and leadership skills, Moreno says the Capstone project may have changed his career goals.
"For me personally, I was a lot more set on research and academia than I am now. I really did enjoy the experience of doing something more entrepreneurial. And it really taught me a lot about team leadership. It was a learning curve, but a really valuable experience."
"You taught each other; you learned from each other," Professor Bill Wepfer, chair of the Woodruff School of Mechanical Engineering, reminded participants during the awards ceremony. "The sky's the limit."
Credits
Story: Jennifer Tomasino, with contributions by Margaret Tate
Graphics: Erica Endicott
Page Design: Jennifer Tomasino
Videography: Maxwell Guberman, with editing by Micah Eavenson
Photography: Fitrah Hamid