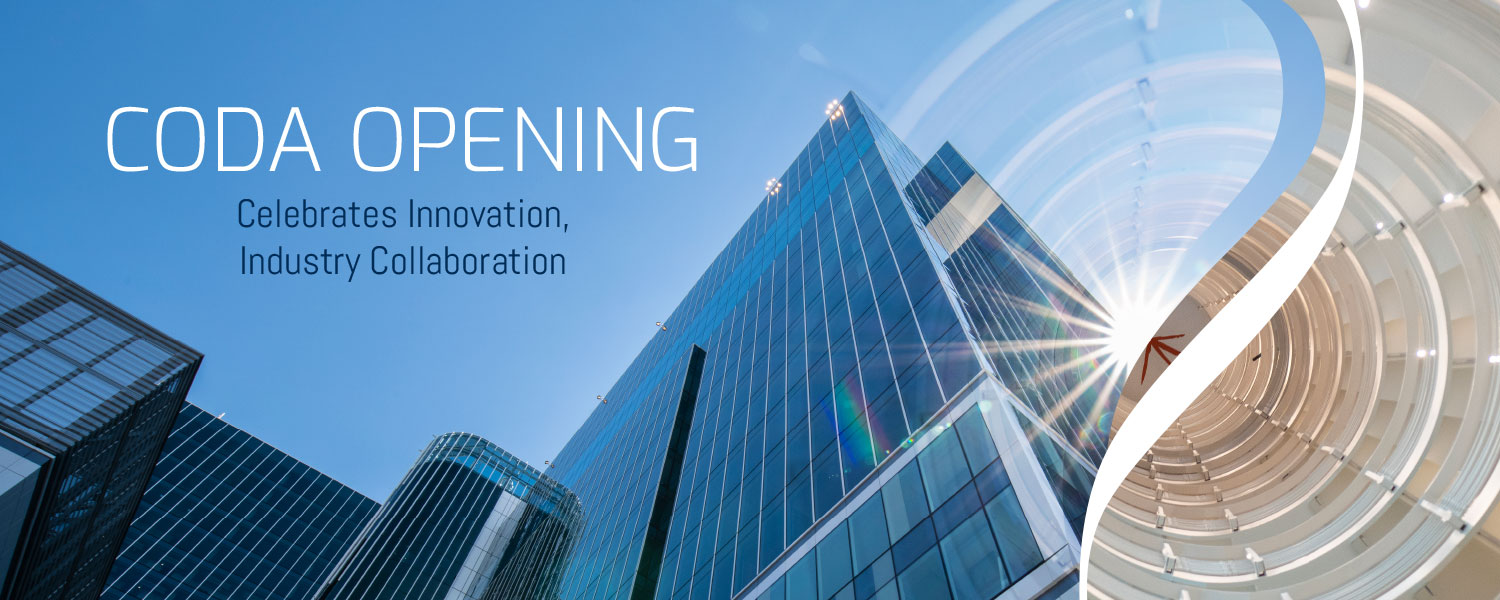 By Elizabeth Thomson | Published May 23, 2019
On May 23, the Georgia Institute of Technology marked the grand opening of Coda, the flagship building for the Institute's Technology Square — an area that Georgia Tech President G.P. "Bud" Peterson has called "the Southeast's premier innovation neighborhood."
Coda, developed by Portman Holdings and Databank, is special in many ways. At 755,000 square feet, Coda is believed to be the largest structure of its kind: a facility built to actively encourage the collaborations between university researchers —including students — and industry that can lead to new technologies.
Georgia Tech is the anchor tenant of the new building, occupying about 50 percent of the available space. The rest will be leased to companies including ThyssenKrupp and Keysight Technologies, which are both relocating their innovation centers to Coda, and WeWork, which will be home to several startup companies. Coda is also directly responsible for attracting Anthem Technology to the area. The company aims to move some 1,000 employees to Tech Square.
"Collaboration among different disciplines, and between academia and industry, will be critical to developing solutions to the complex societal challenges facing us in the years ahead."
"Coda is one of the city's most important office projects in decades," wrote J. Scott Trubey in the Atlanta Journal-Constitution earlier this year. In 2016, Invest Atlanta, the City of Atlanta's development authority, estimated that Coda could have an economic impact of $813.8 million over the next two decades.
"Collaboration among different disciplines, and between academia and industry, will be critical to developing solutions to the complex societal challenges facing us in the years ahead," said Chaouki Abdallah, Georgia Tech's Executive Vice President for Research. "Coda is intended to facilitate that through a unique design including a collaborative core with a spiral staircase that creates opportunities for unanticipated collisions and constructive interactions among those working in the building."

A Focus on Data Analytics
Coda will be Georgia Tech's headquarters for research involving data analytics, or the processing, handling, manipulating, and understanding of very large data sets across a wide variety of industry sectors and academic disciplines.
"When you're making an investment on this scale [the initial development cost of Coda was around $375 million], you want to do it on a topic that is timely, that is relevant to the cutting edge of science and technology, and that intersects with the commercial sector of your home town," said Christopher Jones, professor and William R. McClain Chair in the School of Chemical and Biomolecular Engineering, who was heavily involved in Coda's development as Associate Vice President for Research. "That's true of data analytics. It really is a topic that seamlessly integrates what Atlanta and Georgia Tech are great at."
Atlanta, for example, is strong in Fintech, or the interface of technology and finance. It is home to a number of credit card processing companies. Further, the city is known as a hub for logistics, which has been a top academic program at Georgia Tech for a long time.
Coda Data
Size: 755,000 sf
Stories: 21
Cost: $375 million
Because data analytics requires significant expertise in computing, Georgia Tech is relocating its Office of Information Technology (OIT) to Coda. OIT, which provides information technology leadership and support to the university, was previously distributed across campus in in multiple locations.
Similarly, Coda will feature a data center that will be home to much of the high-performance computing architectures Georgia Tech uses in its analytics research. Access to the data center is expected to draw additional collaborations from within Atlanta and around the country, said Jones.

Research Neighborhoods
Coda will be home to Georgia Tech "research neighborhoods" that apply data analytics to a variety of different disciplines, from the humanities to engineering. They include health analytics, machine learning, and groups from the Georgia Tech Research Institute (GTRI), which does applied research across a wide array of science, technology, and computing space. The School of Computational Science and Engineering will relocate its operations to Coda as well.
Coda IRIs
the Institute for Data Engineering and Science
the Institute for Information Security and Privacy
the Institute for People and Technology
The research neighborhoods include three of the university's Interdisciplinary Research Institutes (IRIs), which bring together researchers from across the campus to address topics that are too broad to be covered by a single school or program. The IRIs in Coda are the Institute for Data Engineering and Science, the Institute for Information Security and Privacy, and the Institute for People and Technology.
The research neighborhoods are spread over 11 floors of the 21-story building. To encourage collaboration between Georgia Tech researchers and industry, "We purposefully left room on many floors for like-minded companies to rent space near a given neighborhood," said Anthony Zivalich, executive director of Georgia Tech's Office of Real Estate Development.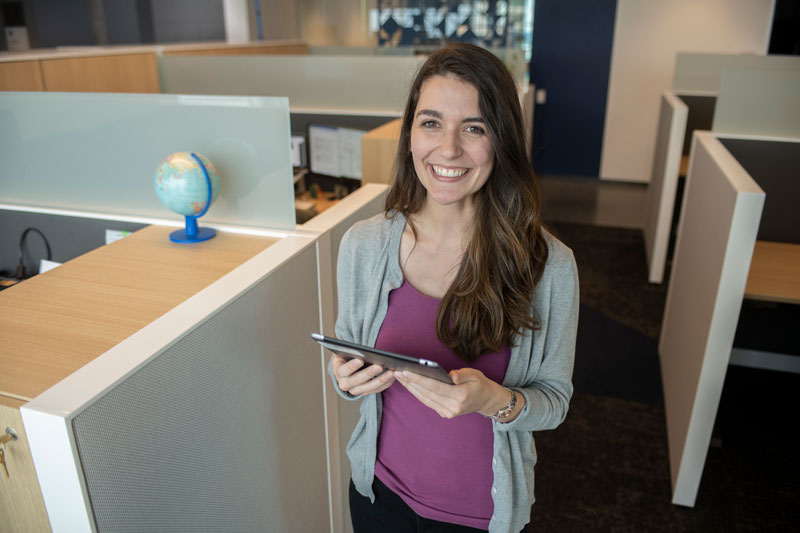 Amanda Foster, a research scientist in the Georgia Tech Research Institute, carries a tablet computer to a colleague's desk for a discussion.

Collaborative Core and More
Zivalich notes that Coda has a variety of unique architectural features. A prominent example is the collaborative core between the two wings of the L-shaped building. "At most vertical office developments, when you get off the elevator, you are in a lobby that directs you to hallways with individual suites," Zivalich said. But that isn't especially conducive to collaboration.
"There's nothing quite like it that we've ever seen."
Upon exiting an elevator in Coda, you enter one of six stacked three-story atriums that begin on the fifth floor and run all the way up the building. This collaborative core is graced by a spiral staircase that also extends to the top.
Anyone working in Coda has access to all of the atriums, each of which has a different design intention aimed at getting people to mix and mingle. One, for example, is aimed at large-group collaborations, another is for small groups, while another has a café theme. Yet another atrium has a park theme; the roof of Coda includes a soccer field.
Architectural Features
Spiral staircase
Rooftop soccer field
Twin-cab elevators
Six three-story atriums
"There's nothing quite like it that we've ever seen," said Zivalich.
Coda also features the first twin-cab elevators in North America. These feature two elevators in each shaft that can move independently. "This minimizes wait times," Zivalich said. Further, "without the twin-cab solution, instead of six elevator shafts in the building we'd have 12. So we cut in half the amount of space dedicated to vertical transportation, allowing more common space."

Settling In
Coda follows an 80-20 rule, where 80 percent of the building is open space while only 20 percent is dedicated to enclosed labs or offices. This "open-office" concept is "very unusual for Georgia Tech," said Alexander Ortiz, Coda community support services lead for Georgia Tech Strategic Consulting. Ortiz and colleagues are working to help Coda occupants make use of the building's collaboration opportunities.
"We're thinking about ways for everyone to work together in a shared space where there are fewer physical boundaries," said Ortiz, who notes that this is "a new operational paradigm" for Georgia Tech.
Ortiz is excited about progress to date. Recently employees from the Office of Information Technology moved into Coda. "It's really transformed the way they work," he said, with many more face-to-face meetings. "I think that's a very powerful thing to see happening already."
---
CREDITS
Photography: Rob Felt, Christopher Moore
Writer: Elizabeth Thomson
Editor: Stacy Braukman
Design: Monet Fort
---