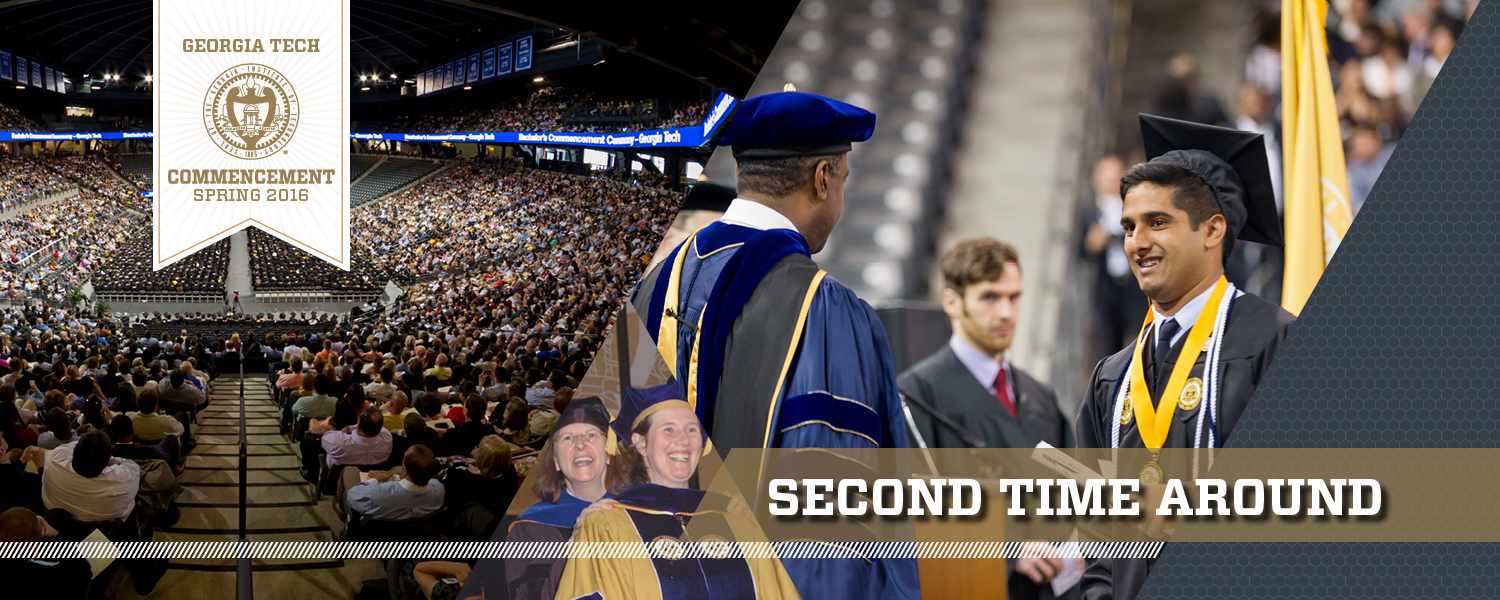 Second Time Around
By Kristen Bailey | May 5, 2016
Faculty and Staff Alumni Find Themselves Back at Commencement
As students walk across the stage this weekend and earn a Georgia Tech degree, they follow in the footsteps of thousands of previous Yellow Jackets — and a few of them will even be in the room watching.
Many alumni find themselves back at Tech as faculty and staff members, and even back at Commencement time and again. We talked with a few of those who will be in McCamish Pavilion this spring as new graduates turn their tassels.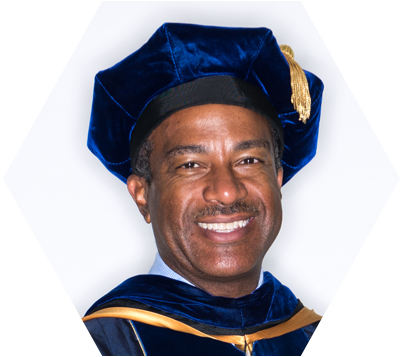 Gary May
Shake It 'Til You Make It
Gary May, Southern Company Chair and Dean of the College of Engineering, earned his bachelor's degree in electrical engineering from the Institute in 1985. He left to earn his master's and Ph.D. from the University of California–Berkeley, but found himself back at Tech in 1991. He's been here ever since.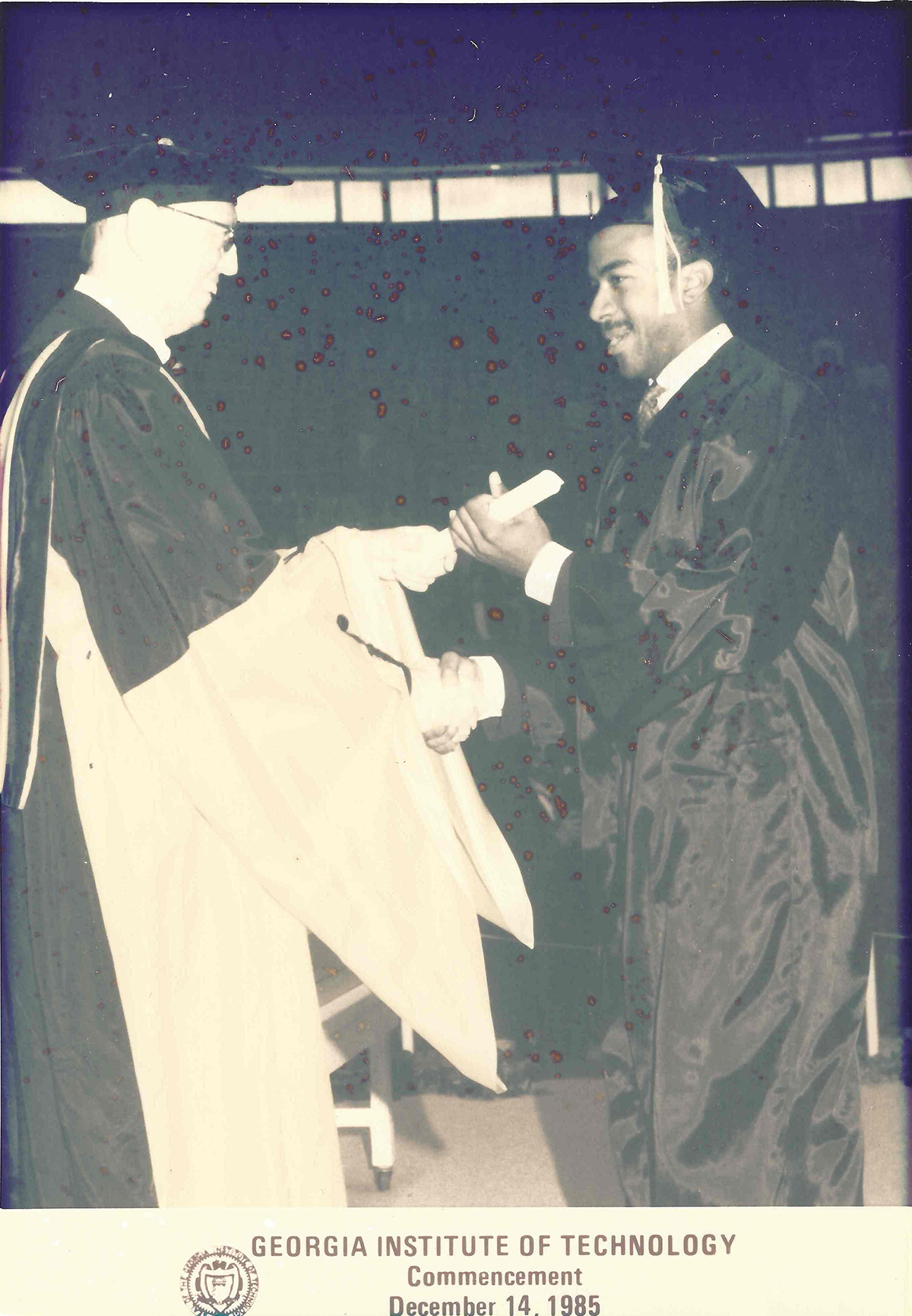 Gary May shakes hands with Joseph M. Pettit as he earns his bachelor's degree in 1985. Now, he's one of those who shakes hands with students as they graduate from Georgia Tech. 
Now, May is on stage at nearly every Commencement ceremony and plays one of the biggest roles in the day's events. As dean of Tech's largest college, he shakes the most hands during the ceremony besides President G.P. "Bud" Peterson.
"People think it's the hand that gets tired, but it's really the shoulder," he said. "And you have to use hand sanitizer in between ceremonies. The one time I didn't, I got sick."
As a Tech student, May was active in many organizations and logged several personal and professional accomplishments. But his best memories — those he can't share widely — were the pranks and "hijinks" that took place with friends. In many ways, college is the same now as it was then. "Nobody had a car, and you had very little money," he said. "You were just kind of stuck here, and working really hard, so you found ways to have fun."
Even though he attends Commencement year after year, May says it's exciting every time.
"The excitement comes from the graduates and their parents. They're all so happy and proud," he said. "I love the moment when I get to announce the engineering graduates and they all stand. That moment of clapping and cheering makes me really proud."
"There's something about the culture and community here — you can't duplicate it."
Even as dean, May stays engaged with the student body. He has hooded 20 graduate students in his time as a faculty member and has photos of most of them proudly displayed in his office. He tries to stop to hug or acknowledge those students he knows on Commencement day. At his Tech Commencement, he remembers, he got to introduce his parents to then-Tech President Joseph Pettit.
May is also eager to welcome graduates into the fold of Yellow Jacket alumni. To him, one of the best things about being a Tech alumnus is the confidence that stays with you throughout future challenges.
"You feel like you can do anything," he said. "The ways you pushed yourself and things you do here, you're not scared of anything. There's something about the culture and community here — you can't duplicate it."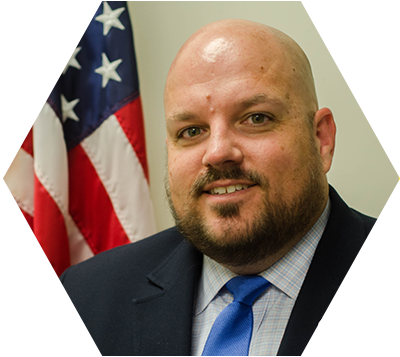 William Smith
Preparing for the Worst
William Smith almost didn't make it to his Commencement in 2001. He had just finished a grueling semester that combined an 18-hour course load with 30-hour workweeks. Commencement was the finish line in what had been an exhausting race.
"I remember being very hot and having the flu," he said. "There were some frantic calls to the registrar to make sure I was going to be able to walk. I was living by the mantra, 'D is for done.'"
The memory serves him well for his role in Commencement today. As director of Emergency Preparedness, Smith is the one who plans for everything to go wrong on Commencement day. His department develops plans for emergency situations, drafts incident reports, preps emergency medical staff, and makes sure graduates and their guests have a memorable ceremony in the best of ways.
"At some schools, students walk out after they walk across the stage. That doesn't happen here."
"Commencement is the reason we're all here, and Tech's reputation is on display," he said. "Something as innocuous as a fire alarm can ruin the day. We don't want something small to have a huge impact on what should be a safe, enjoyable celebration of our students' work."
Smith attends most ceremonies and has attended those at other universities as well. One thing he's noticed at Tech is the respectful nature of students and their guests.
"At some schools, students walk out after they walk across the stage," he said. "That doesn't happen here. Students seem to appreciate what their classmates have gone through and that it isn't just about them graduating that day. It's about the whole group."
As an alumnus, Smith remembers that camaraderie from his own days at Tech.
"You bond with people when you go through something tough together," he said. "Leading up to Commencement, students have been under a lot of stress. They may be sick; they may have had some exciting nights. Basically they've just come through a marathon."
For those graduating this semester, Smith offers a few tips for making the most of the day.
"Get rest so you can enjoy it. I was not happy to be as sick as I was," he said. "Take photos and keep them – you'll want them someday."
He also encourages students to find a career path they are passionate about. For Smith, his role at Tech has served that. He started as an employee in 2009 and took on his current role in 2015.
"I didn't think I'd stay this long, but as much as I wanted to get out of Tech the first time, I haven't wanted to leave."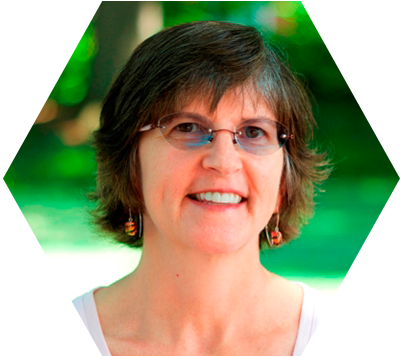 Wendy Rogers
Draping the Hood
This year, Wendy Rogers is celebrating her Sweet Sixteen all over again.
As a professor in the School of Psychology, Rogers has the privilege of advising Tech graduate students and hooding them when they graduate. This spring, she will hood her 16th graduate student.
Rogers earned her master's and Ph.D. in psychology from Georgia Tech in 1989 and 1991, respectively. She attended all her Commencement ceremonies, and her family traveled from Massachusetts to be at all of them.
"I always encourage students to go to Commencement," she said. "It forces you to stop and think about it and look at what you've accomplished. You've worked so hard."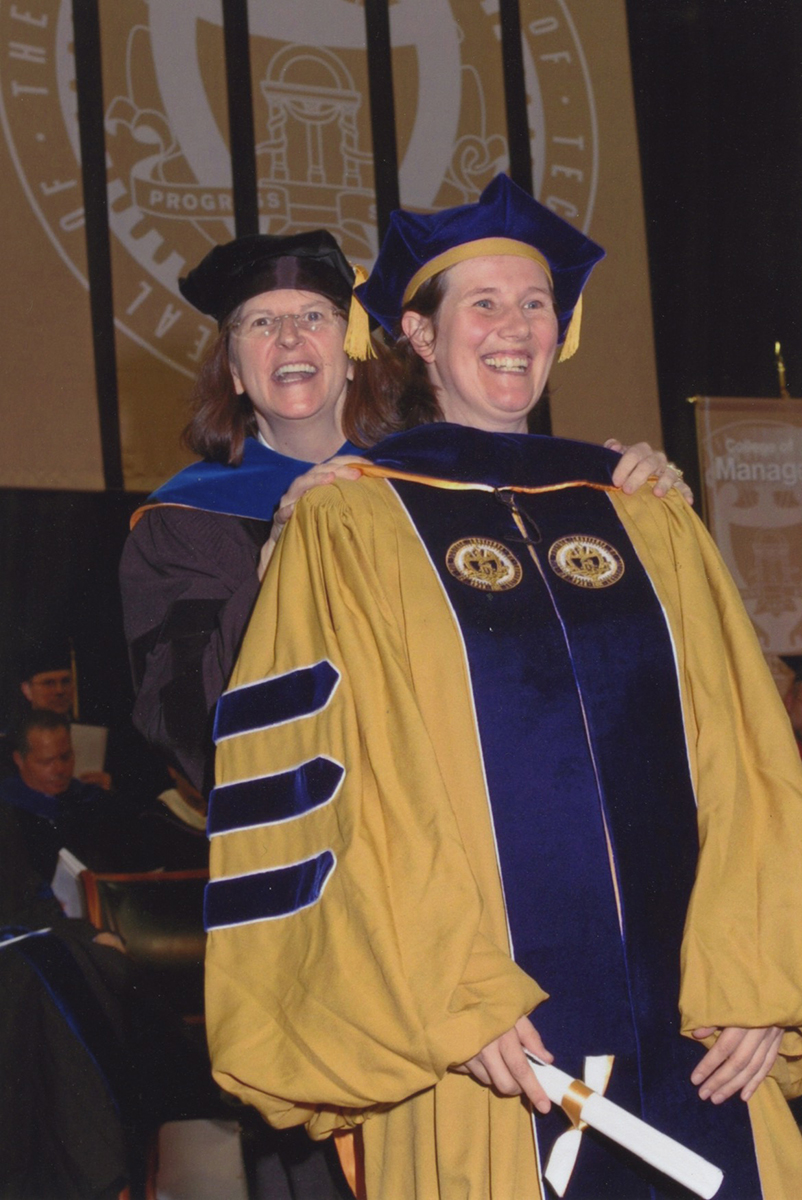 Wendy Rogers hoods Ph.D. graduate Anna Adams in 2009, reminding her to smile right as the camera captured the moment. 
Commencement is often the first time that families meet the people who have been influential in their student's life for several years, and advisors get to meet the families of the students they've been mentoring.
"The families are always so grateful," Rogers said. "It's really a different kind of bond you form with your advisor in graduate school. It's familial. Some of these students are here five, six, or seven years, and you've known them since day one and sat with them every week."
Amid all the pomp and circumstance of the ceremonies, Rogers' favorite moment is the actual act of hooding the graduates.
"It's awesome. It's such a sense of accomplishment for both the advisor and the student," she said. "I've never missed the chance to hood a student."
Rogers has been at Tech as a faculty member since 1998. She found herself back at the Institute after being on the faculty at the University of Georgia. She eventually married a Tech faculty member, and they got tired of splitting the difference of their commutes between Atlanta and Athens. 
"Commencement forces you to stop and think about it and look at what you've accomplished. You've worked so hard."
Rogers' 16th graduate student is Akanksha Prakash, who did her dissertation on social connectedness for older adults who live alone. Prakash has already started her career but is taking her advisor's advice and coming back to celebrate at Commencement.
Rogers also advises students to try to take everything in the day of the ceremony and be sure to smile when they cross the stage.
"Don't think about yesterday, tomorrow, or anything else. Just enjoy that moment."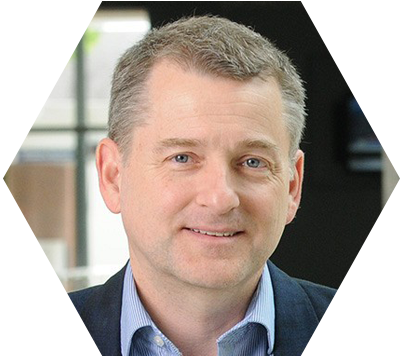 Michael Smith
At the Mic
Michael Smith is the rare "triple dipper" — he earned all three of his degrees from Georgia Tech and came back as a faculty member three years ago. Since his return, he has also taken on an extracurricular role as a Commencement reader.
Smith, a lecturer in the Scheller College of Business, is one of several faculty members who gets a list of around 100 student names to read as graduates cross the stage and turn their tassels. He was inspired to volunteer after hearing subpar readers at other ceremonies.
"I read all the names out loud about 10 times before the ceremony," he said. "I decided, this is Georgia Tech, and we ought to be able to do this right. I thought I'd do at least as well as anyone else would." He did well enough the first time to be invited back — this semester will be his second as a reader.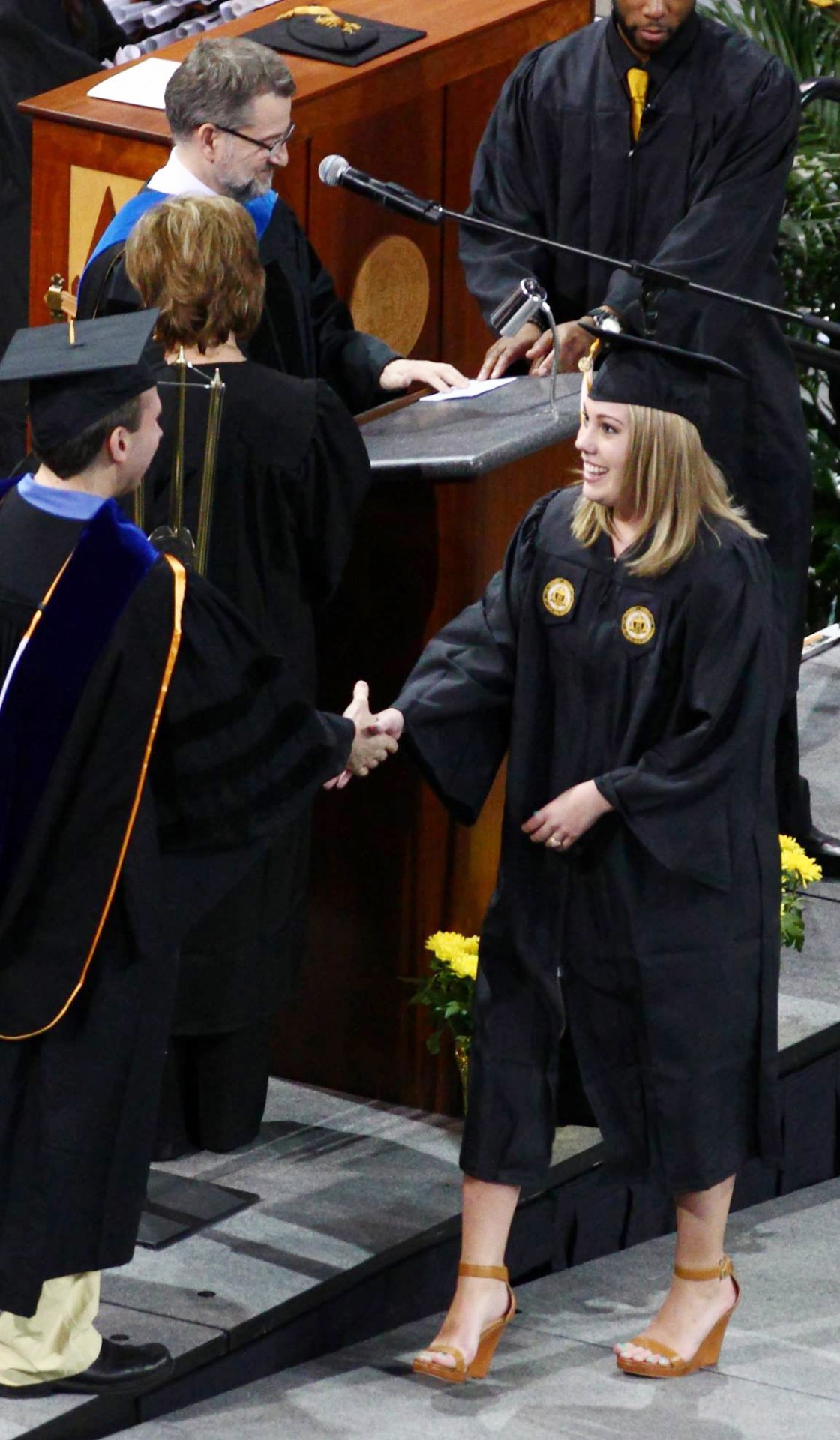 As a reader, Michael Smith has had the honor of calling the names of several graduates he knows personally. Here, at Spring 2014 Commencement, Smith had just called the name of Kelly Jensen, daughter of Smith's longtime friend Stephen. 
Smith earned a bachelor's in computer science in 1985, a master's in management in 1993, and a Ph.D. in management in 1998. He attended all his own Commencement ceremonies, in part because his family "wouldn't have had it any other way." At his bachelor's ceremony, he remembers faintly hearing his friends yell out as he crossed the stage. At 5'4", Smith has been subjected to jokes about his height, and his friends were yelling at him to "Stand up!"
Now, Smith sometimes has to pause reading names as family and friends yell down to their graduates — but he doesn't mind. He firmly believes that the ceremonies are not just for the students, but also for the families and supporters of those who are graduating.
"They've sacrificed so much, and we owe them a show," he said. "Georgia Tech gives you a lot of emotional highs and lows, and we should send them out on a high."
Smith loves the pomp, circumstance, and tradition that make up the ceremony, especially singing the Alma Mater. But he also is struck by the number of small, mundane things that make up the day.
"As a student, you show up and this spectacle just happens," he said. "As a faculty member, you get up, get there, find the coffee, have a snack, get your hood on, talk with colleagues, think about not tripping. It's all these little ordinary things that all together make the most extraordinary of spectacles. We're all just ordinary people trying to make sure we do a good job."
"Georgia Tech gives you a lot of emotional highs and lows, and we should send them out on a high."
His advice for students to enjoy the spectacle: Don't have too much fun the night before and "just accept that you're going to be there a while."
"It's like pulling an all-nighter. Once you accept the fact that you aren't getting any sleep, you can get a lot of work done. Once you accept that you'll be at Commencement a while, you can have a lot of fun." He also suggests picking a meeting place for afterward to find family and friends, and not rushing the day.
"Don't schedule a lunch for an hour after the ceremony. You're going to see friends and family, take photos, maybe walk around. Don't rush it."