Taking a Look Back on 2014
 
J A N U A R Y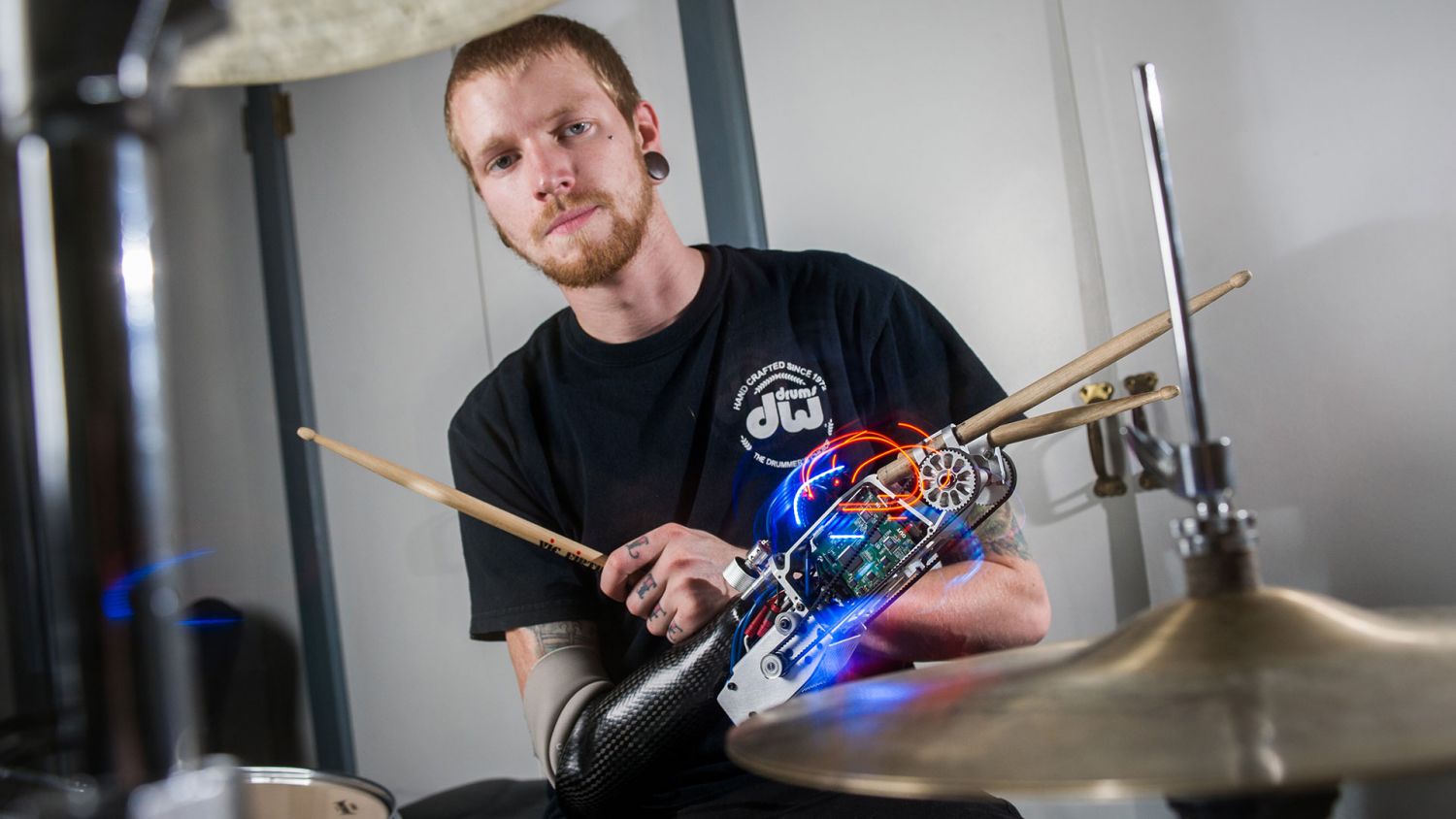 Atlanta Institute of Music and Media student Jason Barnes, a drummer who was electrocuted two years ago and lost his right arm below the elbow, demonstrates Georgia Tech Professor Gil Weinberg's robotic drumming prosthesis. (Photo Rob Felt)
Robotic Prosthesis Turns Drummer into a Three-Armed Cyborg
Professor Gil Weinberg has already built a band of robotic musicians in his Georgia Tech lab. Now he's created a robot that can be attached to amputees, allowing its technology to be embedded into humans.
---
Georgia Tech's online master's in computer science starts up, offering students a low-cost, fully-online degree.
---
 
F E B R U A R Y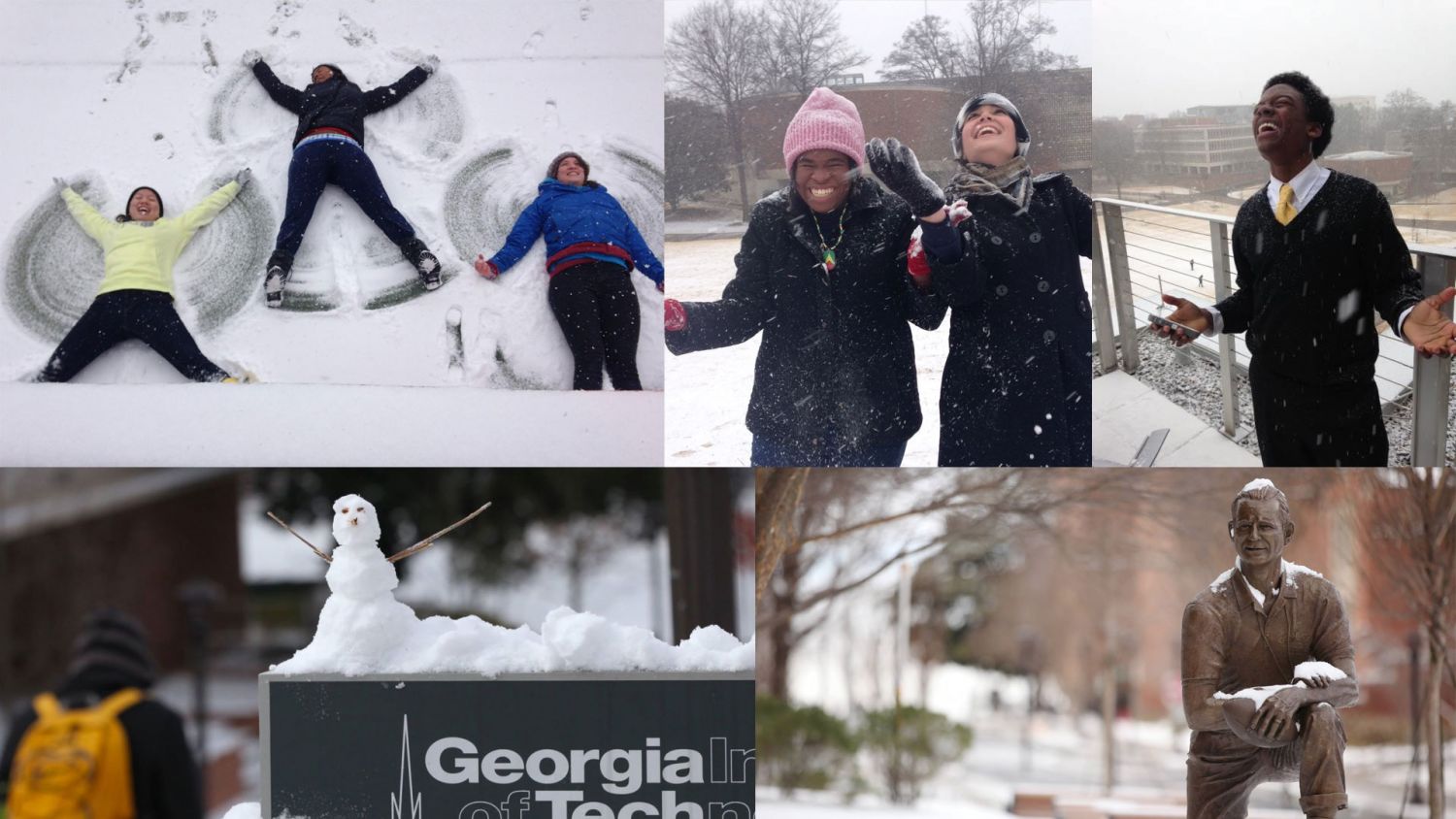 (Photos: Steven Norris, Rob Felt)
Snow Stories
Snowmageddon. Snowpocalypse. SnowJam. However you remember that week in early 2014, there was "snow way out" for metropolitan Atlanta. The normally peaceful sight of softly falling snowflakes was backlit by an endless sea of brake lights across the city and beyond.
---
Single chip device will provide real-time 3-D images from inside the heart and blood vessels.
---
A special Valentine's Day message is spelled out inside Bobby Dodd Stadium.
---
 
M A R C H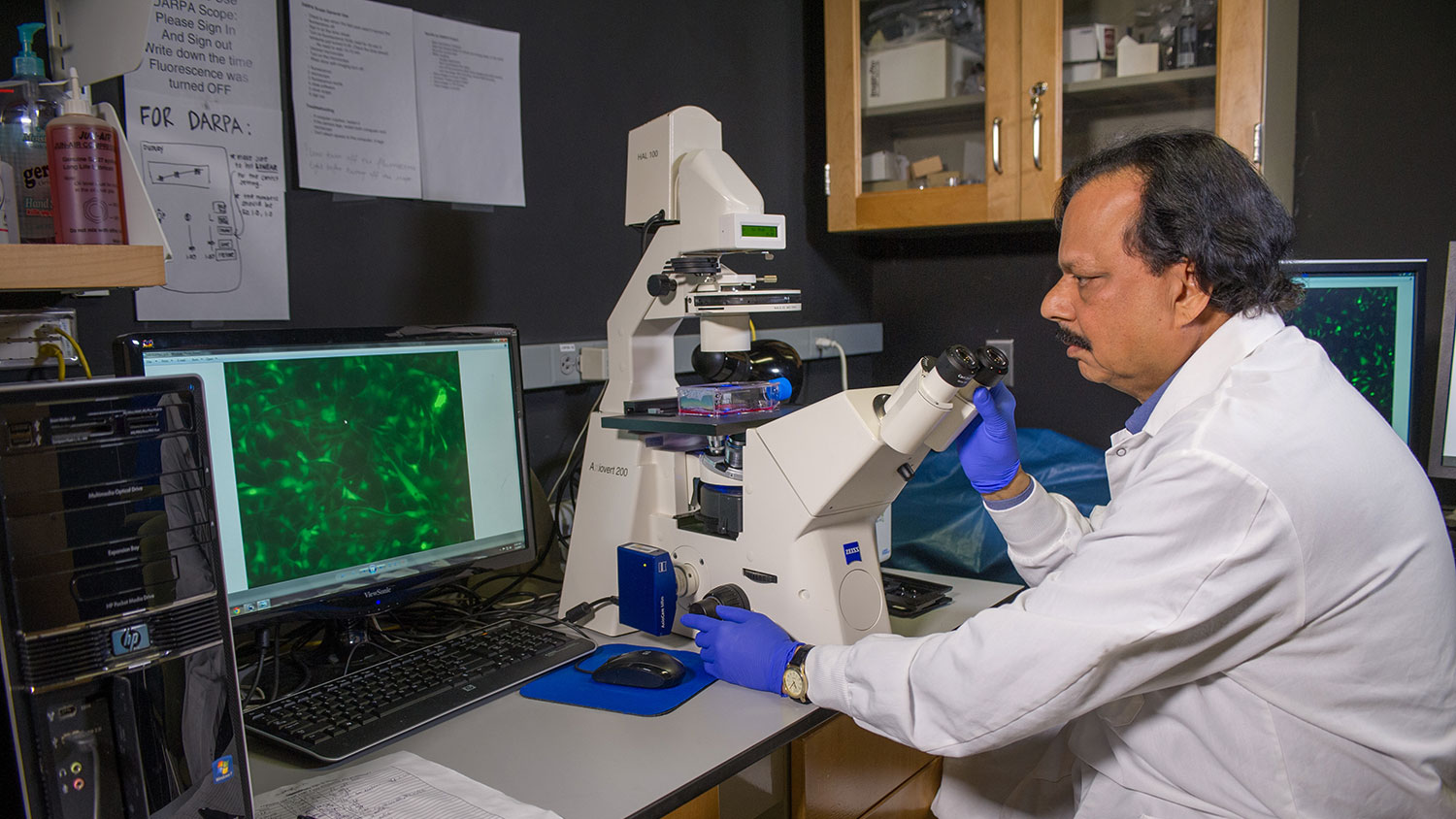 S. Balakrishna Pai, a researcher in the laboratory of Ravi Bellamkonda in the Wallace H. Coulter Department of Biomedical Engineering at Georgia Tech and Emory University, studies glioblastoma cancer cells to find a way to stop their spread. (Photo Rob Felt)
Researchers Hijack Cancer Migration Mechanism to "Move" Brain Tumors
One factor that makes glioblastoma cancers so difficult to treat is that malignant cells from the tumors spread throughout the brain by following nerve fibers and blood vessels to invade new locations. Now, researchers have learned to hijack this migratory mechanism, turning it against the cancer by using a film of nanofibers thinner than human hair to lure tumor cells away.
---
Food trucks have found their way to Georgia Tech. A broad field of options rolled onto campus, with students choosing the trucks they wanted to come back weekly starting in March.
---
Maryam Alavi named new dean of Georgia Tech's Ernest Scheller Jr. College of Business.

A P R I L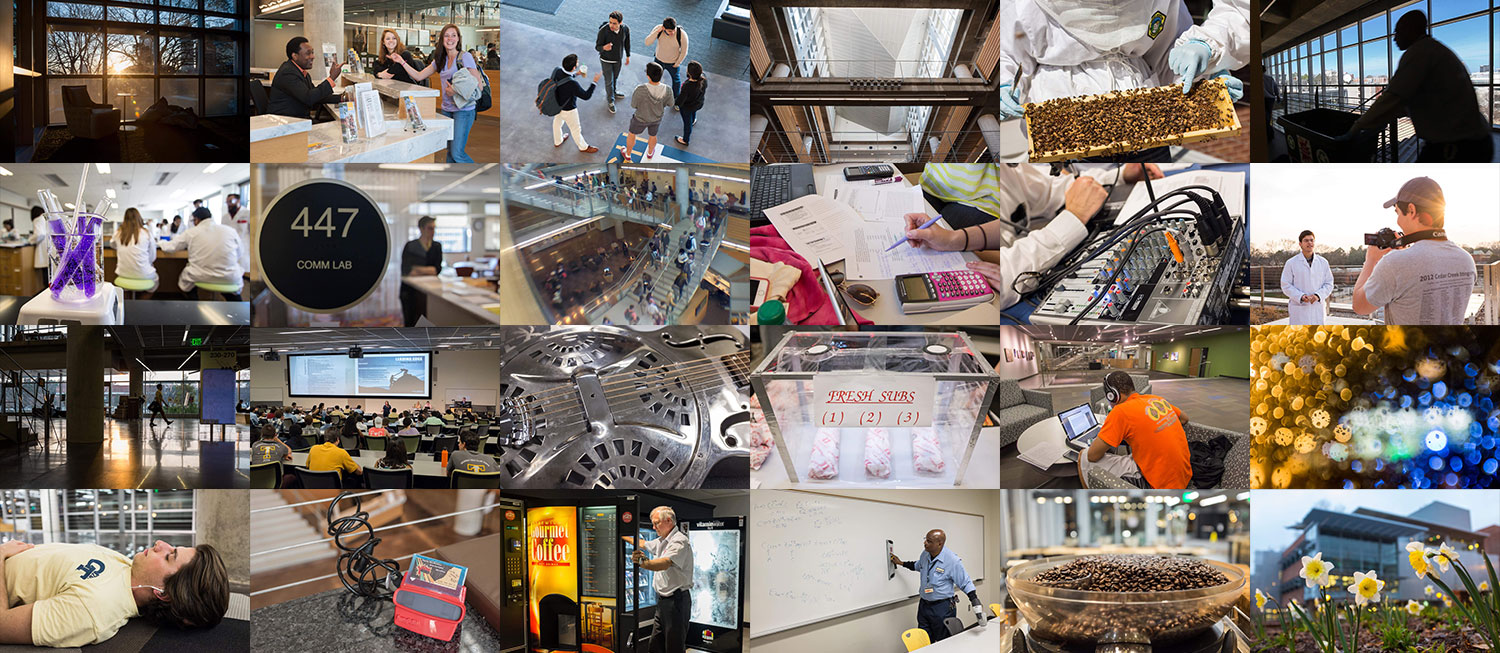 Georgia Tech's Clough Undergraduate Learning Commons is four stories high but countless stories full, as chronicled in these scenes from 24 Hours at Clough. (Photos: Rob Felt, Rhys Black, Melanie Goux)
24 Hours at Clough Commons
An hour-by-hour glimpse at the center that never sleeps. At Georgia Tech's Clough Undergraduate Learning Commons, where Yellow Jackets converge for everything from labs, to lectures, to tutoring and advising – or simply for a caffeine boost with friends – the influx of students is round-the-clock.
---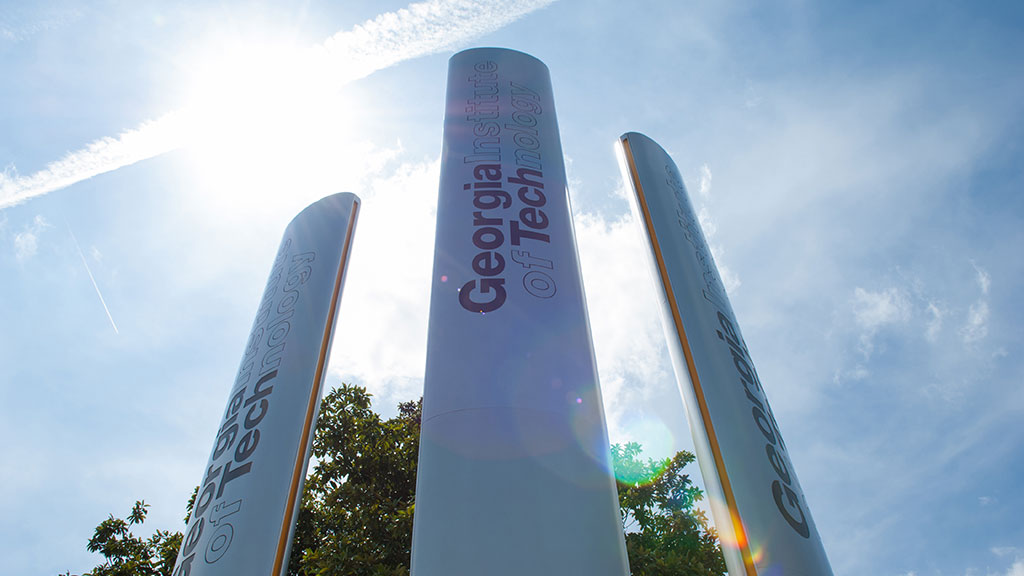 Georgia Tech installs new signs welcoming visitors to campus.
---

M A Y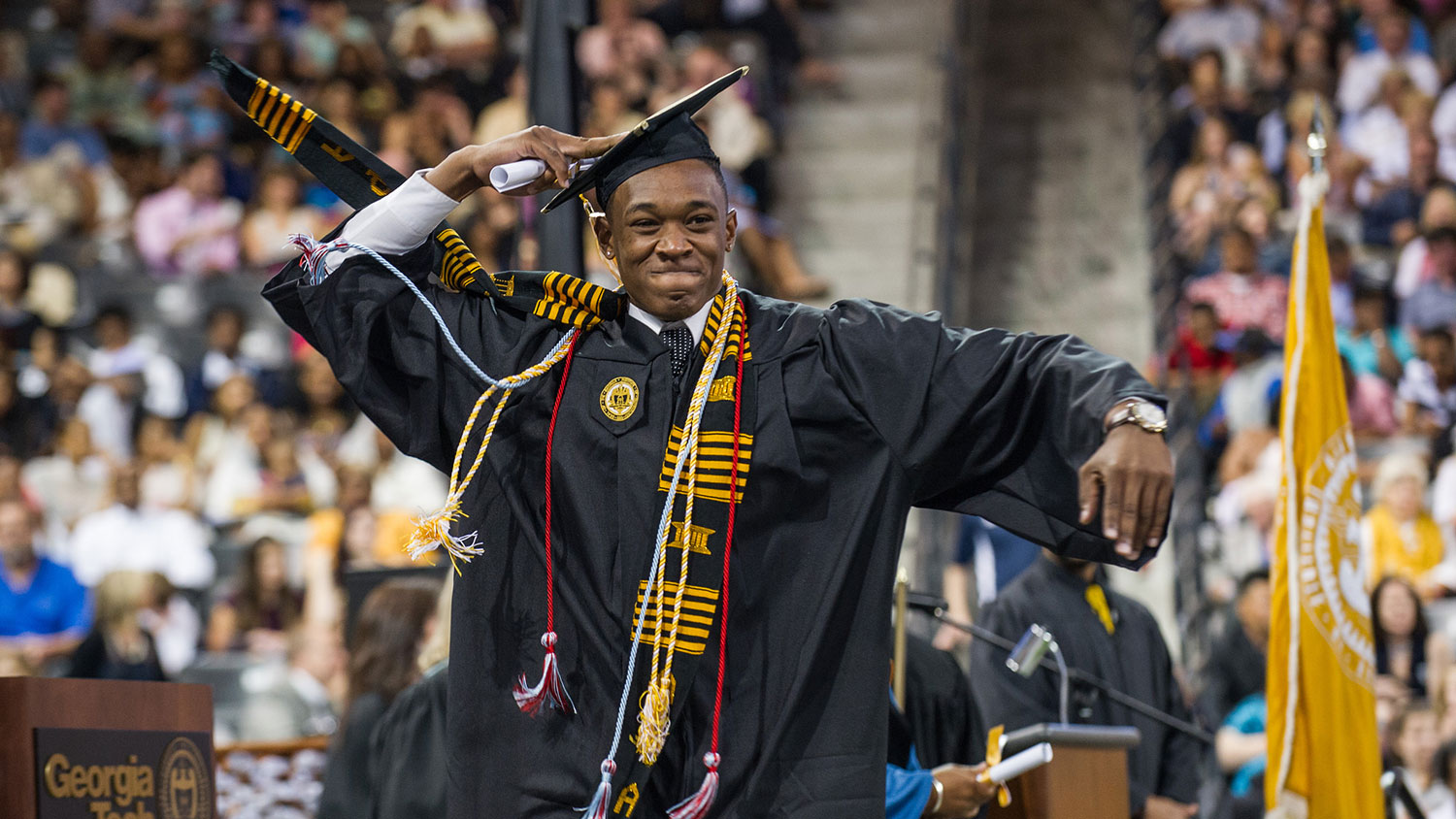 (Photo Rob Felt)
Spring Commencement
From bachelor's to master's to Ph.D.s, 3,028 new Georgia Tech graduates say #IGotOut in May.
Photos & videos from Spring 2014 Commencement
---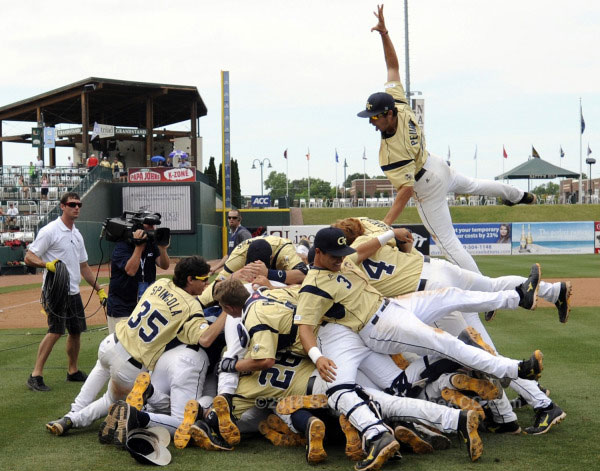 Georgia Tech wins 2014 ACC Baseball Championship.
---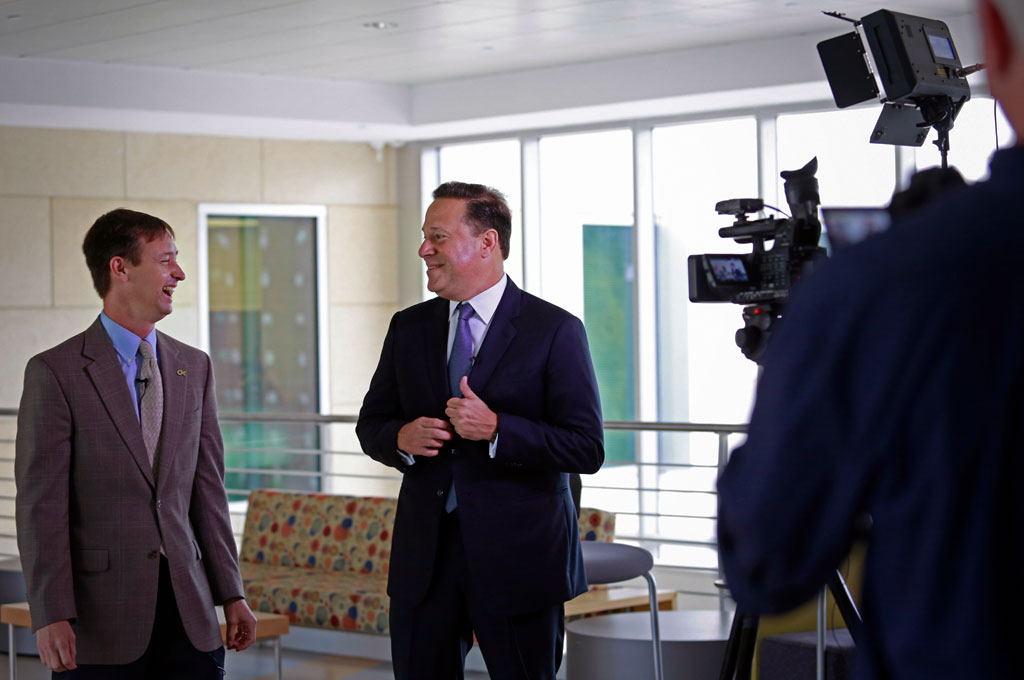 Georgia Tech industrial engineering alumnus Juan Carlos Varela elected president of Panama.

Video interview with President Varela
---

J U N E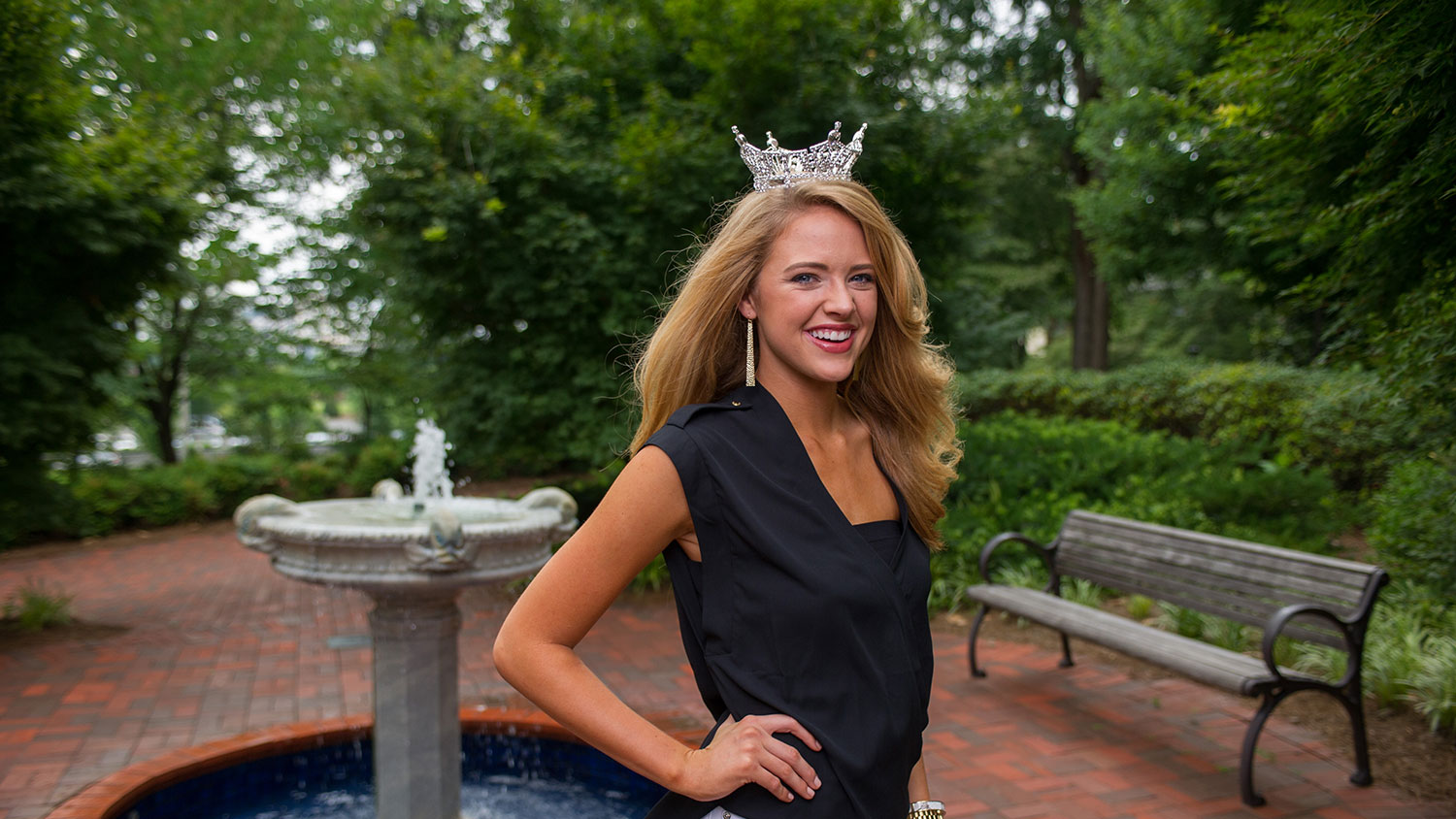 Maggie Bridges was one of four Georgia Tech women to vie for Miss Georgia in 2013, and in 2014, she took the crown.(Photo Rob Felt)
Miss Georgia
Senior business administration major Maggie Bridges wins 2014 Miss Georgia crown and goes on to compete at Miss America.
---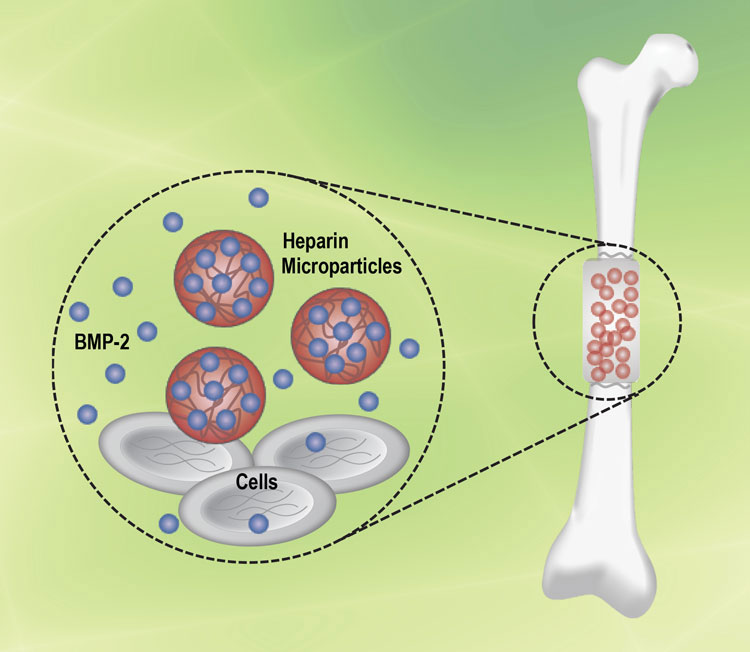 Biomedical engineers at Georgia Tech are working on a better way to build bone inside the body.

J U L Y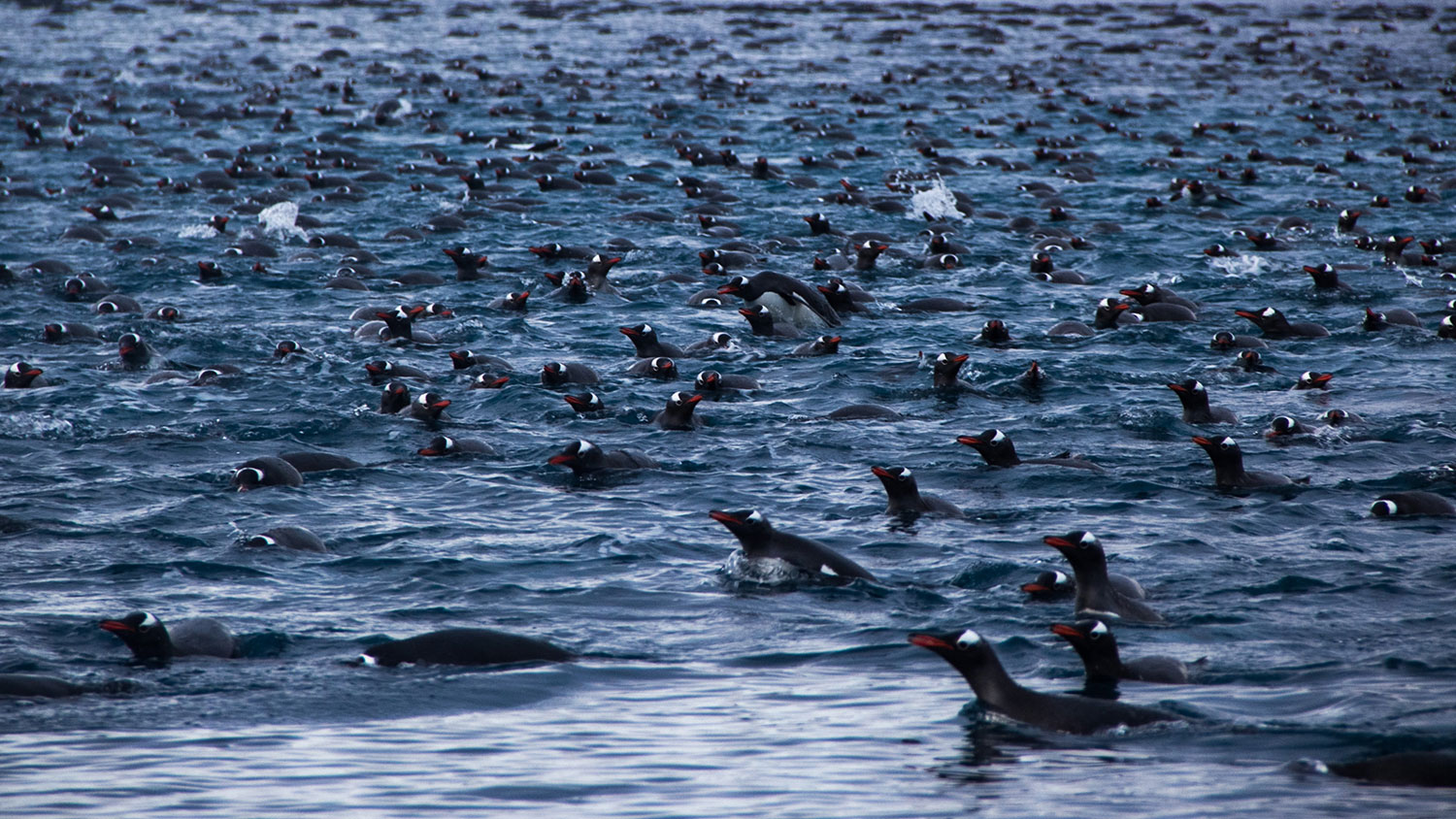 Researchers aboard the Laurence M. Gould vessel shared the sea with thousands of of Gentoo penguins in the frigid waters of Le Maire Channel near Antarctica. (Photo Michiel Gitzels)
In Antarctica, a Quest to the Bottom of the Food Chain
Georgia Tech team travels to Antarctica to conduct research in one of nature's greatest laboratories. Jeanette Yen and her team of scientists are conducting experiments here that are possible nowhere else.
---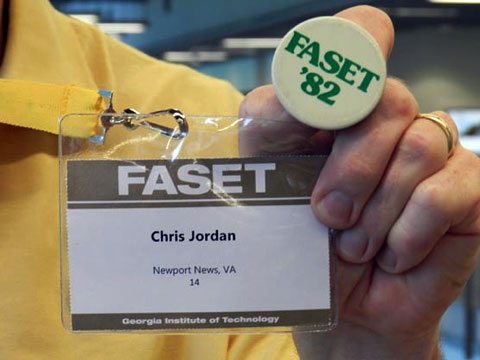 Graduates of Georgia Tech return as parents of incoming freshmen at FASET.
---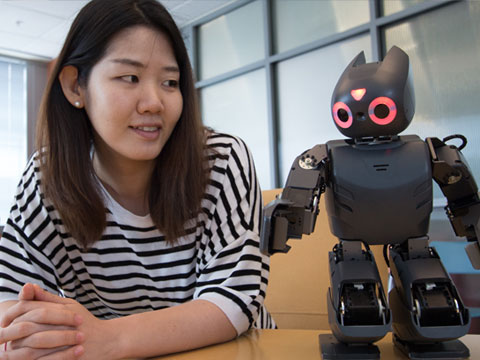 Scientists make a robot that plays Angry Birds as a rehabilitation tool for children with disabilities.
---

A U G U S T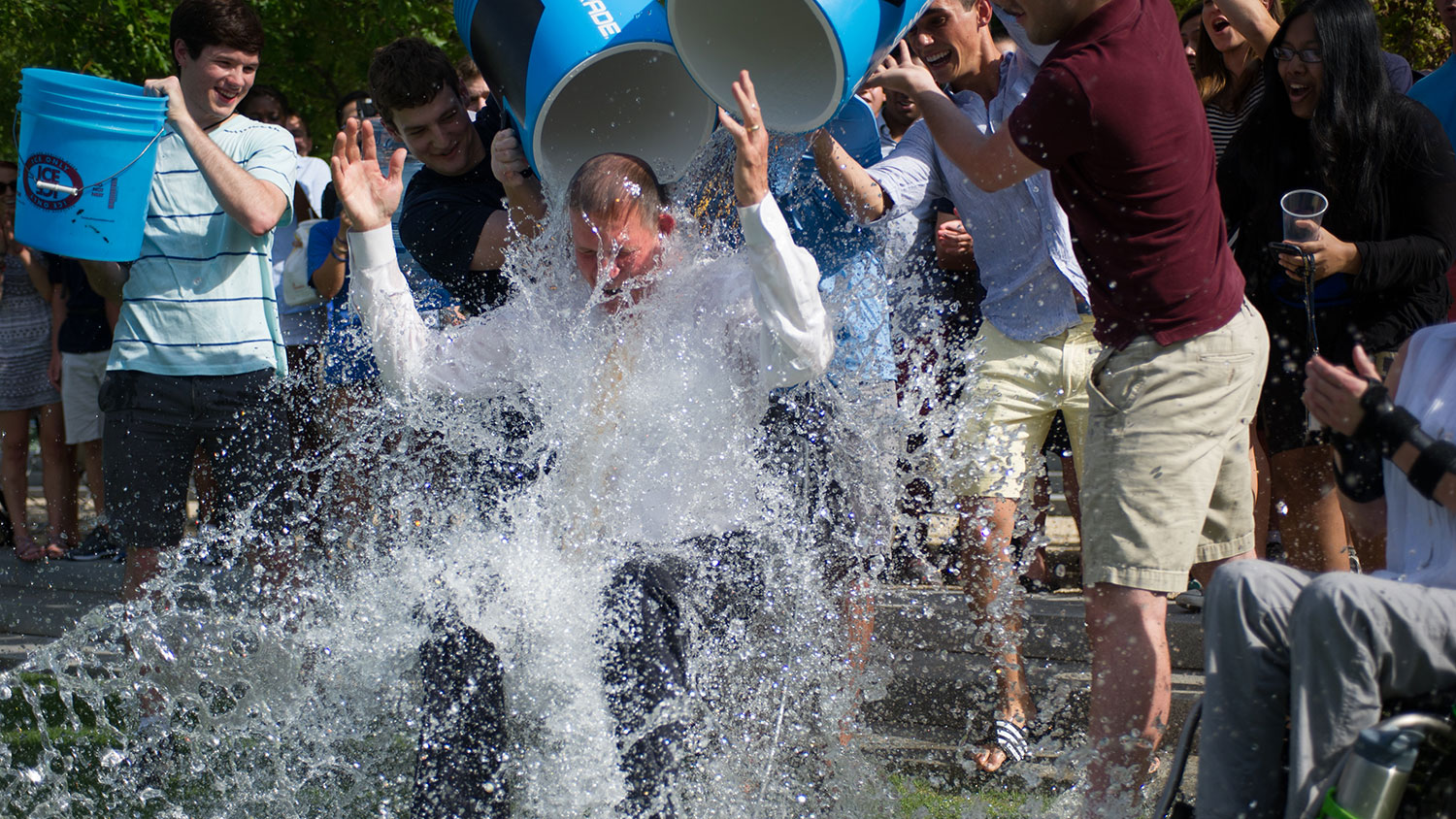 President Peterson gets doused. (Photo William Richardson)
Ice Bucket Challenge
Georgia Tech President Bud Peterson accepts the ALS Ice Bucket Challenge.
---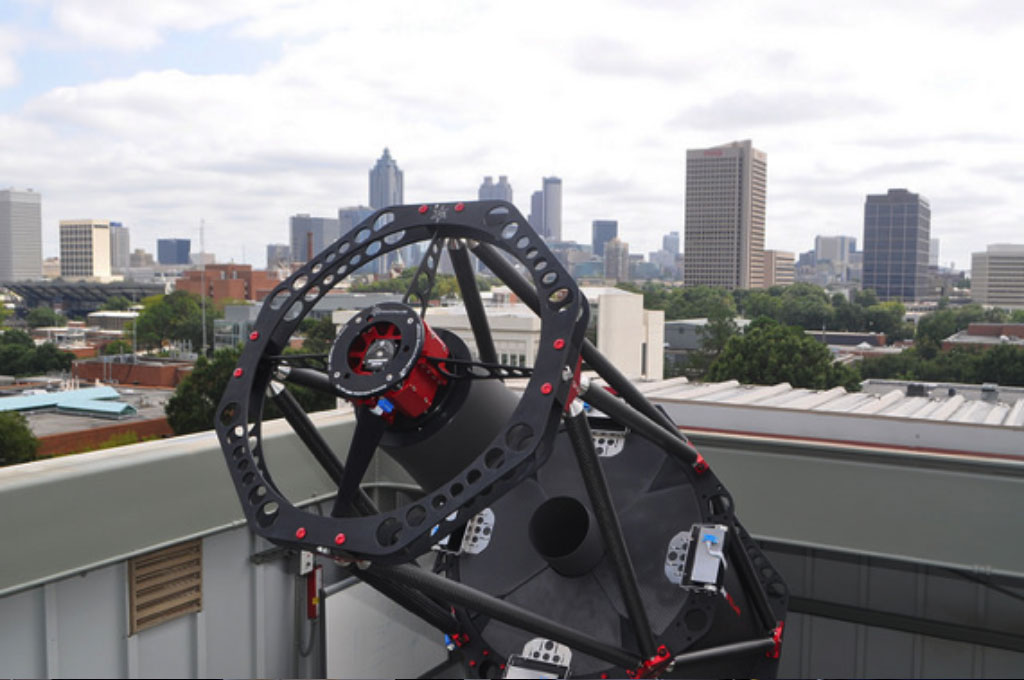 Georgia Tech installs one of the world's most powerful telescopes.
Telescope installation timelapse video 1
Telescope installation timelapse video 2
---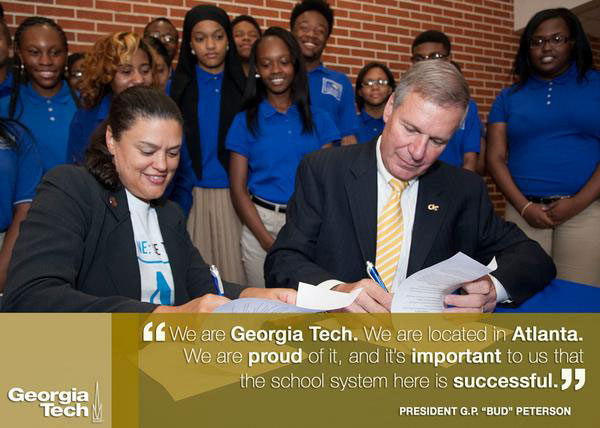 Georgia Tech announces a partnership with Atlanta Public Schools that gives valedictorians and salutatorians automatic acceptance and full scholarships to the Institute.  
---

S E P T E M B E R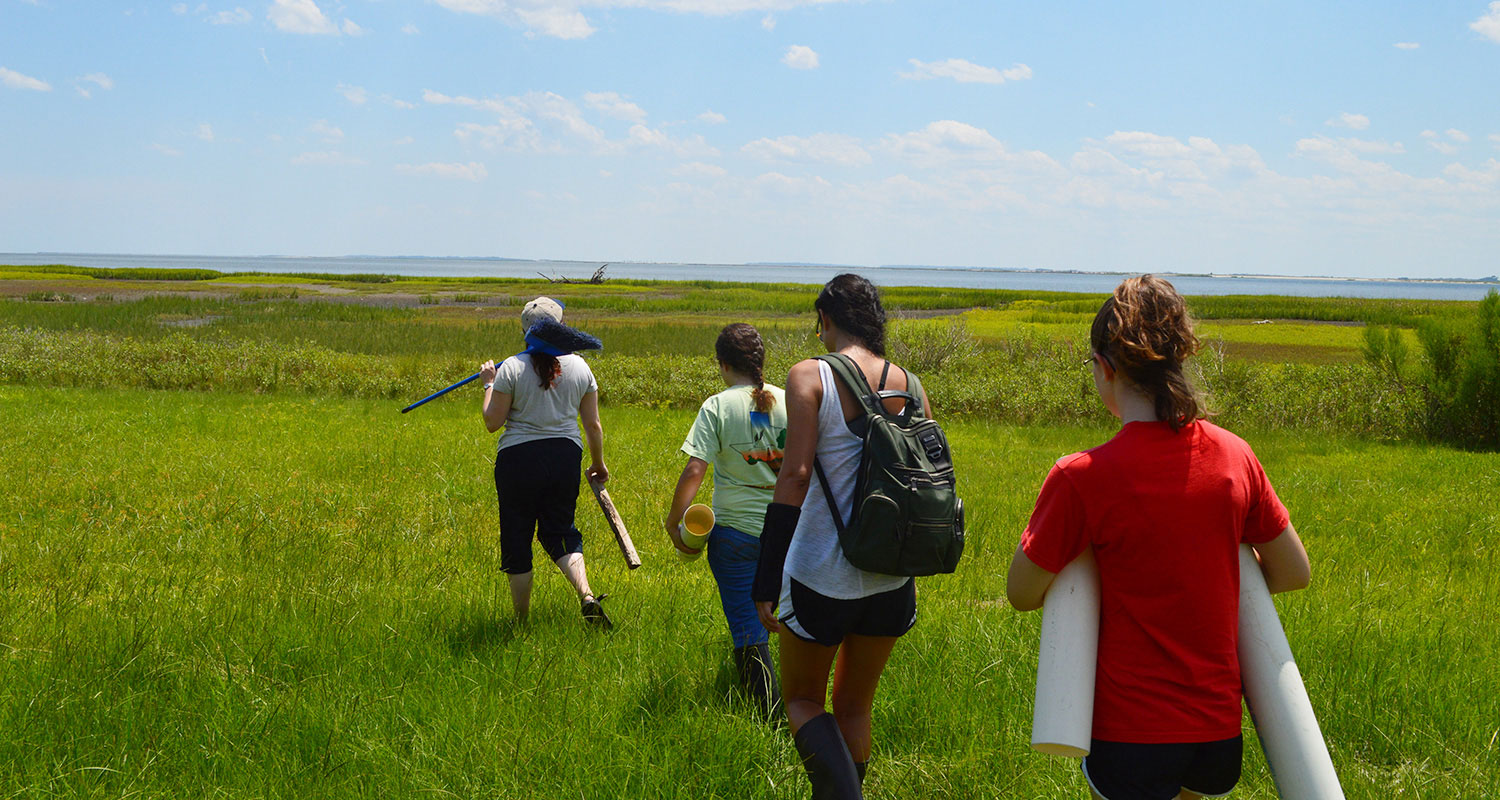 Jennifer Glass and her team of students head into the marsh on one of Georgia's most pristine barrier islands, carrying supplies needed to collect core samples. (Photo: Brett Israel)
A Sampling of Sapelo Island
Georgia Tech students slog through the marshes of Sapelo Island conducting research.
---
U.S. News & World Report once again ranks Georgia Tech the No. 7 public university in America (the only technology-focused university to make the top 10), and the College of Engineering moves up to No. 4 in the country.
---

O C T O B E R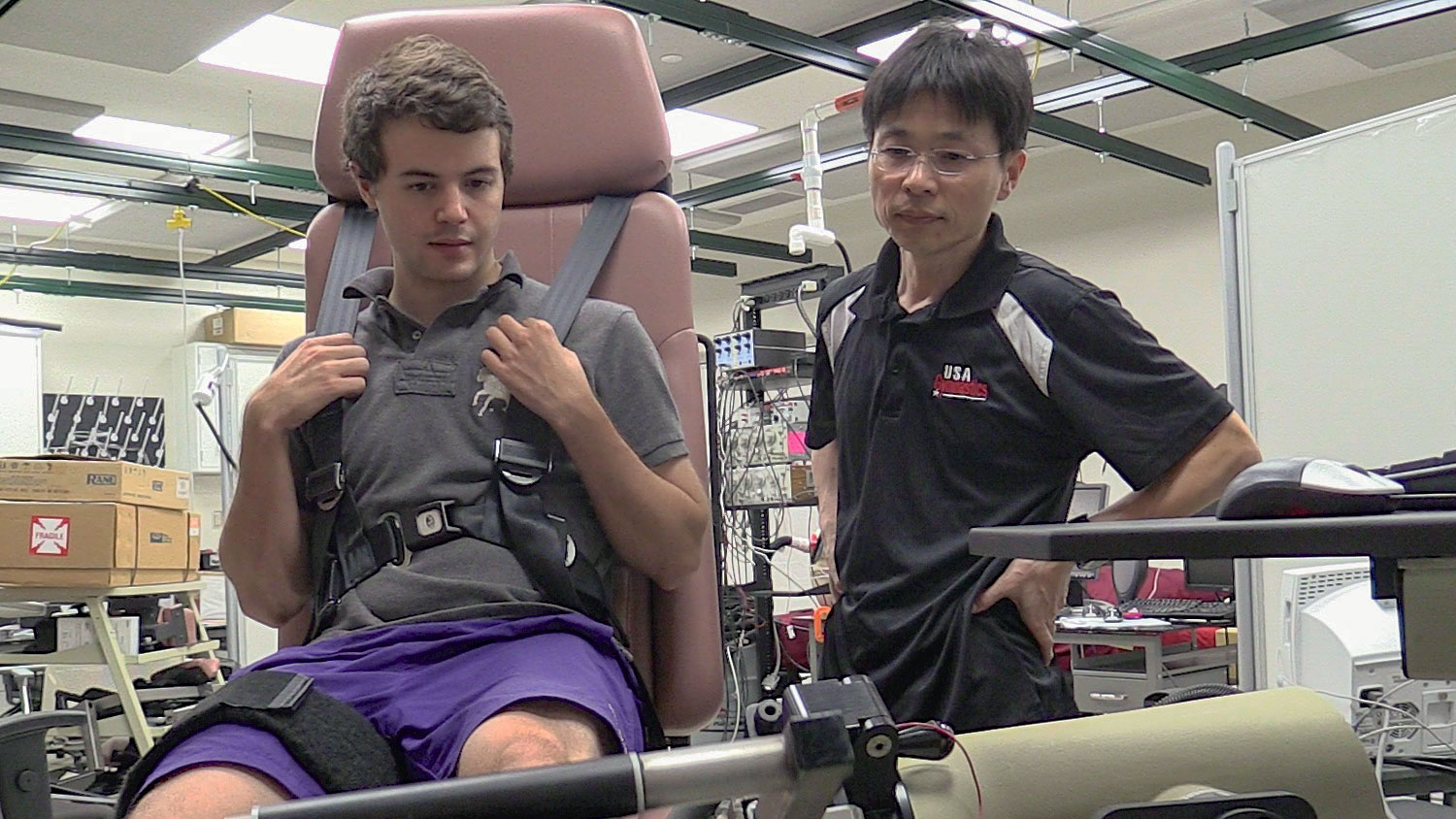 Minoru Shinohara (right), an associate professor in the School of Applied Physiology, is giving people yet another reason to exercise as a principal investigator in a study that links resistance training with improved memory.
Lift weights, improve your memory
Scientists at Georgia Tech determine that just 20 minutes of strength training exercise can improve your long-term memory.
---
Georgia Tech goes smoke free on October 1.
---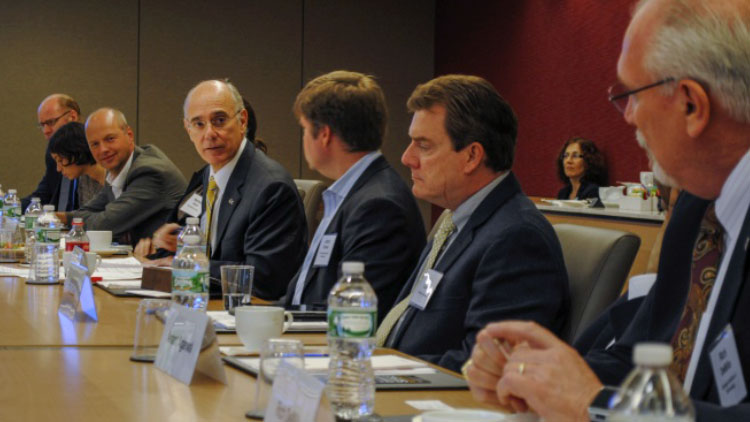 Georgia Tech hosts a higher education media roundtable in New York City. Panelists, including representatives from Coursera, EdX, and Udacity, discussed the future role of technology in higher education.
---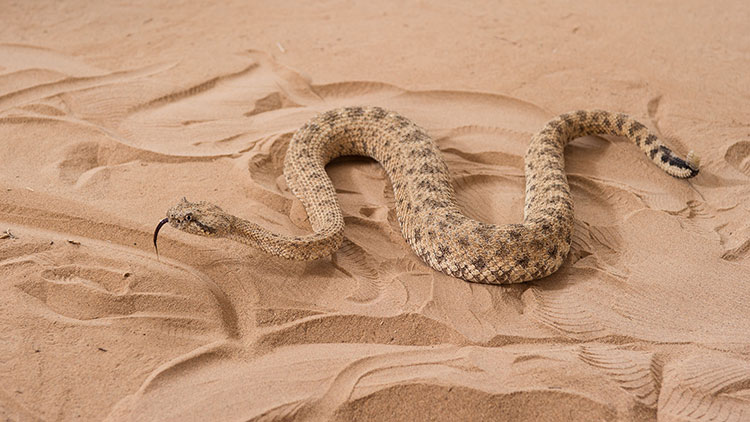 Georgia Tech researchers crack the code of how a sidewinder snake moves.
---

N O V E M B E R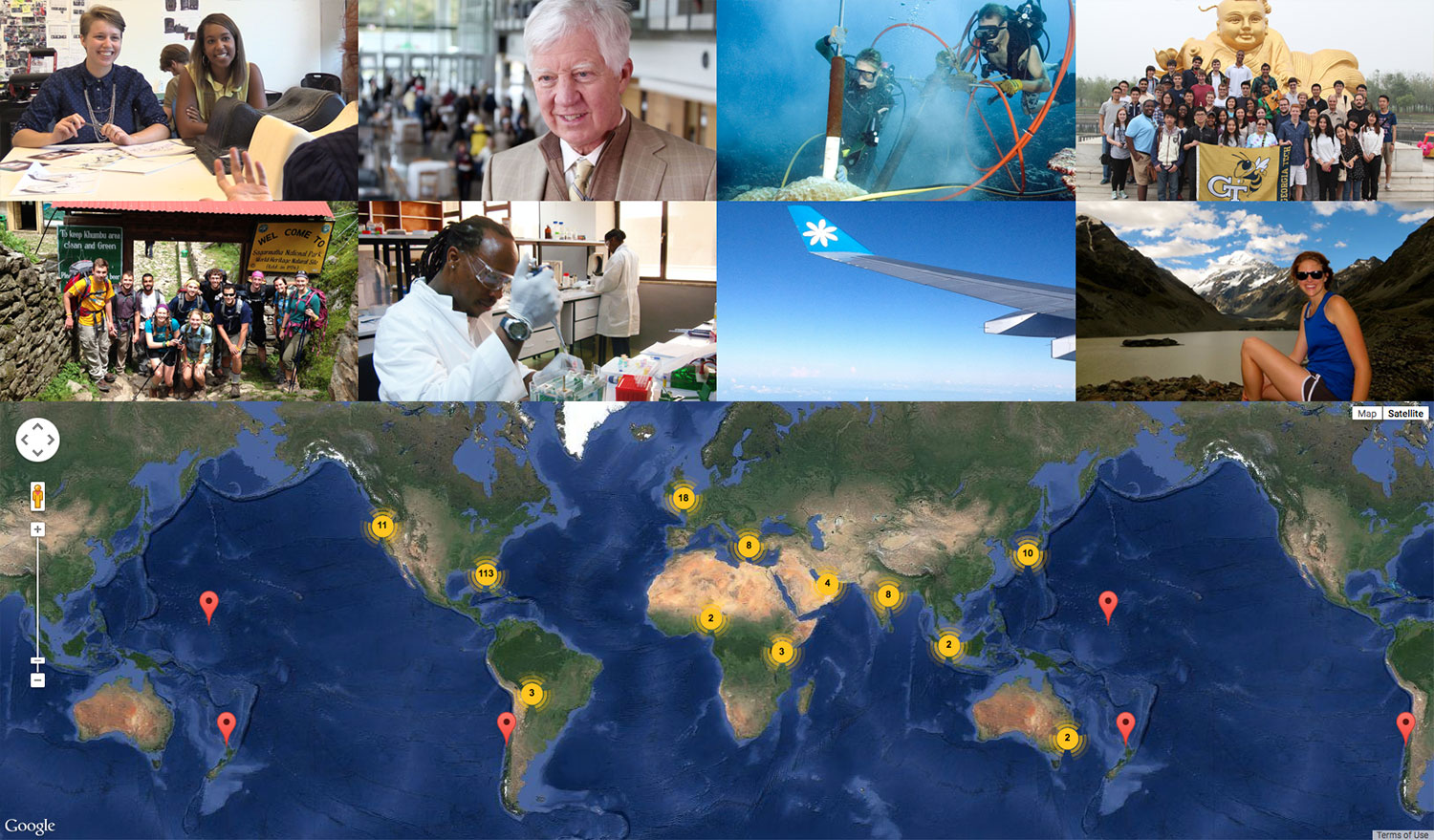 Georgia Tech Full Circle story images and Check In google map.
#GTFullCircle
Georgia Tech travels around the world, telling stories of the global impact of Yellow Jackets with #GTFullCircle campaign.
---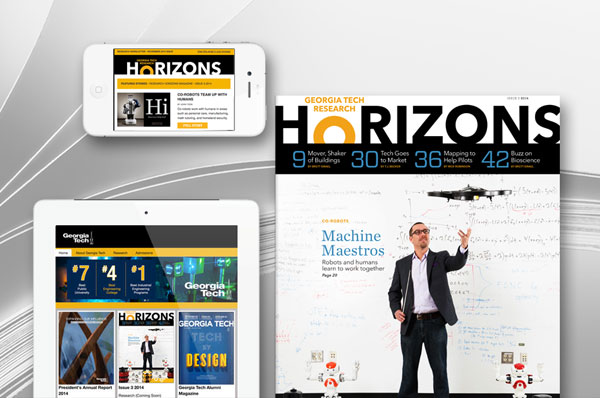 Research Horizons gets a makeover, launching a new look for not just the printed publication, but also its website, e-newsletter, and iPad storefront.
---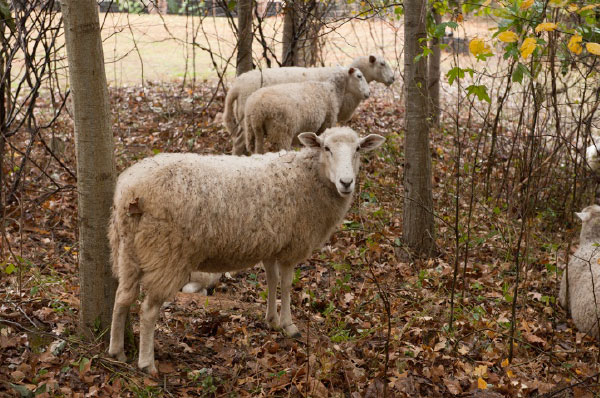 A little sheep goes a long way in managing kudzu on campus.
---
With a kick and a pick, Georgia Tech beats Georgia in Athens during overtime, 30-24.
---

D E C E M B E R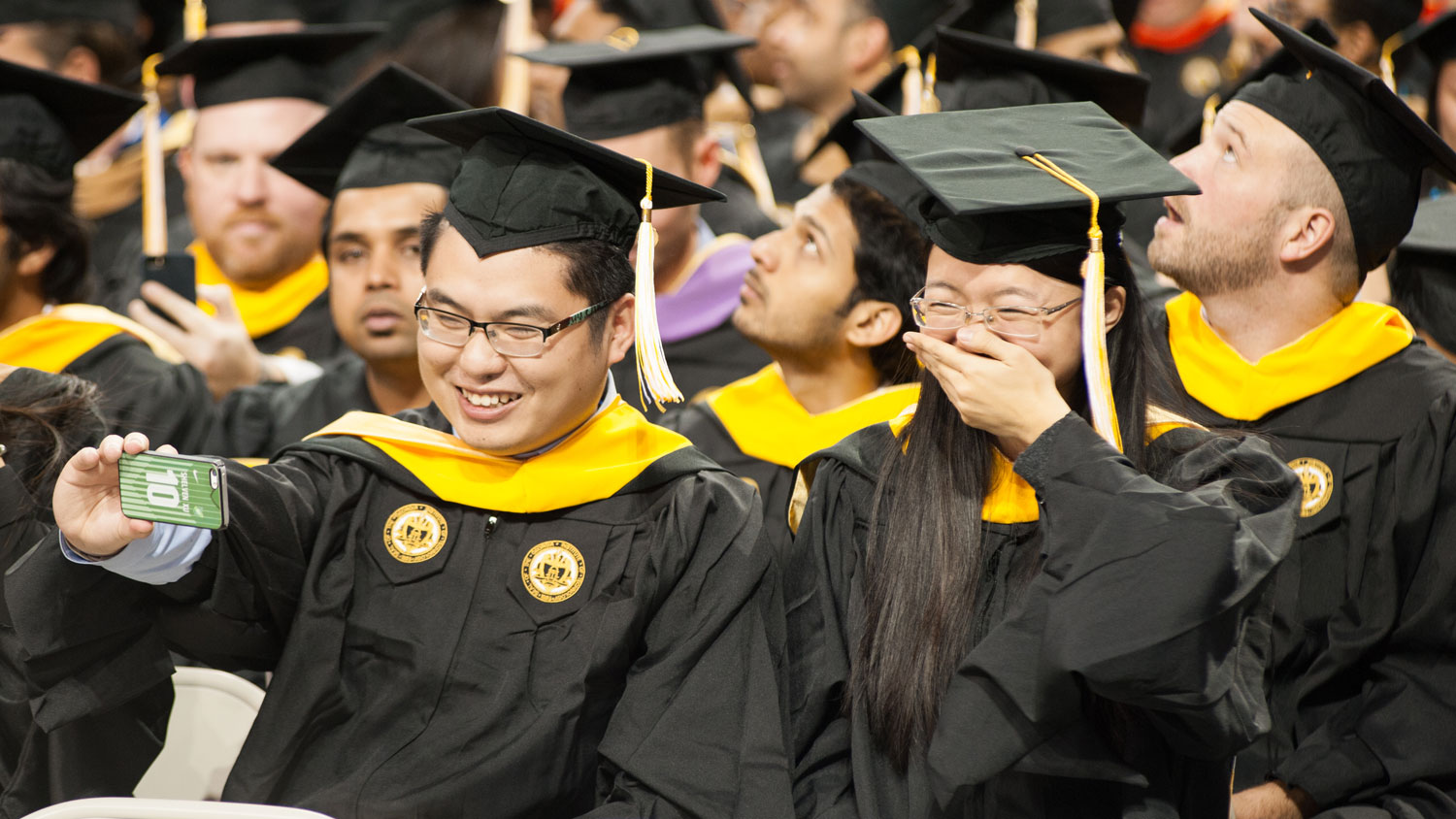 (Photo Fitrah Hamid)
Fall Commencement
1,800 students graduate at Tech's 248th commencement ceremonies in December.
Photos and videos from Fall 2014 Commencement
---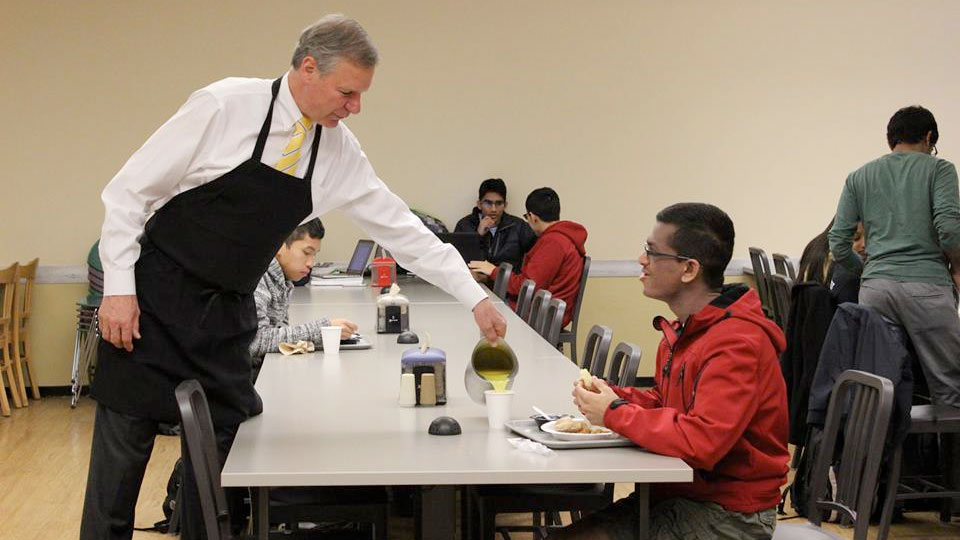 Georgia Tech President Bud Peterson and other administrators feed midnight breakfast to hungry Yellow Jackets during finals.
---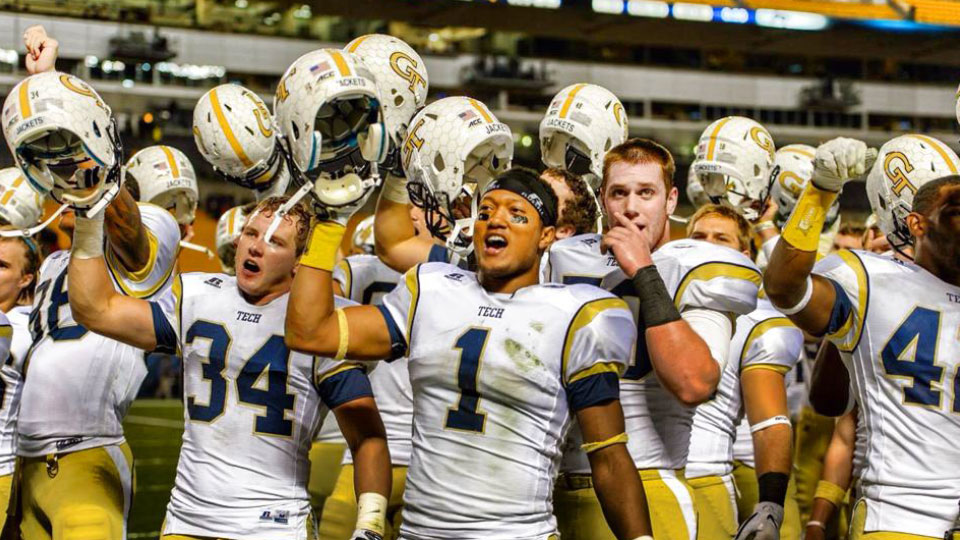 Georgia Tech selected to play in the 2014 Orange Bowl!
Our Favorite Photos from 2014