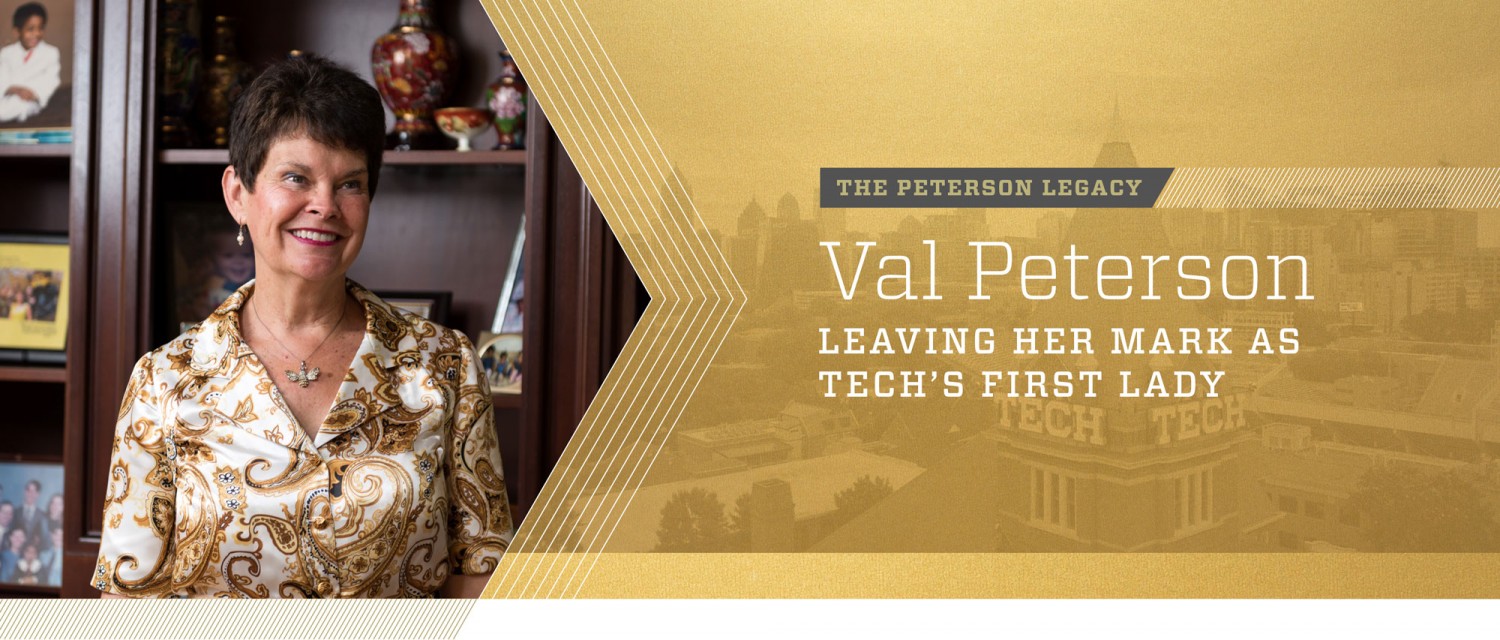 In September 2011, Georgia Tech students organized the Institute's first Bike Week, which included a casual 4-mile "Tour de Tech" loop around campus. President G.P. "Bud" Peterson and first lady Val Peterson saddled up and participated. It wasn't the first time — nor would it be the last — in which Mrs. Peterson demonstrated that she wasn't just along for the ride.
Val Peterson taking a break during Tour de Tech.
Upon the Petersons' arrival at Tech in Spring 2009, she quickly got used to hitting the road on behalf of the Institute. Mrs. Peterson participated in all 10 Georgia Summer Tours, an event the president initiated when he first arrived as a means of getting to know the many Georgia Tech stakeholders in alumni circles, business, leadership, and media throughout their new state. By the end of the final event in 2018, the Petersons had traveled nearly 7,500 miles through virtually every one of Georgia's 159 counties, and held 250 events or meetings in more than 100 cities throughout the state.
On an informal basis, the president and first lady could often be seen strolling around campus and chatting with people, one of their favorite things to do after hours. They also often dropped in on campus events and athletic contests to lend their support.
From the start, Mrs. Peterson quickly established herself as an enthusiastic ambassador for Georgia Tech and became fondly known around Tech as the "Queen Bee," a moniker she proudly embraced. She made numerous public appearances and plunged into causes and activities about which she is passionate.
During their time in Texas, the Petersons were foster parents to nine children over an 11-year period, and she continued her involvement in the foster care movement in Georgia by providing counsel, giving speeches, fundraising, volunteering, and advocating for foster youth. In keeping with that cause, the Petersons also worked with the Foster Care Support Foundation, a Roswell, Georgia, agency dedicated to the mission of clothing foster children all across the state. On March 18, 2018, Mrs. Peterson spoke at the Georgia Capitol in commemoration of Foster Care Day.
When Georgia Tech launched the Tech Ends Suicide Together initiative in Fall 2016, Mrs. Peterson became its chief spokesperson and made a number of appearances on campus, throughout the state, and nationally to raise awareness and encourage the community to become involved. In April 2019, she spoke on the topic in Washington, D.C., to the Association of American Universities (AAU) Partners, an organization of partners (spouses) of AAU presidents and chancellors. With Mrs. Peterson leading the way, Tech Ends Suicide Together sought to change the paradigm from suicide reduction to suicide elimination on campus. Georgia Tech became one of the nation's first colleges/universities to implement a zero-suicide initiative on campus.
Among the high points of the Peterson decade was the completion in 2015 of Campaign Georgia Tech, which exceeded its $1.5 billion goal by 20%, making it the most successful fundraising campaign in the Institute's history. Among the many who participated in the drive, Mrs. Peterson was the only individual to attend all 42 campaign events throughout the U.S. and abroad.
Mrs. Peterson has served as a judge in Tech's Ideas 2 Serve, a student competition (housed in the Scheller College of Business but open to all Tech students) that seeks to find early-stage products or venture concepts focused on creating a better world.
An accomplished seamstress, she has four closets of self-made outfits that are each some combination of white and gold, black and gold, or navy and gold, in keeping with Georgia Tech's color schemes.
Mrs. Peterson has often ended up teaching the things she most enjoys. She taught college-level, high school, and pre-K through grade school Spanish, and also taught aerobics for 24 years. In addition, she is a certified yoga instructor and is currently teaching at Georgia Tech.
President and Mrs. Peterson have been married for 45 years. They have four adult children of their own and one grandson, plus twin granddaughters. She was born in Seattle and raised in Kansas City. She attended Kansas State University, where she met Bud Peterson and earned bachelor's degrees in home economics and Spanish, with a teaching certificate. She also earned a master's degree in Spanish from Texas A&M University.
Along with the president, Mrs. Peterson was honored at the June 2019 meeting of the Georgia Tech Foundation, which announced a $5 million grant to initiate the new G.P. "Bud" Peterson and Valerie H. Peterson Scholarship Endowment Fund. It will support students with demonstrated financial need from across the nation. Additional initial gifts and commitments of $12 million from more than 100 current and emeritus Foundation trustees, the Georgia Tech Advisory Board, and Alumni Association executive committee members, have already made it the largest single scholarship fund in Georgia Tech history.