An Age of Empowerment: Meet Jennifer Leavey
By Victor Rogers | Photos by Allison Carter September 25, 2018
This is the first installment of a yearlong series about women at Georgia Tech. See the full series.
Jennifer Leavey is the integrated science curriculum coordinator for the College of Sciences. She also directs the Georgia Tech Urban Honey Bee Project, an interdisciplinary initiative designed to recruit and retain STEM students by studying how urban habitats affect honey bee health and how technology can be used to study bees. 
"Most of the programs I work on relate to encouraging undergraduates to become more engaged in studying science," Leavey said. "The Georgia Tech Urban Honey Bee Project sprouted out of the idea that if something is authentic, it doesn't matter what discipline students are in or what class they're taking, they'll become interested in it."
Hear Leavey talk about her work at Georgia Tech.

Leavey finds that people are naturally interested in the plight of the honey bee.
"We established bee hives on the roof of Clough Commons to use them as a model and to use them in research," she said. "As soon as people found out there were bees up there, they came out of the woodwork and wanted to become involved — students, faculty, staff, and people from the surrounding community. Everyone is excited about the bees. I probably get five emails a day from people who want to learn about bees and become involved."
Some of the interest likely comes from news stories about the environmental threats facing honey bees, like pesticides, diseases, and loss of habitat.
"The way that these threats manifest can be approached from all different disciplines," Leavey said. "We have biology students who study the genetics of bees — especially bees that are reared in urban areas. We have mechanical engineering students and physics students who are interested in how bees fly, how they groom themselves, and how pollen attaches to bees. Computer science majors and electrical engineering majors are interested in developing devices to study bees. Some computer science students are developing apps to capture information about when bees land on flowers."
Leavey explained that if researchers collect enough pictures of bees on flowers, then they have big data. They can analyze that data and figure out when certain species of flowers are blooming and how bees interact with them. This data can be used to track climate change.
To help manage the tremendous interest in the honey bees, Leavey and her colleagues started a volunteer training program offering a free introductory class once a month. People learn basic honey bee biology, and they learn how to be safe around the bees.
"As we go about our normal process of maintaining the beehives, we invite people who have taken our training class to come out and learn how to keep bees themselves," she said. "Sometimes, we remove the bees from the hive for experiments. We never treat the hive with anything that would cause the honey to be contaminated. So, a perk of the project is the bees are making honey, and we can harvest it. We sell some of it to help raise money for the project. It helps to pay the student assistants and run outreach activities such as the classes."
In addition to directing the Urban Honey Bee Project, Leavey also is the faculty director of two living learning communities for science and math majors: the Science and MAth Research Training program (SMART) — for students interested in research-based careers, and the Scientific Health And Related Professions program (SHARP) — for pre-health students.
She also is involved in science communication and science outreach. She teaches a VIP course called STEMcom, which is all about communicating science to the public. Some of the activities include developing events for the Atlanta Science Festival, held each March.
Leavey earned a bachelor's degree in chemistry from Tech in 1995, then she went to Emory University and obtained a Ph.D. in immunology and molecular pathogenesis. She spent a couple of years doing research at the University of Georgia before returning to Georgia Tech in 2005.
"I have been teaching biology, advising students, and, in general, having a great time getting Georgia Tech students more interested in science and helping create an identity for science students on this largely engineering- and computing-focused campus."
Leader of the Band
When she isn't in the classroom or on top of Clough Commons with the bees, Leavey likes to rock.
"Playing music has always been a really big part of my life," Leavey said. "When I was in college, I was a deejay at WREK radio here on campus. I used to love to play local music on my shift."
Back at her dorm room, she and her roommate talked about starting a band of their own. They didn't know how to play instruments, but they learned.
"So, I started playing [electric guitar] in college and kept playing all through graduate school. And, I'm talking loud… rock 'n' roll… mostly in all-girl bands… punk rock bands. It was something that kept me going. I don't know if I would have made it through college and graduate school if I didn't have some kind of outlet like that."
After marrying and starting a family, Leavey didn't play as much. About five years ago when planning the first Atlanta Science Festival, Leavey thought it would be fun to have a science rock 'n' roll band. So, she and a few friends started a band called Leucine Zipper and the Zinc Fingers.
"The premise of the band is that it is the world's first genetically modified rock band. The characters that perform on stage are not exactly like the individuals behind the band," she said.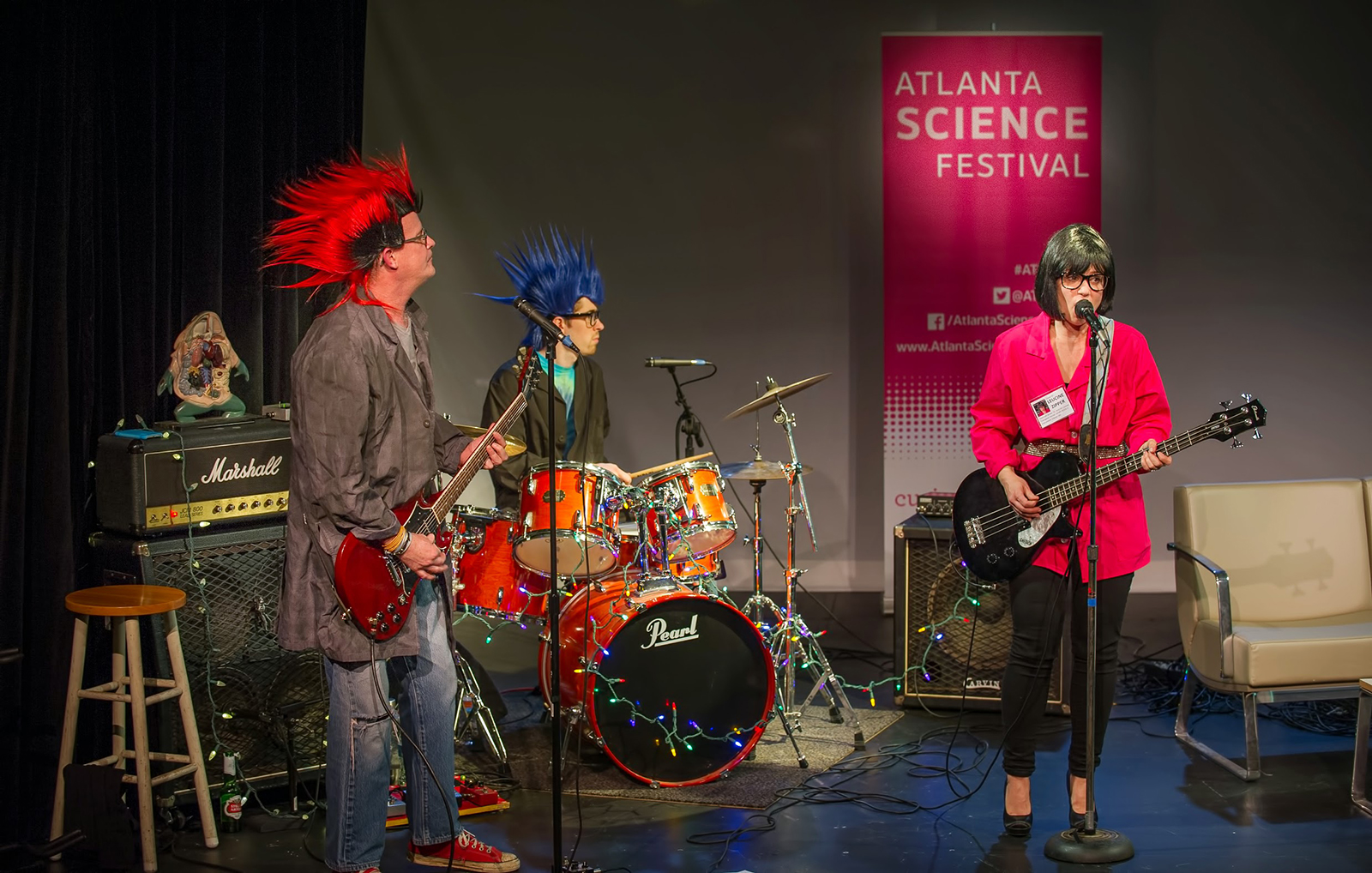 Leucine Zipper and the Zinc Fingers perform at the Atlanta Science Festival
The Zinc Fingers are "clones" of amphibian ecologist Joe Mendelson, chemist Michael Evans, and biologist Ben Prosser. 
"We wrote an entire album of songs about science. They are standalone songs that are fun to listen to even if you don't know what the science is about," Leavey said.
Last year, the band received funding from the Georgia Tech Arts Council to record the songs for their first album, Atomic Anarchy. They also compiled a booklet that looks like a textbook and describes the science behind each song. Song topics range from genome editing, to entropy, to earth science.
Leucine Zipper and the Zinc Fingers will have an album release party at Under the Couch on Saturday, October 13, at 9 p.m. All ages are welcome.