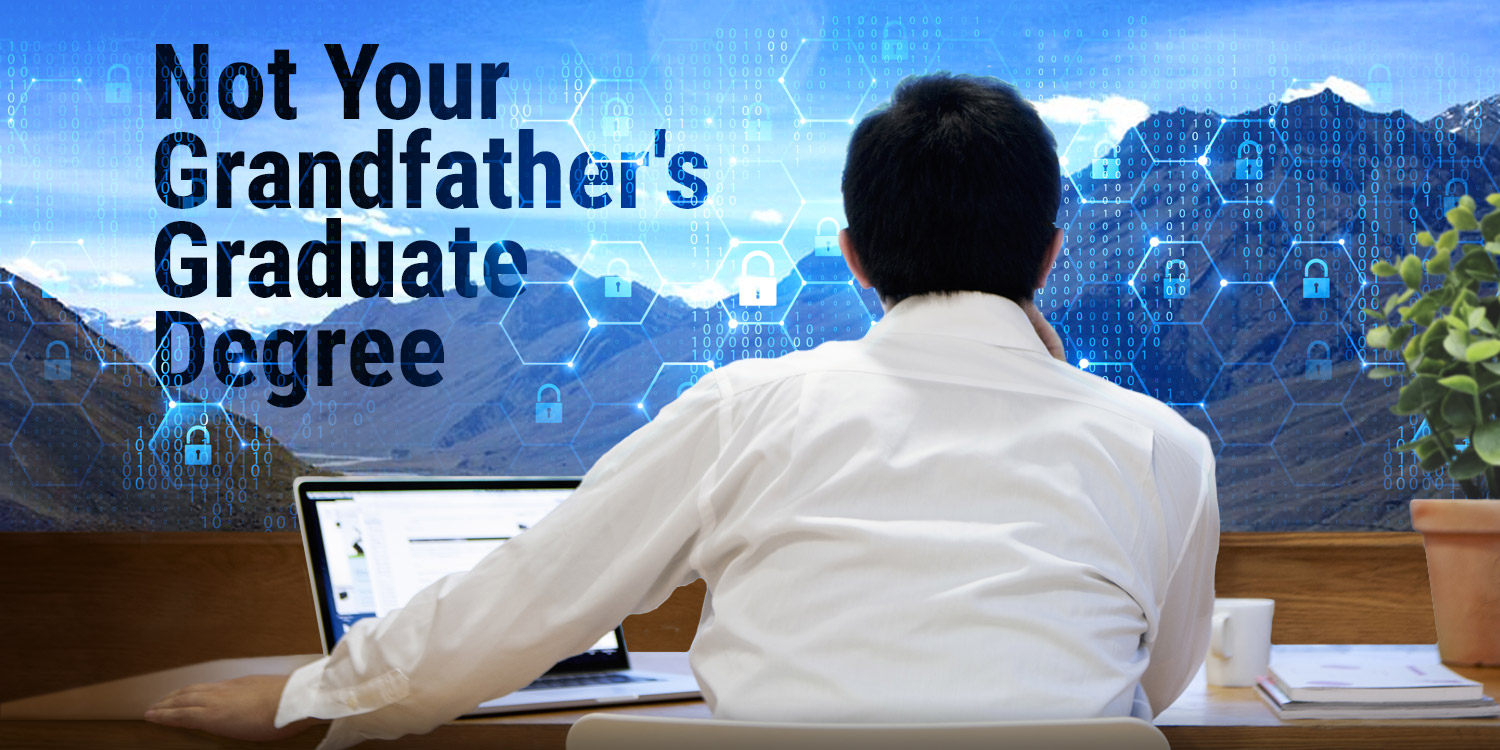 Not Your Grandfather's Graduate Degree
Published August 15, 2018 | Written by Michael Terrazas | Edited by Stacy Braukman
Georgia Tech's OMS programs are transforming online graduate education and changing lives — from computer science to analytics to cybersecurity. And it's only the beginning.  
Samantha Campo was an elementary school teacher in New Jersey with no formal education in computer science.
Dan Hawks was an Atlanta media consultant who wanted to understand more about the analytics he was using in his job.
Jasmine McCray was a software developer in South Carolina who needed an affordable path to the next step in her career.
Katja Krivoruchko was a California software engineer, five months' pregnant and ready to go back to school.
And Harkirat Virk was an officer in the Indian Army, stationed in his country's northern mountains, where electricity — much less an internet connection — is hard to come by.
What do they all have in common? Each became a successful Georgia Tech graduate student. Each is putting that education to work in achieving their professional aspirations. And each is now connected to hundreds, even thousands, of classmates and alumni across every continent, many with similar stories — who may never meet face to face.
Five letters now connect these learners forever. The first two — GT — are known around the world, and the other three — OMS — are becoming better known by the day.
OMS stands for Online Master of Science. The acronym represents a nascent revolution that began in 2013, when Georgia Tech announced the launch of the world's first master's degree based on the new "massive online" format, available for a fraction of the traditional cost. What's more, the degree would not be formally branded with any "online" designation; graduates would receive the same diploma as their on-campus counterparts.
Nearly 7,000 new students later, it's clear that the gamble has paid off by opening up the prospect of elite graduate education to a wider world of prospective students.
This was not entirely uncharted territory for Tech, which began offering distance learning more than 40 years ago. The first distance program graduate received a Master of Science in Electrical Engineering in 1987. The following year, new graduate programs were added, including mechanical engineering, environmental engineering, and health physics. Today, the Institute offers seven traditional online master's degrees. But the significantly lower cost of an OMS degree, the increased accessibility for students, and the online format set it apart from traditional distance learning.

Trailblazing, 21st-century style
The trailblazer was OMS Computer Science (OMS CS, informally known as OMSCS), offered in collaboration with Udacity and AT&T. After being announced in May 2013, the program accepted applications for three weeks in October of that year, and 2,200 people applied.
It has grown from 380 students in its first semester to 6,365 in Spring 2018, and Georgia Tech followed up on its success in 2017 with the announcement of a second degree, OMS Analytics, this time offered with edX. Partners AT&T and Accenture provided vital philanthropic support for the program. Finally, on August 9, Georgia Tech announced a third OMS degree in cybersecurity on edX.
"We're partnering with universities like Georgia Tech on innovative ways to increase the value of higher education, like your online master's program in computer science."

-Former President Barack Obama, 2015
The program quickly gained national recognition, from the front page of The New York Times to praise from former President Barack Obama. Harvard researchers contacted Georgia Tech with an intriguing question: How many OMSCS students were pursuing master's degrees solely because this program existed?
Josh Goodman, associate professor of public policy in Harvard's Kennedy School of Government, conducted research with Amanda Pallais, Harvard professor of economics, and Julia Melkers, associate professor in Georgia Tech's School of Public Policy. In a paper published last year, the three estimated that OMSCS by itself would raise the number of American M.S. CS degrees issued each year by about 7 percent. As of Spring 2018, the program had produced 1,236 graduates — in less than five years.
In other words, the novel combination of an online program with a flexible pedagogical structure and a highly affordable cost has created a new market for graduate education.
"I work full time and have a small child, so going to school — after hours, even — would not have been an option," says Krivoruchko, who gave birth to her son two days after starting OMSCS in 2015. "I also appreciated attending a university that was respected, that wasn't a diploma mill."
"I would not have gotten my M.S. degree without OMSCS," says Virk, who pursued his degree while on active duty in India despite having internet access only once every couple of weeks.
Now a lieutenant colonel, Virk would sit at his base's helipad and use its generator to charge his laptop, with the noise and wind of helicopters swirling around him. His fellow service members thought he was crazy. "At one point," he recalls, "I had to dictate a solution [for a course exam] to my wife over a satellite phone so she could type it out on a computer."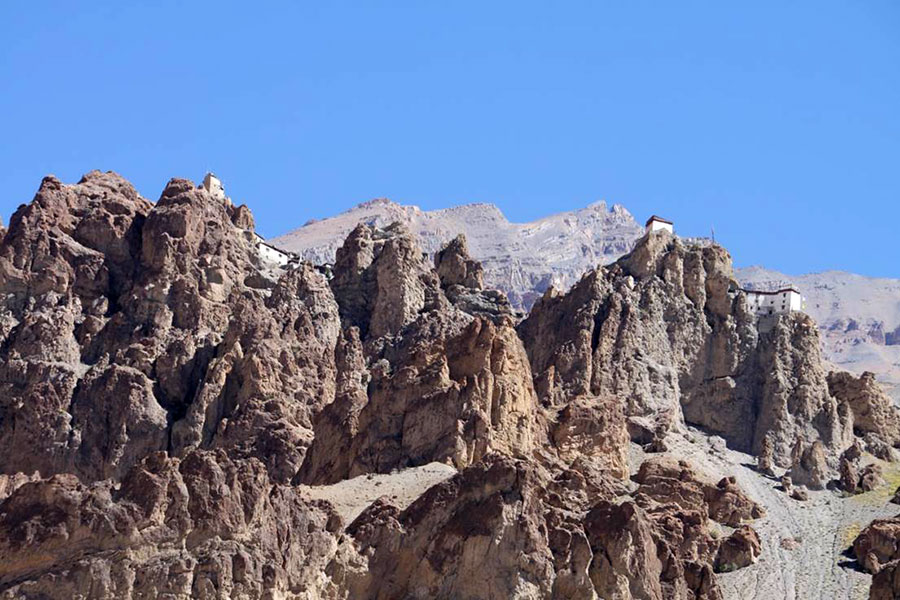 The mountains of northern India where Harkirat Virk was stationed. Photo credit: Harkirat Virk

Paradigm shift in admissions
Another factor that makes OMSCS so much more accessible is its admission policy: Applicants are provisionally admitted to the program if they meet the bare minimum standards and are deemed to possess a reasonable chance of success. Once students earn a grade of B or better in their first two "foundational" courses, they are fully admitted as Georgia Tech graduate students. Of the 20,000+ applicants to the program since 2013, more than 60 percent have been admitted — with no discernible drop-off in academic performance from their on-campus counterparts.
"Because they can only accommodate so many students on campus, universities have always held out their admission rate as a sign of prestige: the lower the better," says Zvi Galil, the John P. Imlay Jr. Chair and dean of the College of Computing. "We've shown with OMSCS that it doesn't have to be that way. By putting some of our graduate programs online, we can open up access to a much larger population of students who perform just as well, and now the thinking starts to shift. Maybe universities should be evaluated not on the number of students they turn away, but the number they can effectively accommodate."
OMS Analytics, which just finished its second semester of operation, is following the OMSCS model and admitting smaller cohorts as it improves its infrastructure to handle bigger numbers.
"We want to make sure the things we put in place aren't going to break," says Joel Sokol, associate professor in the H. Milton Stewart School of Industrial and Systems Engineering and director of the OMS Analytics program. "But we want the onus to be on the students. Do they have the drive and ability to get through the whole thing? We'd rather give them the chance to show us they can."
"I've been pretty vocal about crediting Georgia Tech with the whole change in my career," says Campo, whose CS experience was limited to a few free MOOCs before applying to OMSCS. Just before graduating this spring, she accepted a position with Oracle Labs. "Georgia Tech gave me a shot when no other school would, not having a background in computer science. Now I'm graduating with a 4.0 GPA in a machine learning specialization. It's completely changed my life."

"It's a societal good"
The programs that Georgia Tech has selected for OMS-ification (computer science, analytics, and cybersecurity) are not random. All three have a strong connection to computing and its related disciplines — which more readily lend themselves to online instruction — but each also teaches skills that are in great demand in today's economy.
In computing, the U.S. Bureau of Labor Statistics estimates there are roughly twice the number of open jobs as there are new college graduates (at all levels) each year. And cybersecurity, the subject of Georgia Tech's newest OMS entrant, is becoming one of the most critical fields of the 21st century, as nearly every day brings news about serious cyber threats and attacks.
"All the exciting advancements we talk about with robotics, artificial intelligence, social media, data science — they either won't happen or won't happen how we want them to happen unless we get cybersecurity right," says Raheem Beyah, Motorola Foundation Professor in the School of Electrical and Computer Engineering and director of OMS Cybersecurity. "It's a societal good. The United States and the world will benefit from Georgia Tech's doing this."
"I've got companies coming out of the woodwork to do programs like this with us," says Nelson Baker, dean of Georgia Tech Professional Education (GTPE). "They're telling me that employees they hired just three years ago are already out of date and need to retool."
Baker and GTPE have played a critical role in all three programs, and he envisions OMS-type programs playing an ever-increasing role in the future of higher education. As more and more jobs rely on high-level skills that must be updated and refined throughout employees' careers, the profile of the "typical" university learner is going to change considerably from the 18-to-22-year-old archetype. Apart from meeting the needs of future learners in terms of flexibility, accessibility, and cost, Baker says the individual courses themselves could be repurposed and reshuffled to create entirely new credentialing pathways.
"There are so many things that these OMS programs have opened up," he says. "The days of coming to campus and spending four years at a college may be dwindling. In 20 years, we will see a blend of 'pick your credits along the way' while students simultaneously pursue co-ops and other professional experiences.
"We've seen OMS-like students for decades in our distance programs," Baker notes. "They've had no other option. The demographics have always been there, and it's only going to get bigger."
"[OMSCS] has substantially changed the set of educational options to a particular subset of Americans — mid-career professionals looking to do further training while not leaving their existing jobs, homes, or families," says Harvard's Goodman.

A new chapter
In the meantime, students like Jasmine McCray and Dan Hawks will continue to make the most of these emerging opportunities in online education to help propel their own careers.
"OMS Analytics aligned with what I want to do in the future," says McCray, who was admitted to Georgia Tech's residential M.S. program in analytics but found the cost prohibitive. She started the online program in January 2018. "I didn't think I'd like it because I learn better in the classroom setting, but the teachers and TAs and the coursework have all been very accessible, and the online discussion channels and other support they provide make it as close to a classroom experience as possible."
"After being out of school for 25 years, it was an adjustment to learn how to carve out time for the coursework," says Hawks, who lives five miles from Georgia Tech's campus but whose travel schedule for work ruled out a residential program. "But once I got into a rhythm, it was great. I enjoy the flexibility to watch the lecture videos on my own schedule, yet there's enough structure around the program to keep students from falling behind.
"I would absolutely recommend OMS Analytics to my colleagues," he says. "I look at it as a new chapter in my life — building a new skill set."
Apply to one of Georgia Tech's OMS programs
Gain real-world knowledge to advance your career without interrupting it.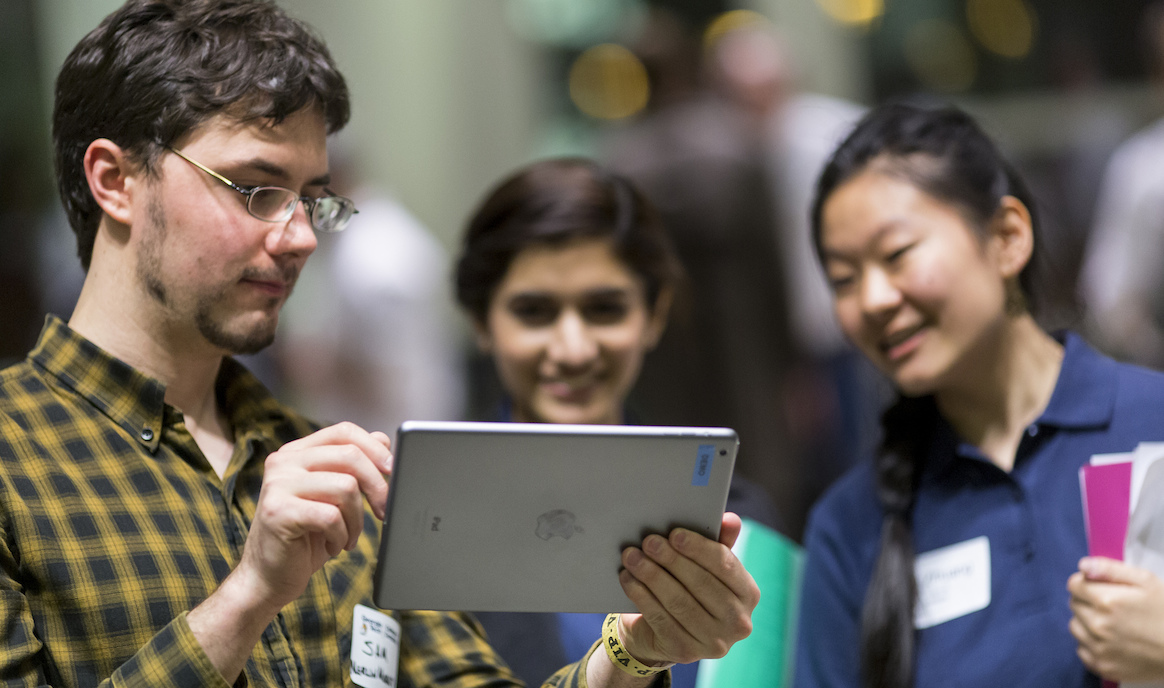 To learn more about making a gift in support of Georgia Tech's OMS programs, contact:
Bradley Hastings
Director of Development for the College of Computing
brad.hastings@cc.gatech.edu
404.894.8383
---
More Computer Science at Georgia Tech