A Secret Meeting with President Obama
Right around 1:40 on the afternoon of Tuesday, March 10, President Barack Obama walked onto the risers in McCamish Pavilion to address a capacity crowd of Georgia Tech faculty, staff and students.
At the same exact time, four miles away, Secret Service agents walked three Georgia Tech students into an empty restaurant.
They were told to leave their phones and computers in the car. While their peers sat, cheered and listened to the commander-in-chief, the trio entered Manuel's Tavern knowing they wouldn't hear or see anything that happened at McCamish.
 
Instead, they were getting ready for their own once-in-a-lifetime moment with the president.
Gabriel Galarza, Lauren Milner and Laura O'Connell were there for a private, secret meeting with Obama. The White House invited the three students, plus two Atlanta Public Schools' Booker T. Washington High School seniors, for a 30-minute roundtable at Manuel's following the president's speech on campus.
 
How secret? They weren't invited until the day before the roundtable. They didn't find out the location until that morning. They couldn't tell anyone, even their parents, until a few hours before. The three Georgia Tech students were chosen because of their persistence and success in finding scholarships and applying for financial aid.
 
"I wasn't nervous until we got to the restaurant," admitted O'Connell, a second-year civil engineering student. "All my nerves had melted away that morning. I was ready. And then I entered the room."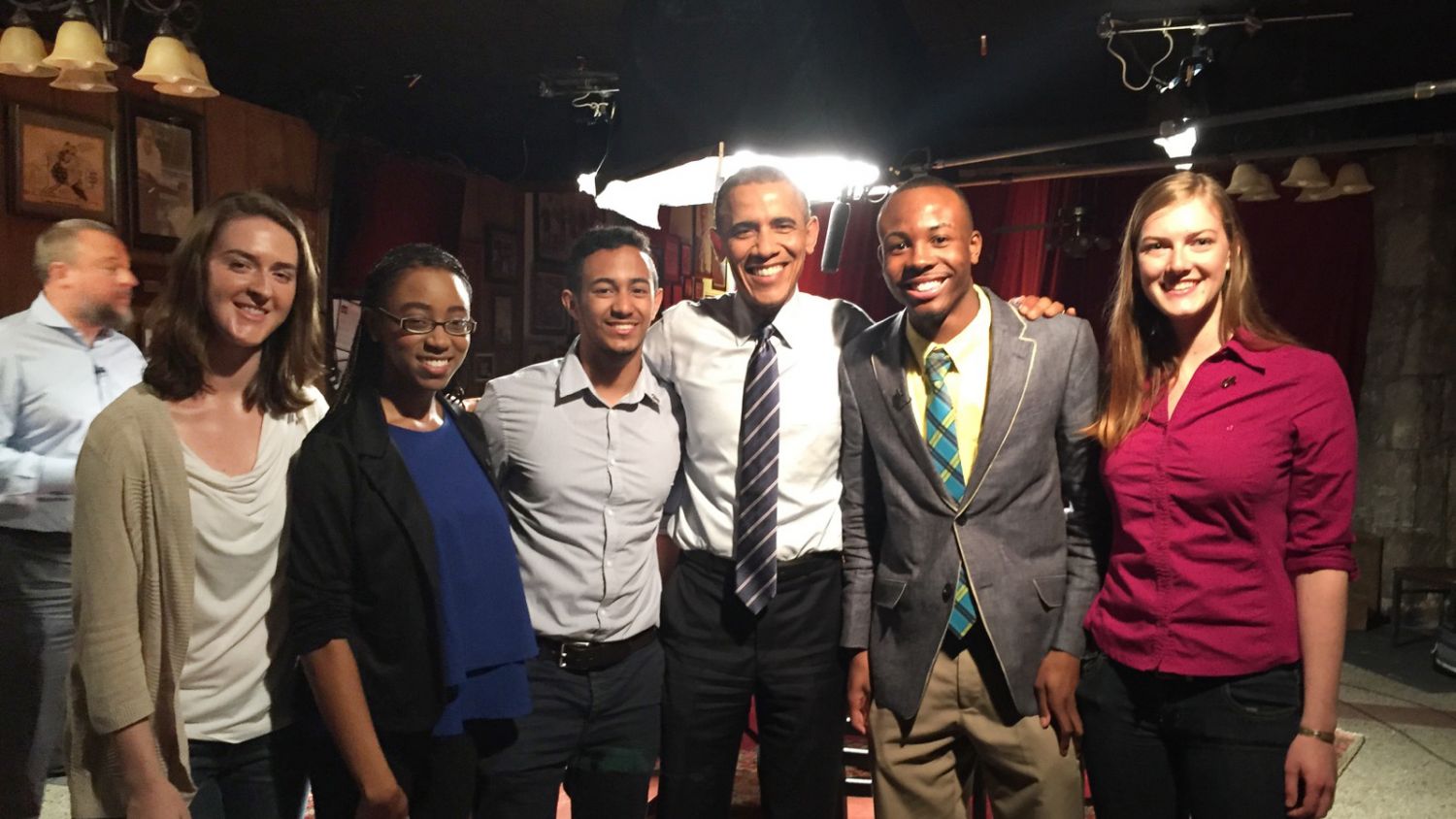 Left to right: Lauren Milner, D'ariel Myrick, Gabriel Galarza, President Barack Obama, Antwarn Sanders, Laura O'Connell. (Photo provided by Gabriel Galarza)
An area of the restaurant was transformed into a TV studio with a handful of video cameras and a team of producers. The students would wait another two hours, getting to know each other, thinking of questions for Obama and waiting. O'Connell and Galarza would sit next to the president. Milner would be directly across from him.
Around 4 p.m., after a two-minute warning, Obama opened the door and immediately put everyone at ease.
 
"He walked around and shook all our hands, made some jokes and made us all feel very comfortable," said Galarza, a third-year computer science major.
 
Obama and the group spent the next half hour talking about many of the same topics in the president's remarks to campus: affordable education, easier access to higher education and the challenges of finding financial assistance and scholarships while applying for college. The roundtable was filmed by Vice, a media outlet that followed the president throughout the day to document his visit.
 
"Sitting with the president wasn't intimidating," said Milner, a fourth-year biomedical engineering student. "It was like talking to an average person. He's great leading a conversation, and he answered some of the questions we had in mind before we even asked."
 
Milner and the students also shared their personal stories with Obama about how they pay for college. Milner receives the John Staton Scholarship, which pays about two-thirds of her tuition. The rest of her education has been paid with a mixture of other scholarships, federal student loans and loans through her parents, who live in Brooks, Georgia.
 
Galarza says he's lucky that he found Georgia Tech at all. He didn't know where to turn while looking for information about college. Fortunately his high school guidance counselor in Loganville, Georgia, saw his grades and pointed Galarza toward the Institute. Now he receives a G. Wayne Clough Georgia Tech Promise Scholarship and will graduate debt-free.
 
"The president said he and the First Lady had some of the same experiences – they didn't know where to find good advice on scholarships and financial aid," said Galarza. "They didn't pay off their student loans until 2004. The president told us he wants students to have more resources for finding ways to make college more affordable."
O'Connell also noticed that the president easily related to the students and their personal stories.
 
"He was very understanding of our struggles," she said. "He makes you feel like your opinion really matters. I was really impressed with how knowledgeable he was as he answered our questions and addressed our concerns."
O'Connell, who grew up in Sarasota, Florida, could only afford to apply to three colleges: Georgia Tech, Massachusetts Institute of Technology and Florida State University. She developed a high school battle plan, which included applying for 50 scholarships and writing 70 essays. She won 13. That includes Georgia Tech's Godbold Family Foundation Scholarship, which is now covering 100 percent of her college costs.
 
"Georgia Tech has been the perfect school since I've arrived, allowing me to meet interesting people all over the country," O'Connell added.
 
And while many would say the personal meeting with the president is truly a once-in-a-lifetime opportunity, she disagrees.
 
"It was fun and exciting, but it won't be my last chance. I plan to meet important, cool people throughout my life because of Georgia Tech."