Tech Square Microgrid, Juneteenth, and Vaccines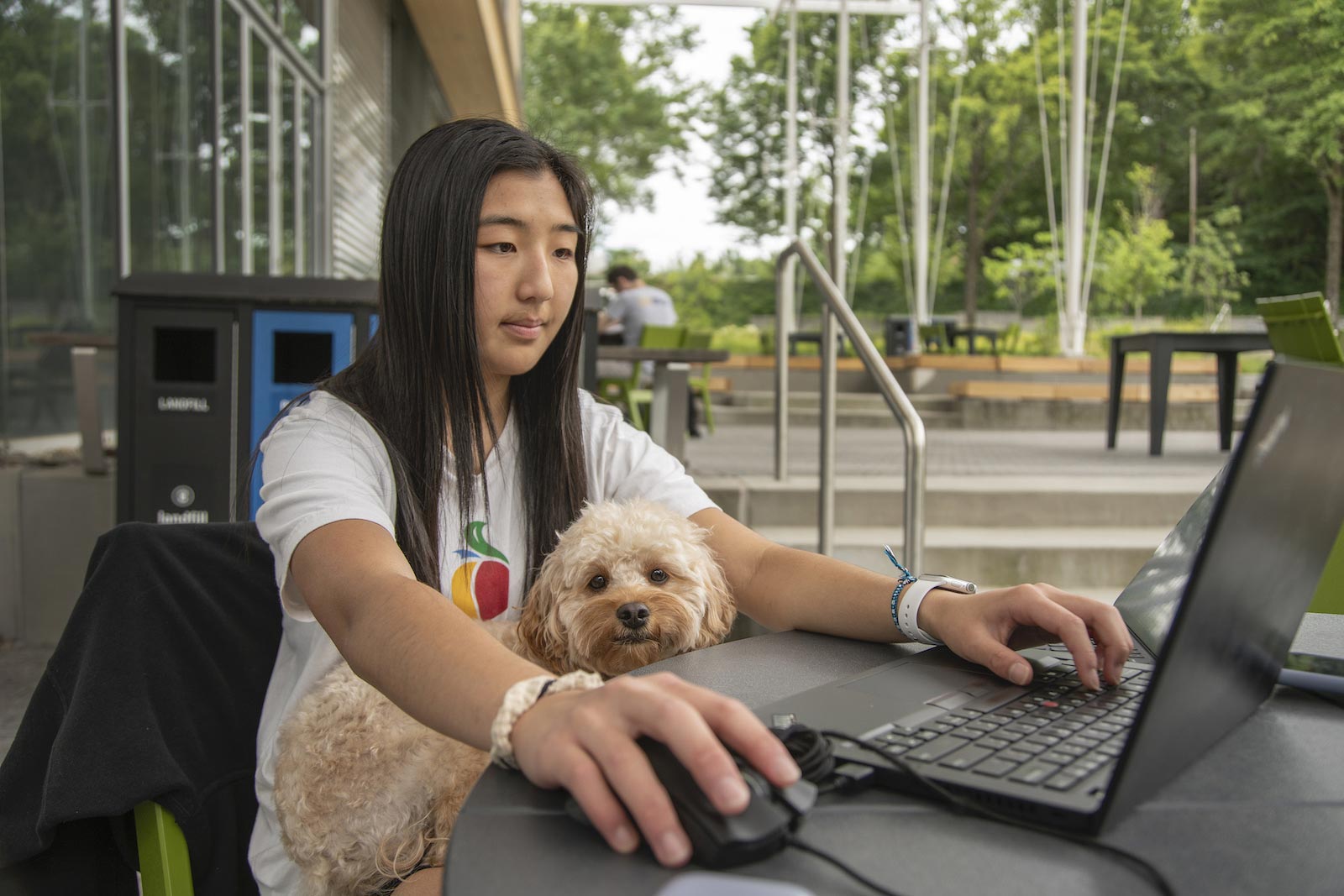 Leah Kim, an international affairs student, studies with her canine companion Zoe. Photo taken June 3 by Christopher Moore.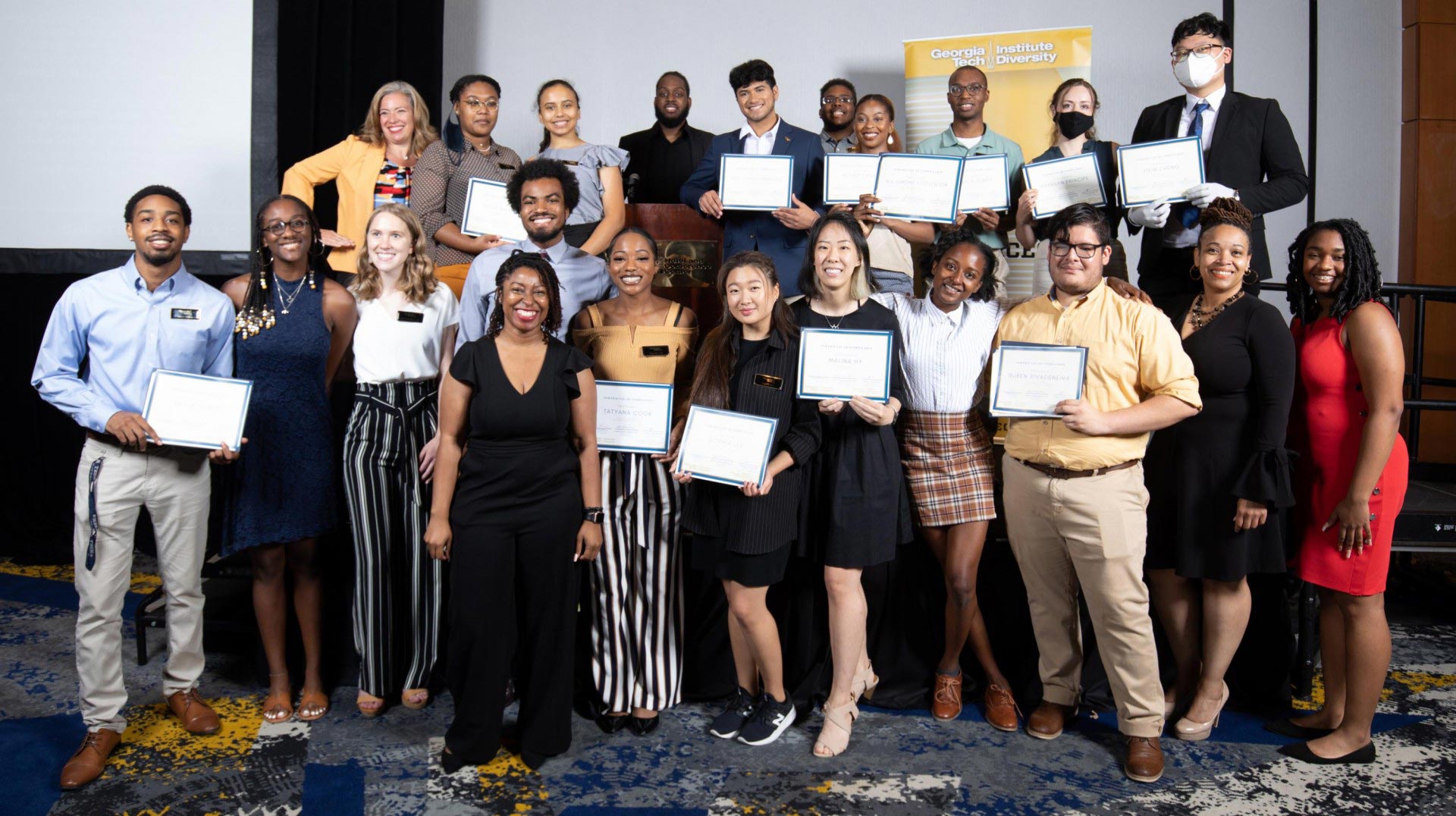 The Career Alliance at Georgia Tech hosted an inaugural three-week Career Immersion Summer Residential Program, providing traditionally underrepresented students with focused career preparation. Pictured are program participants and staff members. Photo taken June 5 by Kemi Griffin.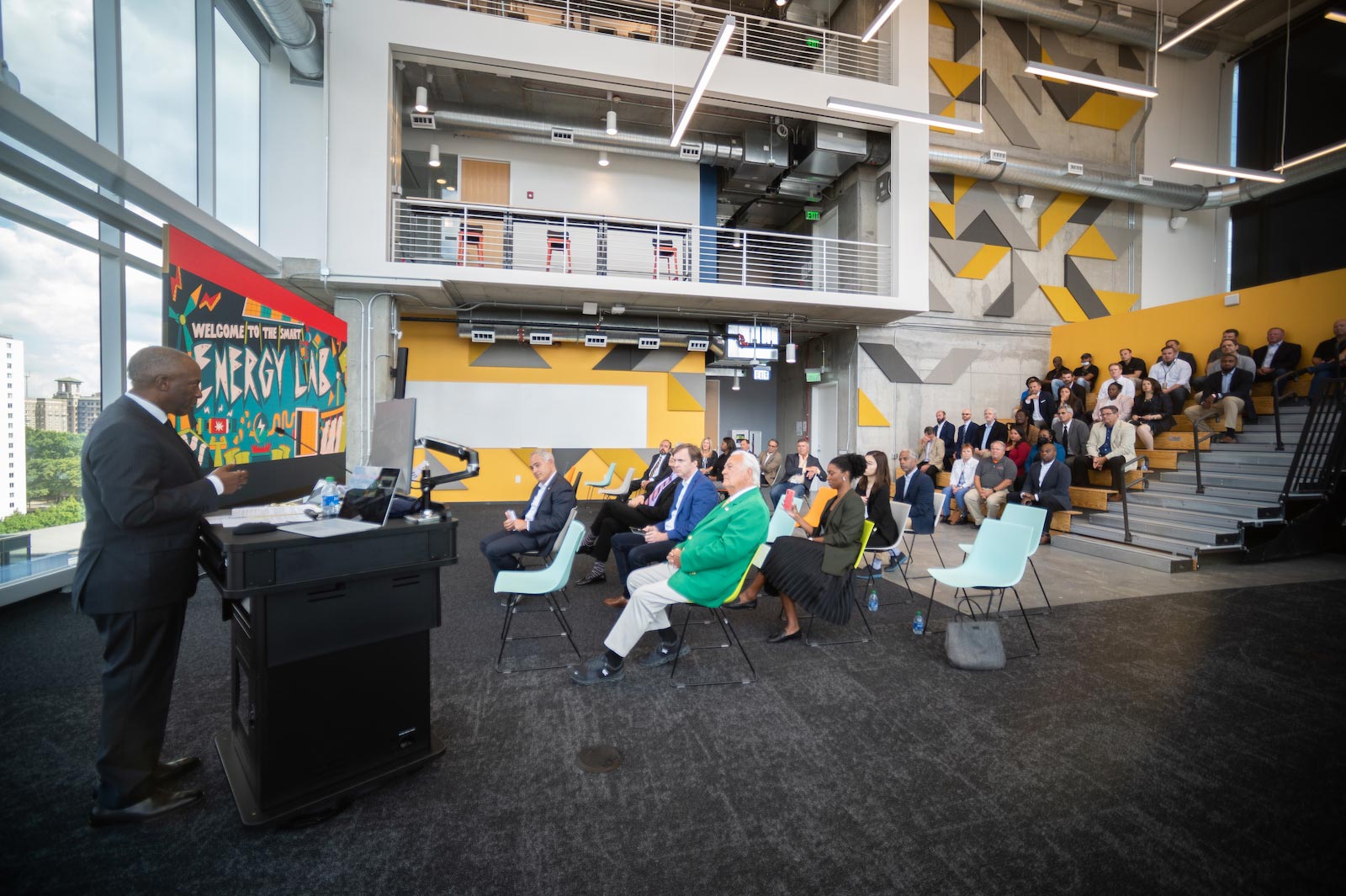 Georgia Power chairman, president, and CEO Chris Womack speaks at the dedication of the microgrid at Tech Square on June 16. Photo by Allison Carter.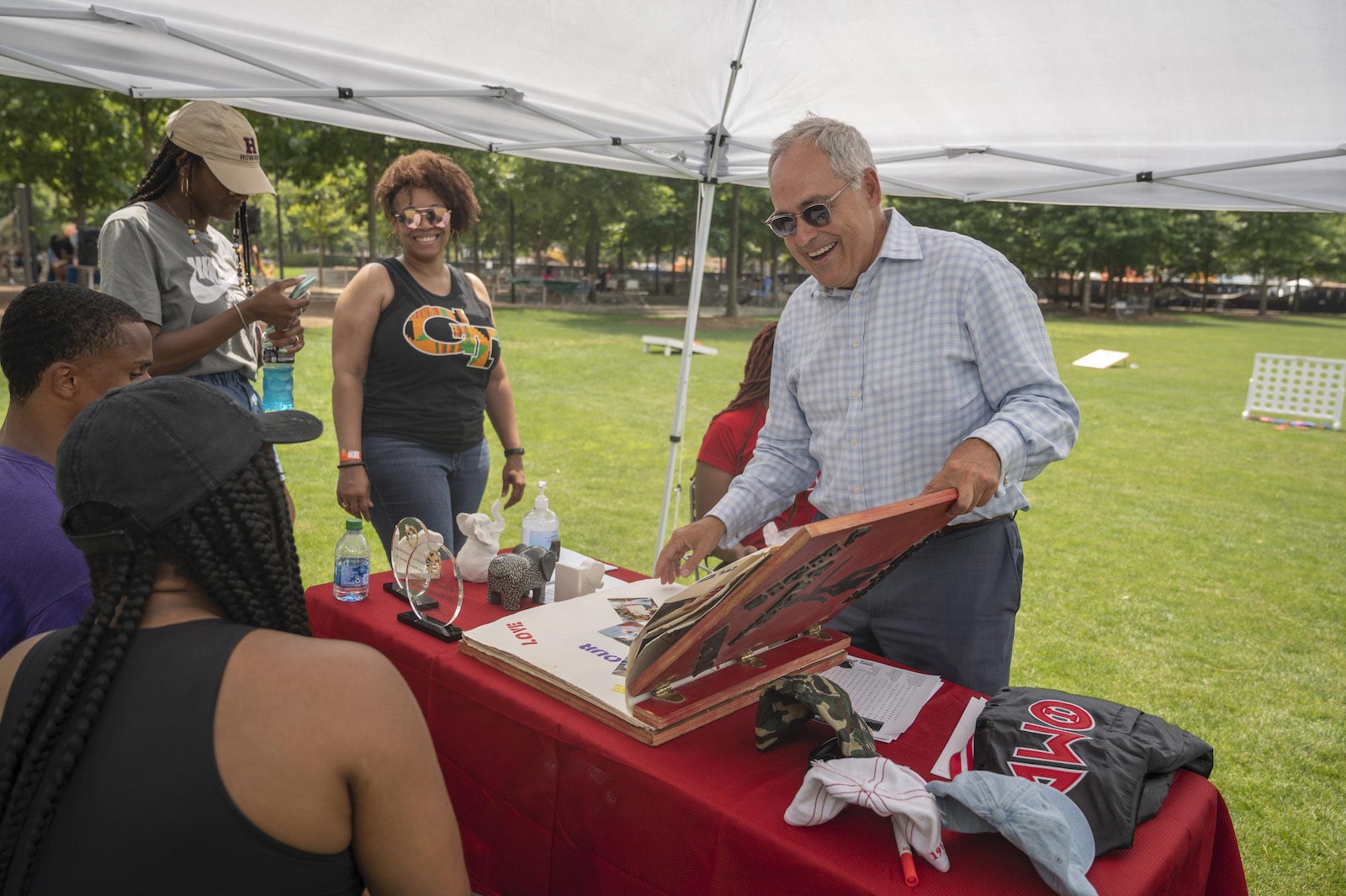 Institute Diversity, Equity, and Inclusion's Office of Minority Educational Services (OMED) and several Black student organizations hosted a Juneteenth virtual discussion followed by a celebration on Tech Green. Pictured are President Ángel Cabrera with (clockwise from the bottom) students Bijee Jackson, Myles Sims, Vinez Lyde, and Sybrina Atwaters, director of OMED. Photo taken June 18 by Christopher Moore.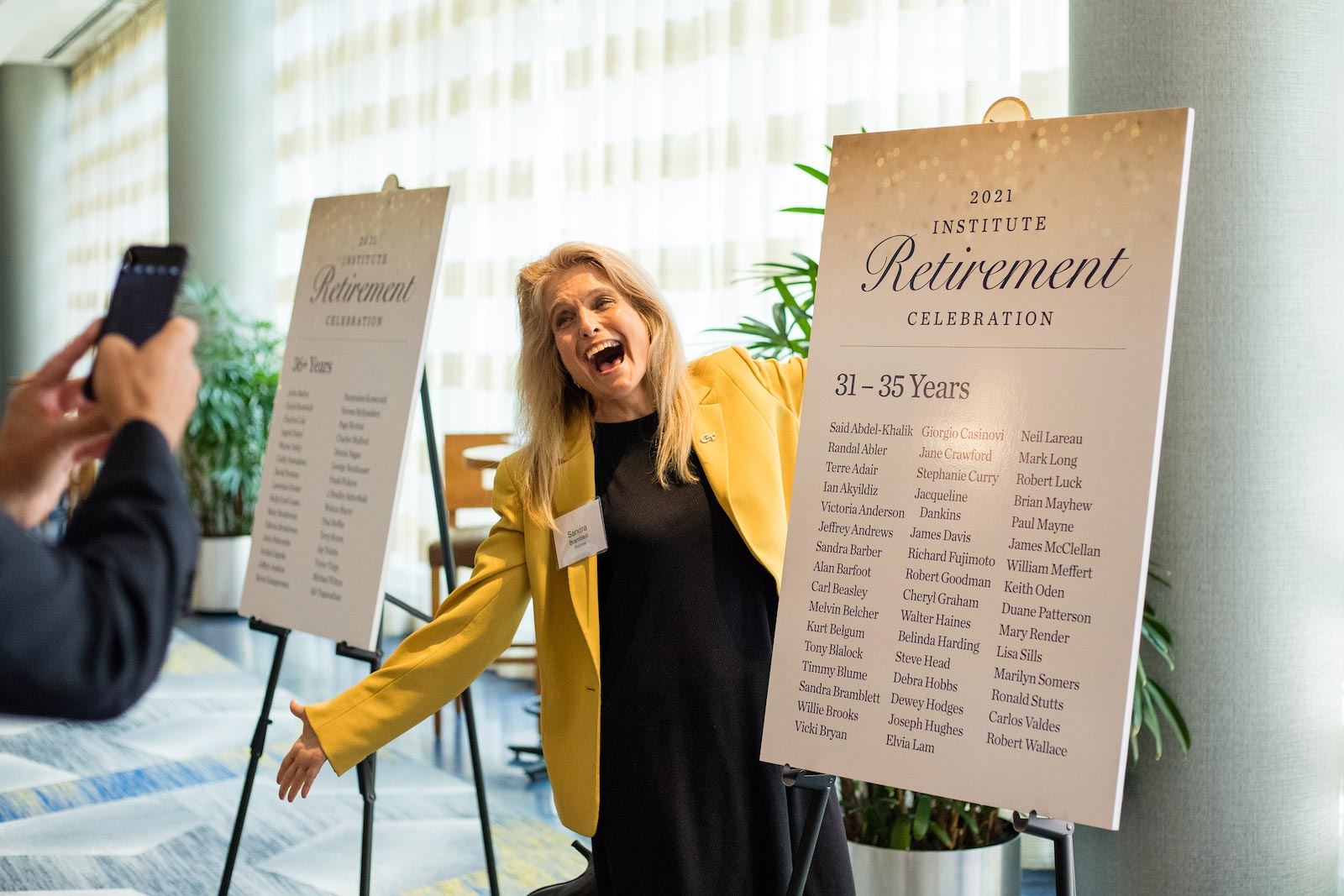 The 2021 Institute Retirement Celebration, held at the Georgia Tech Hotel and Conference Center, honored 111 employees who retired in 2019, 2020, and 2021. Pictured is Sandi Bramblett, former assistant vice president for Institutional Research and Enterprise Data Management. Photo taken June 22 by Addison Hill - Atlanta Event Photography.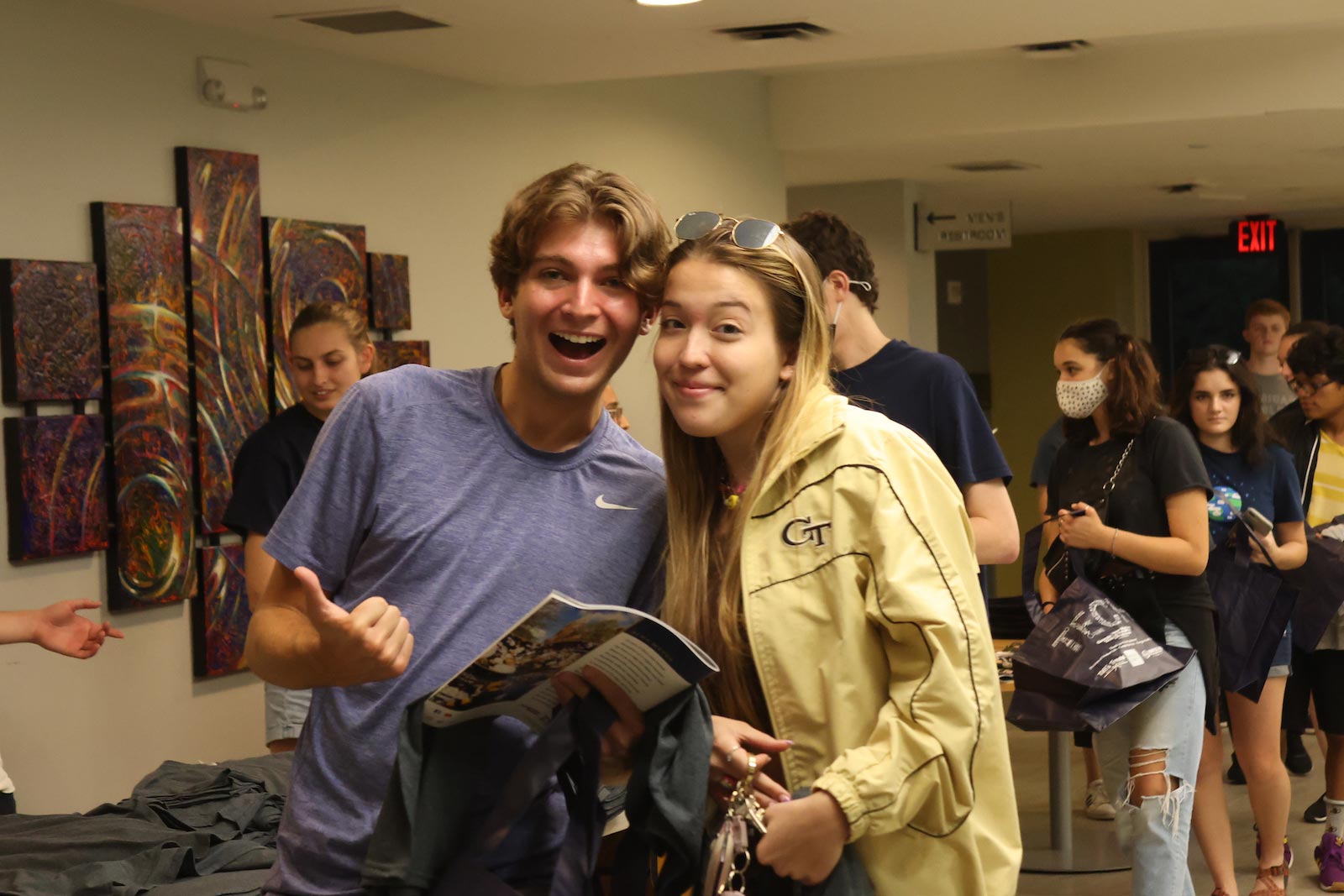 Georgia Tech Arts welcomed its first full audience of 2021 to the Ferst Center for the Arts with the kickoff of the iGniTe First Year Summer Launch Party. New first-year students in the IGniTe summer cohort get a head start on classes, learn the campus, and make friends. Pictured are Logan Drawdy and Ally Metcalf. Photo taken June 22 by Taylor Gray.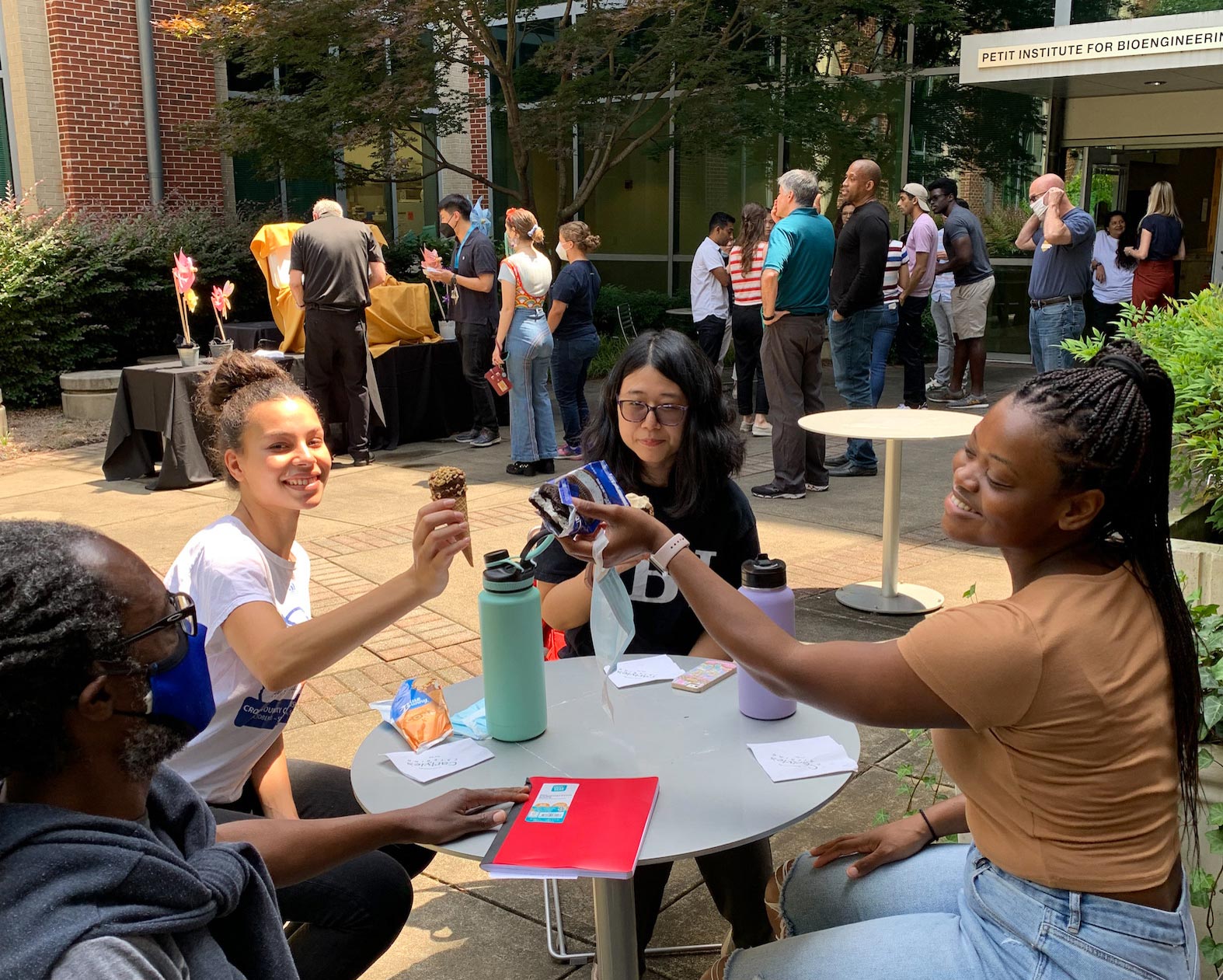 The Petit Institute for Bioengineering and Bioscience's (IBB) Diversity, Equity, and Inclusion Committee hosted an ice cream social to commemorate Juneteenth and renew in-person collaboration. Pictured (L-R) are researchers from IBB's Molecular Evolution Core who have played a pivotal role in the operation of Georgia Tech's Covid-19 surveillance program: Bryan Stubblefield, Amina Alvarez Barkane, Olivia Duan, and April Davis. Photo taken June 25 by Colly O'Brien Mitchell.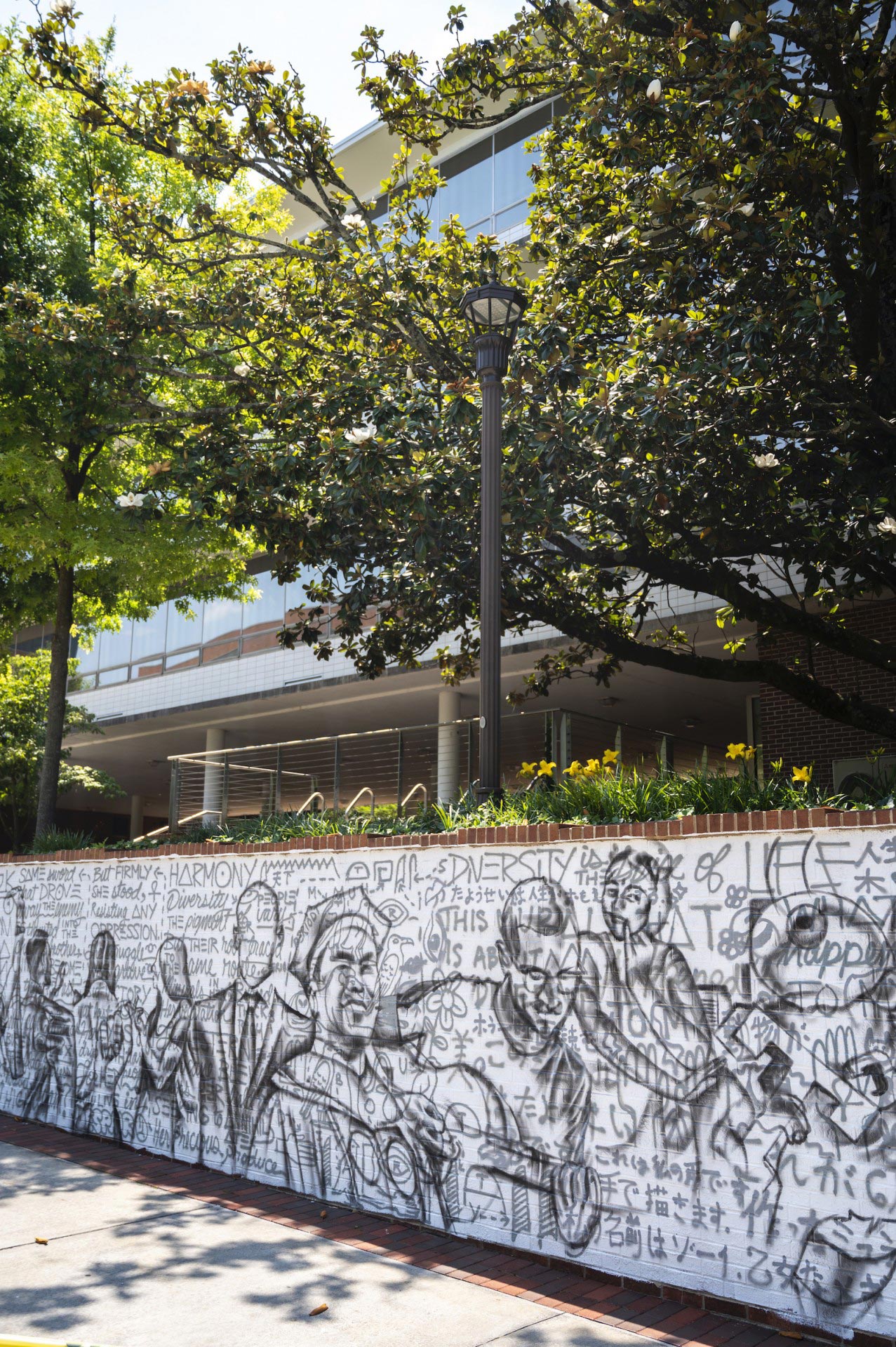 Atlanta artist Fabian Williams is creating a mural along Tech Walkway that reflects the diverse vibrancy of the Georgia Tech community. Sinet Adous, a 2021 graduate in international affairs, worked with Georgia Tech Arts and Tech administration for the project's approval, and secured funding from the Mental Health Joint Allocation Committee in the Student Government Association. Adous and a student design group met with the artist to present results of student survey and talk about ideas for the piece. Photo taken June 27 by Christopher Moore.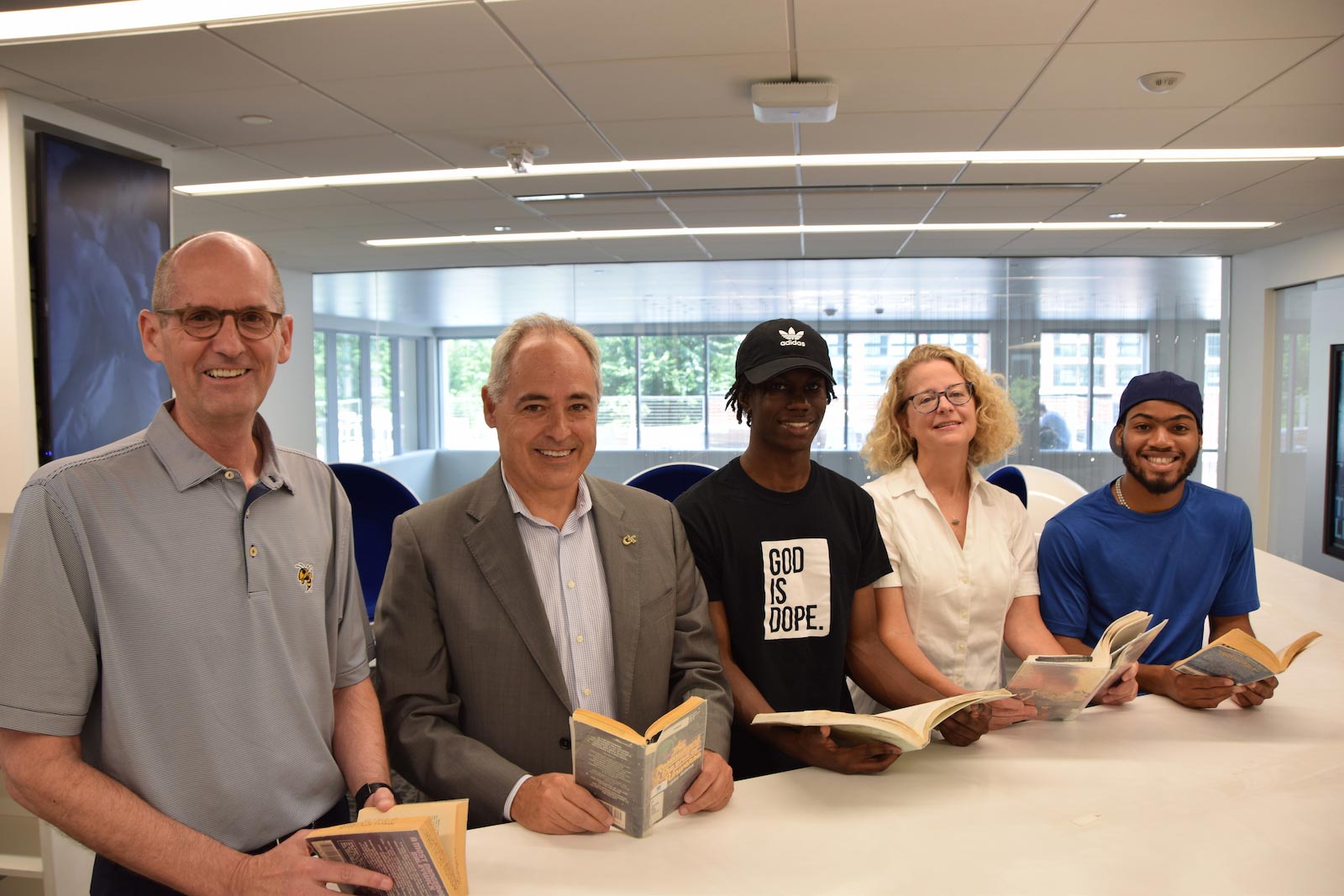 The effort to bring physical book collections back to Price Gilbert Library has begun with the circulating science fiction collection, housed on the first floor of Crosland Tower in the Science Fiction Lounge. Coming next is the popular reading collection, followed by the core collection of titles picked by each school. In total the Library will hold more than 30,000 physical volumes, in addition to the more than 1.8 million titles in cold storage at the Library Service Center. Pictured (L-R) in the Science Fiction Lounge are Provost Steven McLaughlin, President Ángel Cabrera, civil engineering student Zakarrya Clarke, Library Dean Leslie Sharp, and civil engineering student Christian Clowers. To find, borrow, or request books see the Library's main page. Photo taken June 28 by Jason Wright.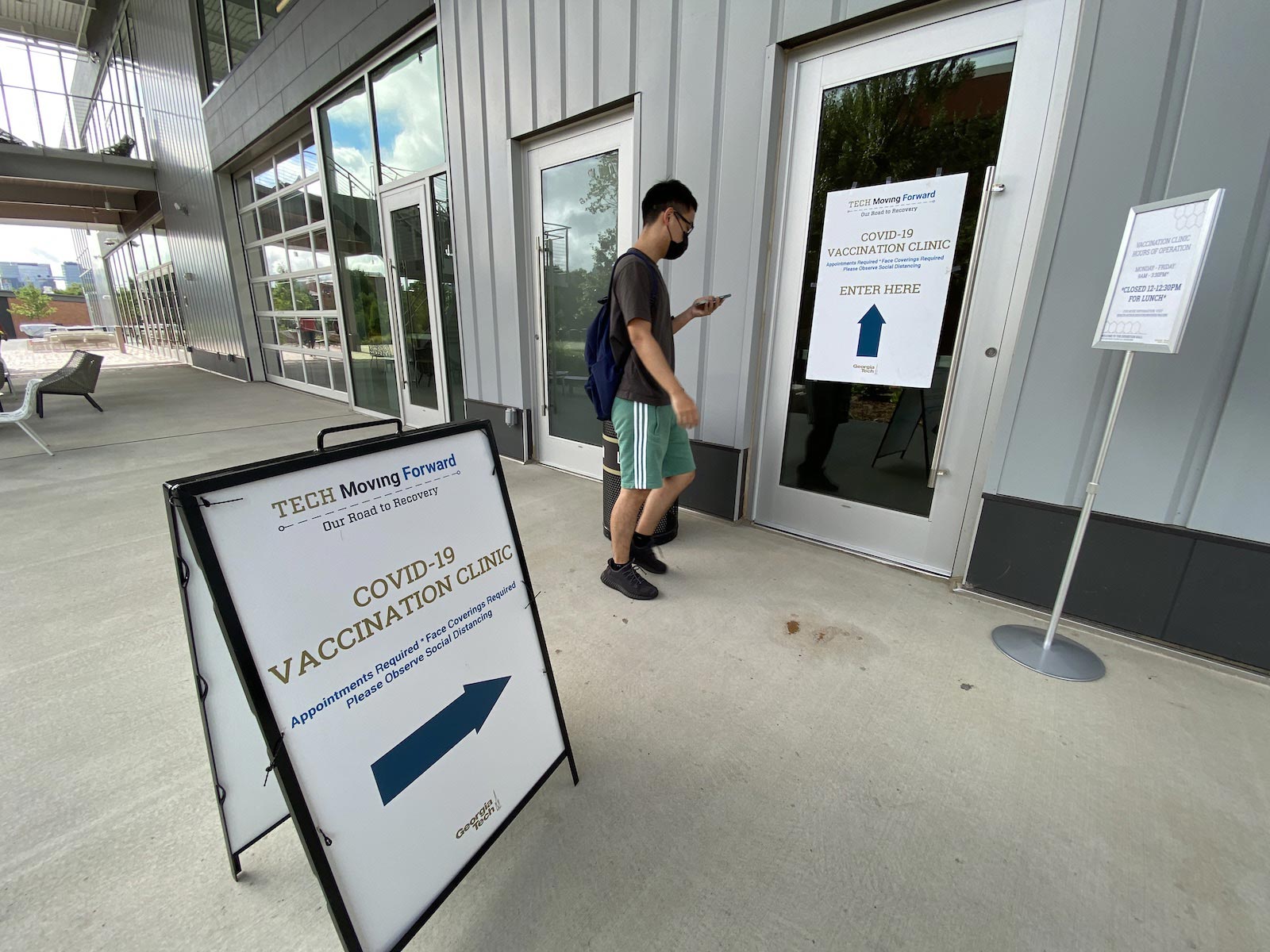 Covid-19 vaccines are available to Georgia Tech employees, as well as spouses, domestic partners, and dependent children ages 12 and older of Georgia Tech faculty, staff, and students. Vaccine clinics take place every Tuesday at the Exhibition Hall. All students, faculty, and staff who have not been fully vaccinated are encouraged to get tested weekly. Photo taken June 29 by Rob Felt.
Credits
Photography: Allison Carter, Rob Felt, and Christopher Moore
Writing/Editing: Victor Rogers, Stacy Braukman