When faced with the spread of Covid-19, Georgia Tech's entire community sprang into action to develop and implement a way to test the campus community. The extensive and ambitious saliva-based surveillance test is conducted entirely on campus. Everything, from packing test kits and self-administering tests to analyzing samples and providing incentives to encourage testing, was developed and executed by faculty, staff, students, and partners. Last month, Georgia Tech surpassed 100,000 cumulative tests, a figure that has helped the Institute identify positive cases and take appropriate action to slow the transmission of the virus.
Here, we introduce you to a handful of the hundreds of people who have been working day in and day out to ensure that the testing program runs smoothly. These dedicated individuals are among the many who took part in developing and scaling the test so that Georgia Tech can collect and test hundreds of samples a day. They are the people who pack the test kits and drive them across campus to the Institute's on-site testing facility. They are the people who stand by to assist students, faculty, and staff who show up each week at one of several on-campus testing locations. Each of their contributions represents a critical component of Tech's testing program — one that speaks directly to Georgia Tech's commitment to solving challenges through innovation around the world and right here at home.
Dale Allgood and Alfred Blue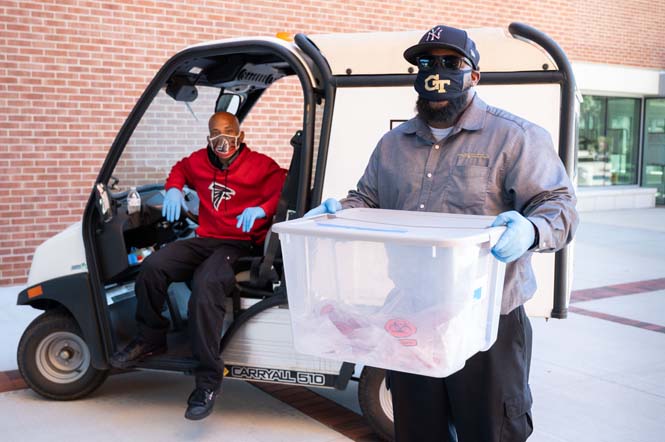 These two men have played a critical role in logistics and transportation related to testing. Each day they drive across campus delivering unused test kits to all of our testing locations. At several key times throughout the day, Allgood and Blue drive across campus again to pick up the completed kits and transport them to the on-campus laboratory where the samples are processed. Both Allgood and Blue volunteered to take on these extra responsibilities. "I said I would like to be a part of this," Blue explains. "We've gotten to know the people and see faces from all over campus." The two see all sides of our testing program. "We realize how important this is to keep things open, and we've got everything down like clockwork," Allgood says.
Ava Bilimoria
Bilimoria, who earned her undergraduate degree in mechanical engineering, is working on a master's in industrial design. She used her creative chops to develop stickers that were distributed as a quick way to thank those who completed their tests at locations across campus. One of her most popular designs was a Halloween-themed sticker that ran out quickly as students flocked to test so they could get one. The idea that custom stickers could help pace increased rates of testing is pretty simple. "Students like stickers, and really, I like stickers too," Bilimoria says. As testing continues, she is working on developing custom designs for each day of the week and major holidays and milestones.
Tokiki Brown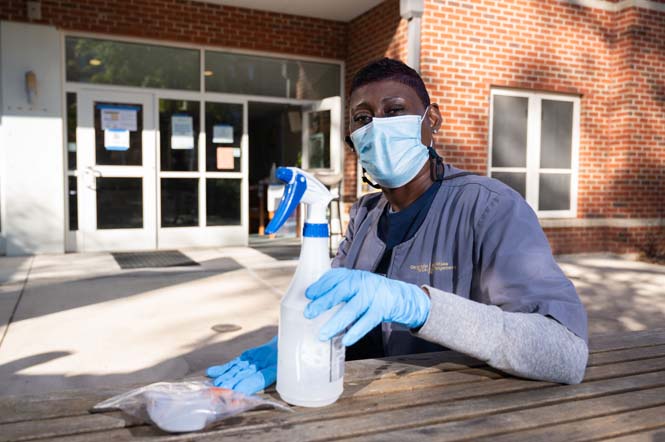 Known as 'Kiki,' Tokiki Brown was a member of Georgia Tech's Facilities Management team working as a custodian. She started helping with the Covid-19 response by driving equipment around campus part-time but worked her way up and is now leading the mobile team for testing on campus. In her role, Brown sets up remote testing locations that are arranged based on needs determined from testing data. Every day, Brown and her team work at different locations on campus, setting up the computers used to route information, and arranging the testing locations where participants provide samples and sanitize afterward. Despite working in different locations, Brown says she's gotten to know a lot of folks who've set up weekly testing times at certain locations.
Katie Crawford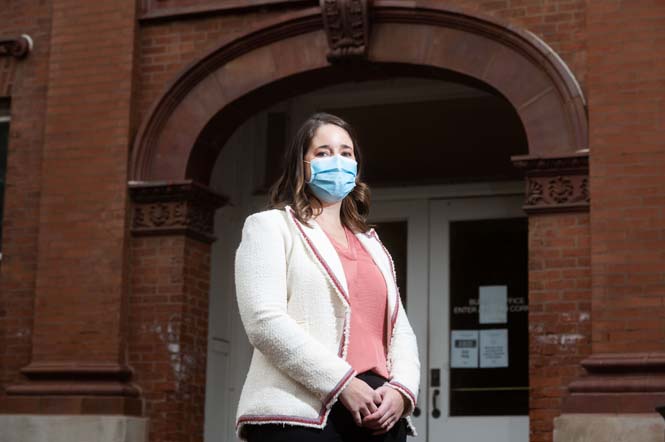 Working in Georgia Tech Enterprise Data Management, Crawford is comfortable with numbers. Her objective is always to provide meaningful data to inform decisions within the Institute while building data repositories for campus. Now working with public health numbers, her goal is the same. Her main role is to input case numbers and data into a database to produce the coronavirus dashboards and reports for the public and for internal decision making. Managing information with large-scale testing is a challenge, but Crawford maintains that it is possible thanks to her team.
Greg Gibson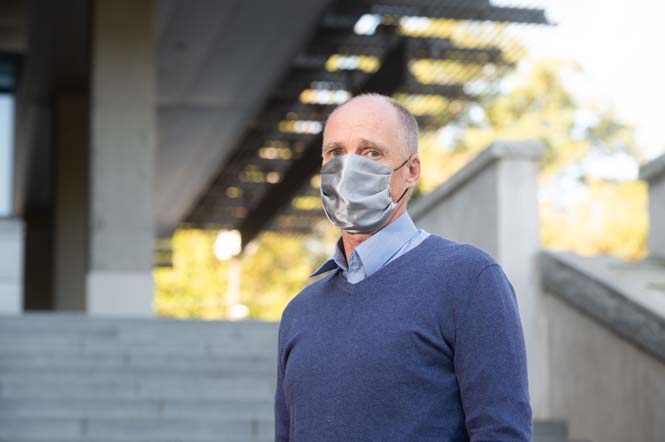 Greg Gibson knew testing had to be part of the solution to managing the coronavirus on campus, but he didn't imagine we would be doing it on the large scale that we are. "Testing on campus seemed to be the obvious thing to do but no one was doing it," Gibson explains. He credits senior research scientist Anton Bryksin for pushing him to use the technology we already had in place on campus to help combat Covid-19. Gibson says the science came together easily, but the logistics were difficult. He acknowledges individuals like Mike Shannon of GTRI and JulieAnne Williamson, executive director of Sustainability and Building Operations, for scaling up the testing model.
Lisa Gomez
With no previous connection to Georgia Tech, Gomez now finds herself helping manage two coronavirus testing locations. She has been working as a testing site coordinator since the first day testing launched on campus in August. Under the guidance of Alex Ortiz, Gomez helps manage the day-to-day operations of the testing site at the Ferst Center for the Arts and 760 Spring Street, in addition to helping check students in and carrying out sanitation duties. She understands how important this is for the community.
Angel Green, Rachel Hilson, Karen Hilson, Ecclesian Heath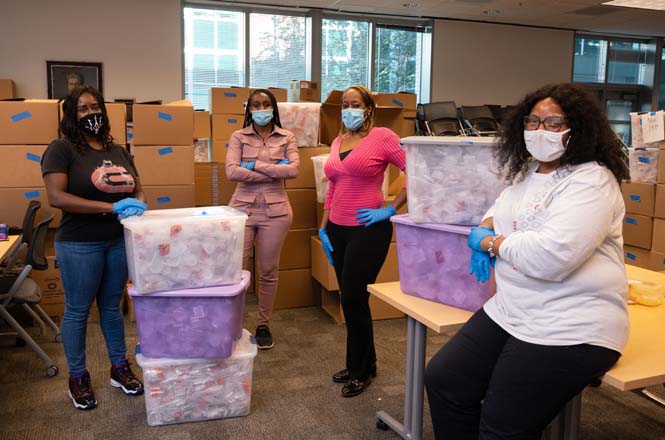 These women are packing the test kits used in all the locations on campus, preparing the pipettes, sample cups, and test tubes that are used in the process. They have packing the kits down to a science and are able to make thousands of kits each day. Ecclesian Heath says she was proud when she was able to see a pop-up testing location that was using the kits she had helped assemble. Not pictured is Ernestine Stephens, a former Tech employee who came out of retirement to help lead the test kit preparation. She's been working with the team since the beginning. They turn on some music and pack away. Karen Hilson started working and soon brought in her two children: Her daughter Rachel Hilson is working alongside her in packing. Her son Myles Hilson works in the laboratory helping prepare test tubes for kits.
Alex Ortiz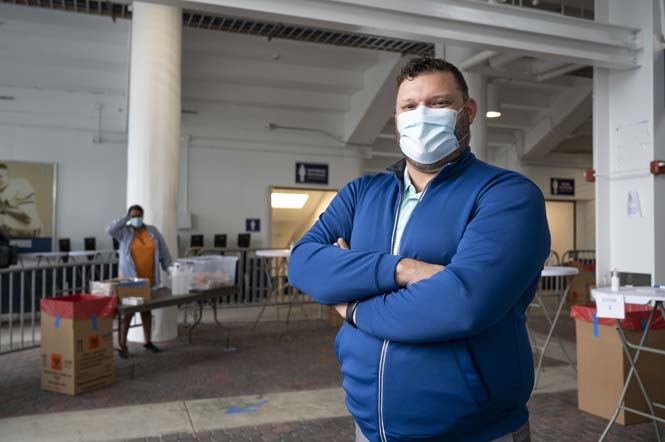 Ortiz, a consultant with Georgia Tech, focuses on high priority efforts with short timelines.  He helped launch the Coda Building in Tech Square, and was called upon to help implement testing on campus. With Greg Gibson and Joshua Weitz focusing on the science, it was Ortiz's charge to take the idea of testing on campus and bring it to life. His main role was securing and coordinating logistics for each testing location, including hiring and managing all testing site staff. "I couldn't do this job without people like Lisa Gomez," he explains.
Mike Shannon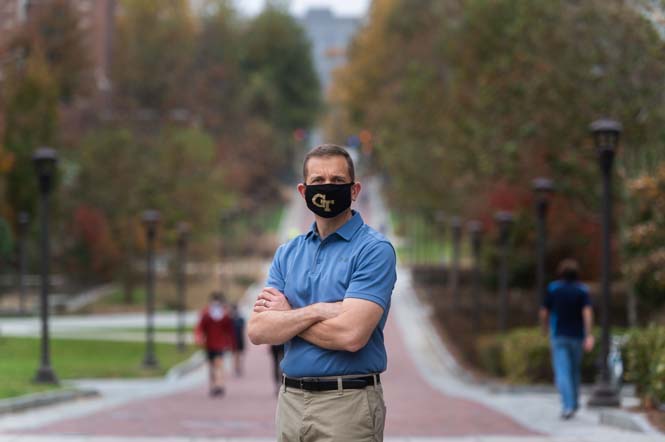 When the idea of large-scale testing was being discussed, Shannon was brought into the fold to lend his advice and knowledge thanks in large part to his experience working with the state on Covid-19. Today, he is proud to step up and be a part of the solution. With a long career in the military behind him, having enlisted at the age of 18, Shannon says, "It's about service. It's part of who I am as a person." At GTRI, he is no newcomer to helping out organizations, but rarely gets the opportunity to provide services to campus. The challenge of handling Covid-19 has given him the chance to be a part of something unique.
Nick Speller, Miles Paca, Greg Wormsby, Myles Hilson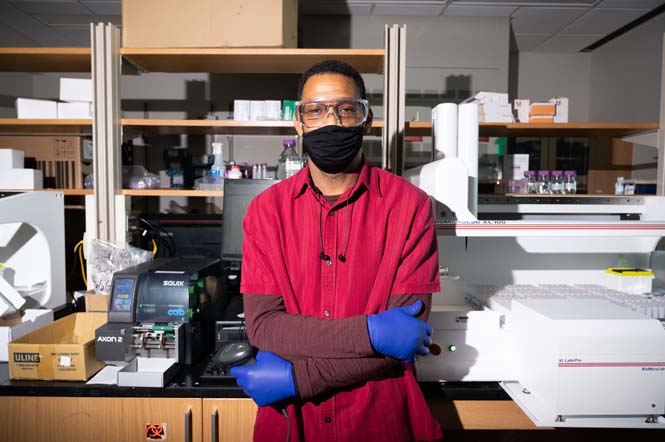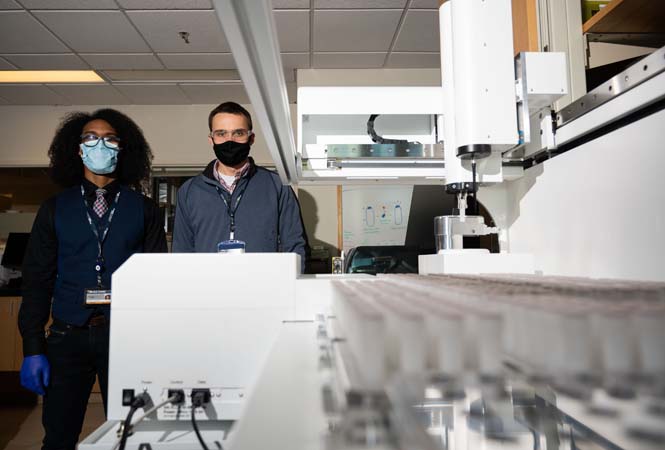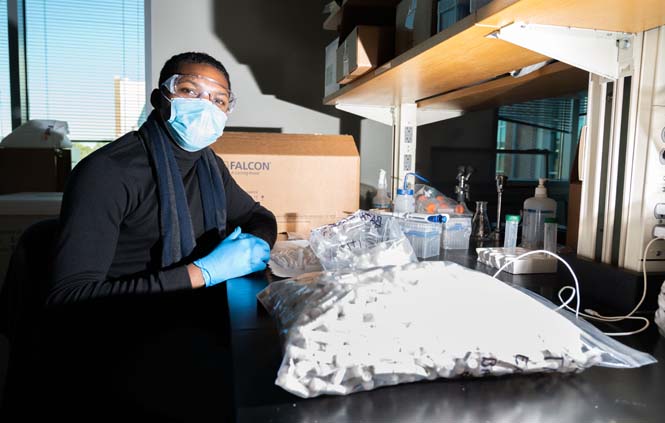 Nick Speller and Miles Paca are team members from the Georgia Tech Research Institute (GTRI) who were tasked with developing the multistage process of making the thousands of test kits used on campus each week. In their lab on campus, their team works side-by-side with some robotic assistants to fill test tubes with a chemical buffer used to help determine the presence of Covid-19 in saliva. Speller is a chemist. Paca studied biology. Both are using their backgrounds to keep the sophisticated operation running. They work with Greg Wormsby and Myles Hilson to produce as many kits as campus needs daily, making sure each individual test tube is barcoded so it can be tracked easily. It's a job that could easily be full-time, but Speller and Paca have both been able to keep up with other responsibilities. Paca, a member of the U.S. National Guard, has continued training monthly for the time that Tech has been running this on-campus testing operation. Speller and Paca also coordinate the team that assembles the full kits after the test tubes are prepared in the lab.
Theron Stancil and Matt Tillerson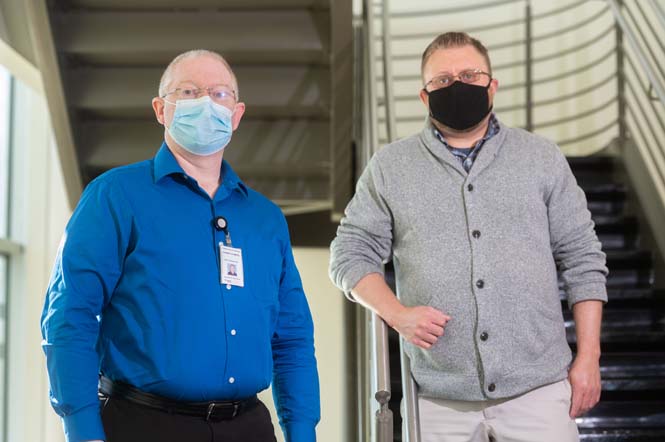 Theron Stancil and Matt Tillerson manage technology at Stamps Health Services but now play a large role in the communication of surveillance test results. They send reports, after surveillance testing, for all individuals who go on to diagnostic testing to receive individual results.
"We are much more behind-the-scenes, but our work is with critical information if campus is to be safe," Stancil explains.
They have been working seven days a week since August to support this effort, often in the evening when the results from the surveillance testing become available. Though they don't conduct the contact tracing themselves, they also support contact tracing from an IT perspective.
Caleb Torres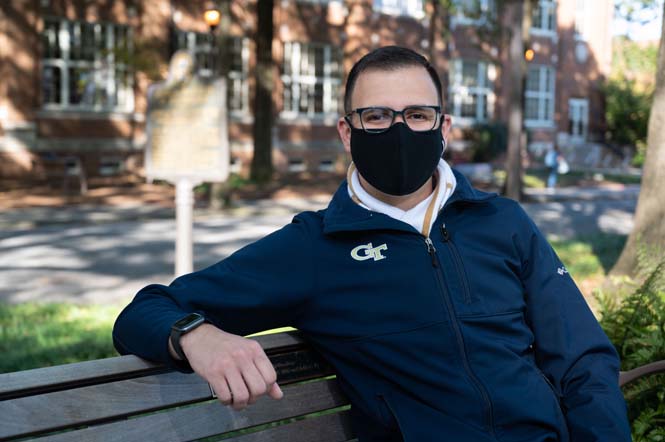 Torres, the current undergraduate chief of staff for the Georgia Tech Student Government Association (SGA), played a vital role in leading efforts across campus to develop testing logistics and distribute more than 20,000 masks to students. With his leadership, they "are continuing to look to find ways to give out more." In addition to helping with logistics, he volunteered to assist in setting up, driving workers, and delivering food to testing sites. The mission was always clear and simple for Torres. 
Sara Warner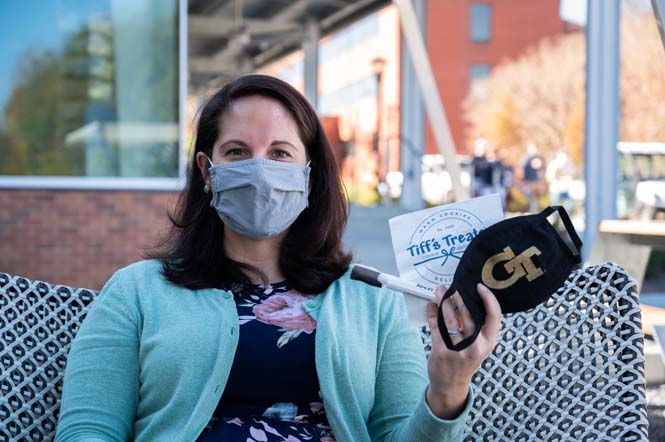 In her role, Sara Warner comes into direct contact with students every day. Her knowledge of what students like came in clutch.
"Pandemic life hasn't been easy," Warner says. And she's played a role in making people's days a little bit brighter. When Georgia Tech was implementing its testing strategy, gears started turning about how to keep the community participating regularly. Warner started working with community partners to help provide something small to each of the folks who took the time to get tested. In the middle of Atlanta summer, she helped secure thousands of frozen treats from local vendor King of Pops. As the temperatures dipped, the treats turned to warm cookies from Tiff's Treats. Warner even went the extra mile to source items for people with special dietary needs.
"We're giving something small for our community doing something that's a big deal," she says. The tiny treats, she says are keeping students and employees safe. Not only did Warner help get the popsicles and cookies to campus, she now could also be found on many days distributing them at testing locations.  
Joshua Weitz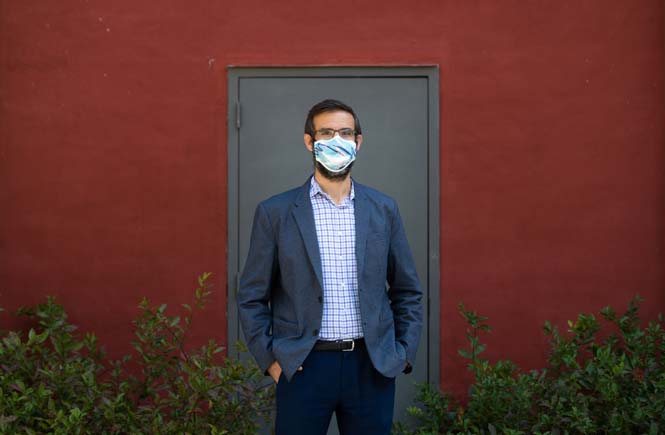 Weitz, a professor at Georgia Tech, focuses on epidemics and their behavior. His interest lies in how modeling transmissions, coupled with crowd control and testing, can lead to improved disease mitigation tactics. "A virus may be small, but it can reshape populations and ecosystems on different scales," Weitz explains. He believes he was able to make a difference on campus and in public health, but maintains, "This is only possible with many people working together with a common purpose." Now his goal is to take lessons learned at Tech to help others protect themselves and their communities.
JulieAnne Williamson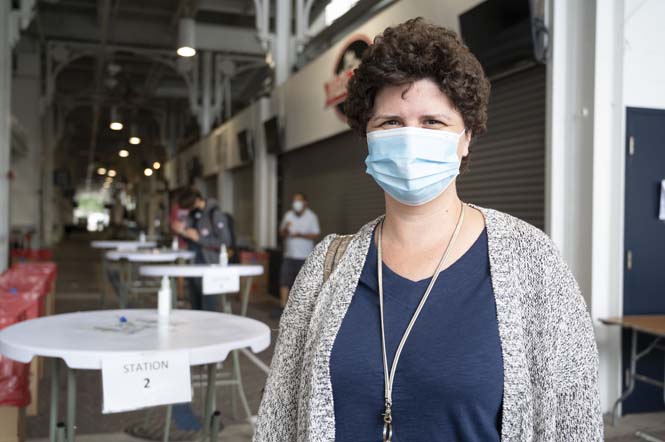 Williamson was asked to help orchestrate the logistics of collecting samples for testing from sites across campus. As a triple Yellow Jacket with degrees in electrical engineering and industrial and systems engineering, she has applied knowledge from her time at Tech to developing ideal locations for testing sites and making decisions on how to train staff and deploy them across campus. When data presented potential increases in cases, Williamson would quickly mobilize pop-up testing locations to make testing easier.
Credits
Writer: Evan Atkinson
Photography: Allison Carter