Over the past five years, Georgia Tech has strengthened its commitment to inclusive excellence by enrolling record numbers of undergraduate students from around the state, nation, and world.
Undergraduate enrollment has increased almost 2,000 students in that time, expanding access to students from all backgrounds. This includes rural Georgia, as well as students in the Black and Hispanic communities. Incoming first-generation students (those who come from families where neither parent graduated from college) also increased by 80%. And for the first time in Institute history, women comprise 40% of the total undergraduate population. While we like to talk numbers, our real pride is in our students, many of whom have overcome formidable obstacles to make their dreams of a Georgia Tech degree come true.
Undergraduates by the Numbers*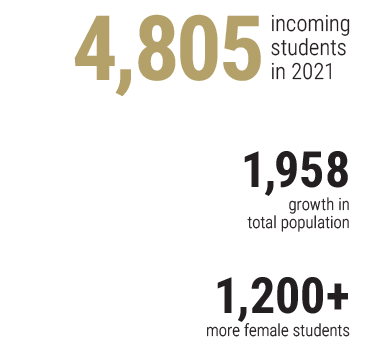 ---
4,805 incoming students in 2021
1,958 growth in total population
1,200+ more female students

---
80% increase in incoming first-generation college students
59% increase in first-year Black students
50% increase in first-year Hispanic students
*Increases reflect undergraduate enrollment growth over the past five years.
More Student Testimonials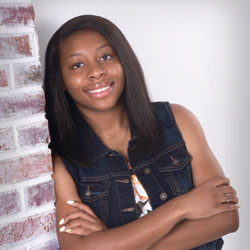 "I'm proud to be a first-generation college student, because it will benefit my family for generations to come. We are our ancestors' wildest dreams, and I'm pursuing my college education for my late grandmothers who always pushed me to challenge myself and chase my dreams."
-India Ogletree
Industrial Engineering
Butler, Georgia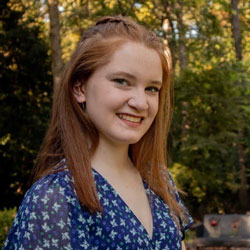 "Having graduated as salutatorian of my high school, I'm excited to continue my education at Georgia Tech and learn about the mathematical applications of computer science. My goal is to find a career where I can combine my passions for math and problem-solving to make a meaningful impact."
-Emma Ringe
Computer Science
Warner Robins, Georgia
Manu Platt, a renowned biomedical engineering professor, and Rick Clark, director of Undergraduate Admission, talk with President Ángel Cabrera about the importance of expanding access, and Tech's commitment to recruiting and retaining the brightest, most promising students from many different backgrounds.
Aug 23, 2021
Tech welcomes record number of first-year and transfer students.