The Georgia Institute of Technology conferred degrees in four separate Commencement ceremonies May 6-7, featuring speeches from Andre Dickens, mayor of Atlanta; Nashlie Sephus, computer engineer and entrepreneur; Raphael Bostic, Atlanta Federal Reserve president; and Google researcher Krishna Bharat.
The 2022 Georgia Tech Ph.D. Commencement ceremony featured the traditional hooding of the candidates and a keynote address by Nashlie Sephus, who works as an applied science manager for Amazon's artificial intelligence initiative. Amazon had acquired Partpic, the visual recognition technology startup where she was chief technology officer. In 2018, she founded the Bean Path, an incubator and technology consulting nonprofit in Jackson, Mississippi, that has helped more than 400 local businesses and individuals with their tech needs.
What do you remember about your own graduation day?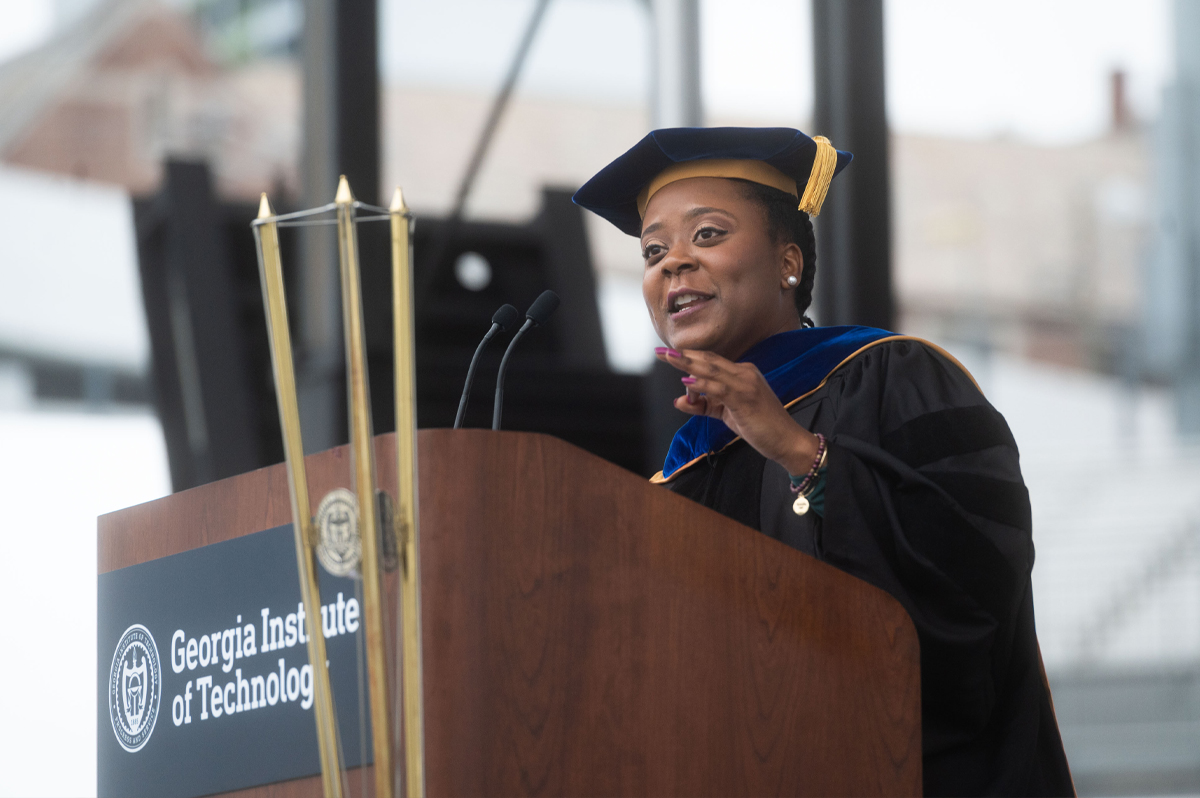 Watch Nashlie Sephus speak at Georgia Tech's Spring 2022 Ph.D. Commencement Ceremony
Raphael Bostic delivered the keynote address for the master's ceremony on May 6. Bostic is president and chief executive officer of the Federal Reserve Bank of Atlanta. He is a participant on the Federal Open Market Committee, the monetary policymaking body of the Federal Reserve System.
Which of Georgia Tech's current strategic focus areas resonate with your own career or experience?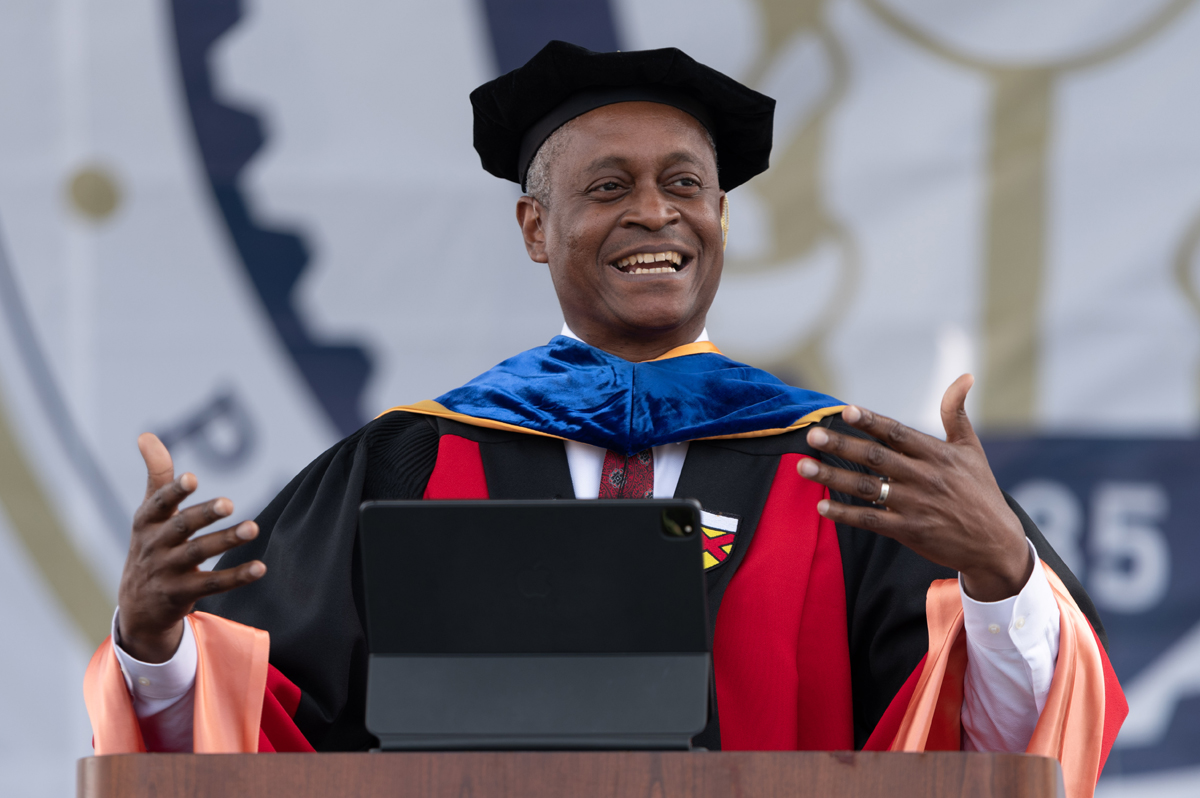 Watch Raphael Bostic speak at Georgia Tech's Spring 2022 Master's Commencement Ceremony.
The two bachelor's ceremonies took place May 7. Google research scientist Krishna Bharat delivered the keynote address at the morning bachelor's ceremony. Bharat received a Ph.D. from Georgia Tech in human computer interaction. He is the creator of Google News, a service that automatically indexes over 25,000 news websites in more than 25 languages to provide a summary of the news resources.

What excites you about addressing Georgia Tech students on their graduation day?

Watch Krishna Bharat speak at Georgia Tech's Spring 2022 Morning Bachelor's Commencement Ceremony.
The Saturday afternoon bachelor's ceremony featured an address from Atlanta mayor and Georgia Tech alumnus Andre Dickens. He was elected Atlanta's 61st mayor in November 2021, making him the first Black alumnus of Georgia Tech to be elected mayor and only the second Tech alumnus to hold the position, following in the footsteps of the late Ivan Allen Jr.
A member of Tech's Alumni Association board of trustees, Dickens holds a bachelor's degree in chemical engineering from Tech and a Master of Public Administration in economic development from Georgia State University. He also served as the assistant director of Outreach Initiatives for Institute Diversity, Equity, and Inclusion, and led Tech's African-American Male Initiative.
Andre Dickens recalls how he started developing his leadership on Georgia Tech's campus.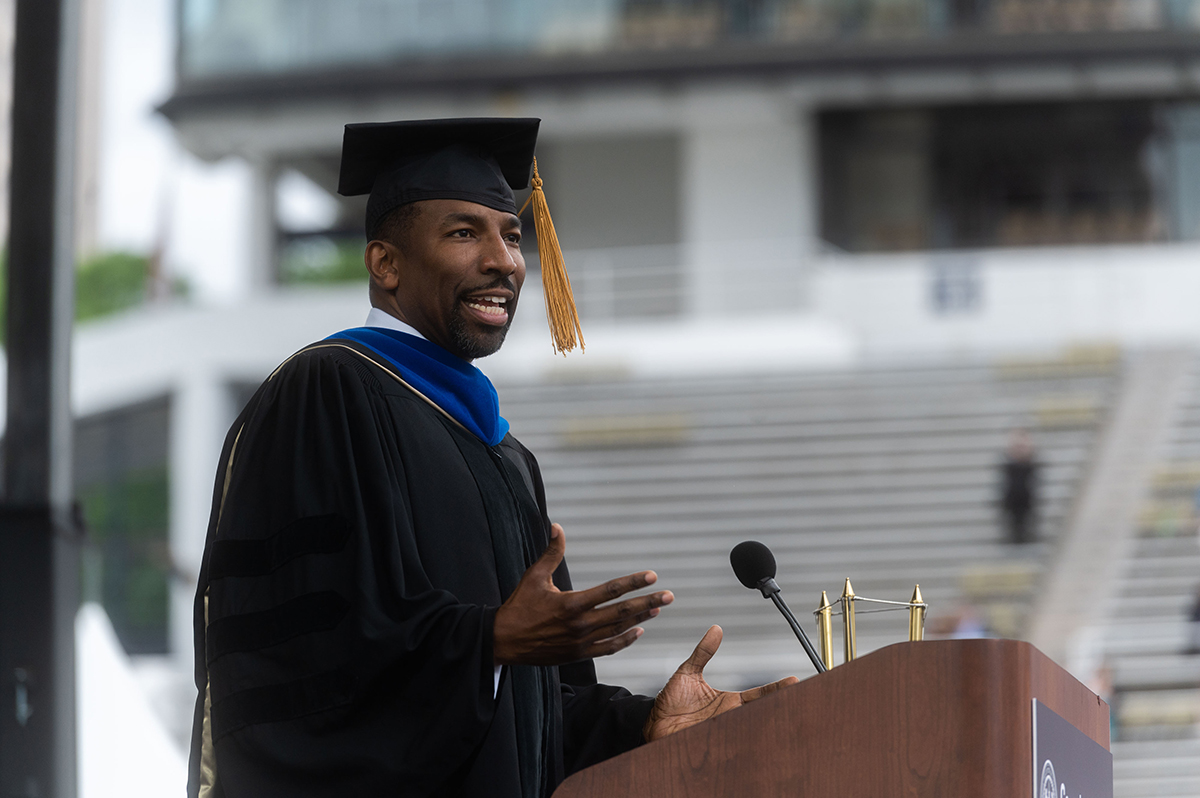 Watch Andre Dickens speak at Georgia Tech's Spring 2022 Afternoon Bachelor's Commencement Ceremony.