The Month in Photos: September 2023
Hyundai Partnership, Diversity Symposium, and Cotton Mill Exhibit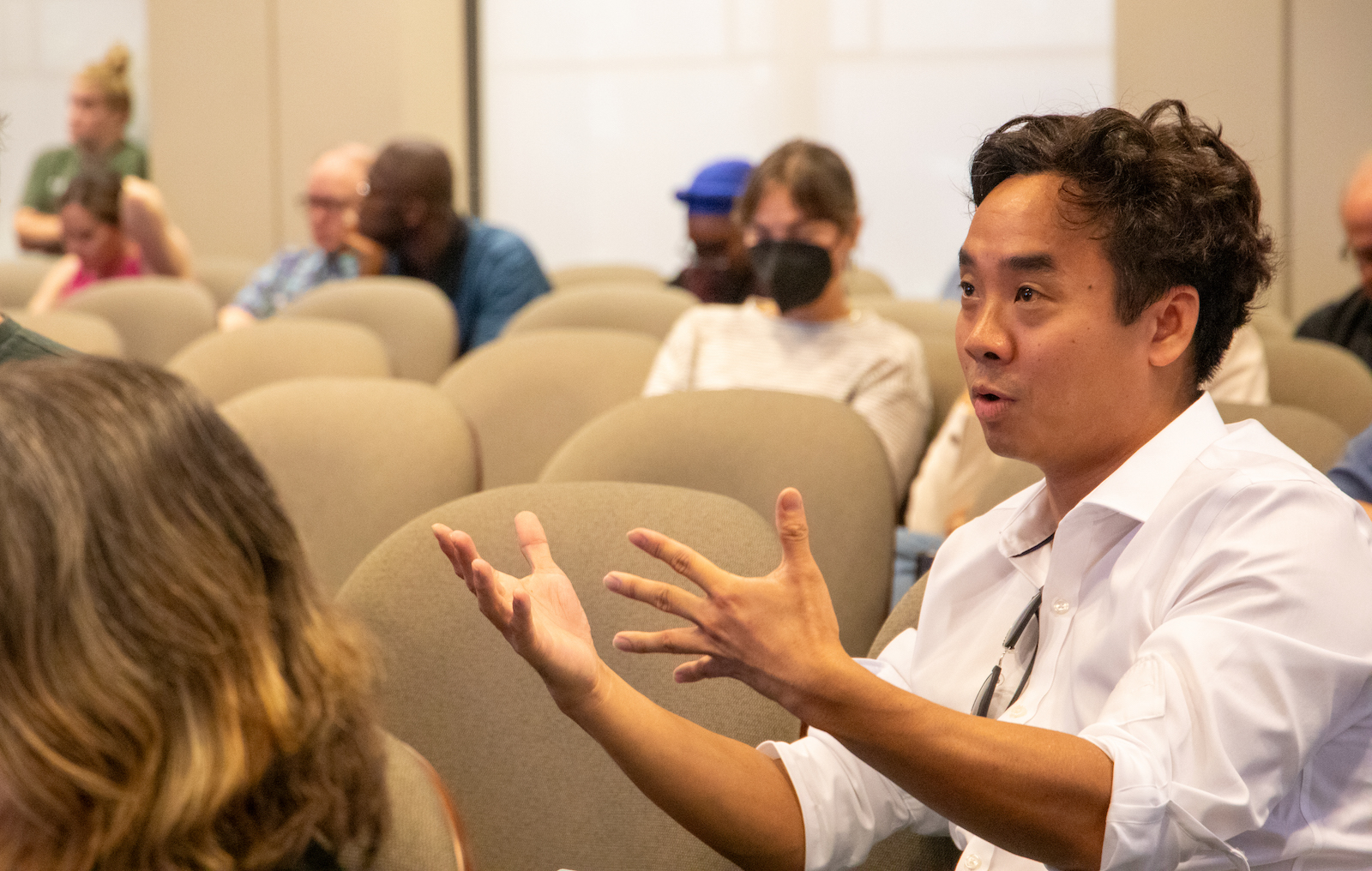 The Ivan Allen College of Liberal Arts hosted its annual State of the College event on Sept. 6 in the Bill Moore Student Success Center. Pictured is Brian Y. An, assistant professor and director of the Master of Science in Public Policy program in the School of Public Policy, following a presentation by Dean Kaye Husbands Fealing. Photo by Joshua Smith.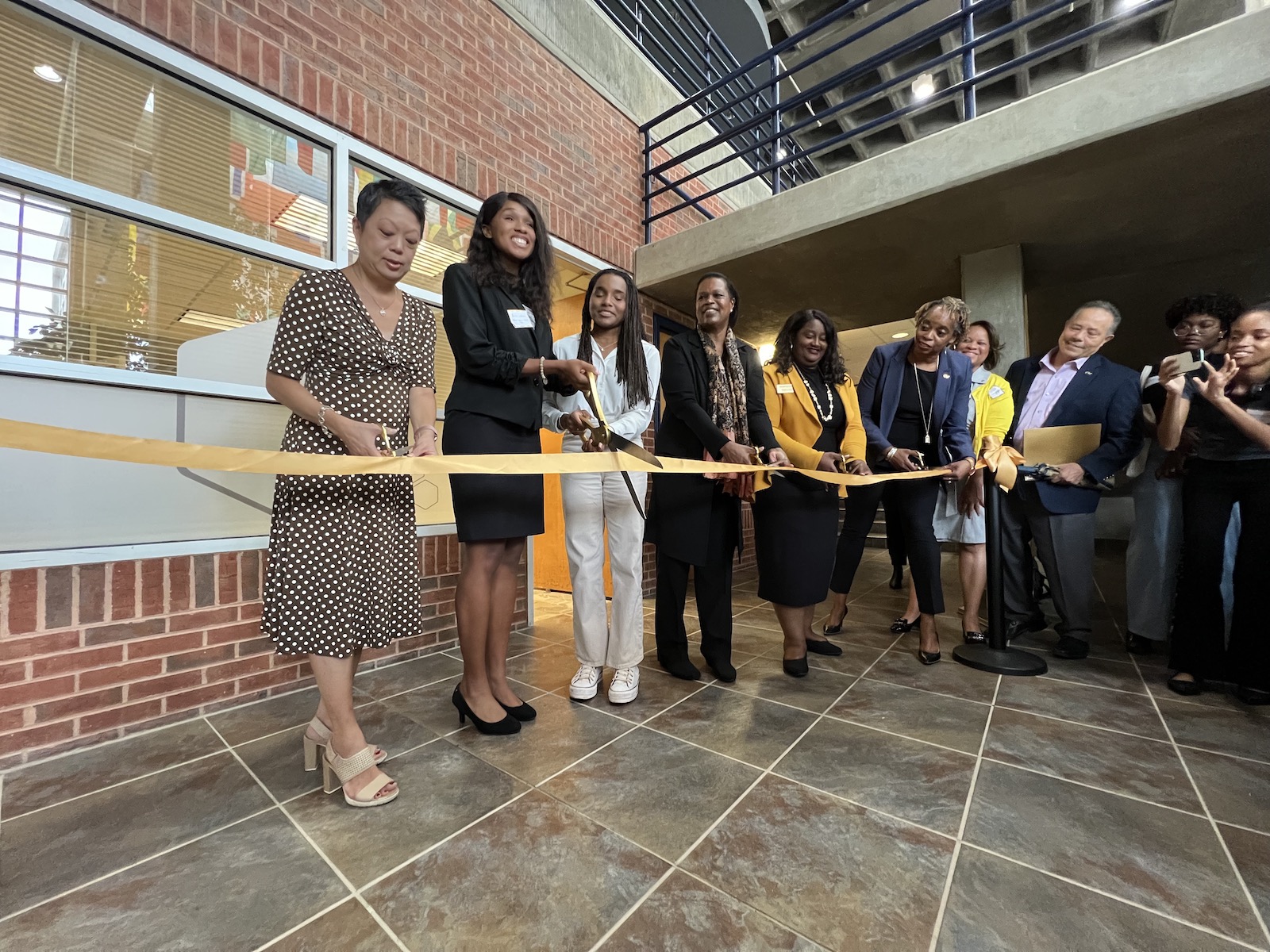 Vice President for Student Engagement and Well-Being Luoluo Hong (left) led the celebratory ribbon-cutting ceremony for Black Culture, Innovation, and Technology, a new program to facilitate access, retention, and graduation. Photo taken Sept. 15, courtesy of Student Engagement and Well-Being.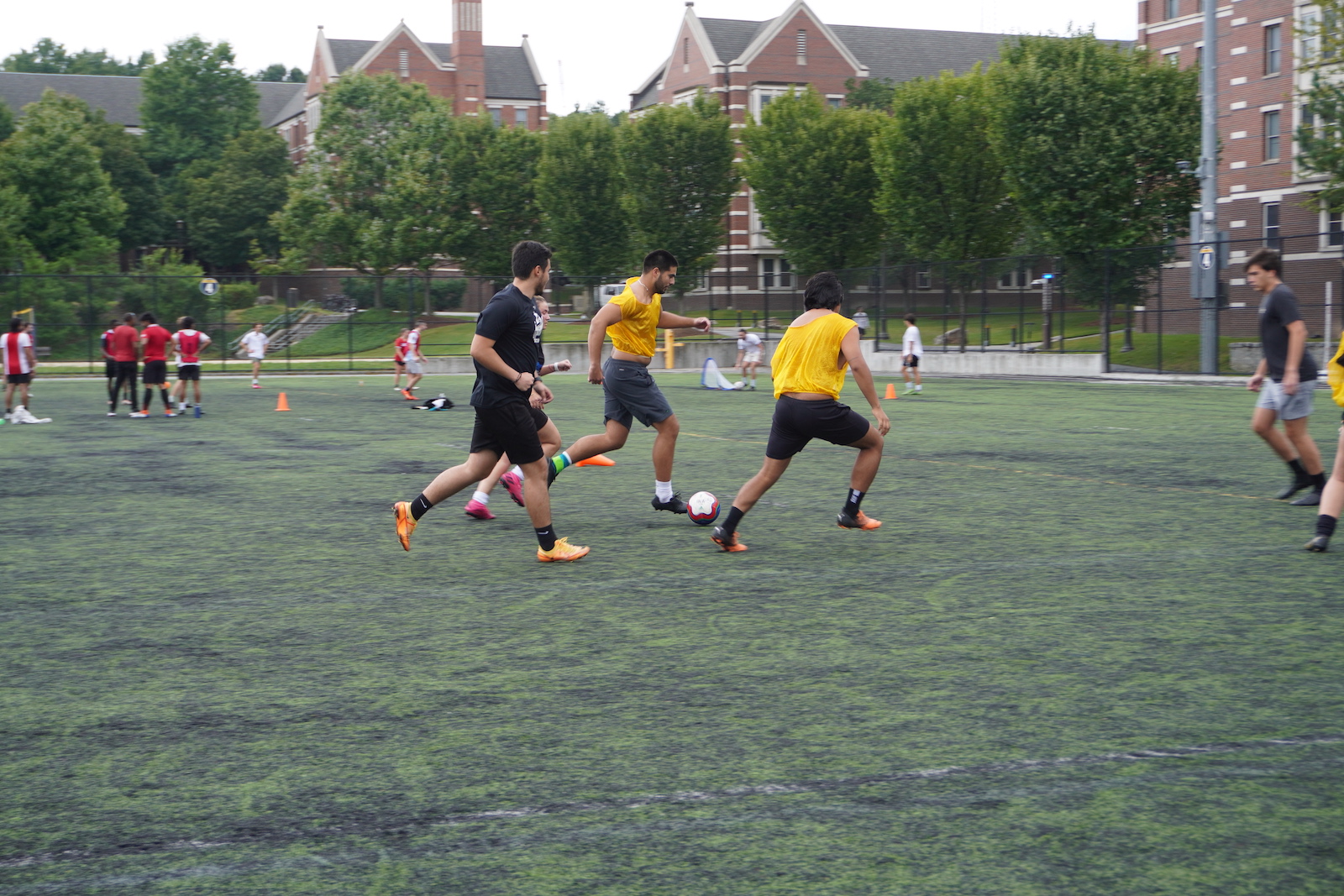 The Mini World Cup is one of the cultural events organized by the Society of Hispanic Professional Engineers (GT-SHPE) and the Office of Hispanic Initiatives (OHI) to celebrate Hispanic Heritage Month. More than 90 students participated in the event, which promotes diversity at Georgia Tech by encouraging students to represent their respective alliances or teams in a friendly mini soccer tournament format. Photo taken Sept. 15 by Andres Robles.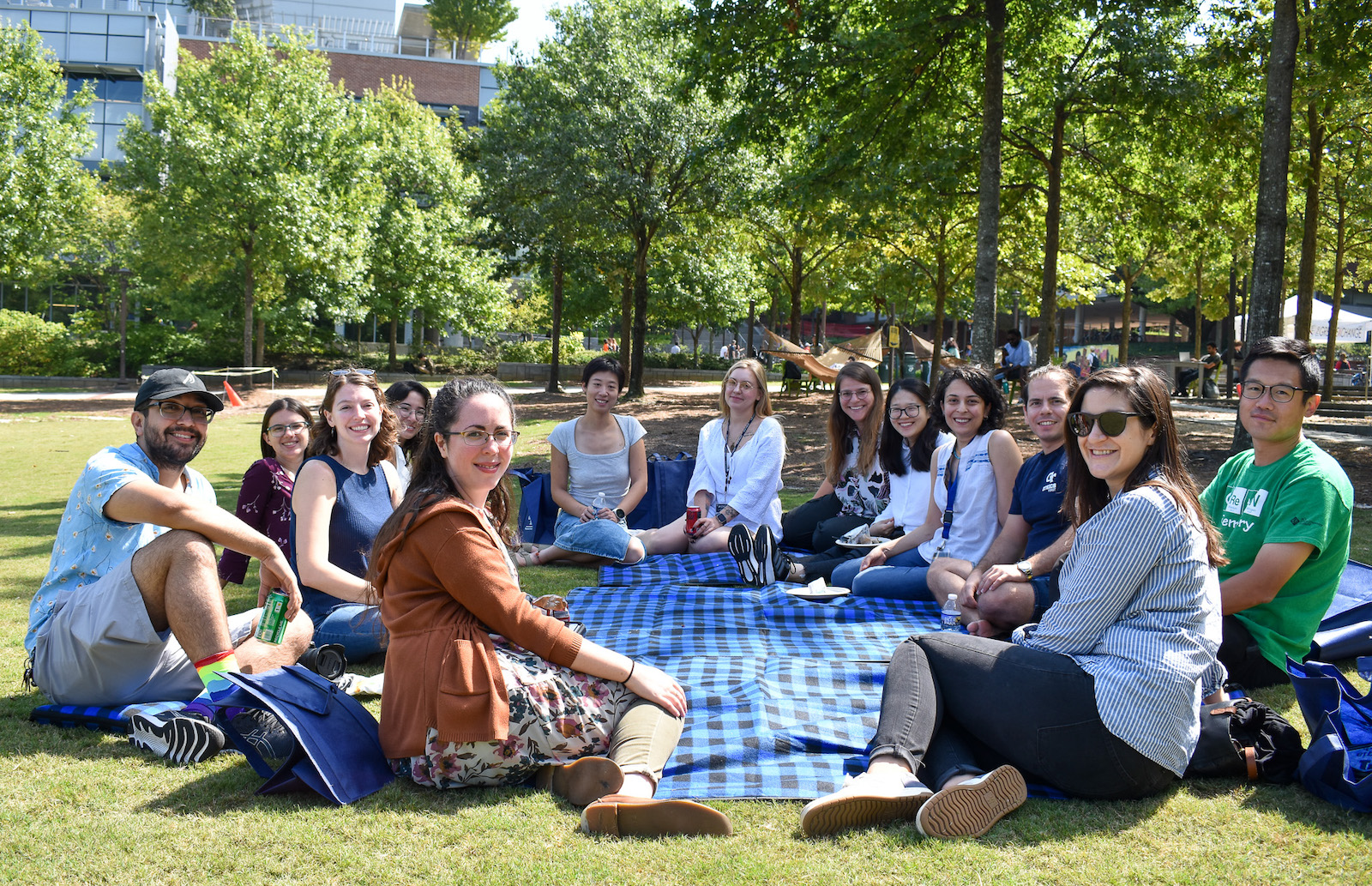 Georgia Tech's Office of Postdoctoral Services hosted events, including a picnic on Tech Green, to celebrate National Postdoctoral Appreciation Week, Sept. 18-22. The office creates opportunities for postdocs to cultivate meaningful relationships across campus. Photo taken Sept. 18 by Brittani Hill.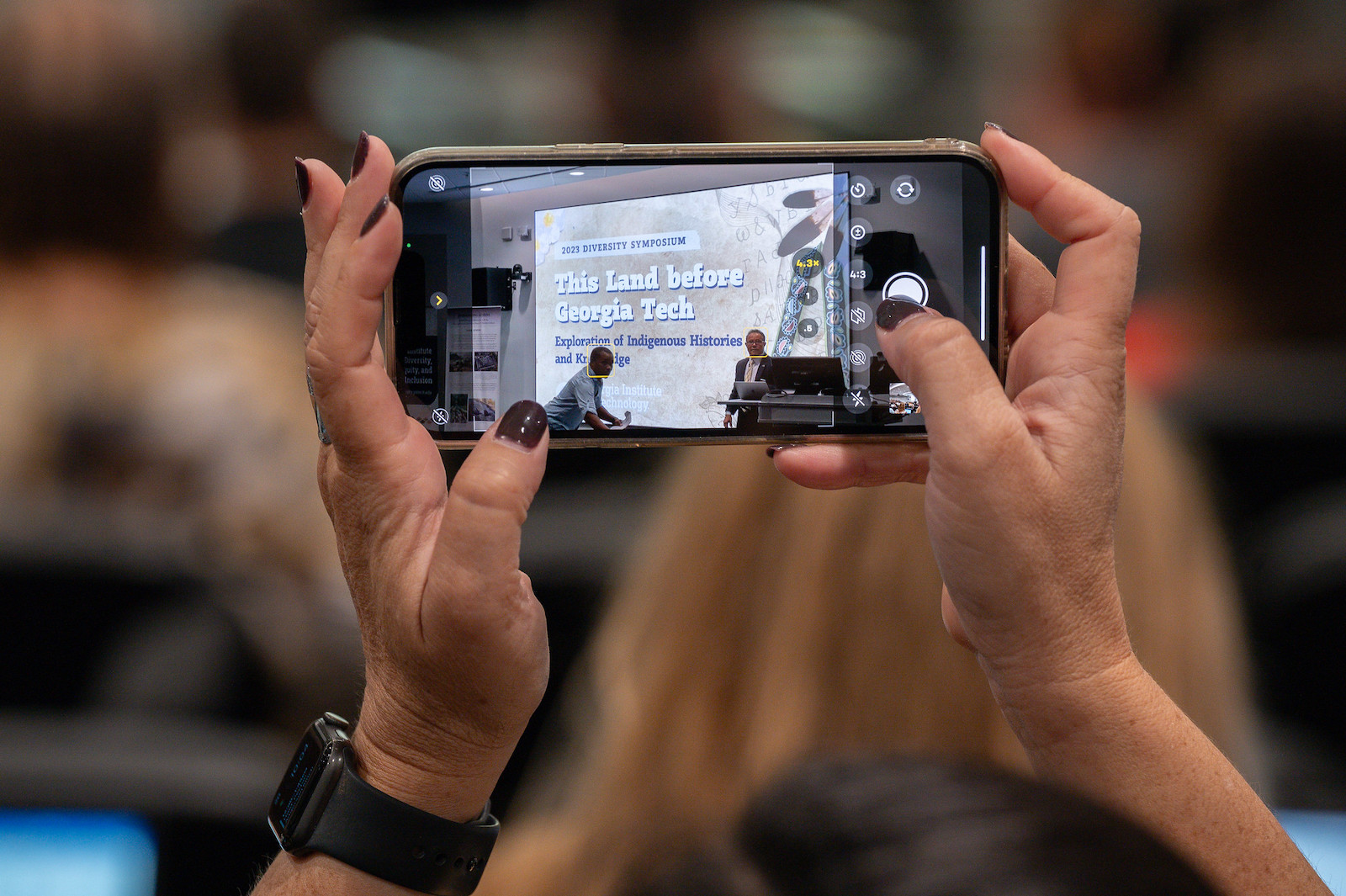 The theme of Georgia Tech's 15th annual Diversity Symposium was "This Land Before Georgia Tech: Exploration of Indigenous Histories and Knowledge." The symposium brought together leaders, scholars, and activists to delve into the depths of indigenous knowledge systems and engage in thought-provoking discussions. Photo taken Sept. 20 by Joya Chapman.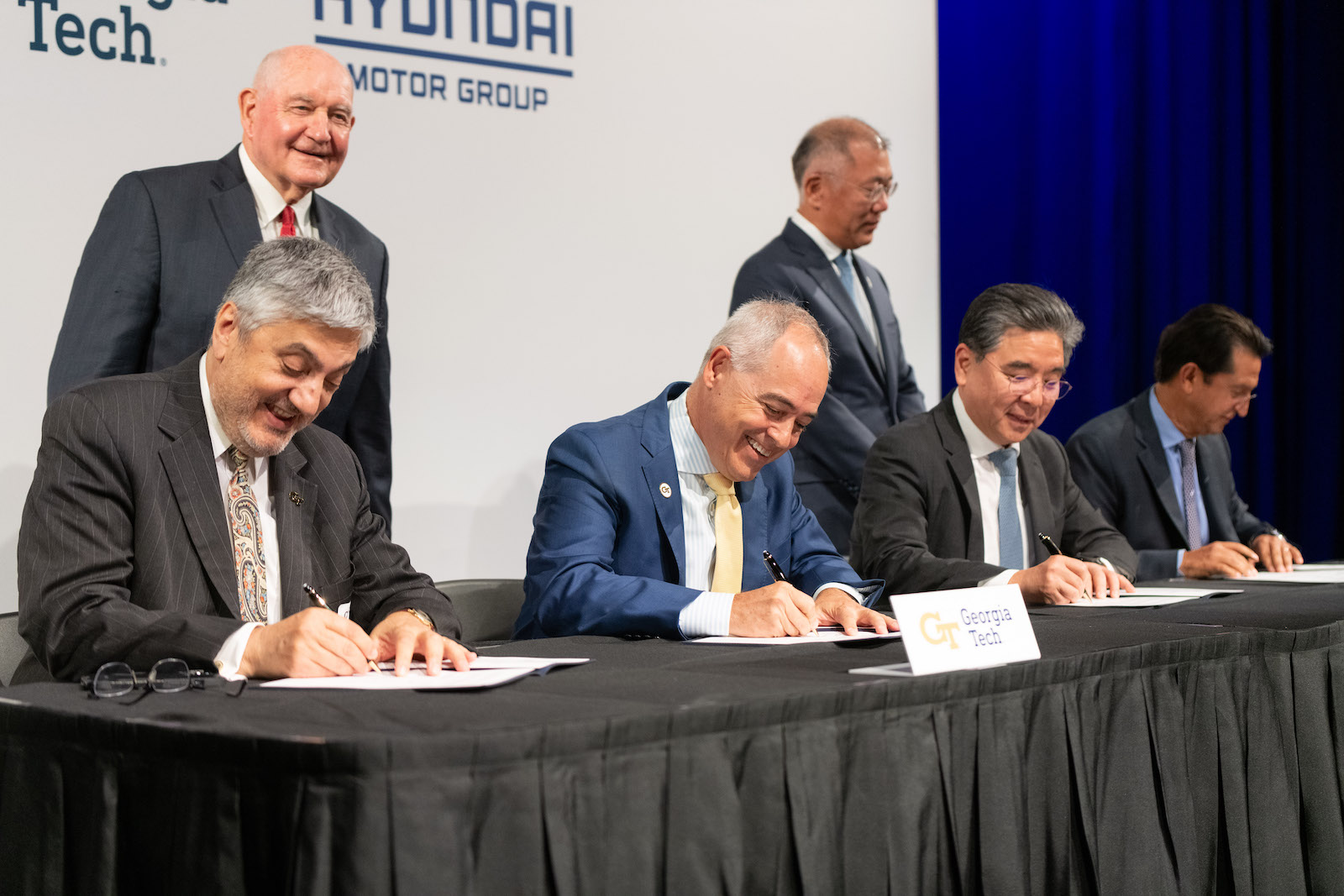 USG Chancellor Sonny Perdue looks on as Georgia Tech Executive Vice President for Research Chaouki Abdallah (seated left) and President Ángel Cabrera sign the memorandum of understanding with Hyundai officials, signifying the beginning of a transformative partnership focusing on sustainable mobility, the hydrogen economy, and workforce development. Photo taken Sept. 18 by Rob Felt.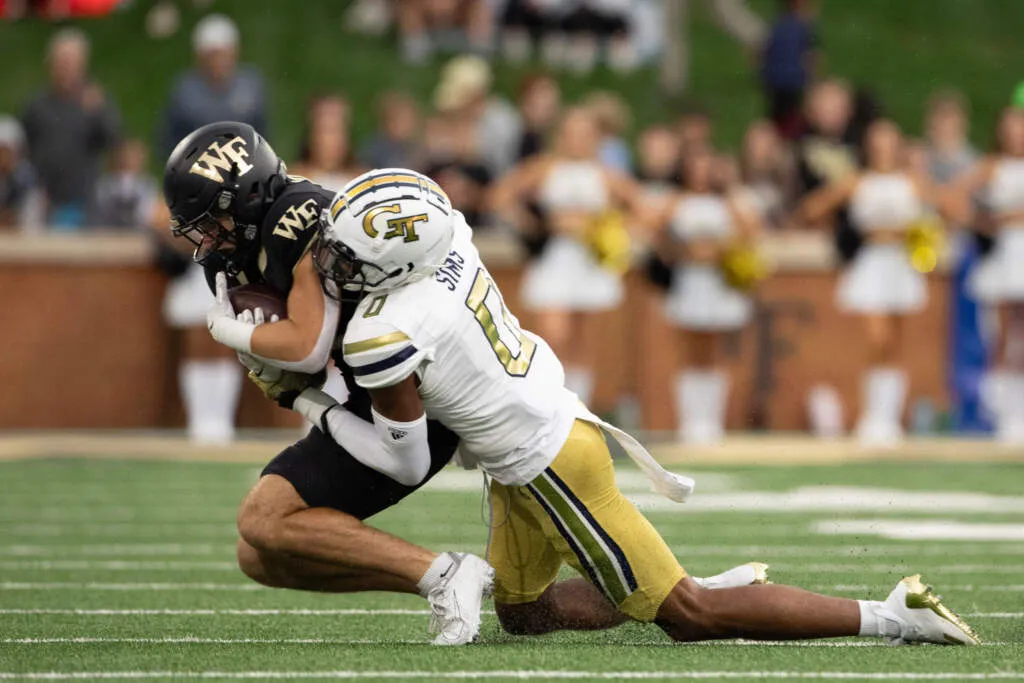 Georgia Tech took a commanding 20-3 halftime lead and went on to trounce previously undefeated Wake Forest, 30-16, on Sept. 23 at Allegacy Stadium. Photo courtesy of Georgia Tech Athletics.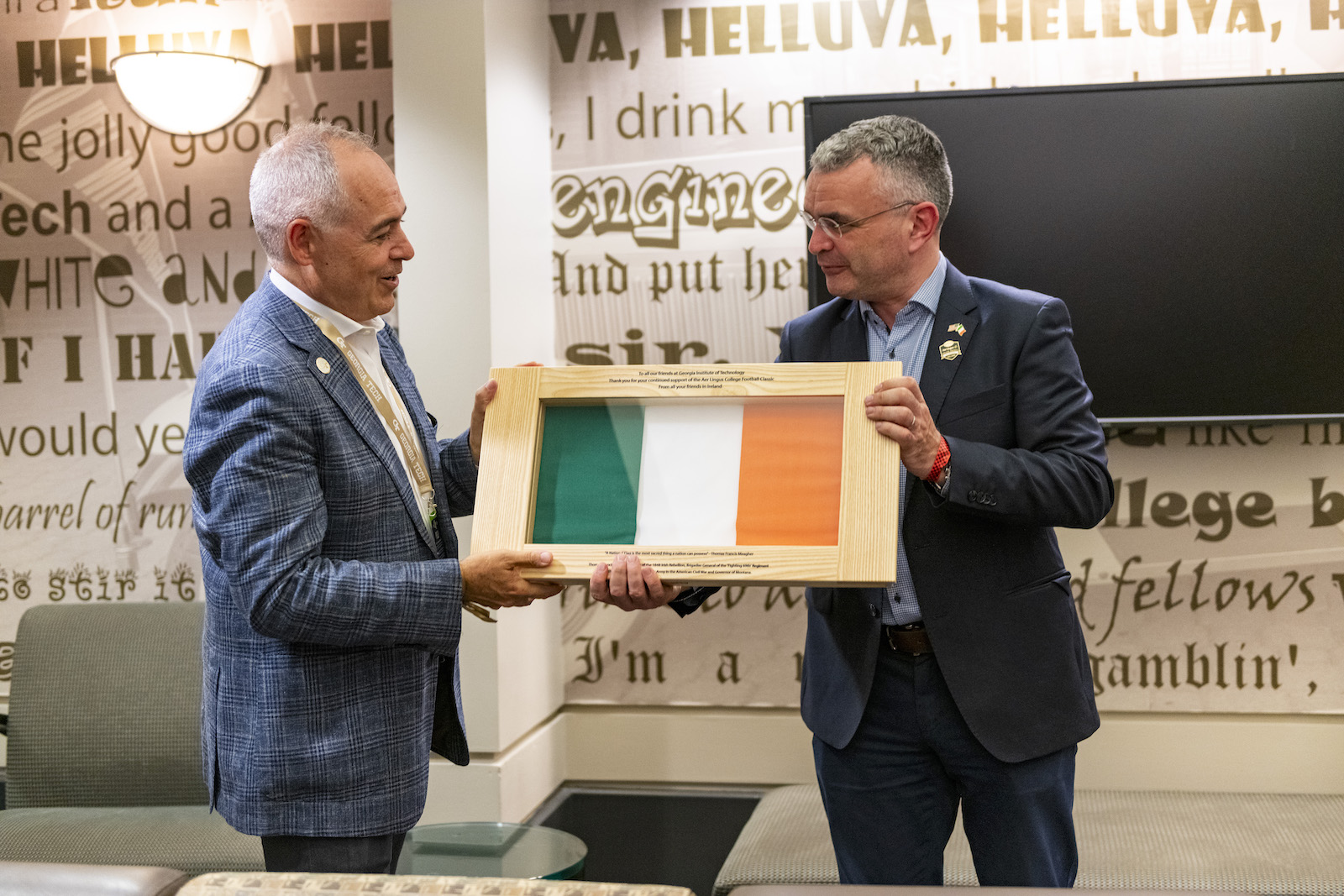 Georgia Tech welcomed the delegation from Ireland that will be hosting Tech in August 2024 for the Aer Lingus College Football Classic, where they will take on Florida State. Dara Calleary, minister for Trade, Promotion, Digital, and Company Regulation, presented a framed Irish flag to President Cabrera. Photo taken Sept. 9 by Eldon Lindsay, Georgia Tech Athletics.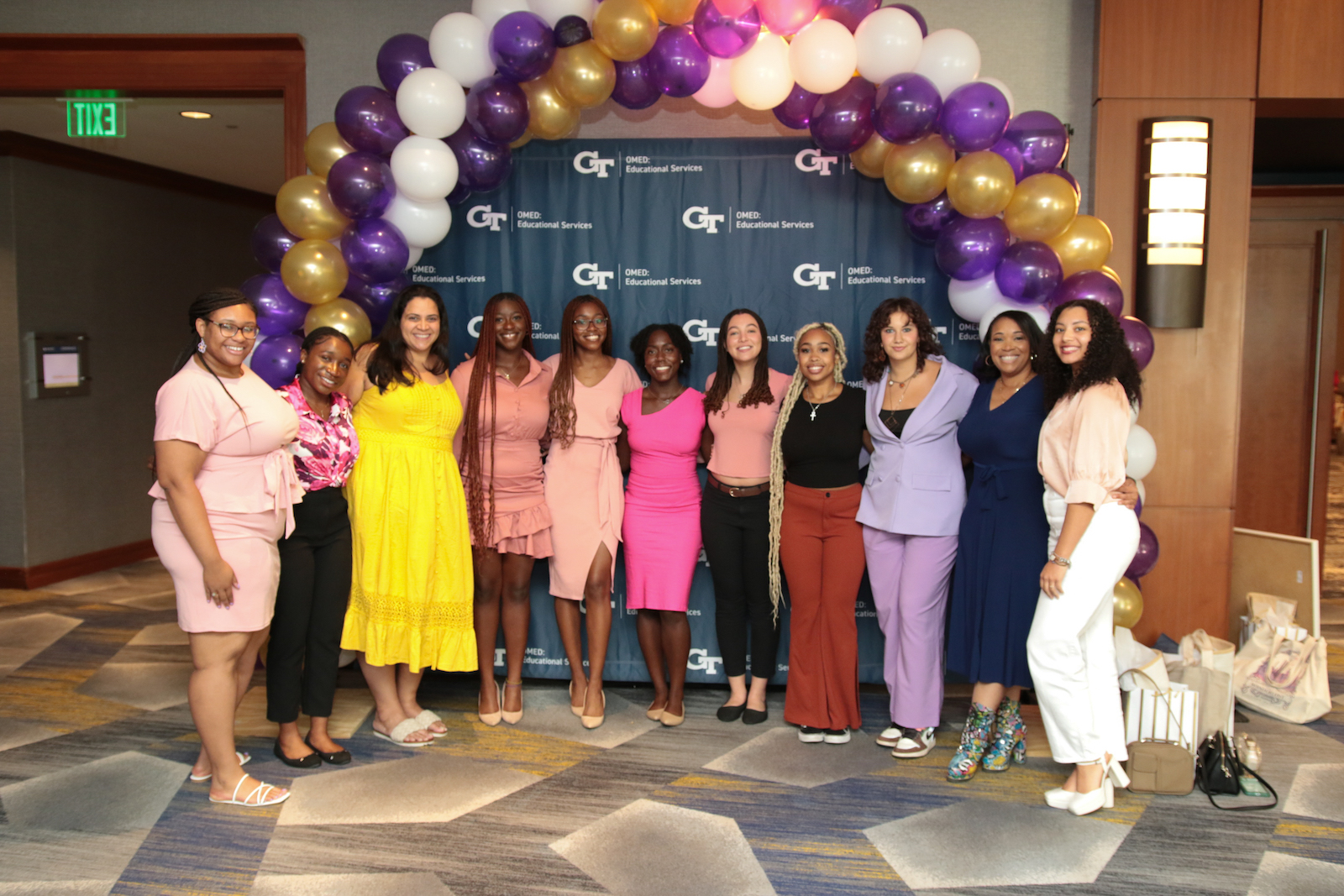 OMED: Educational Services and the Women of Color Atlanta Collaborative in Higher Education hosted the 2023 Women of Color Awards on Sept. 24 at the Georgia Tech Hotel and Conference Center. Georgia Tech Women of Color Initiative student ambassadors stand with OMED Director Sybrina Atwaters (second from right) and OMED Associate Director Denise Thomas (third from left). Photo taken by Bryant Andrews.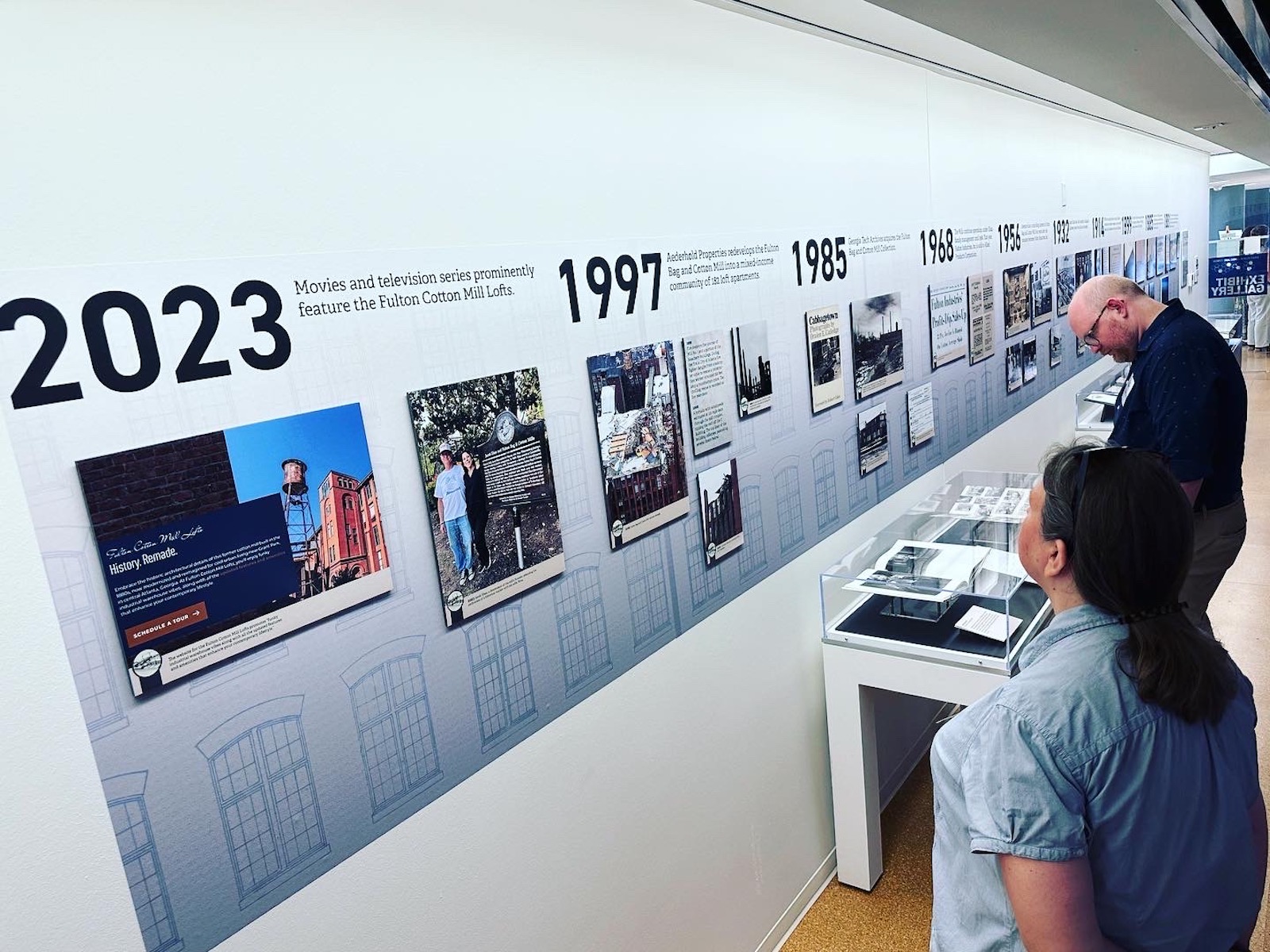 The Georgia Tech Library held the grand opening of the Fulton Bag and Cotton Mill: New South Industry exhibit on Sept. 26. The exhibit traces the intertwined histories of Georgia Tech and the mill from its founding after the Civil War to the present day. Library Dean Leslie Sharp, a historic preservationist, worked on maintaining the integrity of the mill complex as it transitioned to lofts in the early 2000s. A panel discussion about the exhibit will take place Oct. 18. Photo taken by Jason Wright.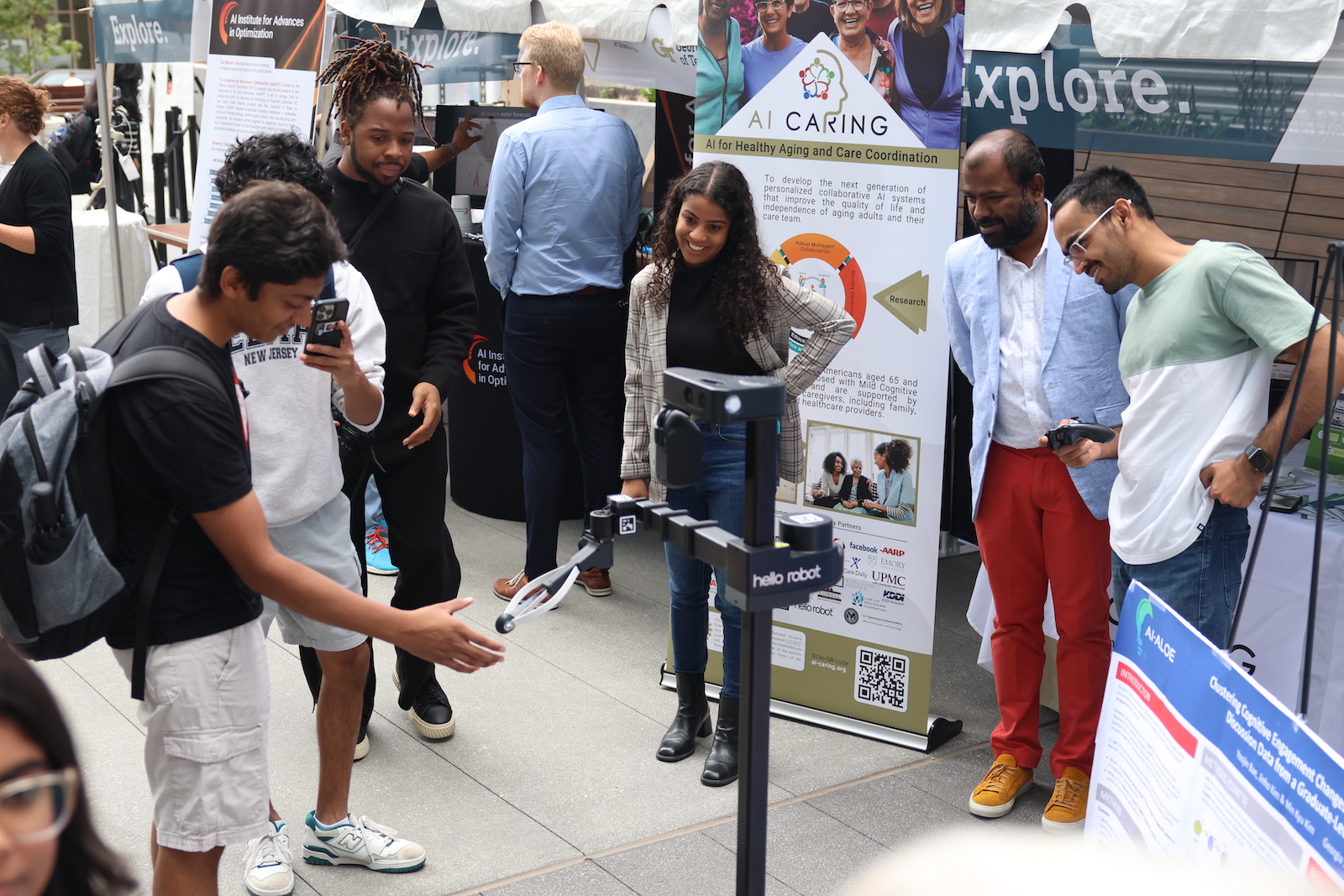 Avant South at Georgia Tech, in its inaugural year, explored artificial intelligence and the importance of creating AI responsibly. The event convened professionals, executives, tech enthusiasts, and academics for two days of keynote addresses, panel discussions, and an innovation showcase. Photo taken Sept. 28 by Tyler Parker.  
Credits
Photography: Allison Carter, Joya Chapman, Rob Felt
Writing/Editing: Victor Rogers, Stacy Braukman