U.S Secretary of Commerce Tours Georgia Tech-Based Medical Innovation Center
U.S. Secretary of Commerce Penny Pritzker on Aug. 23 visited Georgia Tech, including the Global Center for Medical Innovation (GCMI).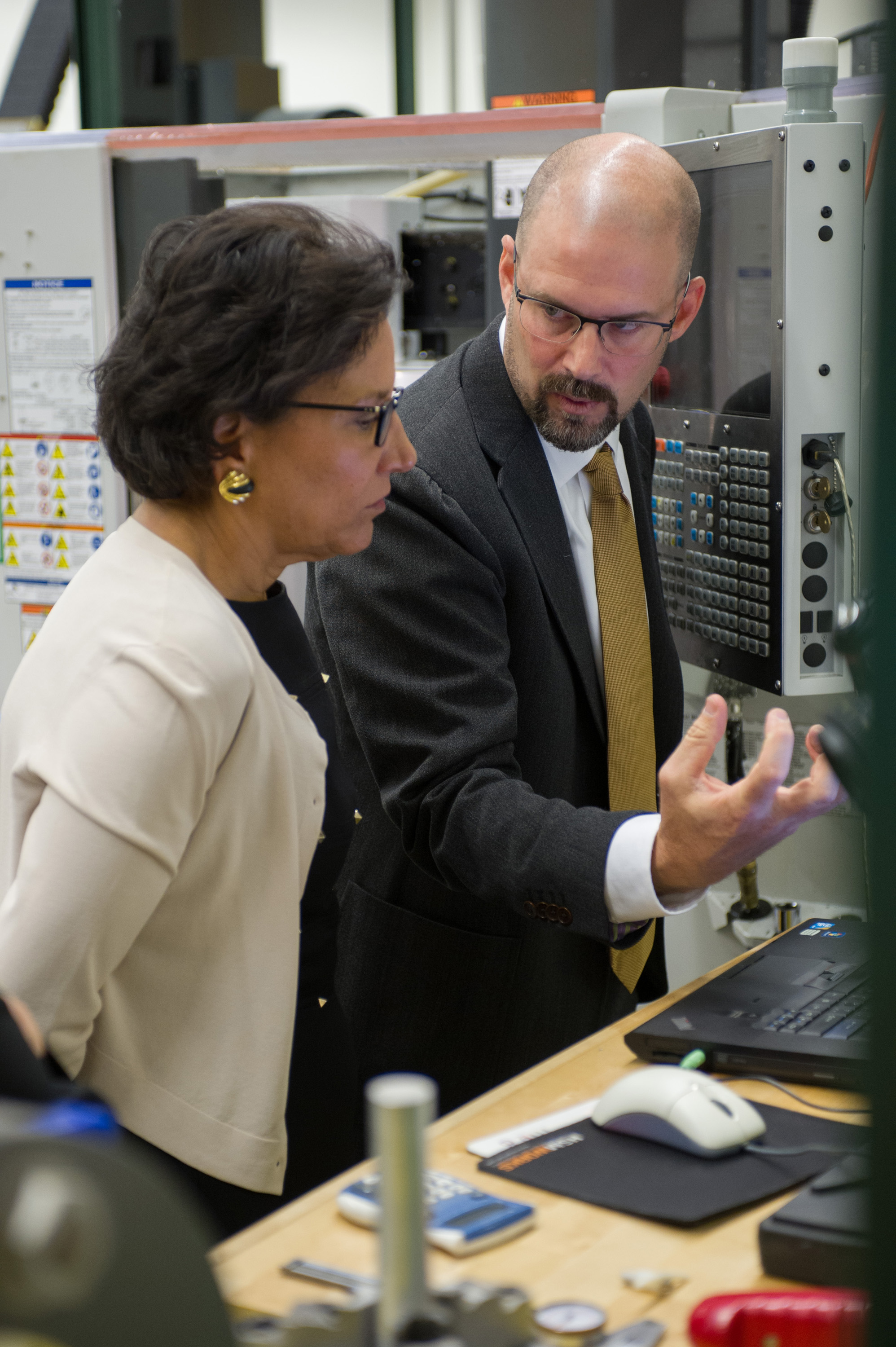 Mark McJunkin, director of operations at the Global Center for Medical Innovation (GCMI), explains a prototyping step to U.S. Secretary of Commerce Penny Pritzker. Pritzker visited GCMI on August 23rd. (Georgia Tech Photo: Rob Felt)
Aug 25, 2013
— Atlanta, GA
U.S. Secretary of Commerce Penny Pritzker on Aug. 23 visited the Global Center for Medical Innovation (GCMI) near Georgia Tech's campus as a part of her nationwide listening tour during her first 100 days in office.
Secretary Pritzker is visiting business leaders, Department of Commerce employees and innovation and entrepreneurial centers, such as GCMI, around the country during her tour. She promised to report what she learns on the listening tour to President Obama in an effort to help strengthen the economy and create American jobs.
"One of the things that we're interested in at the Department of Commerce is helping entrepreneurs take their ideas from concept to market," Pritzker said. "It requires a collaboration of a number of different types of expertise."
A unique collaboration of engineering and bioscience expertise was the idea behind GCMI.  The Center's goal is to create an ecosystem of experts in different areas to help innovators design, build and test new medical devices faster and cheaper than they could alone.
"One of the things that we want to do is continue to encourage that kind of innovation process so that we can have new companies that are starting up that will create good jobs in America," Pritzker said.
At GCMI, Pritzker toured laboratories and design studios with Georgia Tech representatives and members of the media. She examined implants for facial reconstruction surgery, learned about a new vision testing device and saw a $35,000 "drill press on steroids" — a Haas CNC Milling Machine — that innovators use to bring their designs to life.
The Global Center for Medical Innovation, located at 575 14th street in midtown Atlanta, is a state-of-the-art medical device development center working with leading medical and academic institutions and startup companies in the region.  
"GCMI is positioned to help innovators overcome the hurdles associated with bringing new medical technologies from the lab into the clinic," said Tiffany Karp, general manager and COO at GCMI. "The presence of GCMI in Atlanta is promoting the growth of the Southeast's medical device industry by keeping technology in the region and attracting interest from other parts of the country."
As an independent, non-profit organization, GCMI brings together universities, clinicians, inventors, engineers, designers, researchers, marketers, attorneys and investors, all working to speed new medical innovations from concept to commercialization.  
GCMI is a full-service product development organization — a one-stop-shop where entrepreneurs can design, engineer and test prototypes of their medical devices — "riffing off each other," as Pritzker put it. The Center is the first and only one of its kind in the Southeast.
"We're most proud of the speed at which we're developing from clean sheet of paper to functional prototype to proof of concept," said Mark McJunkin, director of operations at GCMI.
Pritzker saw the unique mix of engineering and bioscience expertise first hand as she met with John O'Shaughnessy of Matrix Surgical USA, a company that designs and develops sterile surgical implants for trauma surgery in GCMI's Class 10,000 clean rooms. Pritzker held a model skull containing one of these implants, which are patient specific based on CT scans, modifiable by surgeons and eliminate the need for bone grafts.  
The Department of Commerce supported the creation of GCMI, Pritzker said, and in 2010, GCMI was one of six winners of the Department of Commerce's i6 Challenge, a grant competition designed to support the nation's best ideas for technology commercialization and entrepreneurship.
One recurring theme that Pritzker has heard at other stops on the tour is that businesses are having a hard time finding skilled labor. She pointed to GCMI's apprenticeship programs as one way to get young people excited about creative problem solving.
"I think Georgia Tech is developing a really interesting ecosystem of introducing young people in fourth, fifth and sixth grade to the excitement of innovation," Pritzker said. "We need ecosystems around the country that are helping folks, both people who are unemployed as well as our young people, to gain the skills that our businesses need."
Dershika Patel, a fifth-year biomedical engineering student at Georgia Tech, was the team leader in the apprentice program at GCMI, where she learned how to apply what she's learned as a student to bring medical products from "benchtop to bedside," she said.
"Being in school is great, but having the skills that it takes to get medical technologies to the market is a whole different ballgame," she told Pritzker. "It is a great program."
After touring GCMI, Secretary Pritzker had lunch with Georgia Tech President G.P. "Bud" Peterson, where they discussed the Institute's role in fostering an innovation ecosystem. While in Atlanta, Pritzker also met with Mayor Kasim Reed, CEOs from companies including UPS, and other business leaders in the area. She praised the city's entrepreneurial spirit.
"You have a very vibrant business ecosystem going on here," Pritzker said. "I think there's an enormous optimism coming out of the entrepreneurial community."

Research News
Georgia Institute of Technology
177 North Avenue
Atlanta, Georgia  30332-0181  USA

Media Relations Contacts: Brett Israel (404-385-1933) (brett.israel@comm.gatech.edu) or John Toon (404 894-6986)(jtoon@gatech.edu).
Writer: Brett Israel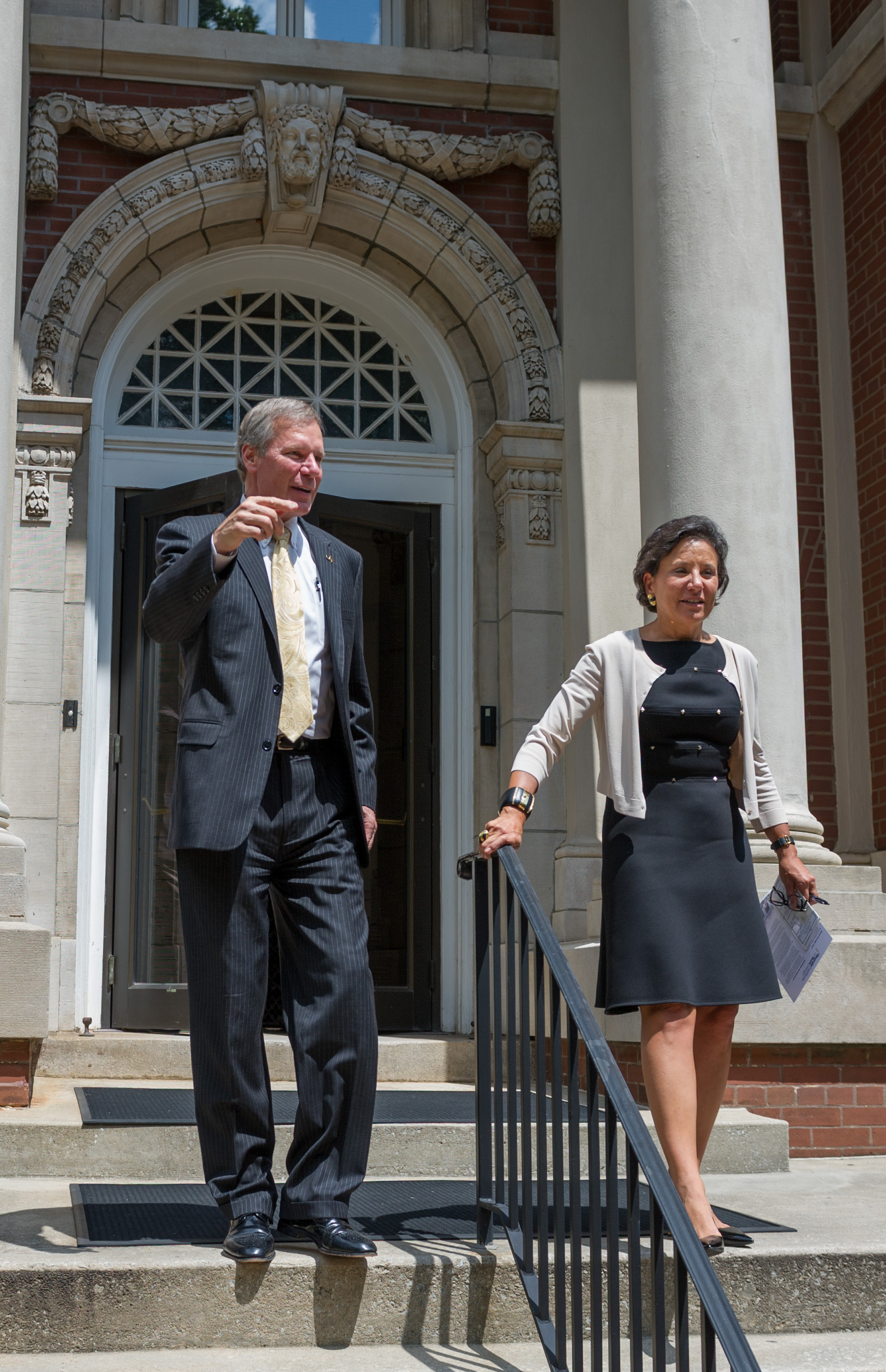 U.S. Secretary of Commerce Penny Pritzker and Georgia Tech President G.P. "Bud" Peterson leave the Carnegie Building after a meeting August 23rd. Pritzker also visited the Global Center for Medical Innovation (GCMI), a comprehensive medical device innovation center affiliated with the Georgia Institute of Technology. (Georgia Tech Photo: Rob Felt)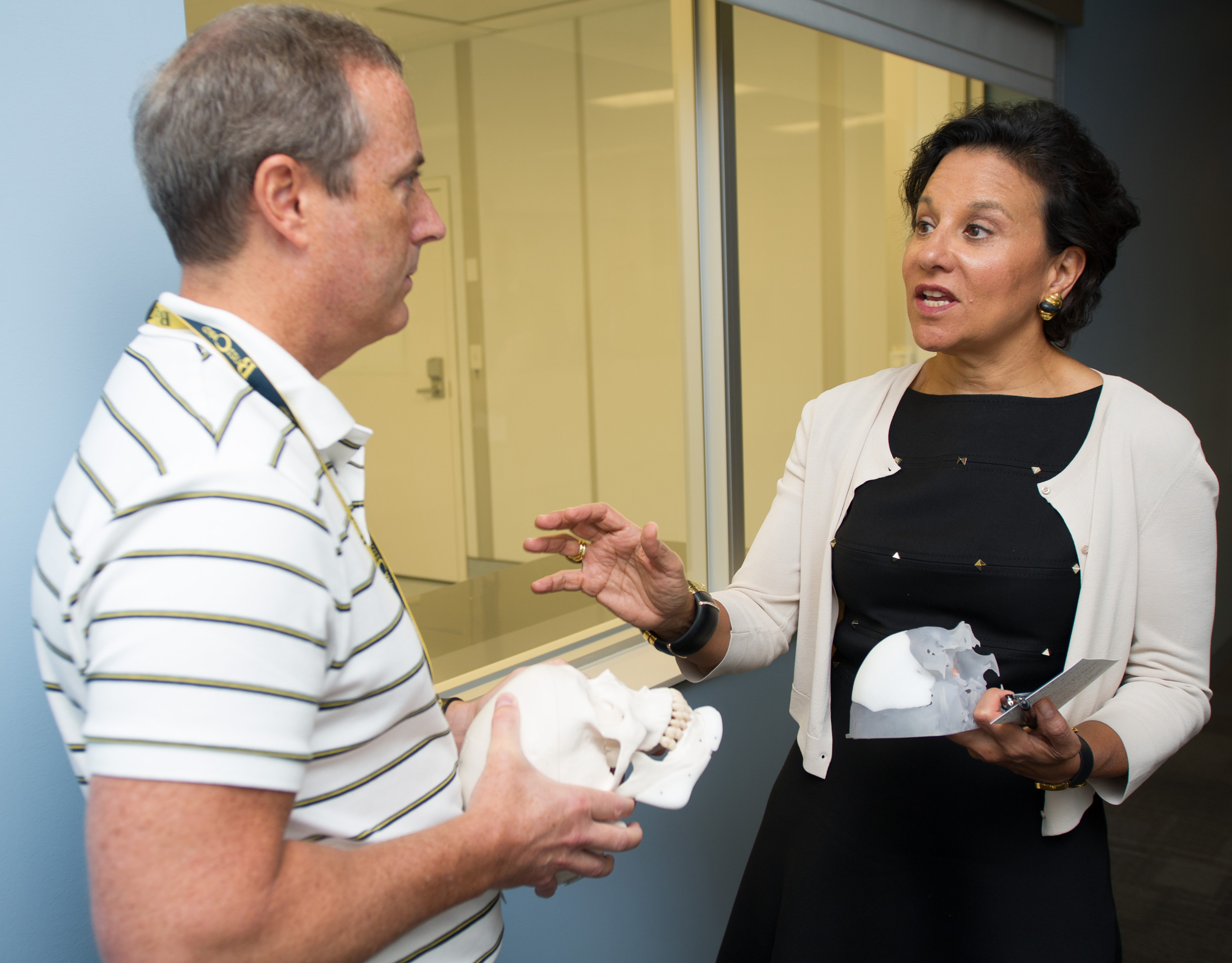 U.S. Secretary of Commerce Penny Pritzker talks with John O'Shaughnessey, CEO of Matrix Surgical, a company developing a medical device at the Global Center for Medical Innovation (GCMI). GCMI is a comprehensive medical device innovation center affiliated with the Georgia Institute of Technology. (Georgia Tech Photo: Rob Felt)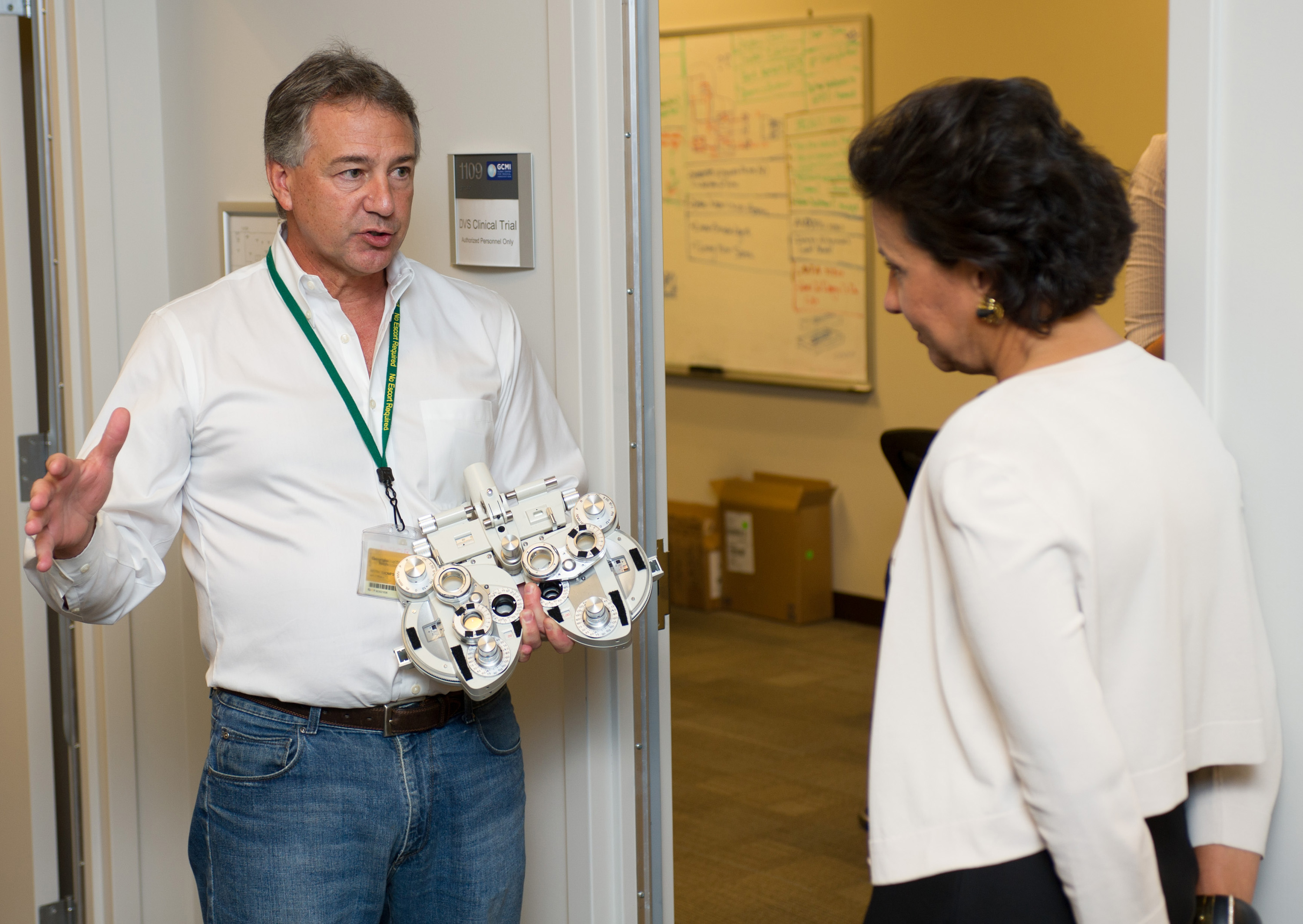 Dr. Keith Thompson, ophthalmologist and CEO of DigitalVision, shows a phoropter – an instrument used for analyzing vision – to U.S. Secretary of Commerce Penny Pritzker during her visit to Atlanta on Friday, August 23. The company is working with the Global Center for Medical Innovation to develop a next-generation replacement for the phoropter. (Georgia Tech Photo: Rob Felt)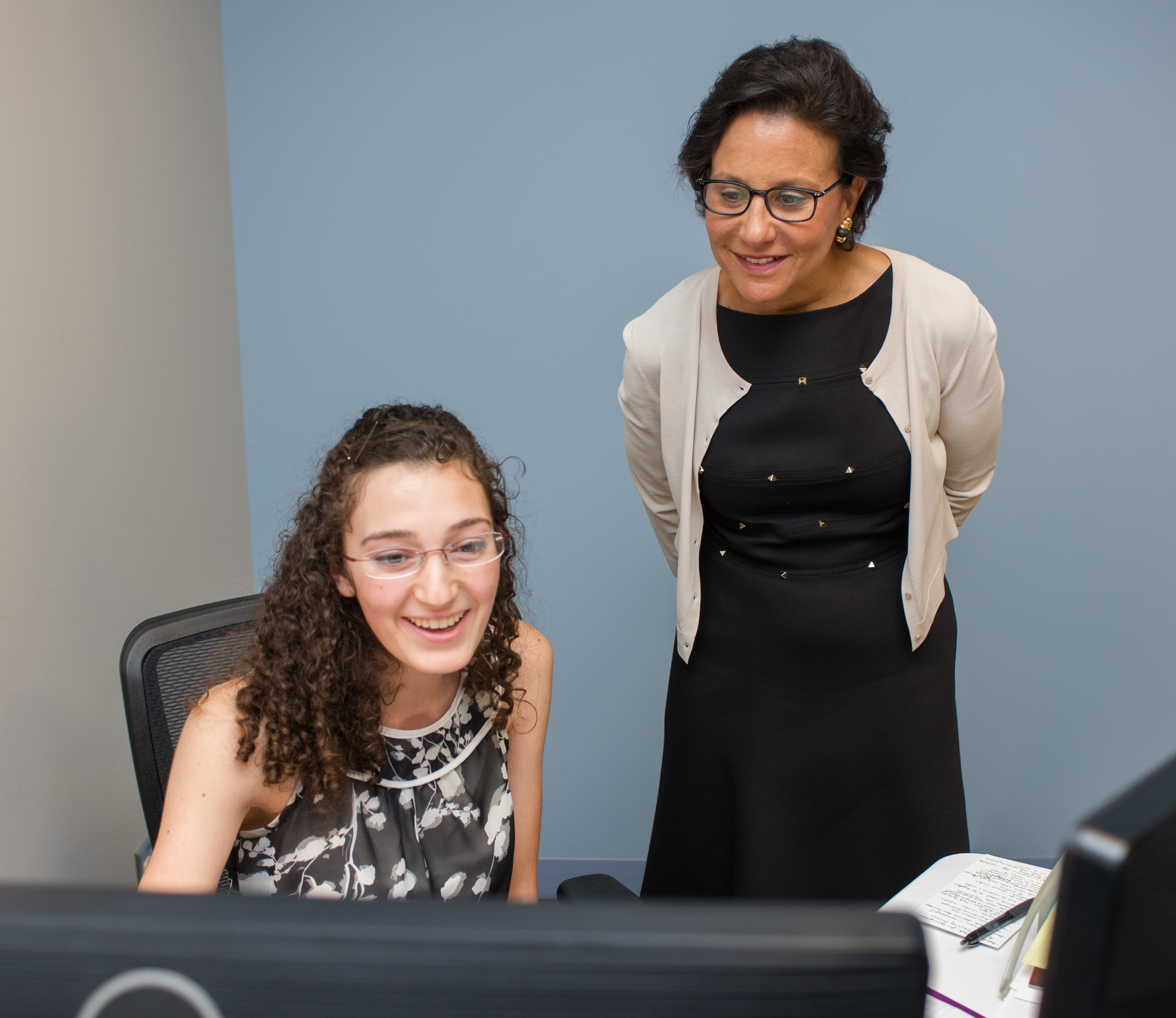 U.S. Secretary of Commerce Penny Pritzker watches as Georgia Tech biomedical engineering student Sara Khalek works on a medical device design. Khalek is an apprentice at the Global Center for Medical Innovation (GCMI). Pritzker visited GCMI on August 23rd. (Georgia Tech Photo: Rob Felt)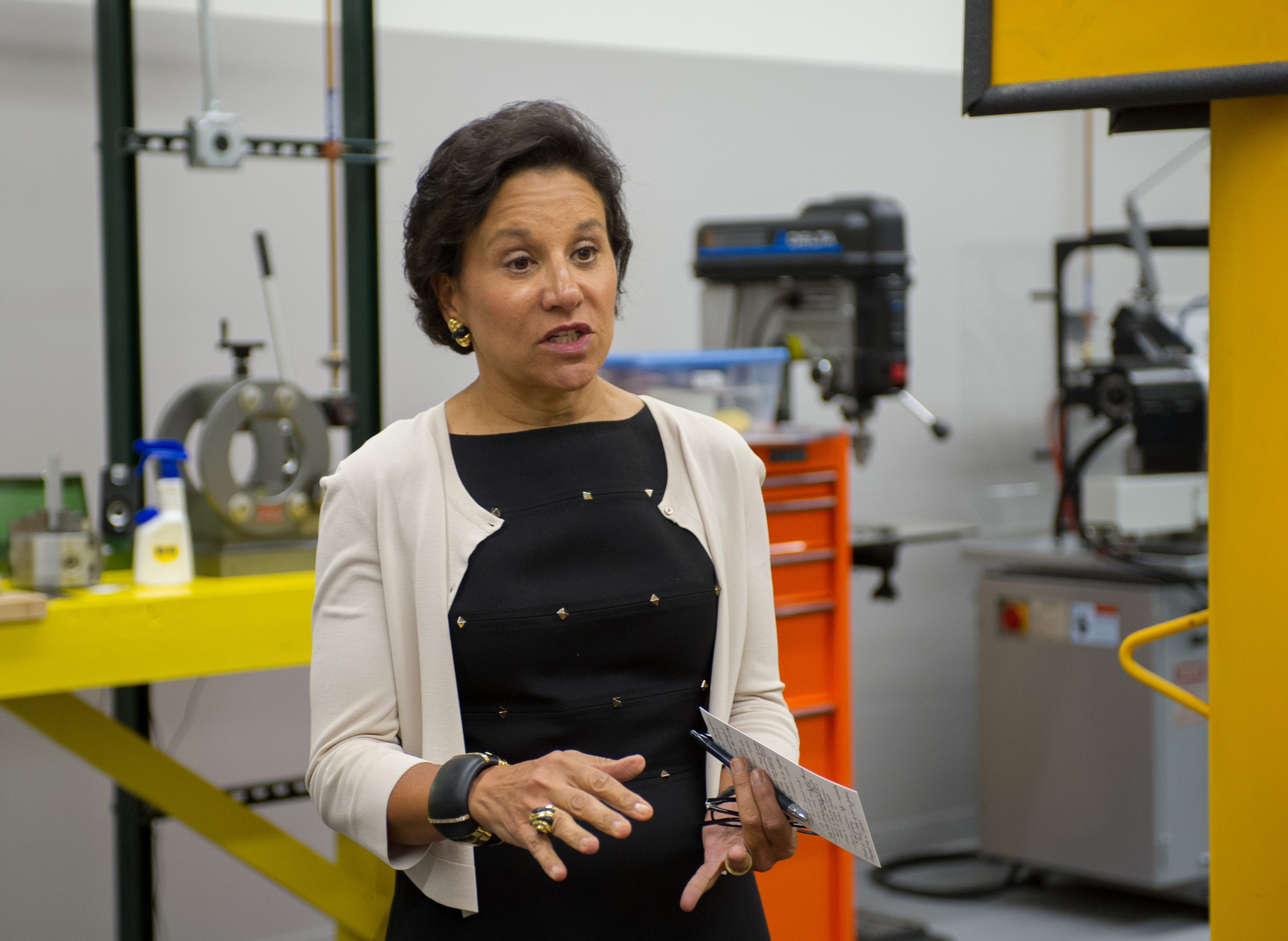 U.S. Secretary of Commerce Penny Pritzker answers media questions during her visit to the Global Center for Medical Innovation (GCMI) on August 23rd. GCMI is affiliated with the Georgia Institute of Technology. (Georgia Tech Photo: Rob Felt)