College of Architecture's Digital Building Laboratory awards $148,850 in grants at members meeting
College of Architecture's Digital Building Laboratory awards $148,850 in grants at members meeting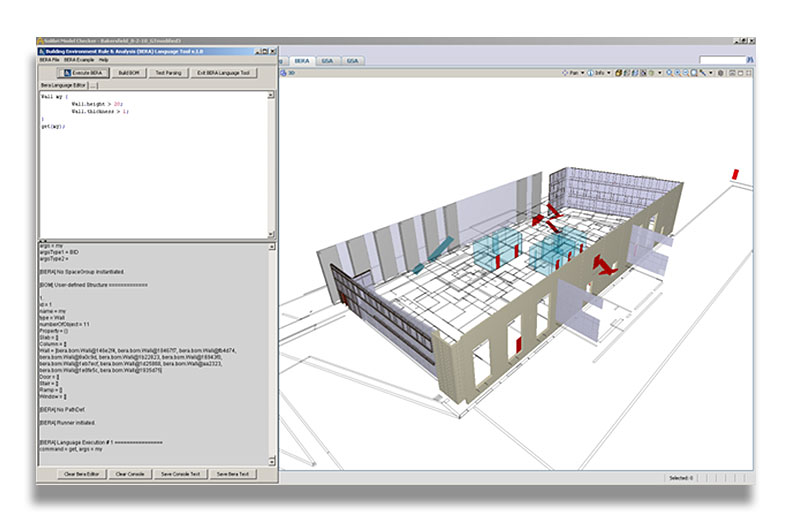 Screenshot from an architectural "rule checking" project sponsored by the Digital Building Laboratory 
Sep 30, 2013 — Atlanta, GA
The Digital Building Lab (DBL), a Georgia Tech research center housed in the College of Architecture, recently awarded five grants totaling $148,500 at their bi-annual members meeting. The projects selected for funding were:
"Behavior-centric systems integration in building models using SysML," Andres Cavieres and Francisco Valdes
"Model Query Solution for Quantity Takeoff and Cost Estimation," Shiva Aram
"Toward a More Successful Implementation of BIM in the Design-Bid-Build (DBB) Setting," Pardis Pishdad-Bozorgi
"Determining the Impact and Effectiveness of BIM," Baabak Ashuri and Saman YarMohammadi
"Design and Construction Applications of BIM-based Mobile Augments Reality," Javier Irizarry
The projects were selected from 11 that were submitted for funding consideration after a broad review of 20 research areas, held during the spring DBL Symposium. Proposals are discussed and reviewed by the leadership of the DBL and the thirteen industry partners.
"These projects are perfect representations of the mission of the Digital Building Lab," said Charles Eastman, director of the Digital Building Laboratory. "They are exploring new technologies and methods that will, in the end, make a difference to the building industry."
The DBL's purpose is to develop a strong research and development link between the building industry and the building research-related capabilities of Georgia Tech to improve the innovation cycle.
Researchers are drawn from various academic units at Georgia Tech, including faculty and students in architecture, computing, building construction, civil engineering and mechanical engineering. In addition, the lab has 13 industry partners including: Autodesk, Beck Technologies, Component Assembly Systems, DPR Construction, HOK, Oldcastle, Skanska Construction, SmartBIM, the Smithsonian Institution, Trimble/Tekla, Thornton Tomasetti, Turner Construction, and Vectorworks.