Admission Staff Keeps Cool Amid Common App Issues
Early Action deadline extended in response to Common App technical difficulties earlier this week.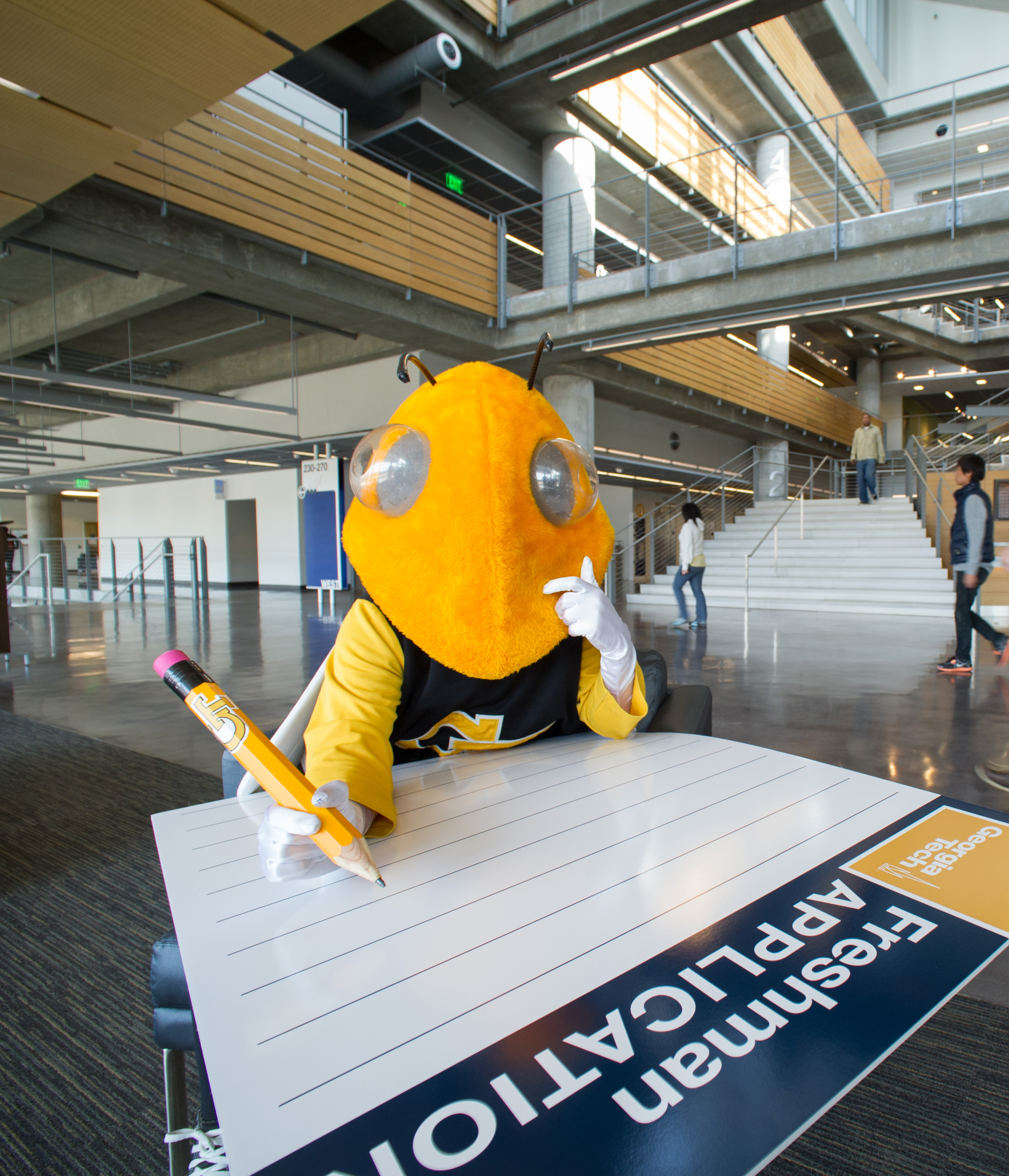 Buzz fills out an application to attend Georgia Tech.
Oct 16, 2013 — Atlanta, GA
Even before the Common Application process sputtered last weekend, the Office of Undergraduate Admission had taken action.
The first sign of trouble started with the plugin used by high school counselors and teachers to submit materials to accompany student applications. Hearing about these glitches, Admission extended the deadline for supporting documents to Nov. 1.
Technical issues continued to plague the Common App the weekend of Oct. 12, primarily with users experiencing slowness, login issues and payment difficulty. On Oct. 14, the day before Tech's initial Early Action deadline — and a historically high-volume day for incoming applications — the decision was made to extend Early Action by one week to Oct. 21.
Despite these issues, Director of Undergraduate Admission Rick Clark is confident all prospective students will have the same review and attention they have had in previous years.
"While this is certainly a challenge, it's not a crisis," he said. "We're committed to ensuring that all students are able to apply by the new deadline and will be fully and comprehensively reviewed for admission." 
That committment extends outside the walls of the Office of Undergraduate Admission.
"Debbie Rice in Enrollment Services and Rich Loftus and his team in the Office of Information Technology and Enterprise Innovation Systems have done herculean work in recent weeks and months to ensure our staff has all the necessary information we need," Clark said.
He hopes members of the campus community can be a megaphone for this message to any friends and family who may have a student applying to Tech. The main thing he wants families to hear is: Don't worry.
"Our staff and students are calm, and we're reassuring people that we're working to ensure that all normal procedures continue," he said.
Clark even took the opportunity to share his thoughts about how Tech was responding through a National Association for College Admission Counseling listserv.
"Many thanks for your clear, supportive approach, and the gentle tone used to communicate," replied Patrick O'Connor, associate dean of college counseling at a high school in Michigan.
"If anyone has come out of this mess smelling like a rose, it is Georgia Tech," said Steve Peifer, associate director of college counseling at a school in West Palm Beach. "Thank you for your leadership and grace under pressure."
This is Georgia Tech's first year with the Common Application, an online standardized application used by more than 500 colleges and universities to make it easier and less time-consuming for students to apply to more schools at once.
More information about current admission deadlines is available at the Office of Undergraduate Admission website.