Safstrom Devoted to Improving Two-Wheeled Transit
Lisa Safstrom has worked at Tech as a campus transportation planner since 2013.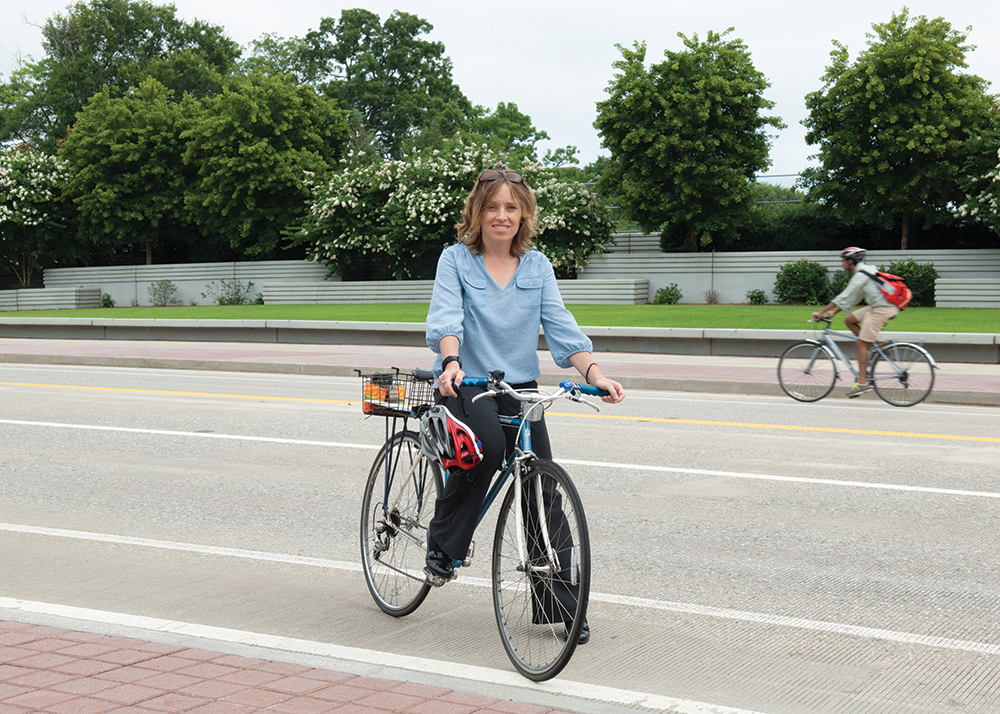 Lisa Safstrom works in Parking and Transportation Services as a campus transportation planner. 
Jun 19, 2014 — Atlanta, GA
During a bitter winter in January 1998, Lisa Safstrom loaded herself and her bike onto a Greyhound bus in Boston to visit a friend in Atlanta. She planned to stay for a week. Instead, she moved here. 
"I was a bike messenger up there, and we worked in the worst weather," Safstrom said. "I came down here in January, and it was 64 degrees."
Safstrom continued working as a bike messenger in Atlanta, which eventually inspired her to enroll in graduate school at Georgia Tech in 2004 for City and Regional Planning. 
"I was used to biking everywhere in Boston, and I wanted to make Atlanta a better place for cyclists and pedestrians," she said. 
She's worked in transportation planning since then and came to Tech from the Georgia Department of Transportation to fill the role of campus transportation planner last July.
As campus transportation planner, Safstrom coordinates the many alternative transportation options offered by Parking and Transportation Services — Zimride, Zipcar, MARTA passes, BuzzBikes, carpool incentives — as well as campus transit, including the Stingers, Trolleys, Stingerette, and GOTCHA Ride. She chooses to bike, riding in from Reynoldstown and making her part of the 8 percent of campus that commutes by bike each day.
"I'm so happy to be in an environment that supports a multimodal, alternative transportation network, because that's what I'm really into." 
What are you working on right now that you're excited about?
We just implemented a new bike rental program called BuzzBikes that lets students rent a bike for a semester at a time. We're also adding electric vehicle charging stations around campus and working with Capital Planning and Space Management on the Campus Bike Master Plan. 
What's your favorite place on campus?
I walk the campus a lot, so I really like it all. I like to get exercise during lunch and often walk along Ferst Drive so I can observe the transportation infrastructure for any issues.
What have you accomplished at Tech so far that you're proud of?
The first small thing would be getting a sign at the Midtown MARTA station for the Tech Trolley – working with MARTA and the City of Atlanta on that was fun. We also won the PACE Award last year for State Employer of the Year.
What do you like about working in Parking and Transportation Services?
We have a great team and nice people. My supervisors, David Williamson and Lance Lunsway, are really progressive and on board with providing alternative transportation options for campus. We're working toward becoming a platinum-level Bicycle Friendly University.
What do you like to do outside of work?
I volunteer a lot — as a bike valet at events for the Atlanta Bicycle Coalition, with Atlanta Streets Alive, and with various arts groups like Living Walls. But mostly I like riding. I raced bikes for about 10 years and also once biked from Atlanta to Albuquerque, New Mexico, and have traveled abroad to see bike races in France and Italy. I also am interested in urban planning in general. I go to a lot of meetings — not specifically work-related — for projects such as the BeltLine and Streetcar.