World Cup 2014: Political Struggles Play Out on the Soccer Pitch
Kirk Bowman specializes in soccer and global politics. He and his students talk about their experience viewing the World Cup from Spain.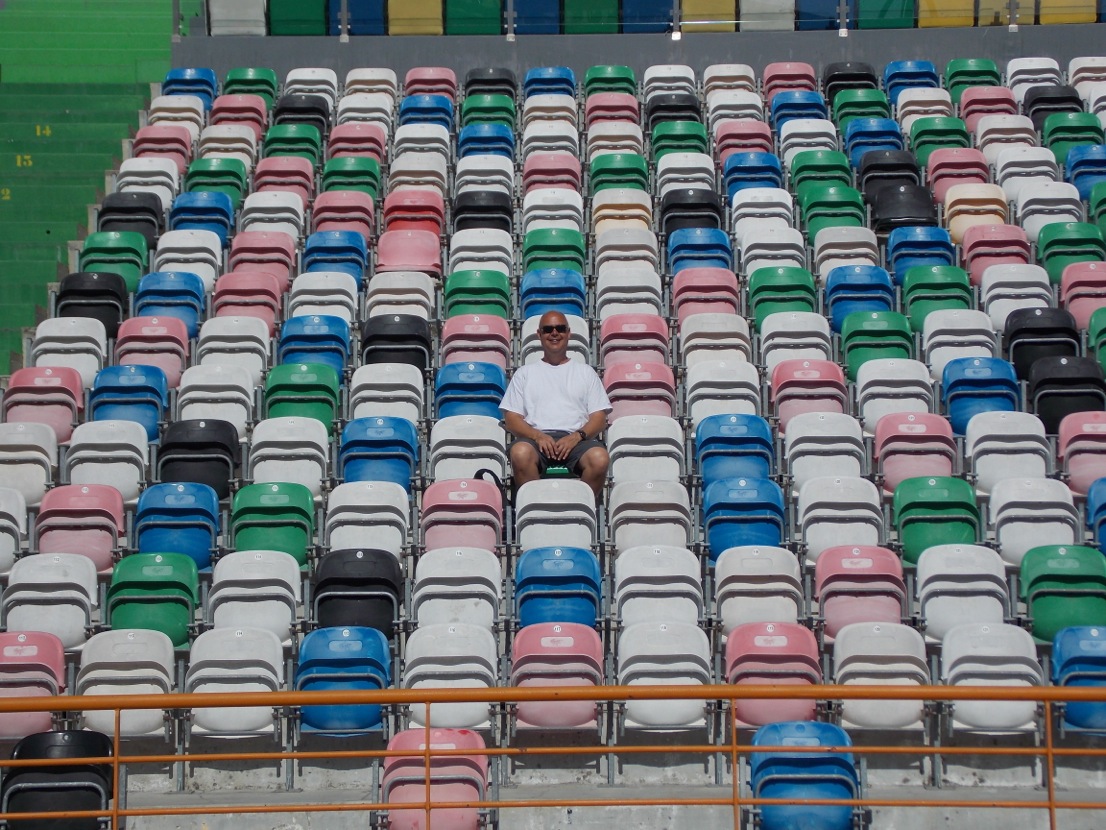 Kirk Bowman at White Elephant Leiria Stadium in Portugal
Jun 30, 2014 — Atlanta, GA
Controversy, protests and negative press aside, Kirk Bowman, professor in the School of International Affairs, is fully indulging in the 2014 World Cup.
"This year's quality of play and drama, glory, and agony are the best in memory," he said.
Bowman teaches a "Soccer and Global Politics" course, is working on a book by the same name, and views understanding soccer as a crucial element to understanding a number of other global issues. He leads a summer study abroad program in Spain and Portugal, which gave him and his students the chance to observe this year's event from the reigning world champion country.
This year, Spain provided a fertile study space for explorations of political tensions playing out on the soccer pitch. The team has historically bounced between two different styles of soccer play: One, rooted in Barcelona, is known for being patient and orchestrated; the other, a more traditional national style, is known for being more aggressive. The former has been their recent style and won the team multiple championships, but got Spain ousted from this year's World Cup after only two games.
Bowman makes the case that these conflicting approaches to soccer mirror the country's larger issues of conflicting identity.
"The contested identity of Spain as a unitary state led by Madrid, versus a federal state with multiple autonomous regions, will be an ongoing battle," he said, "and that battle will largely take place in conversations about soccer and style."
Juan Tovar, an industrial engineering major who participated in Bowman's study abroad, saw this first-hand in Spain.
"When things go wrong with the team, people are quick to blame specific regions of the country and their players," he said. "That adds to the separation of cultures and politics."
Even celebrations can be clues to a nation's political and cultural issues, as one student observed.
"What I found interesting is that when the Spanish lost, there were actually a bunch of people in Barcelona celebrating," said Aditya Shah, an industrial engineering major. "They wanted independence from Spain and wanted their own Catalonia team to play in the World Cup. They did not identify with the Spanish side even though there were Catalonian players on the team."
Bowman has been able to further explore these kinds of issues with his students this summer, in addition to delving into issues of corruption, democracy, and how Brazil's electoral system influenced its preparation — or lack thereof — for the World Cup.
Regardless of the level of controversy or corruption, though, the event's global significance and entertainment value remain.
"No matter how poor the Brazilian preparations and how unsavory FIFA, soccer is the global game, and the World Cup is the greatest show on earth that will dazzle some 40 billion cumulative viewers," Bowman said.
So far this year, Bowman has been particularly impressed with the performance of the Americas.
"Costa Rica stunned Italy, the United States outplayed Portugal, Uruguay eliminated England, and Mexico trounced Croatia," he said. "A European team has never won a World Cup played in the Americas, and the Central, North, and South American teams are all playing as if they are at home: comfortable, confident, and with enthusiastic crowds."
The U.S. Men's National Team may truly feel at home with the number of fans in attendance, as U.S. residents have bought the second-highest number of World Cup tickets this year, second only to Brazil.
Back stateside, the Student Center will continue to show matches in Tech Rec through the end of the World Cup. A full schedule of matches and events is available online.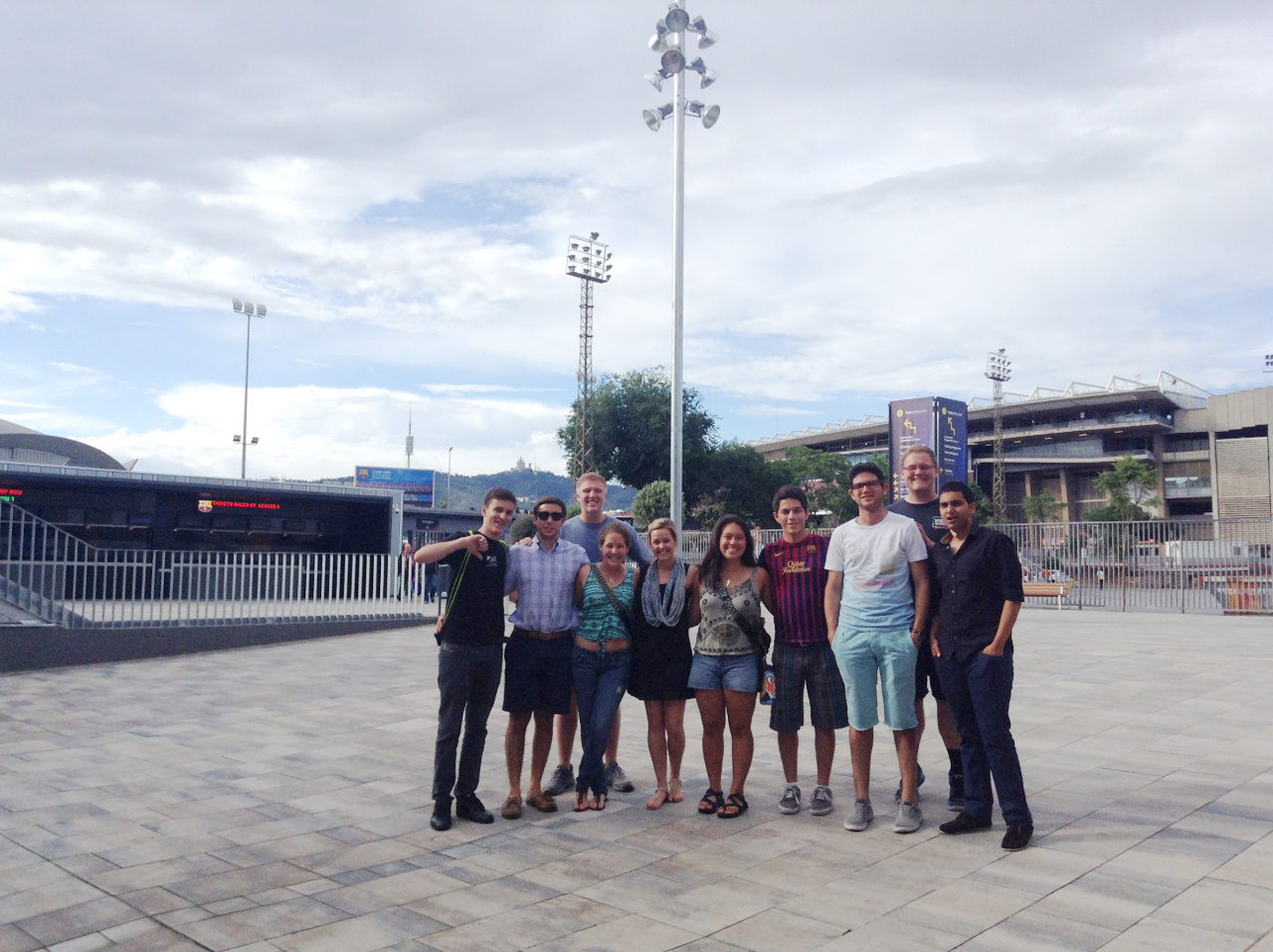 Tech students participating in the 2014 Spain/Portugal summer study abroad visit the Camp Nou stadium in Barcelona. Camp Nou has been the home of Futbol Club Barcelona since 1957 and hosted events during the 1982 World Cup.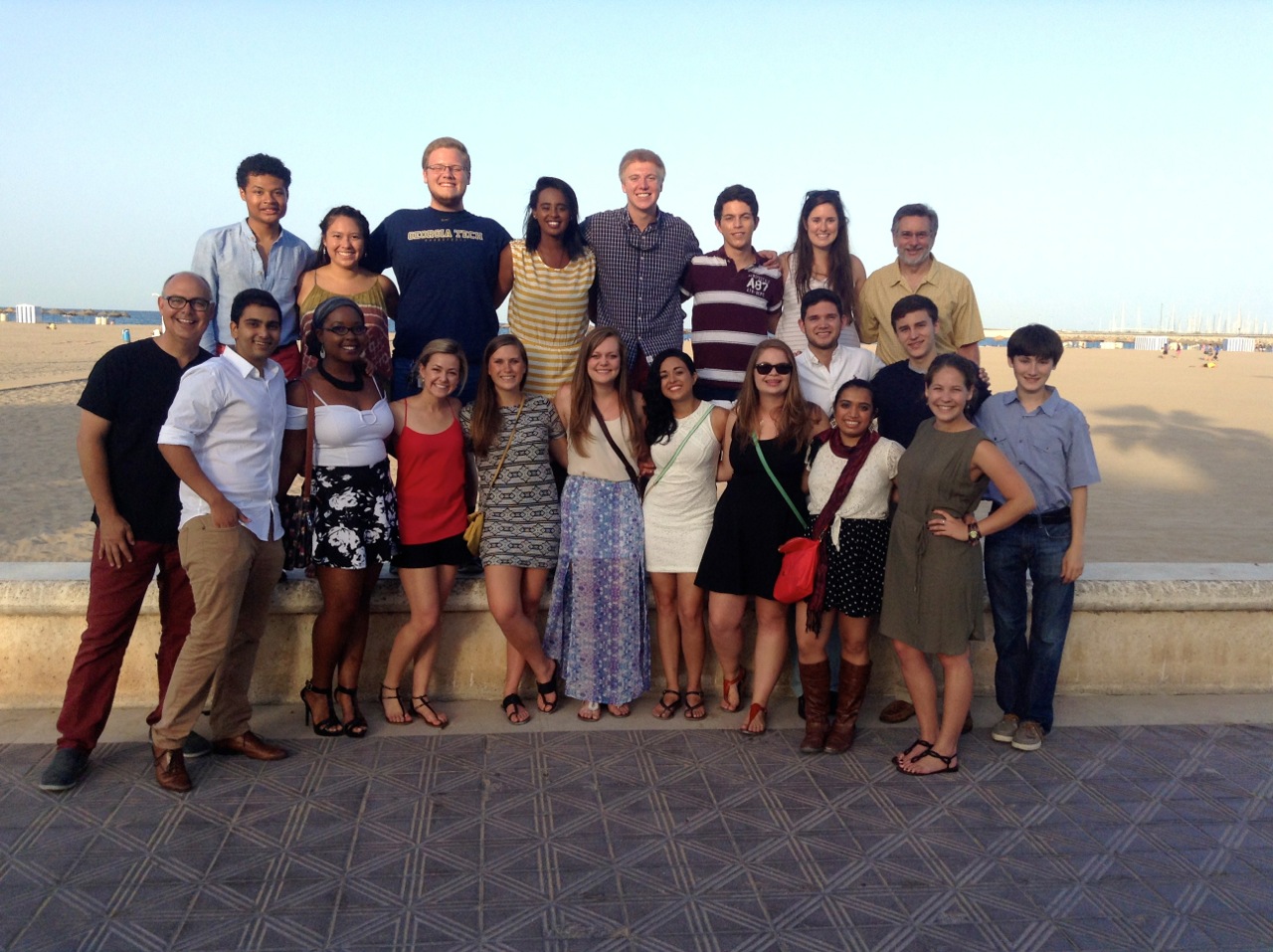 Kirk Bowman (left) and the student participants in the 2014 Spain/Portugal study abroad program.