Alumni Honor Liotta's Legacy with Endowment
Rocky von Dullen and his wife will establish the Charles L. Liotta Faculty Endowment Fund for faculty appointments in the School of Chemistry and Biochemistry.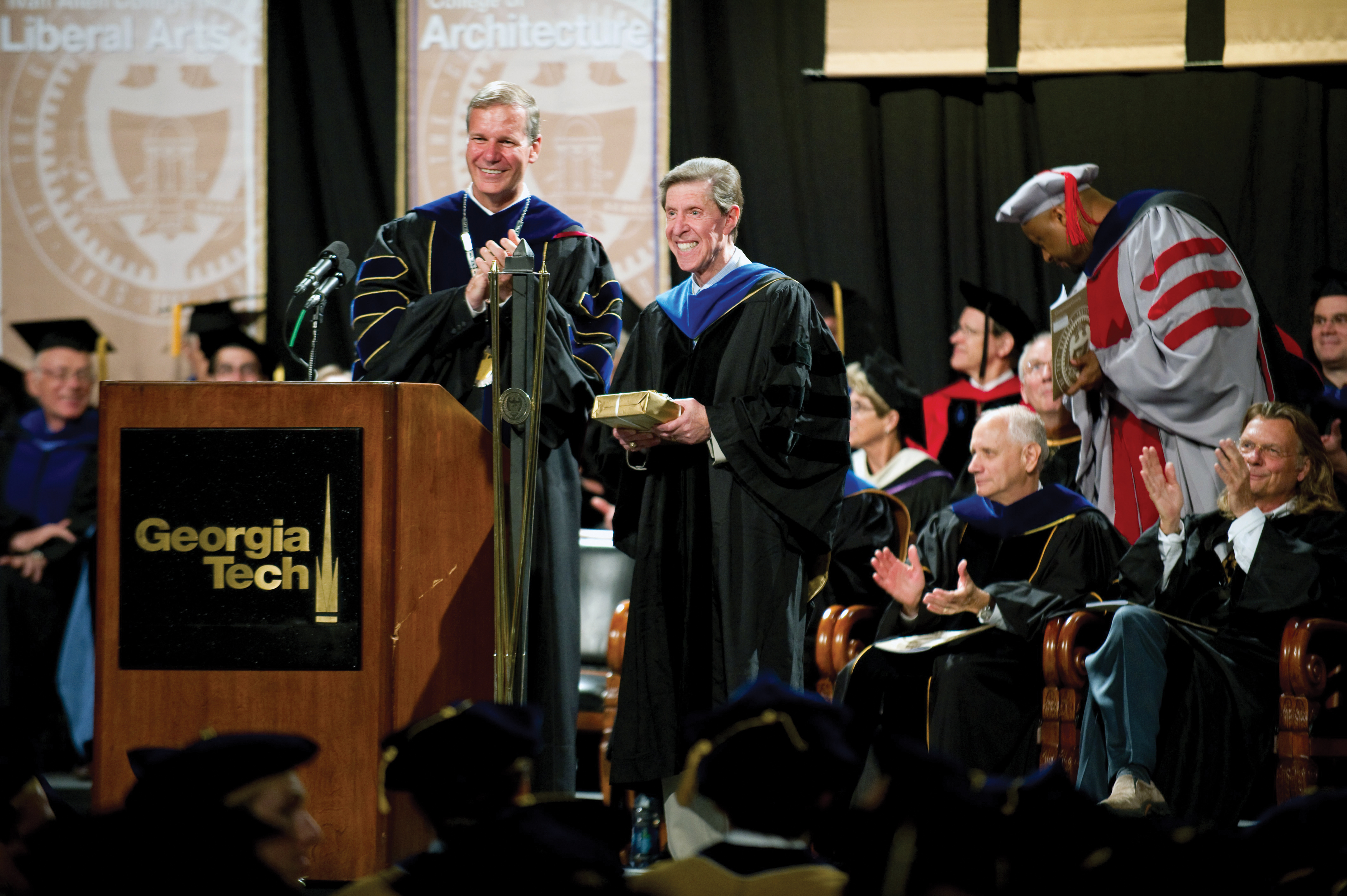 Sep 18, 2014 — Atlanta, GA
The impact a college professor has on his or her students is difficult to measure, especially for students who graduated long before formalized course evaluations were adopted.
For alumnus Rodney C. "Rocky" von Dullen, the impact that Professor Charles L. Liotta had on his college experience was profound.
"Professor Liotta was the most open, warm, and human of professors I had at Georgia Tech," said von Dullen. "He showed me that the road to success was not only about the engineering and the technology, but also about the people required to get the job done. He's a people person who cares about his students, and he set an example that I've always tried to follow."
In appreciation for Liotta's tireless mentoring of thousands of Tech students and in celebration of his 50th anniversary as a Tech faculty member, von Dullen and his wife, alumna Catherine Dowling von Dullen, will establish the Charles L. Liotta Faculty Endowment Fund, which will establish faculty appointments in the School of Chemistry and Biochemistry that bear Liotta's name.
Professor Liotta is widely revered among generations of Georgia Tech alumni, faculty, and staff. After earning a bachelor's degree from Brooklyn College in 1959 and a doctorate from the University of Maryland in 1963, Liotta joined the Tech chemistry faculty in 1964 – also holding a joint appointment in the School of Chemical and Biomolecular Engineering. 
He has served as advisor to 81 doctoral students, 33 postdoctoral associates, and 25 master's students; he currently serves as thesis advisor to five Ph.D. students.
In addition to his decades of service as a committed teacher, leading research scientist, and devoted mentor, Liotta also served as chair of the School of Chemistry and Biochemistry, director of the Institute of Sustainable Technology and Development, and — at the Institute level — as vice provost for research and dean of graduate studies. In 2003, Professor Liotta was named an honorary alumnus by the Georgia Tech Alumni Association in honor of his lifetime of achievement on the campus.
"I am very honored that the von Dullens would hold me in such great favor," Liotta said. "Through my entire career at Georgia Tech, I've always tried to put students first and to provide good advice for them, because I knew that whatever they experienced at Georgia Tech could affect their future professional lives.
"As I look back over my career at Georgia Tech, one of the things I have always strived to do is to let students see the joy and excitement of discovery," Liotta explained. "In the classroom, my subject matter is chemistry. Chemistry is exciting! My goal is to present the subject matter through my eyes. If students catch on to that excitement, they'll both retain and enjoy what I am teaching. I have learned that if you're not excited about what you're teaching, the students will sense it, and this could prove to be a barrier to learning. I always try to remind myself that I am an important influence for the growth and maturation of my students. All professors should be aware of this. Most important — students should always come first."