Social Courage Prize Honors African Lawyer
Film screening and symposium will let the campus community engage with this year's award winner.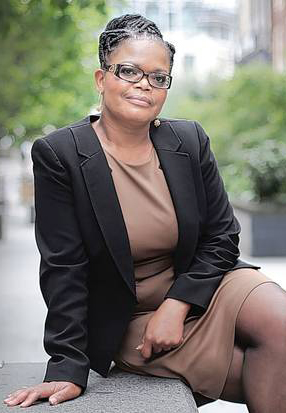 Nov 05, 2014 — Atlanta, GA
Georgia Tech will award its fourth annual Ivan Allen Jr. Prize for Social Courage to Beatrice Mtetwa, an African lawyer who has devoted herself to human rights, social justice, and gender equality for more than 20 years.
Mtetwa grew up in Swaziland with no electricity or running water. She became the first in her extended family to attend high school and went on to study law at the University of Botswana and Swaziland. 
After pursuing a career as a government prosecutor, she became disillusioned by selective justice, so she moved into private practice where she hoped to be able to conduct human rights work without political interference. Still, she has endured threats and assaults for defending those who suffer at the hands of government.
"She permits us to connect, in a very dramatic way, the legacy of Ivan Allen Jr., for whom the award is named, to courageous social and ethical action as a global need and commitment," said Jackie Royster, dean of the Ivan Allen College of Liberal Arts and a member of the award's nominating committee. "As the official trustees of the Allen legacy, we are very pleased to make this local connection to such an important global issue." 
Mtetwa was announced as this year's Allen Prize recipient in May. A nominating committee deliberated the selection over the past year.
"We want this award to be very clear in honoring social courage, not just extraordinary leadership," said Joe Bankoff, chair of the Sam Nunn School of International Affairs and of the nominating committee.
The committee uses the work of Ivan Allen, who served as Atlanta mayor from 1962-1970, as its anchor and inspiration when considering award winners. Allen is known for his leadership in integrating City of Atlanta facilities, advocating for African-Americans in white communities, and asking Atlantans to set an example for the world by eliminating racial segregation. He faced death threats for his outspoken leadership during the turbulence of the Civil Rights movement.
"Beatrice has the kind of courage the mayor shared on issues of critical importance to the society she lives in, but also to the rest of the world," Bankoff said.
Mtetwa will be recognized at a symposium and celebration on Thursday, Nov. 13, at the Biltmore in Midtown. 
The symposium will feature special guests including Charlayne Hunter-Gault, an author, journalist, and the first African-American female to enroll at the University of Georgia; Sarah Hager of Amnesty International; Jeffrey Smith of the Robert F. Kennedy Center for Justice and Human Rights; Deborah Richardson of the National Center for Civil and Human Rights; and John Stremlau of the Carter Center.
Bankoff hopes the prize and its events serve as a learning experience for everyone on campus.
"We want students to be aware of the legacy that is left by leadership that doesn't just solve problems of today," he said. "This is not just history. Our current exemplars can guide the next generation on where we need to go from here."
A screening of "Beatrice Mtetwa and the Rule of Law" will take place in the LeCraw Auditorium, Scheller College of Business, on Nov. 11 at 6 p.m. The documentary film made in 2013 tells the story of Mtetwa's life of being arrested, jailed, and beaten during the course of her work in Zimbabwe defending peace activists, journalists, and other citizens.
The Tech community will have the chance to meet and interact with Mtetwa at both the symposium and film screening.
"I hope that her story will inspire our students to be bold and courageous in what they choose to do, and to do what they can in making the world a better place," Royster said.
The award is meant to underscore Tech's mission of improving the human condition by honoring individuals who, by asserting moral principles, have positively affected public discourse at the risk of their careers, livelihoods, and sometimes lives. It comes with a $100,000 stipend, funded by an endowment from the Wilbur and Hilda Glenn Family Foundation. 
"The Ivan Allen Jr. Prize for Social Courage illuminates the legacy of a great alumnus and civic leader, former Atlanta Mayor Ivan Allen Jr.," said President G. P. "Bud" Peterson. "It also shines a light on those around the world who bravely act to improve the human condition, often in the face of seemingly insurmountable challenges. Our goal is that the same light will be carried by our graduates, not only to be preeminent in their fields but also to be leaders guided by values, compassion, and courage."
Mtetwa is the first female and international figure to win the award.
Learn more about the award or RSVP to attend the film screening or symposium at www.ivanallenprize.gatech.edu.