Home Depot opens technology center at Georgia Tech
Home Depot will tap into Tech's research expertise, and more critically, the deep talent pool of students.
Jan 22, 2015
— Atlanta, GA
Roll out the "orange" carpet for Home Depot, which has officially opened its first-of-its-kind, university-based research and development center at Georgia Tech. 
The Home Depot Technology Center, located at Tech Square, creates an innovation partnership between Tech and the world's largest home improvement retailer.
That partnership lets Atlanta-based Home Depot tap into Tech's research expertise, and more critically, the deep talent pool of students.
Home Depot and Tech students will collaborate on new ideas and strategic initiatives for the company.
"I cannot tell you what a great opportunity this is for us to be working with some of the best young minds here at Georgia Tech," said Matt Carey, Home Depot's chief information officer. "Georgia Tech provides us with a unique opportunity to get fresh, innovative ideas and forward, out-of-the-box thinking from students who will be shaping and developing our world of the future."
For students such as Preston Turner, a third-year computer science major, the Home Depot Technology Center provides an opportunity to foster innovative ideas. It also gives him a chance to take an entrepreneurial approach in a real-world setting by working with a Fortune 50 company.
"Home Depot is smart enough to realize that we have one of the best colleges in the nation sitting right here, full of a ton of bright minds getting one of the best educations out there," Turner said. "Having us here and paying us for the work that we do is really driving new technologies at Home Depot. There are so many innovative things at Georgia Tech — we can take that knowledge and bring it here to the technology center."
It also helps fulfill part of Tech's strategic vision to ensure that innovation and entrepreneurship become fundamental characteristics of every graduate.
"This partnership is about co-innovation to create new opportunities and to solve problems, which in turn helps establish enhanced market competitiveness," said Stephen E. Cross, Tech's executive vice president for research. "Our students will benefit tremendously as the partnership will provide valuable experiential learning opportunities in ongoing campus innovation venues such as Capstone Design and the Convergence Challenge in direct support of Home Depot's Technology Center."
Home Depot is only the latest major company to create a university-based research center at Tech Square, which the Association of University Research Parks named the 2014 Outstanding Research Park. The company joins a number of corporate juggernauts that have come to Tech Square — and Georgia Tech's expertise — to create their own innovation and research centers. They include AT&T Mobility, Panasonic Automotive Systems Co., and ThyssenKrupp Elevator Americas.
— By Péralte C. Paul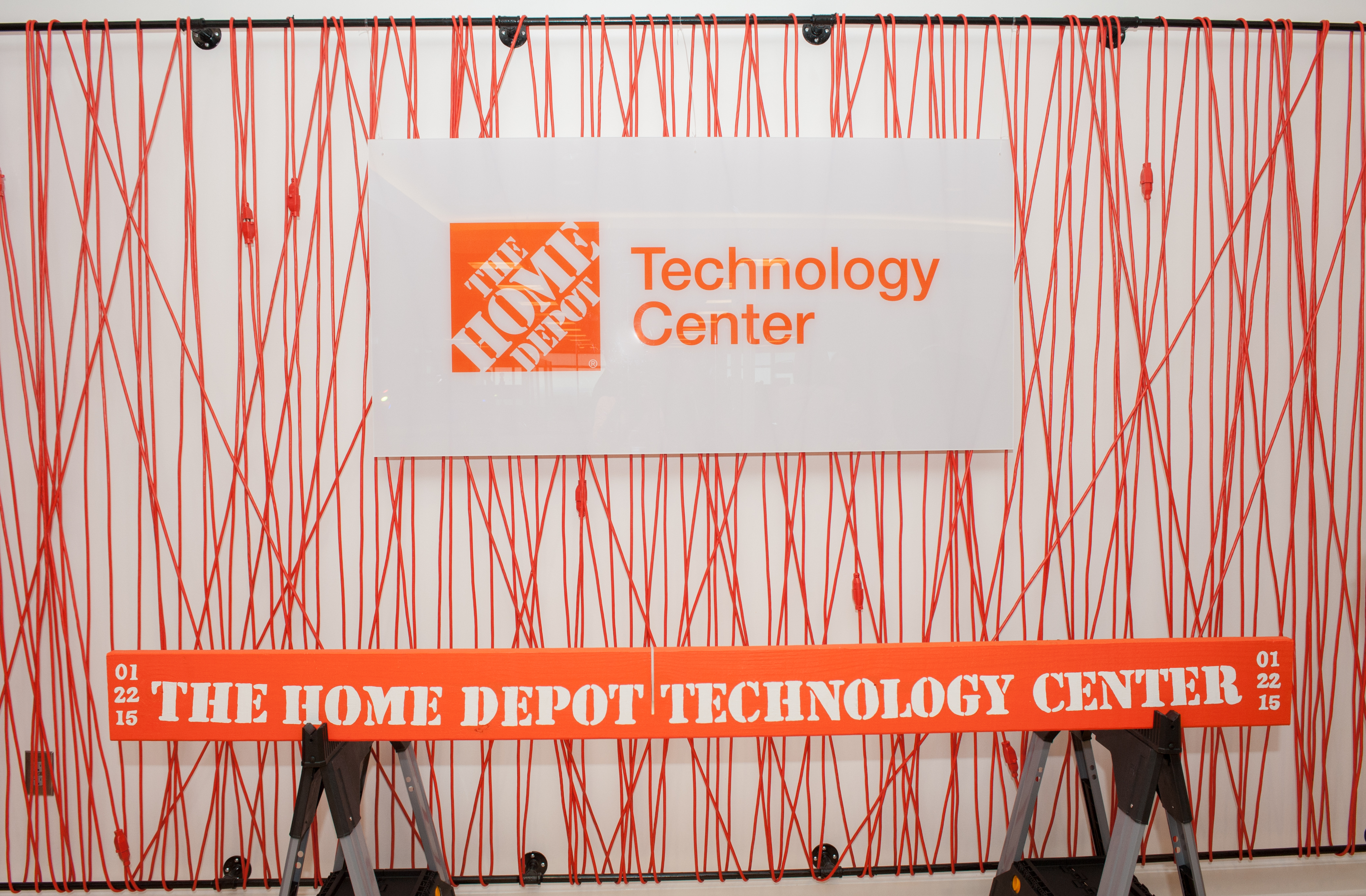 The Home Depot Technology Center allows Tech students and The Home Depot collaborate on new technology and strategic initiatives for the company.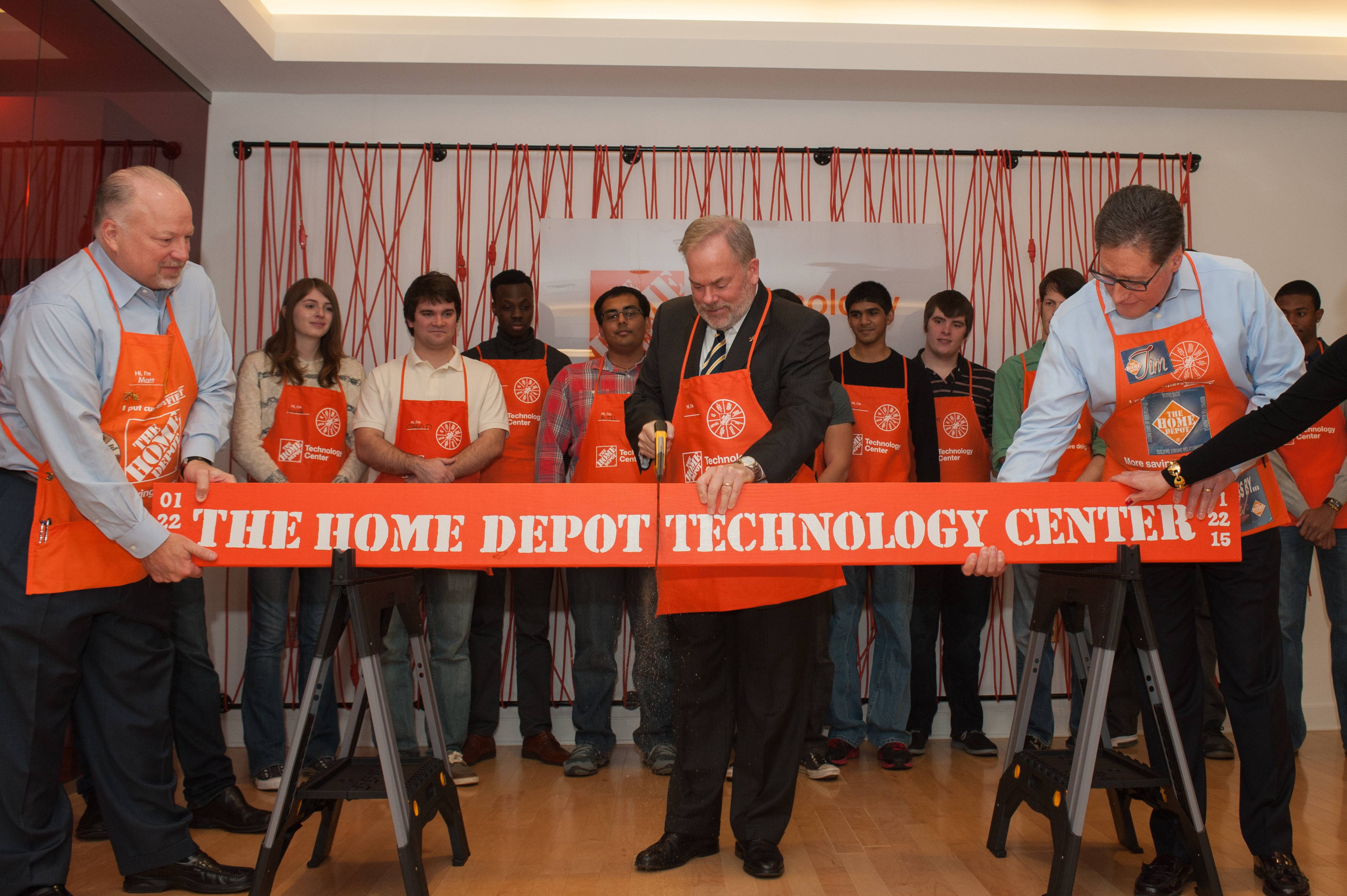 Georgia Tech Executive Vice President for Research Stephen E. Cross participates in the "Board Cutting Ceremony" that officially opens The Home Depot Technology Center in Tech Square.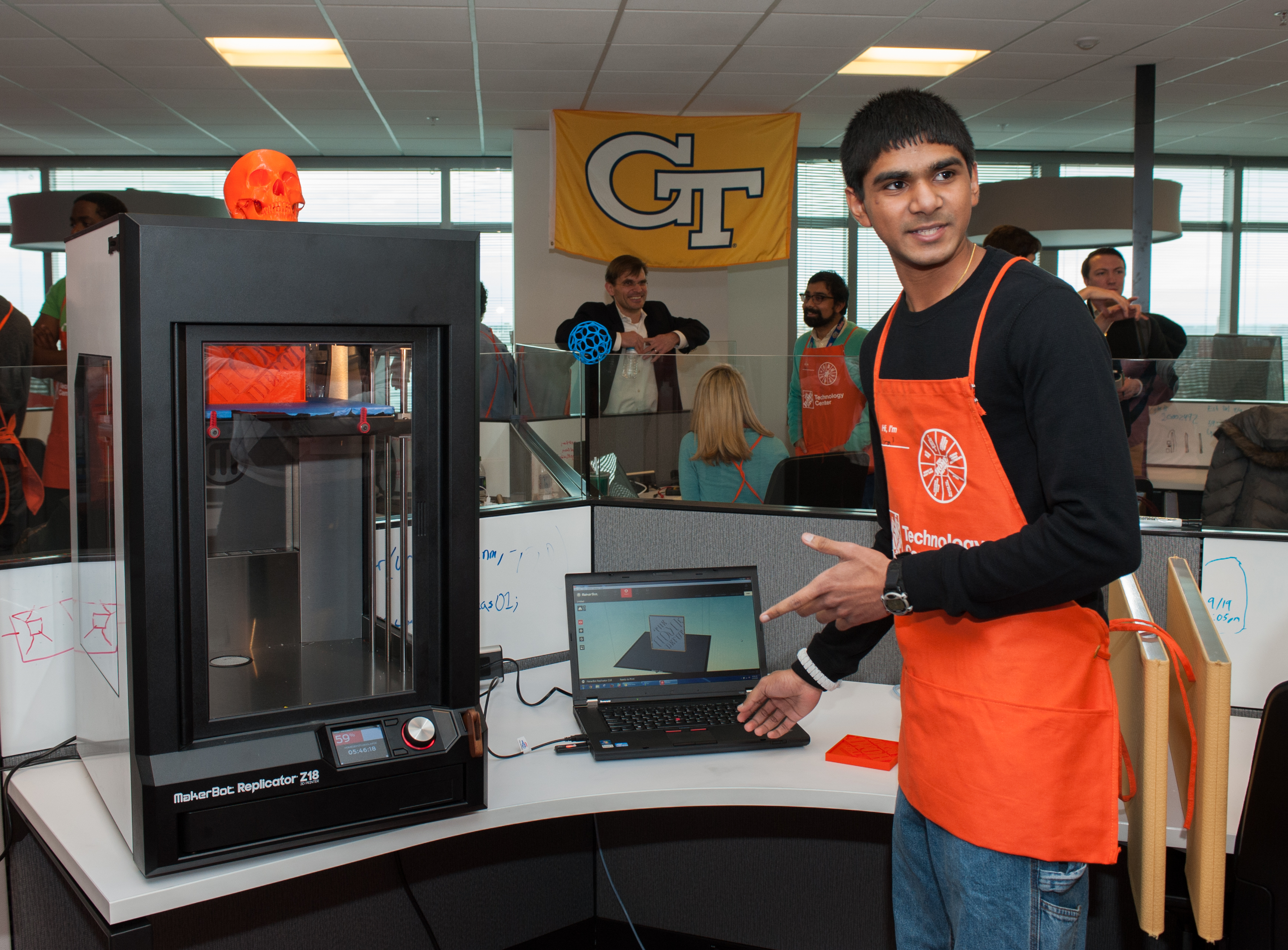 Georiga Tech student Viral Patel is one of 20 Tech students working at The Home Depot Technology Center. He works with 3D printers.