Helping Hands: Students Wanted to Serve as Peer Counselors
A new program, Burdell's Buddies, will let students provide help to each other in times of need.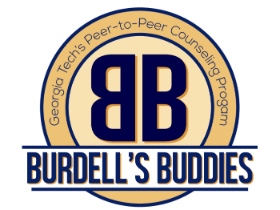 Apr 01, 2015 — Atlanta, GA
Student mental health remains top of mind for colleges and universities nationwide, including Georgia Tech. This year, a new peer counseling initiative is taking shape on campus to let students help one another as they face mental health issues.
The peer counseling initiative is a part of Burdell's Buddies, a program through the Counseling Center that focuses on raising awareness of mental health issues and promoting the use of campus, professional, and personal resources. Applications are now open, and due April 3, for students who are interested in being trained to serve as peer counselors.
"Whether it's through peer counseling or a variety of campus outreach initiatives such as mental health workshops, as a member of Burdell's Buddies you're helping fellow students in need," said Sanat Moningi, a computer science major and Burdell's Buddies member.
The idea of peer counseling is focused on students helping students, providing an additional option outside professional counseling resources. This "buddy" system is intended to connect students with others who can understand the issues they are facing and have been trained to provide appropriate assistance.
For students serving as counselors, the initiative gives them a unique opportunity to lend a helping hand to peers.
"Burdell's Buddies not only gives the opportunity of helping other students in need, but also gives opportunities in crucial leadership and service roles," said Moningi.
The peer counselor application is online and is due by Friday, April 3. Students who are accepted will receive professional training from psychologists at the Georgia Tech Counseling Center that will focus on the mental health needs of college students, cultural awareness and competency, and communication skills. Training will take place this fall and students will start as peer counselors as early as next spring.
Learn more about Burdell's Buddies from the Counseling Center website.