Football program and Student Government Association partner to introduce the sport to international students.
Apr 17, 2015 — Atlanta, GA
It is the first time Cristina Perez has ever held a football.
"It's heavier than I thought," Perez says, twisting and turning the ball trying to make it fit in her hand.
Georgia Tech quarterbacks Justin Thomas and Tim Byerly step over to help her line up her fingers on the laces.
"All right, step forward with your left foot and throw," Byerly instructs.
It's also the first time Perez, a native of Panama, has ever thrown a football.
In fact, many of the international students on the field at Bobby Dodd Stadium have never touched a football. But they are obviously enjoying it.
For the third year running, Georgia Tech Football has partnered with the Student Government Association to host an International Football Clinic to shed light on a sport unfamiliar to many students who have traveled from overseas to study on campus.
"Hopefully we'll have some fun and you'll get a better idea of football," says ACC Coach of the Year Paul Johnson.
After getting a quick rundown of the rules in the same seats where Georgia Tech players watch game films, the pack of students from all over the world stepped into the Georgia Tech locker room to try on the pads and helmets the players wear.
Many find the helmets a little bit snug and have trouble squeezing their heads in. Almost all of them have their smart phones out snapping photos. But the real excitement is yet to come.
There's no one in the stands, but the Ramblin' Wreck is waiting in the gallows of Bobby Dodd to lead out this global cadre just as if they were the Yellow Jackets charging onto the field for a home game.
Awaiting the students, the players themselves are ready to run a few drills for some hands-on learning about American football.
"I like soccer; for me this is very different," says Juan David, a student from Colombia studying at Georgia Tech.
New Zealander Philip Ngo is more familiar with rugby. That might explain how he sent a football through the uprights on his first try. Most of the other international students were not quite as successful, but they were having a great time trying.
"The touchdown celebrations and then everyone going wild, that's just a lot of fun," says Ngo.
The art of how to celebrate a good play seems to cross the language barrier. Georgia Tech's football players share high-fives with the students after they catch a pass. Some of the loudest cheers on the field are coming from a station set up where the students are soaring shoulders first into a tackling dummy.
"They come to you and talk to you like they've known you forever. That's a really cool feeling," says Maximilian Bushe from Germany.
Georgia Tech defensive lineman Adam Gotsis hails from Australia himself. He knew very little about American football before coming stateside, so he understands what these students are experiencing.
"The first time I practiced, I'd never even seen a ball before," Gotsis says. "We're out here having fun with them. We're always at practice, so it's nice seeing new faces out here."
It seems most every continent is represented on the field. Morocco, Venezuela, South Korea, France, India. The students on the field represent the melting pot of languages and nations that is Georgia Tech.
"The goal is to bridge the gaps between our students and our student athletes," explains Jen Abrams, newly elected SGA president. "It's a good time for the football players to learn about the international students and their cultures as well."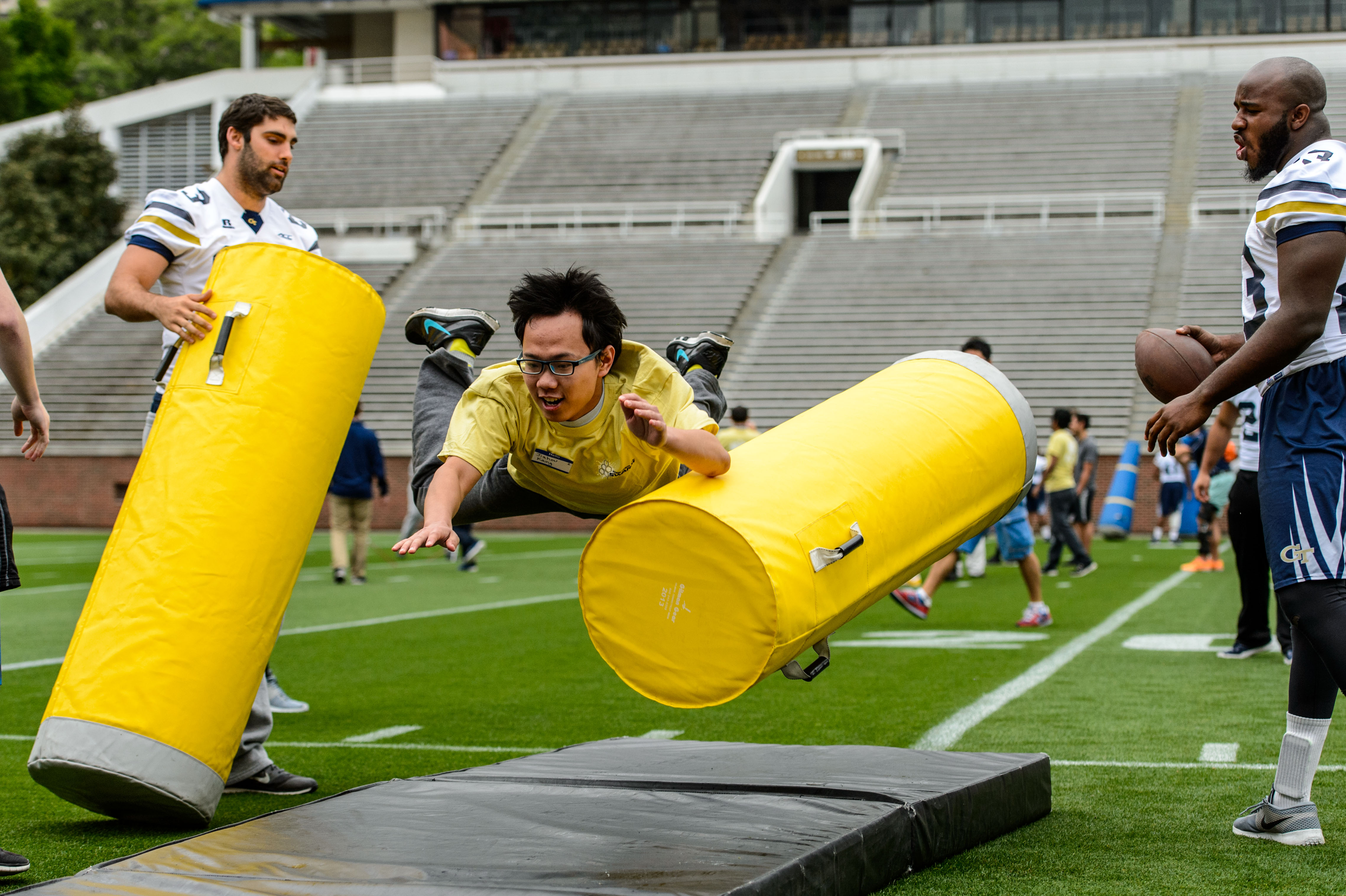 Students ran through eight different drills, including tackling dummies, during the International Football Clinic.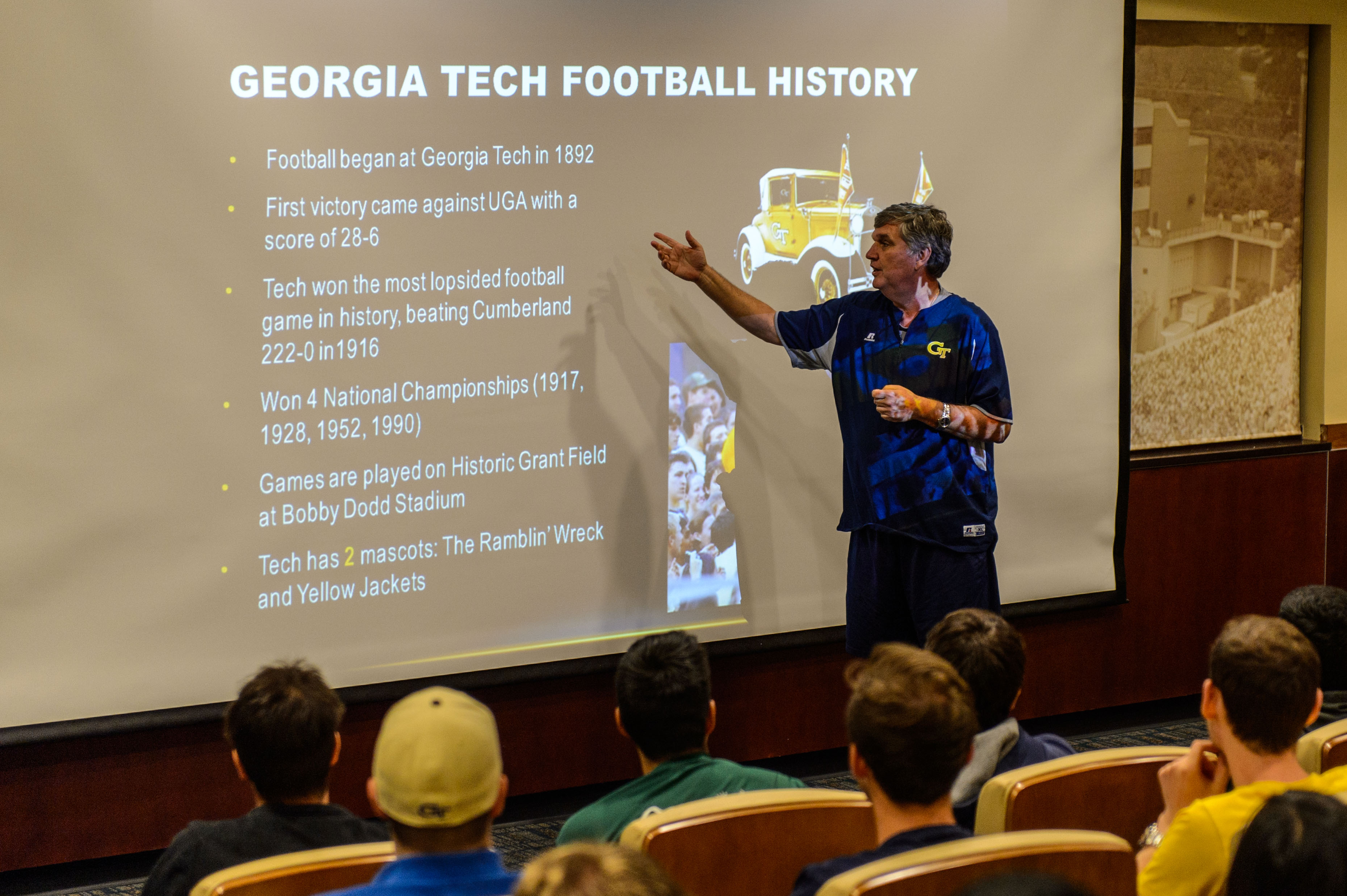 Head Coach Paul Johnson teaches international students the rules of football.