Mostafa El-Sayed Wins 2016 Priestley Medal
The Priestley Medal honors nearly 60 years of work from Mostafa El-Sayed, Regents' Professor and the Julius Brown Chair in the School of Chemistry and Biochemistry.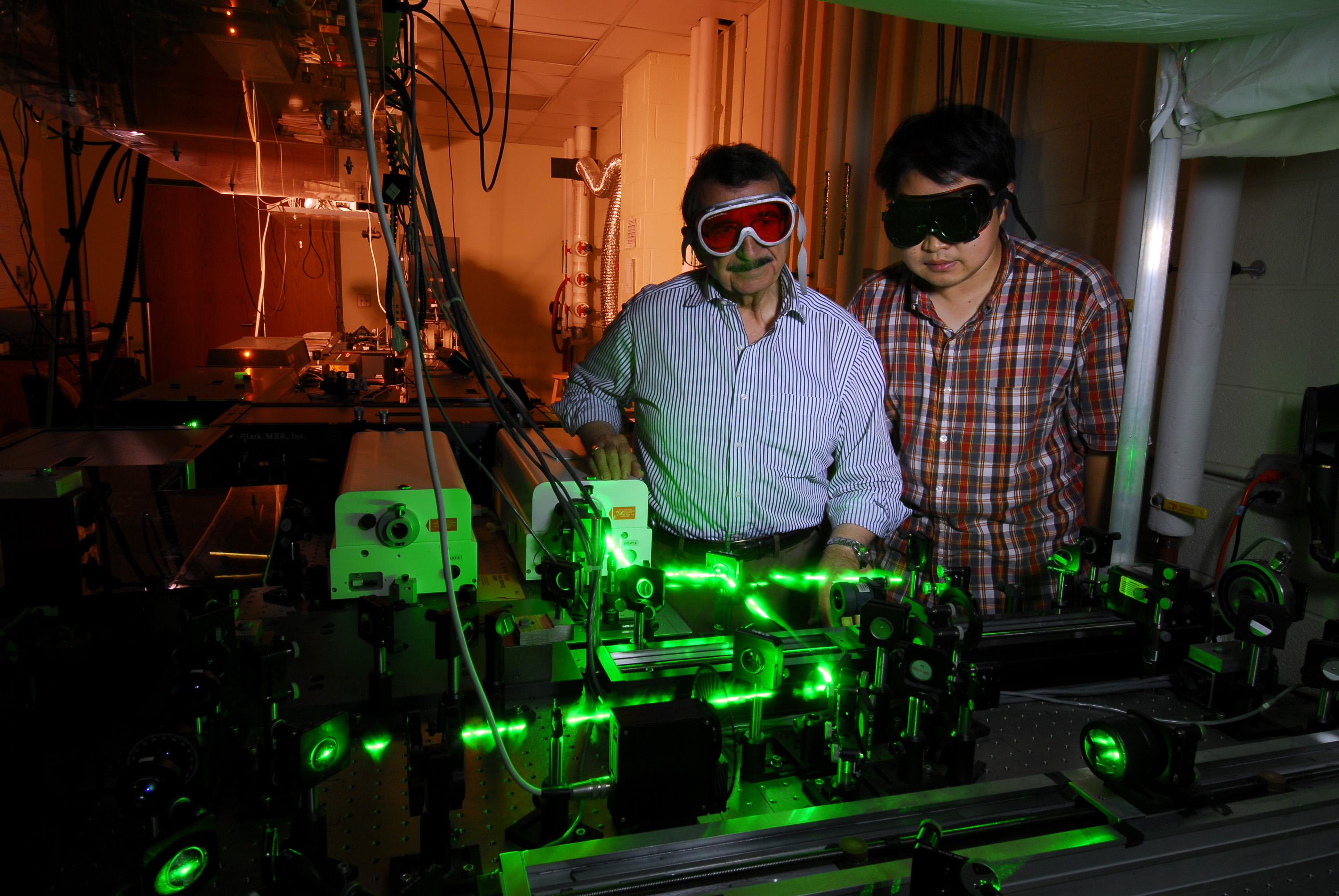 Mostafa El-Sayed (left) and Wei Qian shine laser light on cells with gold attached, allowing selective destruction of cancer cells. (Click image for high-resolution version. Credit: Gary Meek)
Jul 06, 2015
— Atlanta, GA
Some people just don't know when to slow down. Eighty-two-year-old Mostafa A. El-Sayed is one of them.
For nearly 60 years, El-Sayed, Regents Professor and Julius Brown Chair in the School of Chemistry and Biochemistry, has conducted highly acclaimed chemistry research and served as a chemistry educator and journal editor. In recognition of his decades-long contributions to chemistry, El-Sayed will receive the Priestley Medal, the highest honor from the American Chemical Society, in 2016.
During his extensive scientific career, El-Sayed, who directs Georgia Tech's Laser Dynamics Laboratory, has carried out numerous lines of research. After moving from his native Egypt to the United States for Ph.D. and postdoctoral studies, El-Sayed began his independent research career in 1961 at the University of California, Los Angeles, before coming to Georgia Tech more than 20 years ago. These two periods have been marked by distinguished contributions to two diverse but important areas of research: molecular electronic energy relaxation and the science and technology of nanoscale objects. In the past several years, El-Sayed has managed to knit these topics together, pioneering the biological application of nano-plasmonic phenomena and materials.
Among many other honors, El-Sayed was awarded the National Medal of Science in 2007, and he continues to serve on the President's National Medal of Science Selection Committee. He is an elected member of the U.S. National Academy of Sciences as well as a fellow of the American Association for the Advancement of Science, and was editor-in-chief of the Journal of Physical Chemistry for 24 years.
At Georgia Tech, he has anchored the continued development of an internationally renowned physical chemistry division while embodying the Institute's dedication to interdisciplinary science and technology. He even has a spectroscopy rule named after him.
More than 70 students have earned their Ph.D. degrees in the El-Sayed laboratory, and more than 80 postdoctoral scientists, research scientists, and visiting professors have done research under his direction. The El-Sayed group has been supported by more than $18 million in external funding, publishing more than 680 papers. More than half of the 65,000+ citations to his work in the scientific and patent literature have occurred in the past five years, a testament to the cutting-edge nature and practical relevance of his research. He currently directs research on nanoparticle-based anticancer therapy in both the U.S. and Egypt.
"This is wonderful news, just fantastic," El-Sayed said of the honor. "I am lucky to have been in the right place and with the right society," he added, referring to his years of service to the American Chemical Society.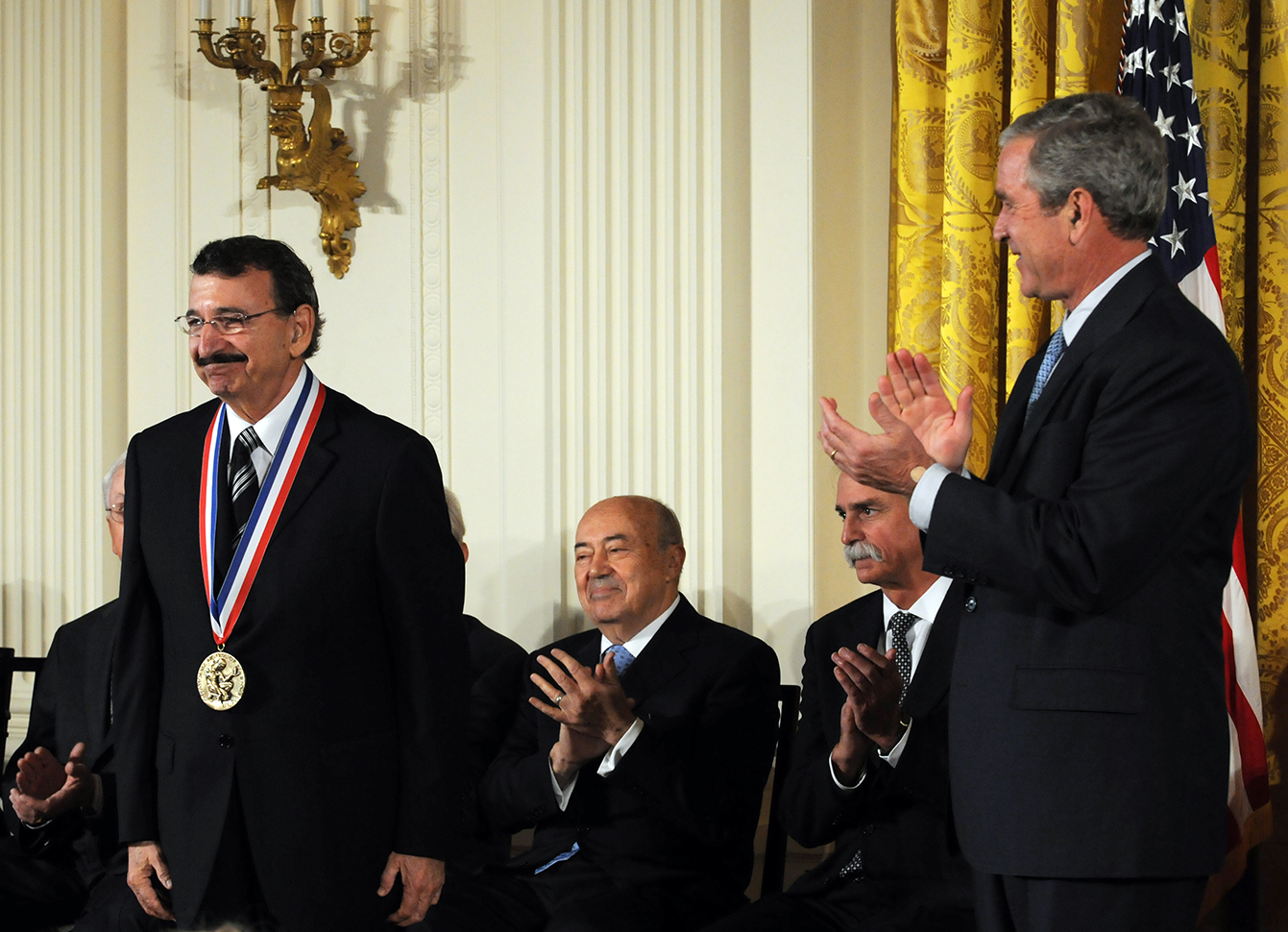 President George W. Bush awards the 2007 National Medal of Science to Dr. Mostafa El-Sayed during an East Room ceremony at The White House in Washington, DC on Monday, September 29, 2008.