New campus WeatherSTEM stations provide data, useful updates
Georgia Tech Emergency Preparedness recently installed three new weather information stations for updates and possible STEM education opportunities with local K-12 schools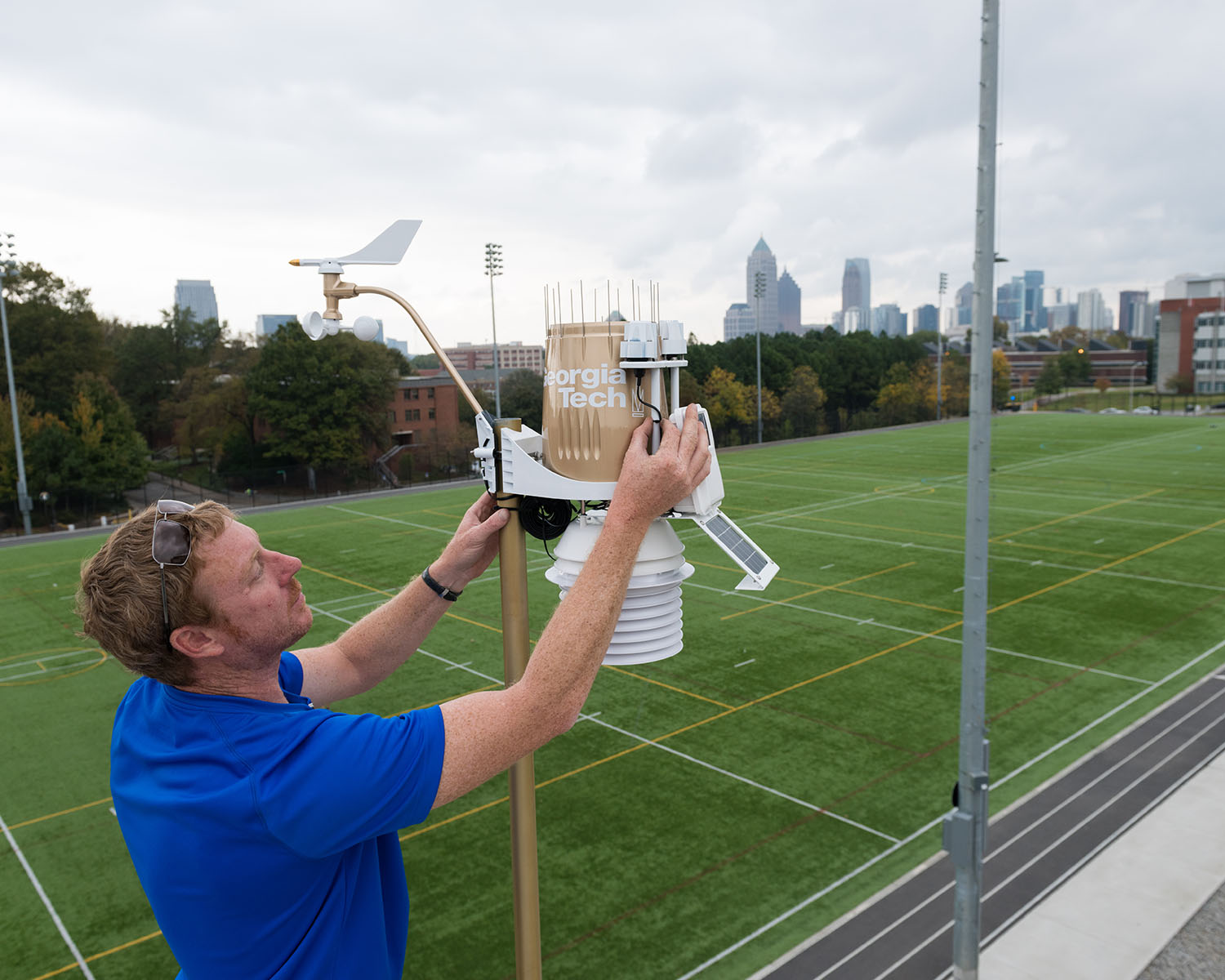 Three new WeatherSTEM stations have been installed on the Georgia Tech campus providing updated weather information and longterm weather data for analysis.
Nov 23, 2015
— Atlanta, GA
If you've ever checked your weather app rather than look outside your window to see if it's raining, chances are you're going to love the new weather stations installed around the Georgia Tech campus.
WeatherSTEM – an integration of weather stations, collected and distributed atmospheric data and STEM-based curriculum for grades K-12 – recently worked with Georgia Tech Emergency Preparedness to install the stations at three locations on campus: the roof of the Wardlaw Center, the corner of the Campus Recreation Center parking deck and the roof of the Georgia Tech Police Department.
"Having these weather stations on campus allows us to verify local conditions with ground truth data," said William Smith, director of Georgia Tech Emergency Preparedness. "This has applications from sports medicine to public safety.  Because the data is easily accessible from a number of platforms, including social media and the WeatherSTEM app, the entire Georgia Tech community can always understand current weather conditions and how they may impact their daily activities."
In addition to up-to-the-minute condition information, the stations are also equipped with cameras that produce dramatic images of clouds, including time-lapse imagery. Twenty-four hour time-lapse views of the sky are posted to a dedicated YouTube channel each night around midnight.
A good example came from the stadium camera unit Nov. 12 at the Virginia Tech football game. The video is available at online. Each station also has its own social media feeds on Twitter and Facebook.
In addition to weather data and up-to-the-minute status of weather conditions, WeatherSTEM engages K-12 students in science, technology, engineering and mathematics (STEM) subjects. Studying the weather makes use of all the key disciplines and is at the heart of WeatherSTEM's mission.
"Everyone on the planet can relate to weather," said Ed Mansouri, creator of WeatherSTEM, who was recently on campus for the WeatherSTEM installations. "A primary goal for WeatherSTEM is to offer teachers tools to integrate weather data, images and charts into their science and math lessons. We are very excited to be working with the Georgia Institute of Technology to introduce our STEM-focused platform to Georgia's K-12 students."
Local teachers looking to draw on the WeatherSTEM data and curriculum can learn more at http://gatech.weatherstem.com/about.
Mansouri and the WeatherSTEM team are continuing to install stations on campuses of other Atlantic Coast Conference universities. No word on how competitive the schools will be in deciding "who has the best weather?"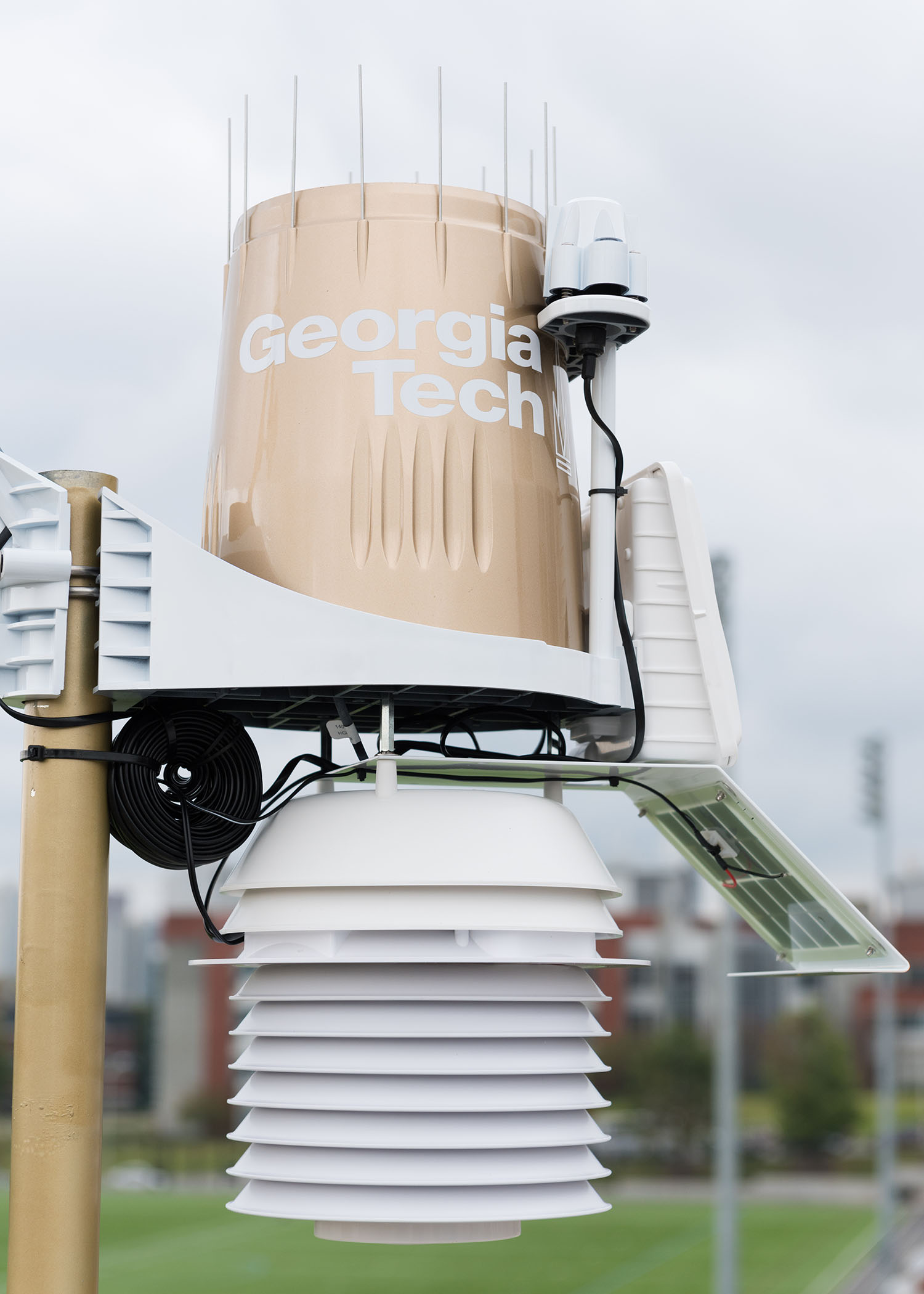 Close-up view of the new WeatherSTEM stations installed on campus.