El Niño Warming Causes Significant Coral Damage in Central Pacific
Current El Niño conditions in the Pacific Ocean are seriously damaging coral reefs.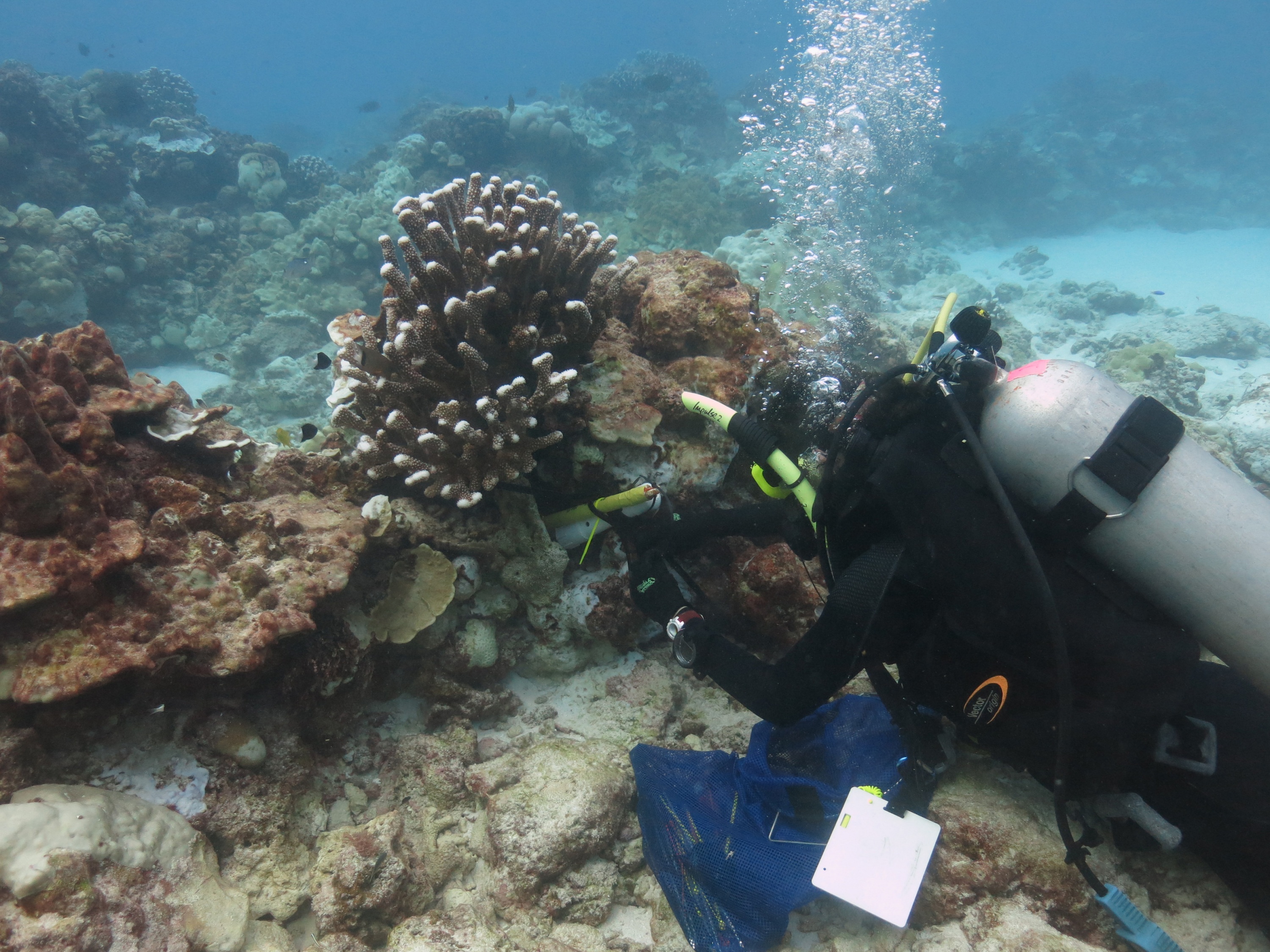 Graduate student Pamela Grothe installs temperature and salinity logging devices on a Christmas Island coral reef to monitor conditions through the current El Niño event. (Credit: Alyssa Atwood, Georgia Tech)
Dec 01, 2015
— Atlanta, GA
Current El Niño conditions in the Pacific Ocean have created high water temperatures that are seriously damaging coral reefs, including those on Christmas Island, which may be the epicenter for what could become a global coral bleaching event.
Researchers from the Georgia Institute of Technology recently returned from the Island and are reporting that 50 to 90 percent of corals they saw were bleached and as many as 30 percent were already dead at some sites. The situation could worsen as water temperatures remain well above normal into the early months of 2016.
"This El Niño event is driving one of the three largest global scale bleaching events on record," said Kim Cobb, a professor in Georgia Tech's School of Earth and Atmospheric Sciences who has studied long-term El Niño conditions. "Ocean temperatures exceeded the threshold for healthy corals back in the summer, and are continuing to warm. Bleaching occurs when temperatures exceed a threshold that is function of the amount of warming, as well as the length of time at that temperature."
Bleaching is an outward sign of stress on the corals, which release the symbiotic algae that normally help provide them with energy to sustain their metabolism during prolonged episodes of warm ocean temperatures. The loss of these alga turns the coral colonies white, and opens them to disease and death. Bleached corals can recover if water temperatures return to normal, but continued stress could lead to widespread coral death, Cobb said.
Cobb has studied reef systems on Christmas Island for 18 years, and recently returned from a two-week visit to the area. She and other researchers measured water temperatures of 31 degrees Celsius, (88 degrees Fahrenheit), well above normal water temperatures of 27 degrees Celsius (81 degrees Fahrenheit).
"There's an astounding amount of warming at this particular site," said Cobb. "These reefs are under dramatic stress which is leading to severe coral loss. It will take years for these reefs to recover."
Some coral species are more sensitive to thermal stress than others, and the researchers saw responses that varied from mild bleaching in some species to coral death in others. If the high temperatures continue as projected, species that have been only mildly affected so far may be pushed toward 100 percent bleaching, while species already bleached may be killed.
The last time water temperatures reached such levels was during the 1997-98 El Niño event, which was the largest ever recorded – until now. Until the current record-breaking El Niño event, the Christmas Island reefs had been thriving and healthy.
Georgia Tech researchers are planning to return to Christmas Island in March to assess the full impact of the damage. Cobb says the disaster will provide a unique opportunity to study the long-term ecological impacts of major bleaching events, which could become more frequent as the Earth warms.
"We are determined to turn this environmental catastrophe into a scientific gold mine by being out there before, during, and after this event to document what is going on at this reef," she explained. "There is incredible interest in understanding how reefs recover from an event of this scale. If you fast-forward 50 years, this may be what a majority of the coral reefs around the world will be experiencing."
Information gathered may help project how reefs will stand up to rising sea temperatures and increasing acidification, both caused by rising levels of atmospheric carbon dioxide. In the March trip, Cobb's group plans to work with a research team led by marine ecologist Julia Baum from the University of Victoria.
The El Niño Southern Oscillation (ENSO) is a cycle of warm and cold temperatures that occurs naturally in the central Pacific approximately two to seven years. By studying fossil coral records from Christmas Island, Cobb and her research team have seen evidence of these cycles back at least 7,000 years. However, there is increasing evidence that El Niño events have changed in the past few decades.
"It's clear from the data that El Niños have been strengthening in the recent past," said Cobb. "Even without considering the current event, we have already documented that the recent spate of large El Niño events in the late 20th century stands out against a background of natural oscillations embedded in the coral records."
While her work alone cannot demonstrate a cause-and-effect relationship between strengthening El Niño events and global warming, Cobb says that the combination of many different studies suggests that the rise in carbon dioxide levels is a major factor.
Though associated with the Pacific, El Niño events have worldwide impacts. In the United States, for instance, the strong El Niño is expected to help make this winter's weather cooler and wetter than normal in the South, and warmer than normal in the North.
Coral reefs are important to the people who live in the Pacific area because they provide a nursery for fish and other aquatic life that provide a food source. The reefs also protect low-lying islands from storms and high waves. But their impact is global.
"From an ecological perspective, they are the nurseries of the global oceans," Cobb said. "The loss of this habitat will have vast implications for ocean ecosystems and ocean services that we depend on, not just for the Christmas Island area, but on a global scale."
Research News
Georgia Institute of Technology
177 North Avenue
Atlanta, Georgia 30332-0181 USA
Media Relations Contact: John Toon (404-894-6986) (jtoon@gatech.edu).
Writer: John Toon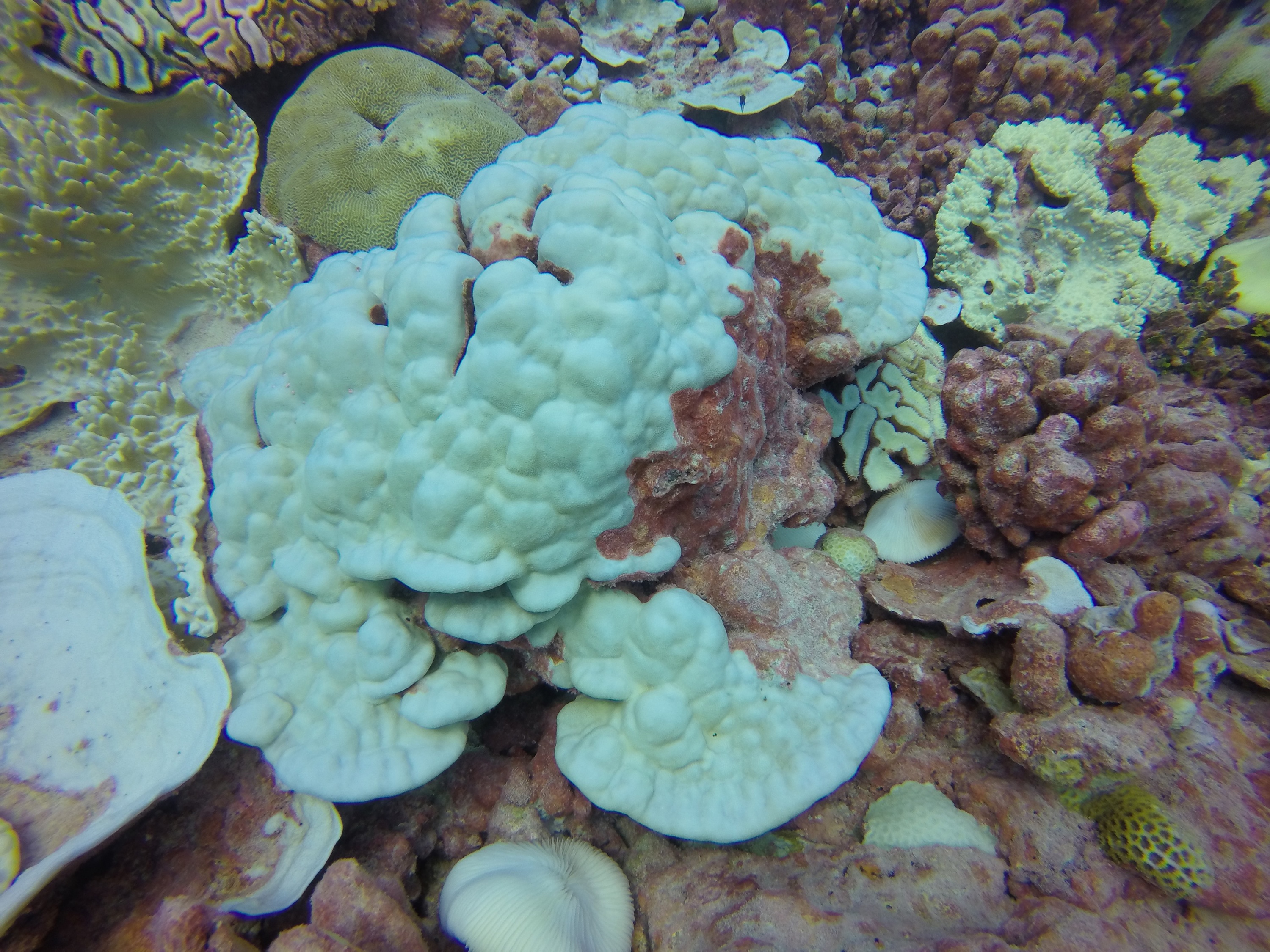 Image shows a completely bleached Porites coral colony, which is the species whose fossils Georgia Tech researchers use for paleoclimate reconstruction. (Credit: Pamela Grothe, Georgia Tech)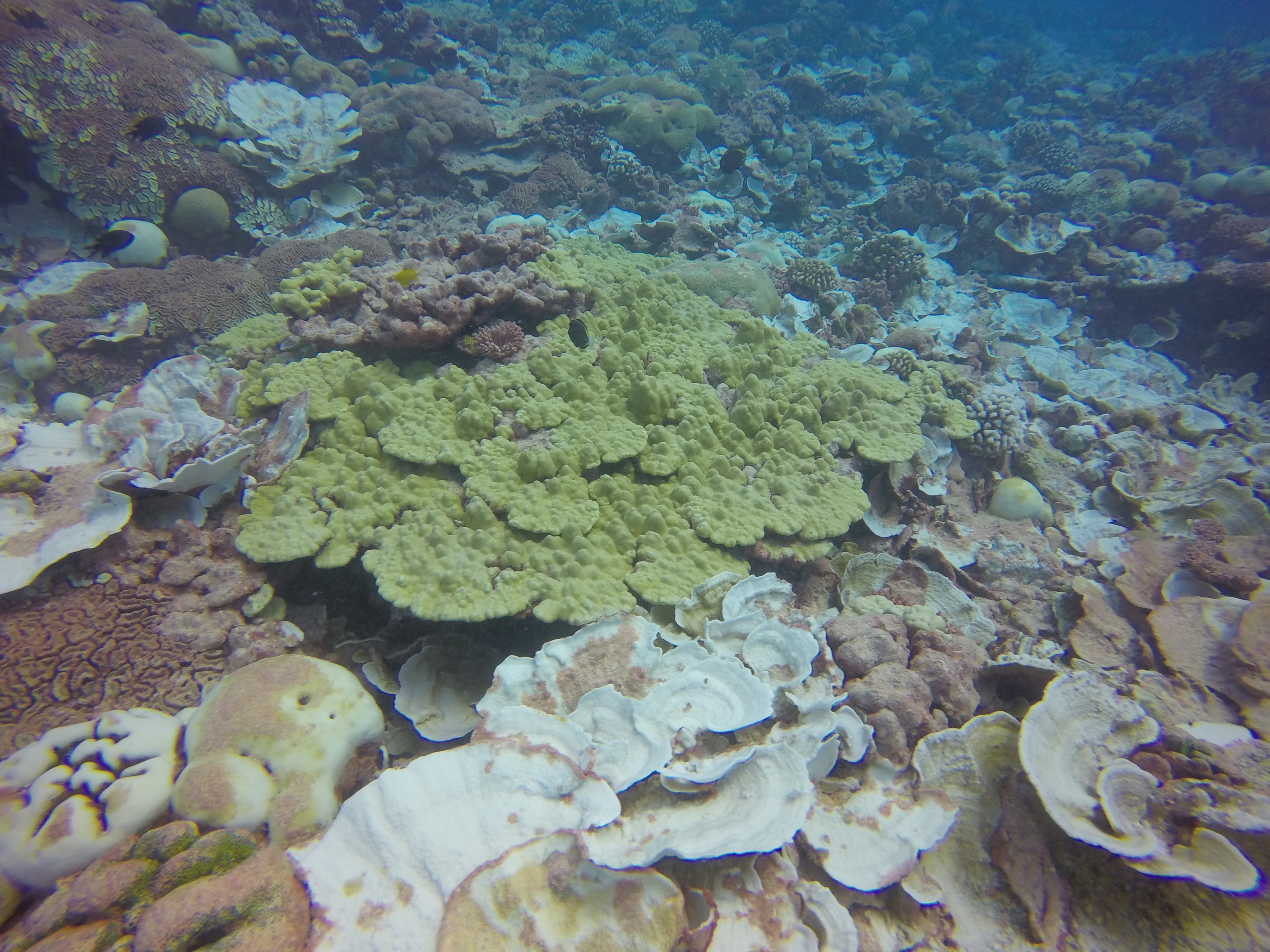 A large, healthy Porites coral colony is surrounded by other coral species in various stages of bleaching. (Credit: Pamela Grothe, Georgia Tech)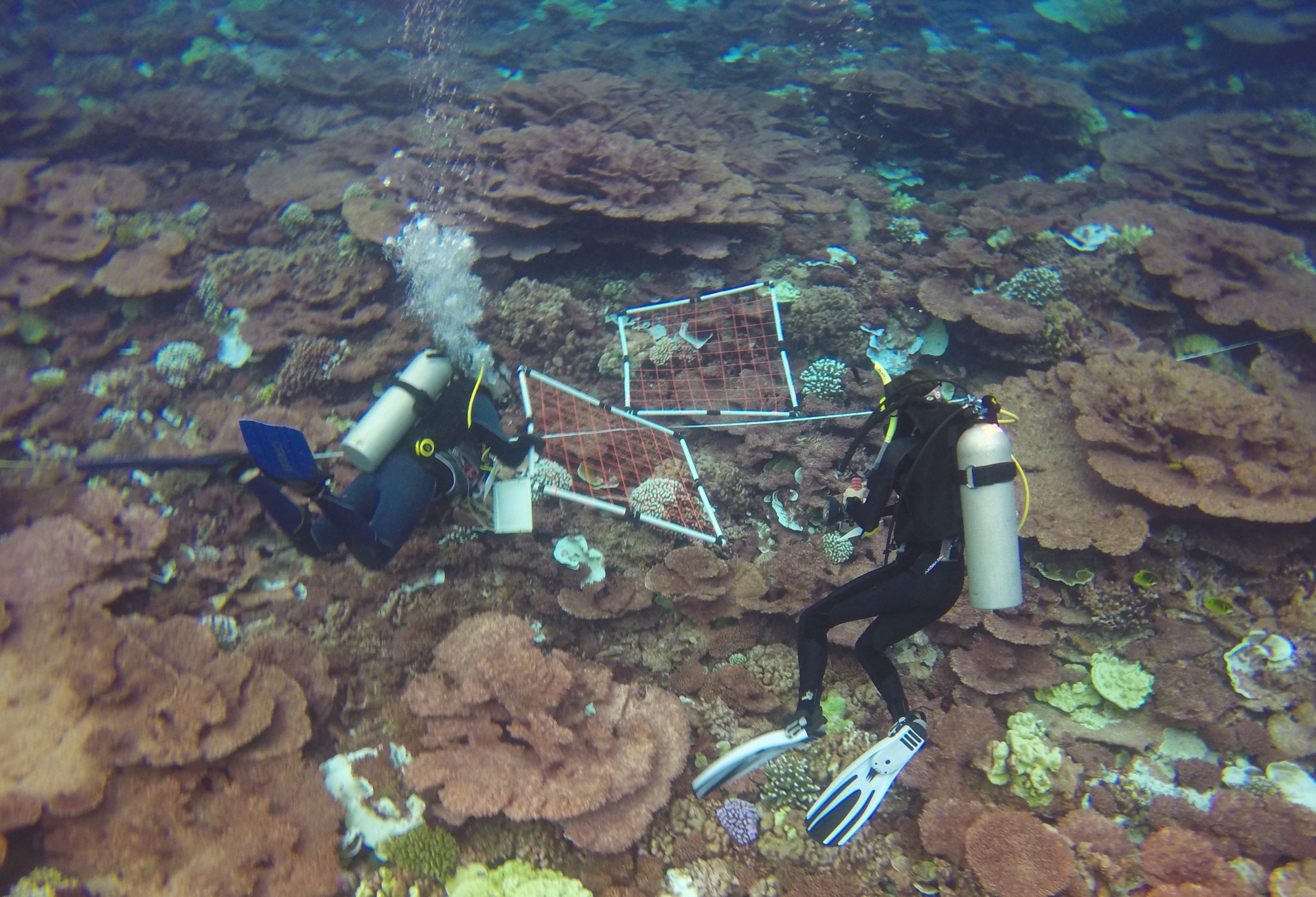 Georgia Tech graduate student Pamela Grothe performs benthic surveys in a field of dead Acropora coral colonies on a Christmas Island reef. (Credit: Kim Cobb, Georgia Tech)
A large dead Acropora coral colony is surrounded by more stress-tolerant species on a Christmas Island reef. Thermal stress affects some coral species more than others. (Credit: Kim Cobb, Georgia Tech)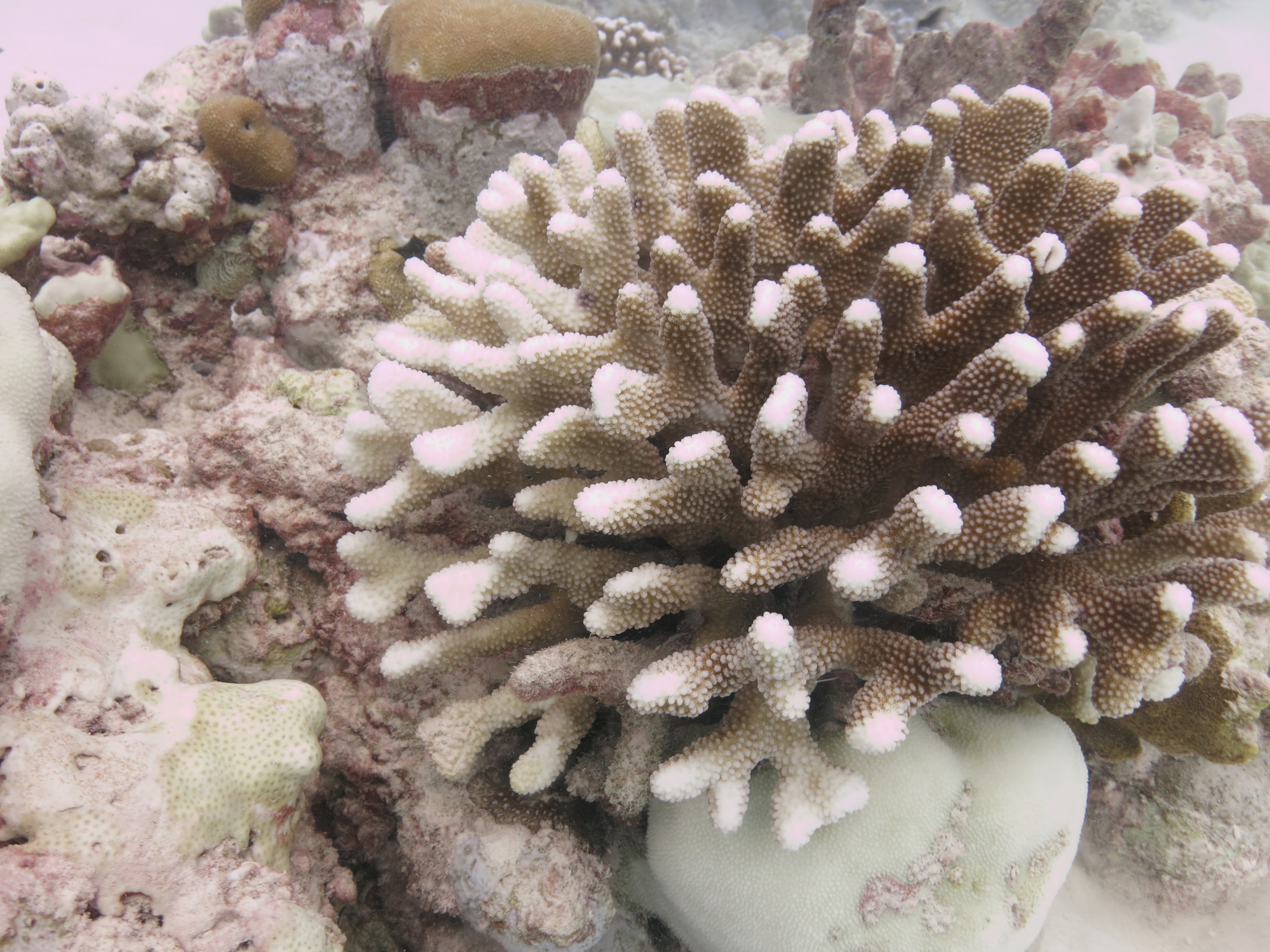 A Pocillopora coral colony is shown in the process of bleaching on a Christmas Island reef in early November. (Credit: Pamela Grothe, Georgia Tech)