Georgia Tech-Lorraine celebrates 25th anniversary
President Peterson presides over 25th anniversary ceremony for Georgia Tech-Lorraine in Metz, France.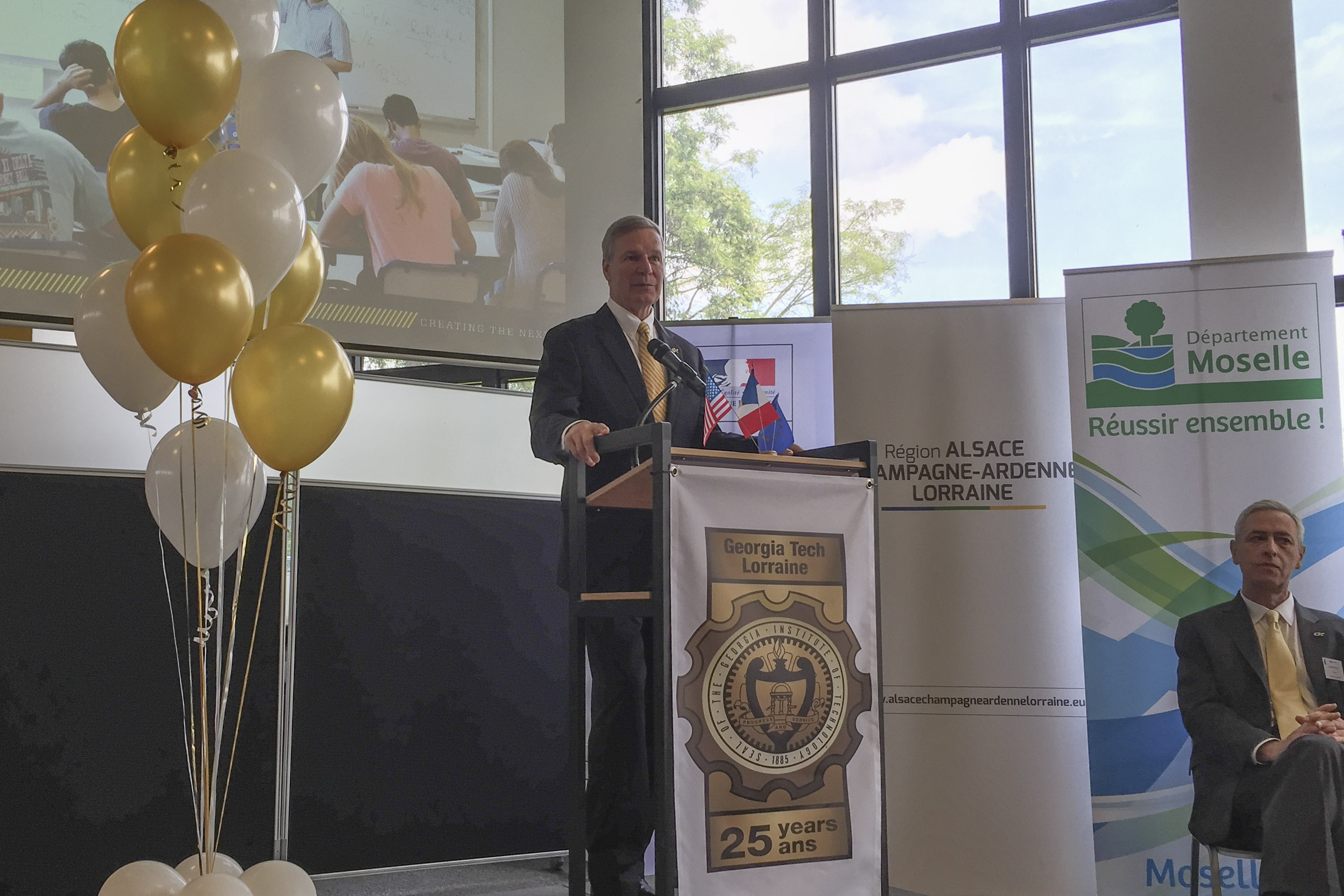 Georgia Tech President G.P. "Bud" Peterson offers remarks at the 25th anniversary of Georgia Tech-Lorraine in Metz, France. Yves Berthelot, vice provost for international initiatives, looks on.
May 27, 2016
— Atlanta, GA
Georgia Tech-Lorraine, the European campus of the Georgia Institute of Technology celebrates its 25th anniversary May 27, 2016. A ceremony marking the anniversary will take place on the Georgia Tech-Lorraine campus in Metz, presided over by G.P. "Bud" Peterson, President of the Georgia Institute of Technology, accompanied by a large delegation of the Institute's leadership from Atlanta.
A number of French elected officials and local representatives will attend the event, including: Dominique Gros, Mayor of Metz; Jean-Luc Bohl, President of Metz Métropole; François Lavergne, Vice President of the Departmental Council of Moselle; Philippe Richert, President of the Alsace Champagne-Ardenne Lorraine Regional Council and former Minister under the Minister of the Interieur; Jean-Yves Le Déaut, Deputy of Meurthe-et-Moselle; Emmanuel Berthier, Prefect of Department of Moselle; as well as academic, research, and corporate partners.
Georgia Tech-Lorraine will also be honored to welcome Amy P. Westling, Consul General of the United States of America in Strasbourg. 
 The day's events are as follows:
10 a.m.:  A gathering between G.P. "Bud" Peterson, President of the Georgia Institute of Technology, and the Atlanta delegation from the Georgia Institute of Technology;
10:30 a.m.: A guided visit of the Lafayette Institute by co-Presidents, Bernard Kippelen and Abdallah Ougazzaden;
The official ceremony begins at 11 a.m. with a speech by G.P. "Bud" Peterson before the gathered officials, distinguished guests, numerous partners and friends of Georgia Tech-Lorraine, along with a number of the 320 enrolled students;
An informal luncheon with all participants will bring the event to a close.
Georgia Tech-Lorraine reflects a unique partnership in education, research, and innovation between France and the United States. Established 25 years ago in Metz Technopôle, today, Georgia Tech-Lorraine is a full-fledged campus welcoming over 700 undergraduate and graduate students per year. In terms of research, the UMI 2958 GT CNRS, established in 2006, is globally recognized for excellence in the field of materials. The Lafayette Institute, inaugurated in 2014, is an innovation platform committed to advancing technological development through a singular public-private model of commercialization.