Georgia Tech to Play Key Role in New Federally-Funded Chemical Processing Initiative
The U.S. Department of Energy announced that the Georgia Institute of Technology is one of the lead institutions in a new $140 million Chemical Processing Manufacturing Institute.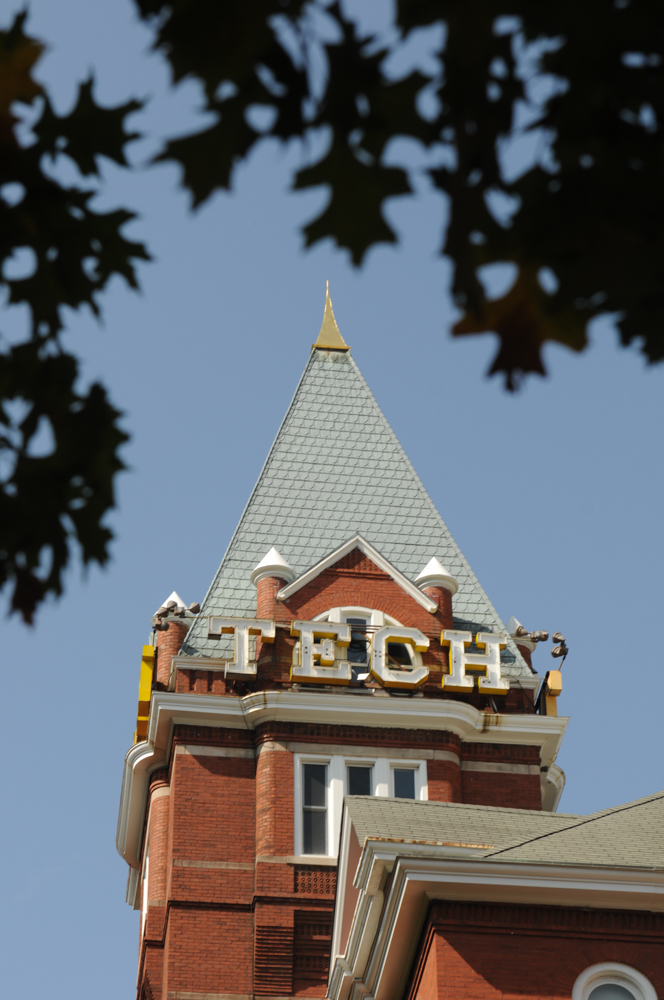 Tech Tower (Photo Credit: Gary Meek)
Dec 09, 2016 — Atlanta, GA
The U.S. Department of Energy announced today that the Georgia Institute of Technology is one of the lead institutions in a new $140 million Chemical Processing Manufacturing Institute. Led by the American Institute of Chemical Engineers, the new initiative will be the 10th special institute and will address energy productivity in the U.S.
These institutes for manufacturing innovation bring industry, academia and government partners together to leverage existing resources, collaborate and co-invest to nurture manufacturing innovation and accelerate commercialization.
The U.S. Department of Energy's Office of Energy Efficiency and Renewable Energy Acting Assistant Secretary David Friedman announced the new institute Dec. 9 at the U.S. Council on Competitiveness' 2016 National Competitiveness Forum. This new institute will be officially called the Rapid Advancement in Process Intensification Deployment, or (RAPID), Institute.
"Georgia Tech is proud to play a leading role in RAPID and the continued transformation of the all-important manufacturing sector," said Steve Cross, executive vice president for research at Georgia Tech. "Advanced manufacturing is critical to the economic competitiveness of our country, and Georgia Tech's role in this important initiative will help strengthen our leadership in Georgia and the nation as a leader in chemical processing.
Georgia Tech is one of 34 universities included in the RAPID Institute.
Georgia Tech's undergraduate chemical engineering program is ranked No. 4 in the country, according to U.S. News & World Report, and Georgia Tech is No. 4 in the U.S. in federal research and development spending in chemical engineering, according to the National Science Foundation. Georgia Tech participates in five of the 10 institutes created by the administration to address manufacturing innovation, including Digital Manufacturing, Flexible Hybrid Electronics, Integrated Photonics, Additive Manufacturing, and Process Intensification.
The RAPID Institute will have up to $70 million in federal funding, subject to appropriations, and an additional $70 million in cost-share commitments from more than 130 partners. It will focus on developing breakthrough technologies to boost domestic energy productivity and energy efficiency by 20 percent in five years through manufacturing processes in industries such as oil and gas, pulp and paper, and various domestic chemical manufacturers.
Traditional chemical manufacturing relies on large-scale, energy-intensive processing. The new institute will leverage approaches to modular chemical process intensification — like combining multiple, complex processes such as mixing, reaction and separation into single steps — with the goal of improving energy productivity and efficiency, cutting operating costs, and reducing waste. In the chemical industry alone, these technologies have the potential to save more than $9 billion in process costs annually.
"Our investment in this cross-cutting technology is an investment in the future of U.S. manufacturing," said Acting Assistant Secretary Friedman. "As we continue to expand the Manufacturing USA network, we provide greater opportunities for businesses of all sizes to solve their toughest technology challenges and unleash major savings in energy-intensive sectors like oil and gas, pulp and paper-making, and other industries."
The RAPID Institute will serve as an American manufacturing leader convening companies, universities, industrial research organizations and national laboratories to focus on new technologies that maximize processes at the molecular level to save energy with every chemical reaction — adding up to big savings on the manufacturing floor. It is the fourth Energy Department-led institute in the multiagency network known as Manufacturing USA, or the National Network for Manufacturing Innovation (NNMI).
"RAPID is a great opportunity for experts at Georgia Tech to work on near-term solutions that will make the chemical processes in manufacturing more efficient," said David Sholl, John F. Brock III Chair of the School of Chemical and Biomolecular Engineering, who will serve as the interim chief technology officer for RAPID.
Collectively, the federal government's commitment of more than $700 million to the 10 awarded Manufacturing USA institutes has been matched by more than $1.4 billion in non-federal investment from across industry, academia and state governments. The institutes, each led by manufacturing experts renowned in their field, have attracted more than 1,300 companies, universities and non-profits as members of Manufacturing USA. For more information about the RAPID Institute and participating organizations, visit Energy.gov.