Finalists Selected for the 2017 InVenture Prize
Six teams are competing for $35,000 in prizes. The InVenture Prize finale will take place March 15 at the Ferst Center for the Arts.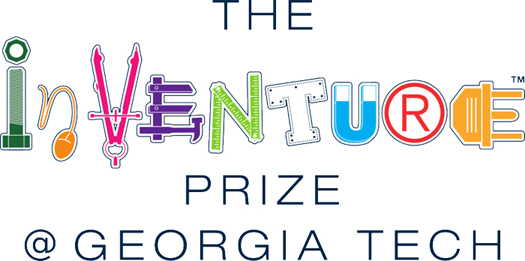 Feb 13, 2017 — Atlanta, GA
The six teams competing for Georgia Tech's 2017 InVenture Prize have invented devices that aim to make our lives safer or more efficient.
The annual competition brings together student innovators from all academic backgrounds to foster creativity, invention and entrepreneurship.
More than 500 students applied for the contest, which will select a winner March 15.
Here are the finalists:
Capable Cane is a walking cane that unfolds into a portable, full-sized comfortable seat. The design offers the stability of four legs and provides an armrest and a backrest, making it safer than what is currently available.
Inventor: Jeffrey McMichael, a mechanical engineering major from Atlanta.
CauteryGuard is a safer electrocautery device, which is used by doctors, veterinarians and other medical personnel to remove unwanted tissue and to stop bleeding. The CauteryGaurd automatically retracts when not in use, and the inventors said this removes any chance of accidental injury caused by the device during procedures. 
Inventors: Four biomedical engineering majors – Jack Corelli from Philadelphia; Hunter Hatcher from Marietta, Ga.; Devin Li from Corning, N.Y.; and Dev Mandavia, from Duluth, Ga.
CPR+ is a CPR mask that allows an untrained bystander to perform CPR by collecting vitals and dynamically walking the user through each step of the process.
Inventors: Samuel Clarke, a mechanical engineering and computer science major from Indianapolis; David Ehrlich, a computer engineering major from Portland, Oregon; and Ryan Williams, a computer engineering major from Las Vegas.
Gaitway are transportable, collapsible parallel bars for physical therapists to use when working with children. Unlike other designs, Gaitway can be used by children as young as 15 months and as old as 10 and can support up to 150 pounds.
Inventors: Two industrial design majors – Nora Johnson from Tampa; and Veronica Young from McDonough, Ga.
InternBlitz takes the digital college application system of the Common App and applies it to internships. With more than 600 internships to choose from, students can apply for 15 different internships in just five minutes.
Inventors: Murtaza Bambot, an industrial engineering major from Duluth, Ga.; and Nathan Dass, a computer science major from Woodbridge, Va.
PickAR is like Google Maps for warehouses. The team invented a headset, which uses augmented reality technology to overlay picking information and directions to packages so warehouses can find and process orders more efficiently.
Inventors: Three computer science majors – Cheng Hann Gan from Wheaton, Ill.; Sarthak Srinivas from Bangalore, India; and Wenqi Xian from Beijing.
The winning team will take home $20,000 and will represent Georgia Tech in the annual ACC InVenture Prize, taking place on campus March 31.
The second-place team earns $10,000.
Both first- and second-place finishers will receive free U.S. patent filings by Georgia Tech's Office of Technology Licensing and a spot in Georgia Tech's startup accelerator program, Flashpoint.
A $5,000 People's Choice Award will go to the fans' favorite invention. Voting will be held online and by text messaging during the finale.
The finale will take place March 15 at the Ferst Center for the Arts. Tickets are free and can be requested here.
The event will also be aired live on Georgia Public Broadcasting.