Increased Interest in Tech Prevails with 2017 Class
In total, 7,297 students were offered admission to Georgia Tech this year between early action and regular decision rounds.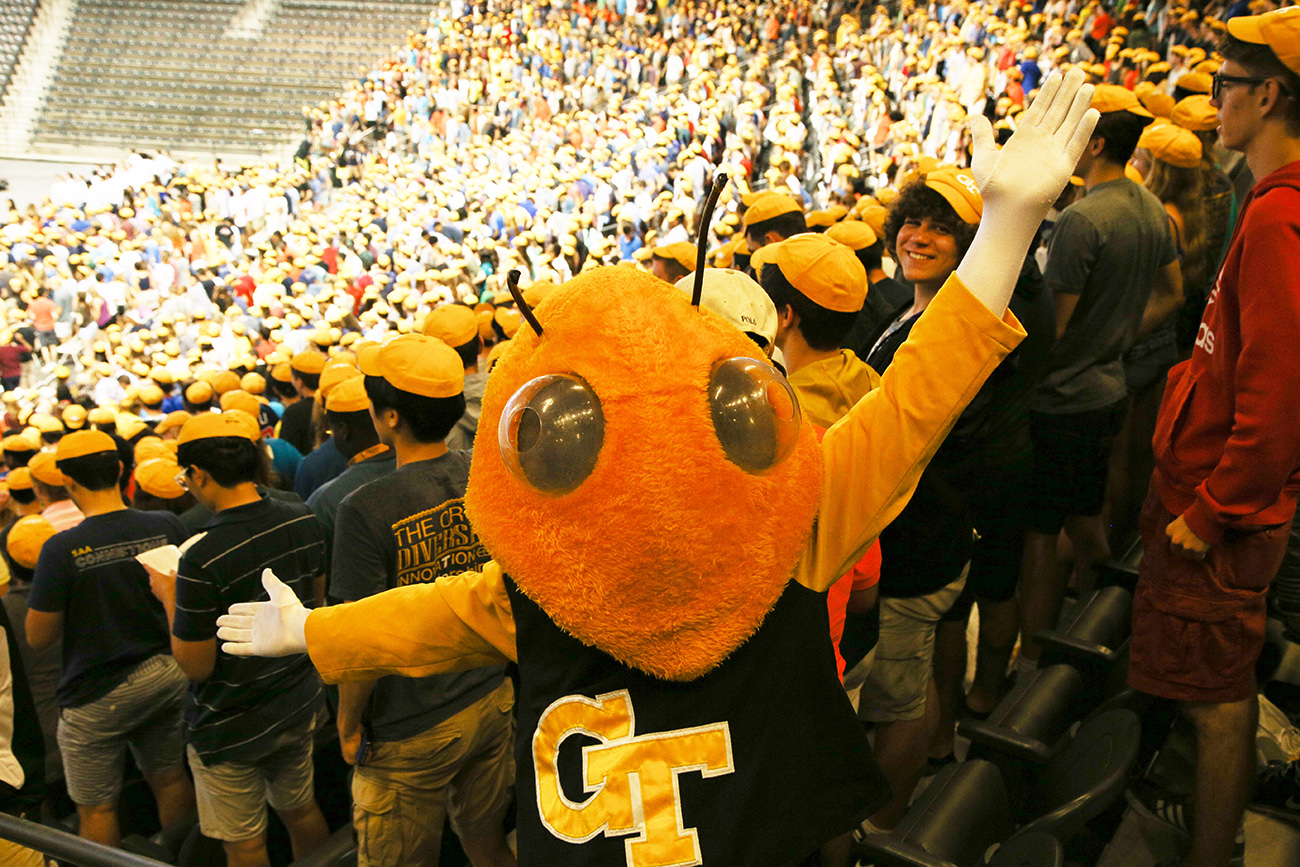 Mar 11, 2017 — Atlanta, GA
For thousands of students around the world, today is the day they can officially call themselves Yellow Jackets.
Regular Decision applicants were notified at noon of their admission decisions and whether they were invited to join the 2017 class. In total, between Early Action and Regular Decision rounds, 7,297 students were offered admission to Georgia Tech this year. 
Applications rose 3 percent from last year to a total of 31,484, bringing Tech's admit rate to 23 percent. The admit rate for Georgia students, though, was 44 percent. An additional 20 percent of Georgia applicants have the opportunity to transfer to Tech after one year through the Arts and Sciences Pathway or Conditional Transfer Pathway.
This year's admit pool includes students from all 50 states and Washington, D.C. The group is 42 percent female and 58 percent male. African-American and Hispanic students make up 15 percent of the pool, and first-generation college students make up 5 percent.
From Georgia, the admit pool represents 18 more Georgia high schools than last year and seven more counties (for a total of 101 counties). It also includes 300 more Georgia residents.
As interest in Tech continues to climb, so does the quality of the applicant pool. Rick Clark, director of Undergraduate Admission, has been at Tech for nearly 14 years and has seen a difference in recent applicants. 
"More students seem to be applying who understand our motto of Progress and Service and mission of improving the human condition," he said. "They appreciate who we are as an institution and want to be part of creating the next in their field, which is incredibly encouraging."
This year, Undergraduate Admission also included faculty members from all six colleges in its committee reviews in both Early Action and Regular Decision rounds.
Looking back, the numbers for this admitted class are drastically different than what current Tech students may remember from when they applied. For fifth-year Tech students, they applied in a pool half the size — 14,711 — with an admit rate of 55 percent. 
The issuing of admission decisions means the beginning of recruiting and yield season for Undergraduate Admission. It will host a series of Gold Carpet Days for admitted students to visit campus in March and April, so most Fridays the campus community will see a large influx of admitted students and families on campus.
"Recruiting the best possible class is a collective campus effort," he said. "We hope people will congratulate these students and their families and be welcoming and friendly if they see guests on campus." Students, faculty, and staff are also encouraged to follow and join the conversation among admitted students on social media using #gt21.
Beyond its regular yield efforts, Undergraduate Admission is looking forward to an active spring and summer. The team is working on creating a running tour of campus that is being piloted with high school admission counselors this month. It's also implementing Slate, a software designed to enhance the experience for guests visiting campus for tours and information sessions, improve branding within recruitment communications, and help streamline file review for admission counselors by letting them read files more efficiently.
The final deadline in this year's admission cycle is the deposit deadline of Monday, May 1.