Georgia Tech Students Meet Big Boi from Outkast
Antwan Patton, better known as Big Boi, suprised a class of Georgia Tech students who have been studying his music all semester long.
Apr 27, 2017
— Atlanta, GA
It's not your typical class on a campus known for engineers and scientists.
"The name of the course is Engaging the Lyrics of Outkast and Trap Music to Explore Politics of Social Justice," explains Dr. Joycelyn Wilson. "We turn Outkast's lyrics into a text and we use the narratives to have a larger conversation about social justice."
Wilson studied the music and lyrics of Outkast as part of her dissertation.
"I felt like Outkast represents innovation," she explains.
Originally, the students were not aware the class was about Outkast. It was just billed as a "race, science, and technology" course.
"When I found out it was about Outkast and social justice, I was like, 'Oh my gosh, I have to take this class,'" says industrial engineering major Raianna Brown.
Wilson says she introduces students to the lyrics first, and then the class listens to the music.
"Often we're attracted to the sound first. Then we analyze the words."
While much of the focus was on Outkast, Wilson and her students reviewed songs across the hip-hop spectrum from Lauryn Hill to Lil Yacthy.
Through a course like this about music, students are introduced to urban issues and that begins a conversation.
"Having a course where you have discussions about social and political issues, it's nice to have that change," says mechanical engineering student Ahmed Aly.
To wrap up the course, Wilson arranged for Antwan Patton, better known as Big Boi from Outkast, to visit the class and take questions from the students.
"I wanted my students to be able to ask him questions one to one," Wilson says.
For an hour, the Grammy-winning artist fielded those questions.
One student asked about how Outkast got their name.
Patton described starting with the term "Misfits" and searching through the dictionary for something similar with his bandmate, Andre 3000.
"We got to 'O' and saw Outkast and that was it."
When another student asked if they knew they were going to be successful, Patton responded that it took hard work.
"We wanted it. So once we made a decision that this is what we were going to do, all we did was eat, sleep, and drink music."
For Wilson, the class is also about making a connection back to the society we live in.
"Studying Outkast, studying Trap music, gets us behind the turn up, and gets us deeper into taking the training I have as a scientist or an engineer and how do I use it in a way that's going to benefit my community?"
Wilson plans to expand to a larger History of Hip Hop course that would lead in to a more in-depth Outkast case study.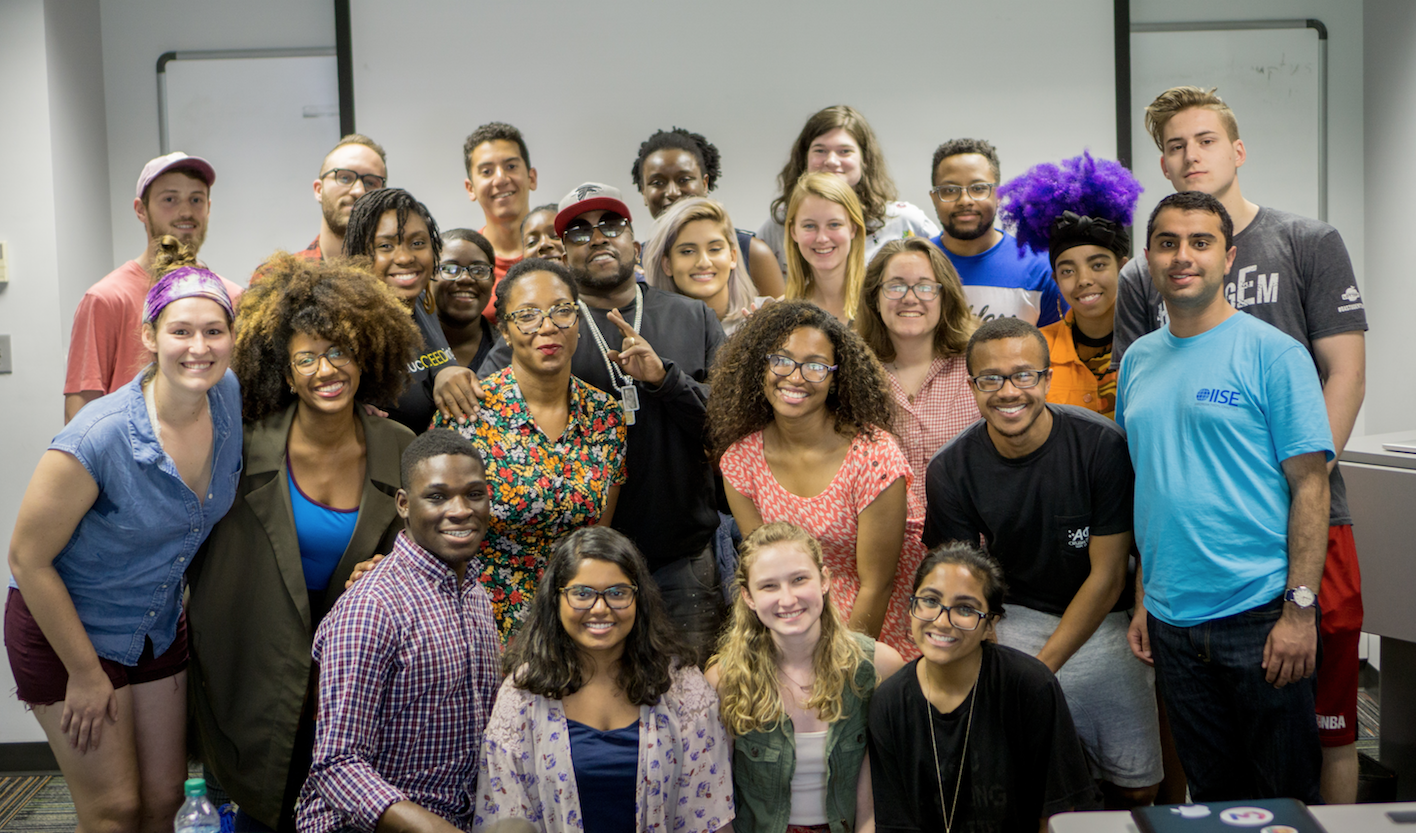 Students from Dr. Joycelyn Wilson's class about Outkast and Trap Music meet with Big Boi (Antwan Patton) from Outkast to wrap up their semester of study.