Georgia Tech Team Wins Collegiate Bridge Championship
The final match on July 23 was against the University of Chicago, which Georgia Tech won 80-37 to claim the title.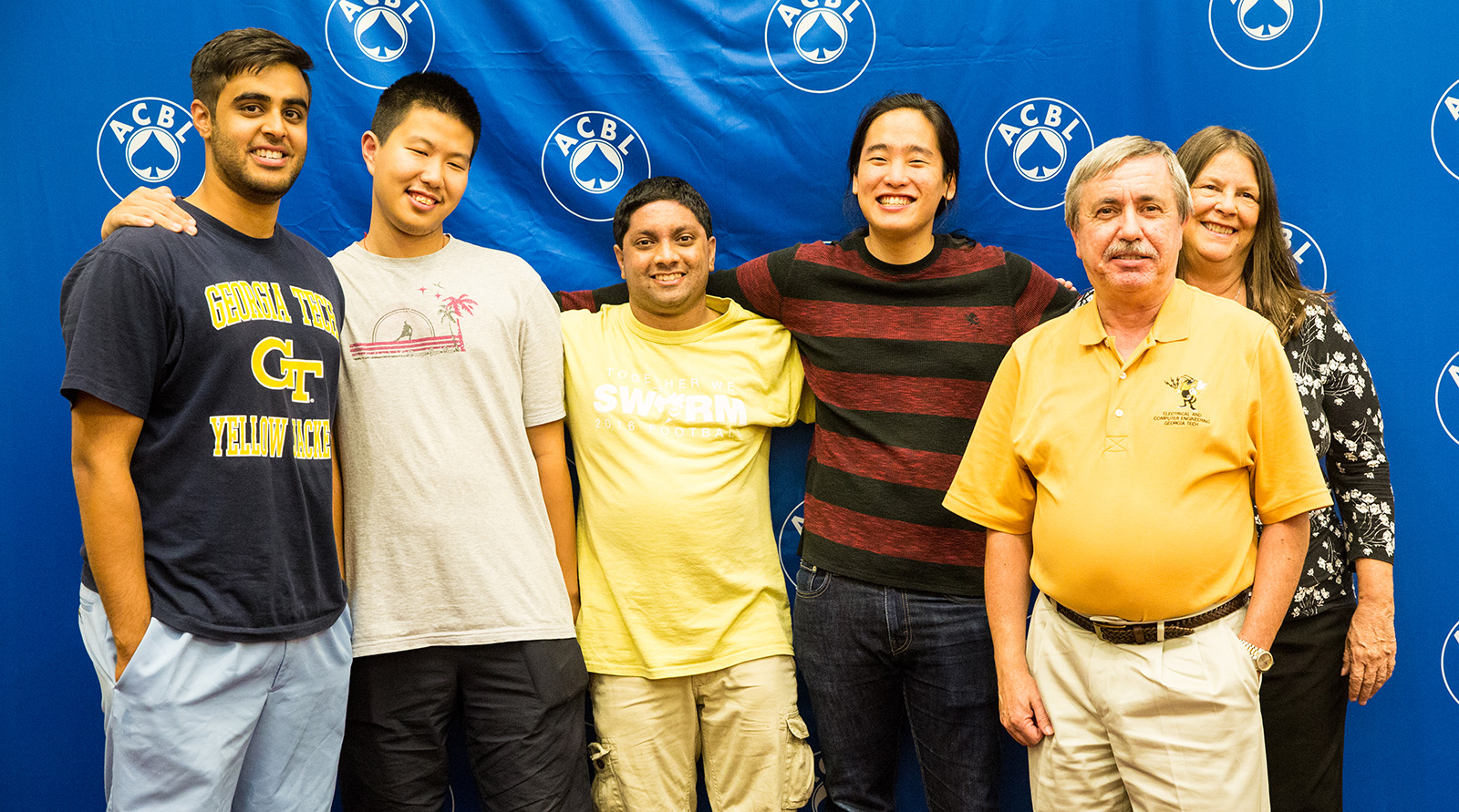 Jul 31, 2017
— Atlanta, GA
Last week, a team from the Bridge Club at Georgia Tech won the American Contract Bridge League (ACBL) Collegiate Championship in Toronto, Canada.
After making it through a preliminary round of matches on Saturday, July 22, Tech players faced a team from the University of California, Berkeley, in the semifinals, defeating them 65-58. The final match on July 23 was against the University of Chicago, which Georgia Tech won 80-37 to claim the title. The Tech team also won a $12,000 prize in scholarship money to be divided among the team members.
Charles Wang, a member of the championship-winning team who graduated in May with degrees in chemistry and computer science, first learned bridge in high school but only recently began viewing it in competitive terms.
"After we qualified for the collegiate event, I started taking things more seriously," he said. "While I think I've improved a lot, I also realize that I've only just begun to grasp the subtleties and complexities of bridge. I still have a long way to go."
Wang described the Bridge Club as relaxed, where members meet to play and discuss the game. Giorgio Casinovi, senior research engineer in the School of Electrical and Computer Engineering, serves as faculty sponsor and coach and prepares short lessons for the group, along with Patty Tucker, a local bridge expert.
"She often comes by to give us additional lessons that have helped us improve greatly," Wang said. "She has also helped us practice against very good players, which I enjoyed a lot. They were helpful in improving our play."
Casinovi has advised the club for several years and has watched interest grow among students. Some join to play competitively, while others enjoy the social aspect of the game. The club encourages both, and welcomes players of any skill level.
"Our more experienced players are glad to teach new members the rules and techniques of the game," Casinovi said. "Everyone who plays in our weekly meetings has a good time, to the point that some of the games continue well into the late hours of the night. We invite all Tech students who enjoy playing cards to contact us or stop by one of our meetings and try their hand at a game that is intriguing and lots of fun to play."
The ACBL is recognized as the premier bridge organization in North America and has been hosting the collegiate championship since 1940. For the Tech team, this year's win was momentous for several reasons.
"We finally beat Berkeley, a team that had been giving us a lot of trouble, in the semifinals of a close game," Wang said. "It was also good to see the results of our training over the past few months."
Learn more about the group at its Facebook page and website.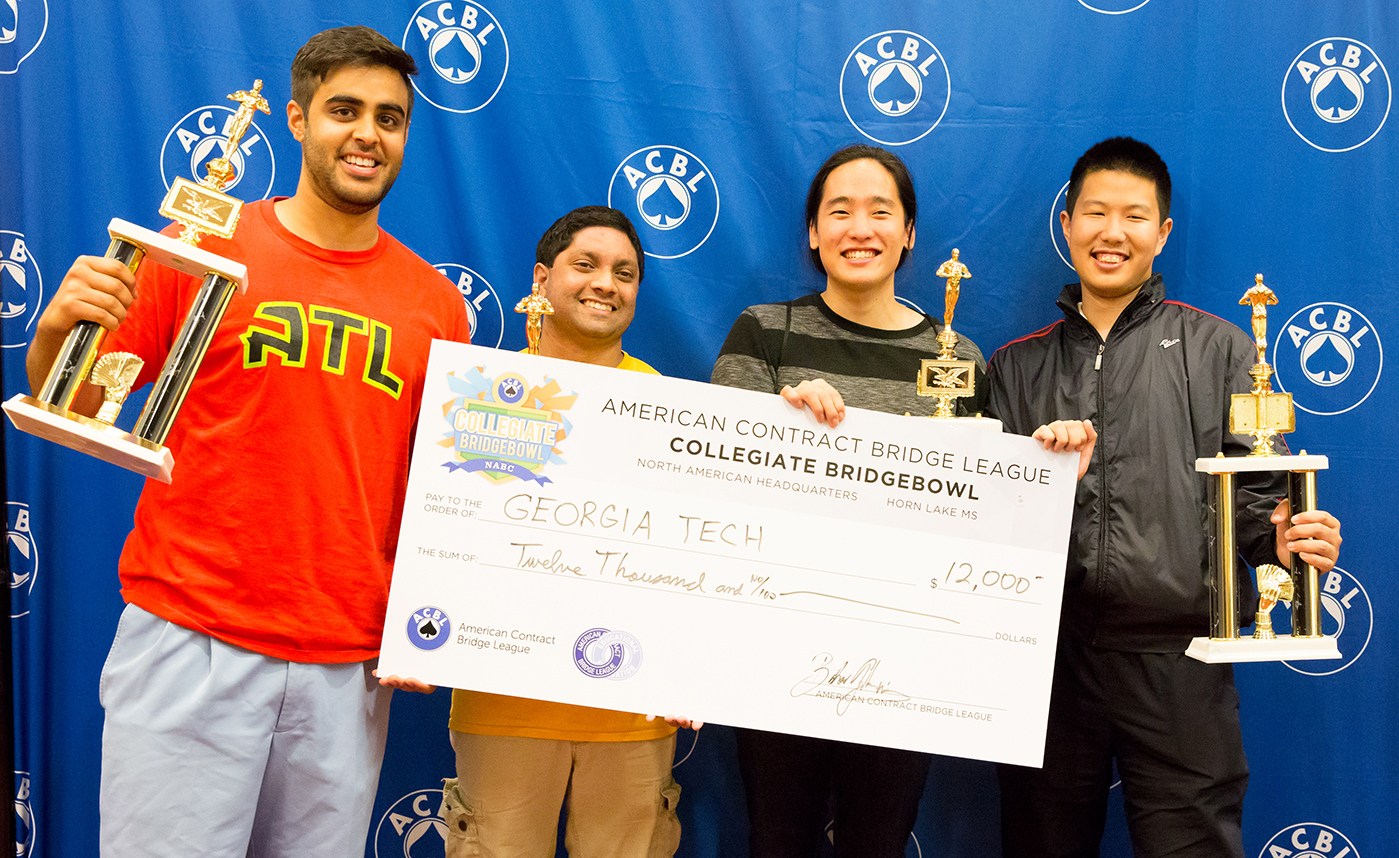 Georgia Tech won the 2017 Collegiate Bridge Bowl Championship: Arjun Dhir, Santhosh Karnik, Charles Wang and Zhuangdi Xu. In the final, they defeated the University of Chicago 80-37. Image courtesy of the North American Bridge Championships Daily Bulletin.