Georgia Tech Guarantees Admission to Georgia's Valedictorians, Salutatorians
The top two students from Georgia's public and private high schools will be automatically accepted to Georgia Tech.
Aug 17, 2017
— Atlanta, GA
The Georgia Institute of Technology will offer automatic acceptance to Georgia high school valedictorians and salutatorians under a new program that goes into effect with this year's graduating class.
President G.P. "Bud" Peterson unveiled the Georgia Tech Scholars Program Thursday during an assembly at Gilmer High School in Ellijay. House Speaker David Ralston along with students, school leaders and county officials attended the kickoff.
The initiative applies to students who graduate at the top of their class from any accredited Georgia public or private high school with 50 or more graduates. It is designed to increase exposure and access to Georgia Tech for the state's most prepared students.
"Georgia Tech has a long track record of partnering with Georgia K-12 schools to help young people prepare for college, and the Georgia Tech Scholars Program is an outgrowth of our commitment to improve college access for students from throughout the state," Peterson said. "While we are proud of our global reputation, we are equally as proud to serve many of Georgia's brightest undergraduate students. The Georgia Tech Scholars Program supports our ultimate goal to put a Georgia Tech education within reach of all qualified Georgia students."
The program will allow more deserving young students to attend the state's top colleges. The University of Georgia also offers automatic acceptance to Georgia students who graduate at the top of their class.
To become a Georgia Tech Scholar, students must be named either the valedictorian or salutatorian of their high school. Students must submit an application and have successfully completed the prerequisite course work for entrance to the Institute.
The new program is a continuation of Georgia Tech's commitment to benefit all Georgians and support economic development throughout the state.
"Combining this program with the HOPE Scholarship or the Zell Miller Scholarship makes for a winning combination for Georgia's young people," Ralston said.
Ralston, who graduated from UGA, added: "Let me just say that today we are all Yellow Jackets." 
While the new program promises admission to the top two graduates from each high school, the expectation is it will encourage other students to apply to Georgia Tech as well.
In 2014, Georgia Tech announced the APS Scholars, which guarantees admission and provides financial support to the top graduates from Atlanta Public Schools. Since the introduction of that program the number of students from the district applying to Georgia Tech has doubled.
Students admitted through the Georgia Tech Scholars Program will have various financial aid opportunities available including the Zell Miller Scholarship, Gov. Nathan Deal's REACH Georgia program and other state and federal financial aid programs. Students may also be eligible for the Georgia Tech Promise Program, which allows academically qualified students with demonstrated financial need to earn a degree debt-free.
While the majority of Georgia Tech's undergraduates come from Georgia, some of the state's best students are not applying to the Institute, said Rick Clark, director of undergraduate admission. This program aims to change that.
"Georgia Tech is committed to recruiting and enrolling the best students from across our state, and this program is a reflection of that vision," Clark said. "In order for Georgia to thrive economically in the future, it's imperative that Tech recruit, develop and graduate our state's top talent and cultivate innovation and entrepreneurship in business, technology and engineering."
Learn more about the Georgia Tech Scholars Program: http://admission.gatech.edu/gtscholars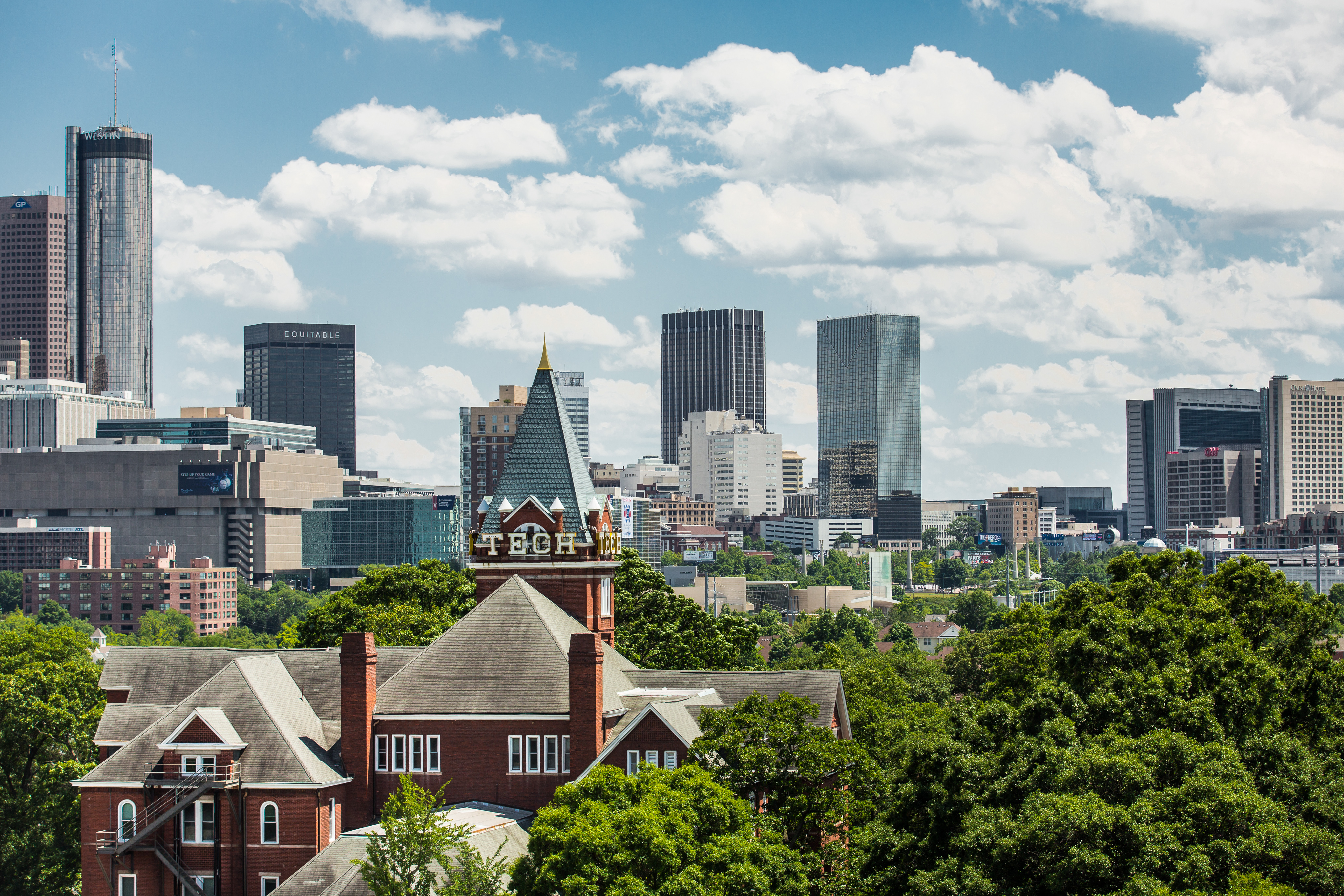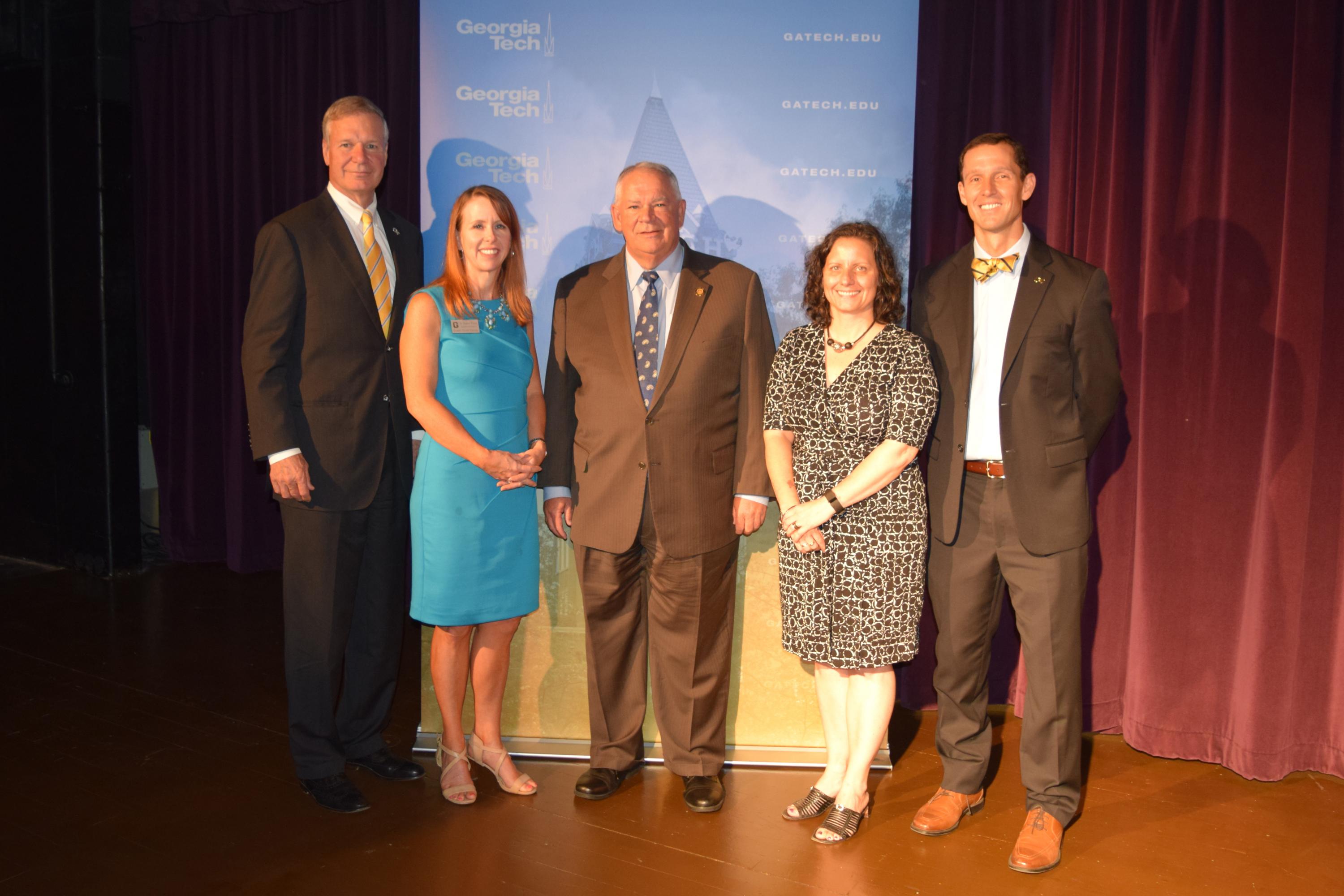 Georgia Tech unveiled the Georgia Tech Scholars Program during an assembly at at Gilmer High School in Ellijay. Attendees included (from left to right) President G.P. "Bud" Peterson, Gilmer County Superintendent Shanna Wilkes, House Speaker David Ralston, Gilmer High School Principal Carla Foley and Rick Clark, Georgia Tech's director of undergraduate admission.