Upcoming Concerts Highlight Music's Central Role at Tech
Two students highlight the ways in which music affects them personally and the Tech community at large.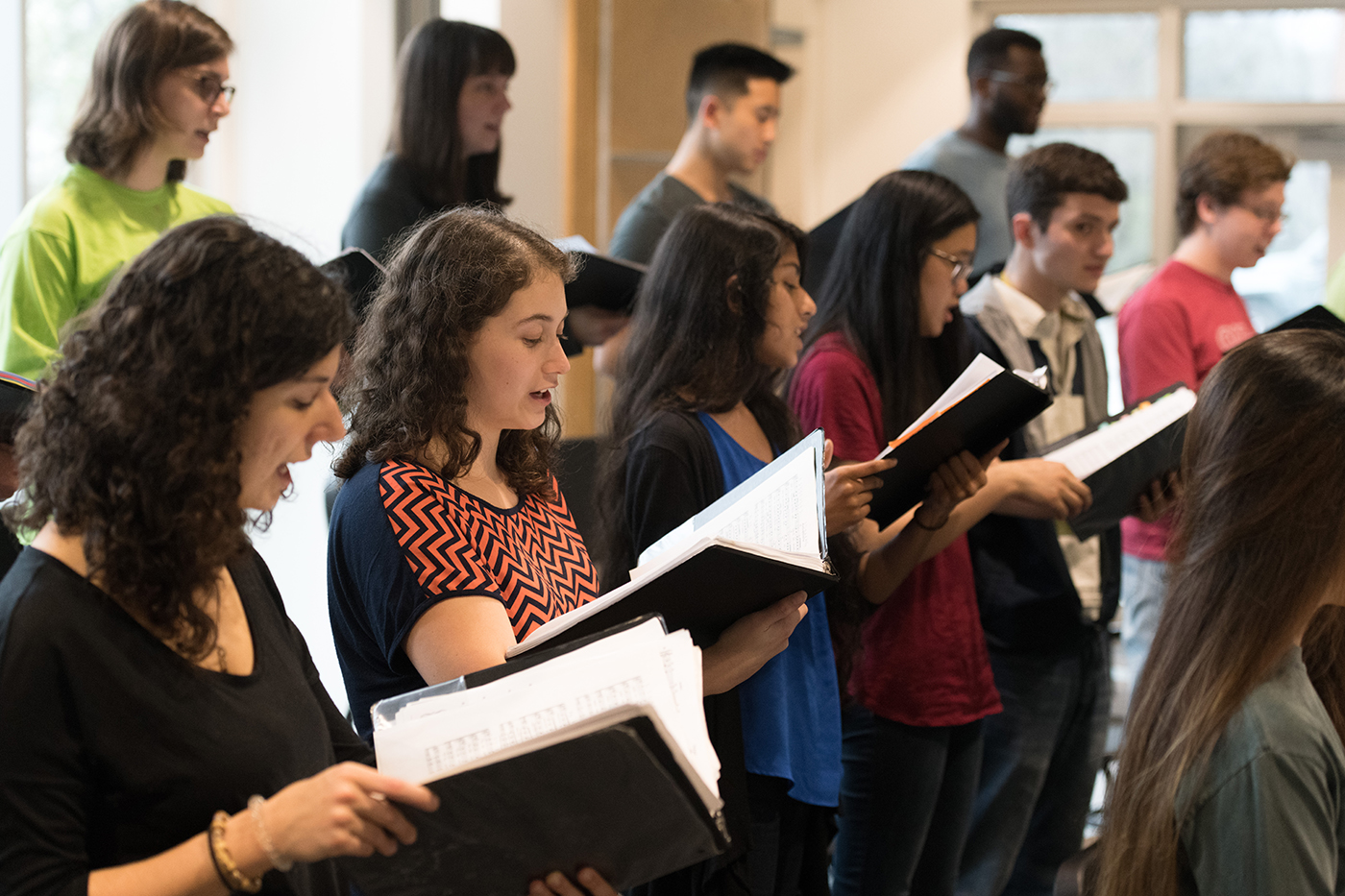 Chamber Choir Rehearsal
Mar 08, 2018 — Atlanta, GA
Georgia Tech is dedicated to technology and innovation. These words often evoke a very specific set of images: shiny, mechanical, new. But just as transformative are innovations developed centuries ago – a string tied to a hollow piece of wood or the harmonization of the human voice.
As with robotics or rocketry, musicianship is ever-present at Tech. Two students, one president of the Georgia Tech Chamber Choir and the other a member of the Chamber Orchestra, highlight the ways in which music affects them personally and the Tech community at large.
Students can experience music's impact first-hand at two upcoming performances. Chamber Choir will perform its semi-annual Pitch-a-Piece concert on Friday, March 9, at 8 p.m. in West Village, Room 175. On Sunday, March 11, Chamber Orchestra is hosting Beethoven Series III: Spring Series at 3 p.m. in the Ferst Center for the Arts.
Giuliana Stovall is a third-year civil engineering major with a minor in music. She joined the Georgia Tech Chamber Choir her freshman year and now serves as its president.
Many of her favorite performances have been Chamber Choir's Pitch-a-Piece concerts.
"It's called 'Pitch-a-Piece' because members actually pitch their ideas to the choir," said Stovall. "There are no limits to what we can sing. The upcoming performance will feature pieces ranging from Disney to classical to Rihanna."
Joining Chamber Choir was a natural step for Stovall, who grew up in Savannah, Georgia. She joined the Savannah Children's Choir when she was just six years old.
"It was a huge catalyst for me. Their mission was to 'unite children through the power of song,' and it really influenced me to continue as a vocalist," she said.
Stovall plans to keep music in her life. She wants to be an acoustic engineer, and says she intends to continue participating in choirs after she graduates.
"It's not just about the music itself, but creating music with others," she said. "Music is something that is universal, something that everyone can share in. People experience music in different ways, but you're sharing in that same experience. When you perform in a group, you are sharing a connection both with the other members of the choir and the audience."
Lovelyn Wirian is a second-year materials science and engineering major and a member of the Georgia Tech Chamber Orchestra. She said she chose to go to Tech because she knew she wanted to study STEM, and she liked that Tech put an emphasis on undergraduate research.
She got her start in musical performance playing the piano. Like Stovall, she started her craft when she was six at the urging of her parents. Wirian's high school made it mandatory that every student take a music class, but piano wasn't offered. So Wirian joined the school orchestra and decided to pick up a new instrument – the violin.
"My cousin was a violin player, and I really loved the sound it made," said Wirian. "It's a graceful instrument and easy to play in a group setting. People say that the violin is the instrument most closely related to the human soul."
She took to the violin instantly. By the time Wirian arrived at Tech, she knew that she wanted to keep the instrument in her life. Before her first semester, someone posted a link about orchestras at Tech on Facebook. Wirian contacted Chaowen. Ting, the conductor of Chamber Orchestra, and asked about auditions.
Now, Wirian says Chamber Orchestra gives her an outlet to perform with like-minded students who share her passion for music.
"It's a really tight-knit community," said Wirian.
The Chamber Orchestra's upcoming concert will feature a performance of Beethoven's Symphony No. 6.
"It is different from a lot of his other symphonies," said Wirian. "Each movement has a name and you can tell that it is really telling a story. The whole piece gives you a sensation of spring and new life."
The concert will also feature Polovetsian Dance by Borodin, which will be performed with the Georgia Tech Chorale, and the first and third movement of Mendelssohn's Concerto in E minor, which Wirian says has a sound that is fun and playful. Wirian hopes that students who may not have listened to much classical music will attend.
"If you've never really been to the orchestra before, I really would encourage you to come," she said. She noted that her love of the violin began with regularly attending the orchestra as a child. "You never know what you will discover."
Stovall and Wirian's stories underscore the important role music plays in the lives of many in the Tech community. All around Tech, students are experiencing and creating music. And good thing, too: College life can be stressful, and music is linked to lower rates of stress, better overall health, and higher creativity.
"When doing homework or studying for exams, I can sometimes get anxious," said Wirian. "Since classical music often has regular rhythm and flow, it can help me remain calm as I work."
Both Stovall and Wirian noted the many ways that students can get involved, or re-involved, with musical expression at Georgia Tech. A list of organizations that create, promote, or discuss music can be found on the student organizations page.
"There are so many opportunities to do music if you want to," said Stovall. "There are a cappella groups, orchestras, Chorale, Glee Club, Women's Choir, and so many other opportunities."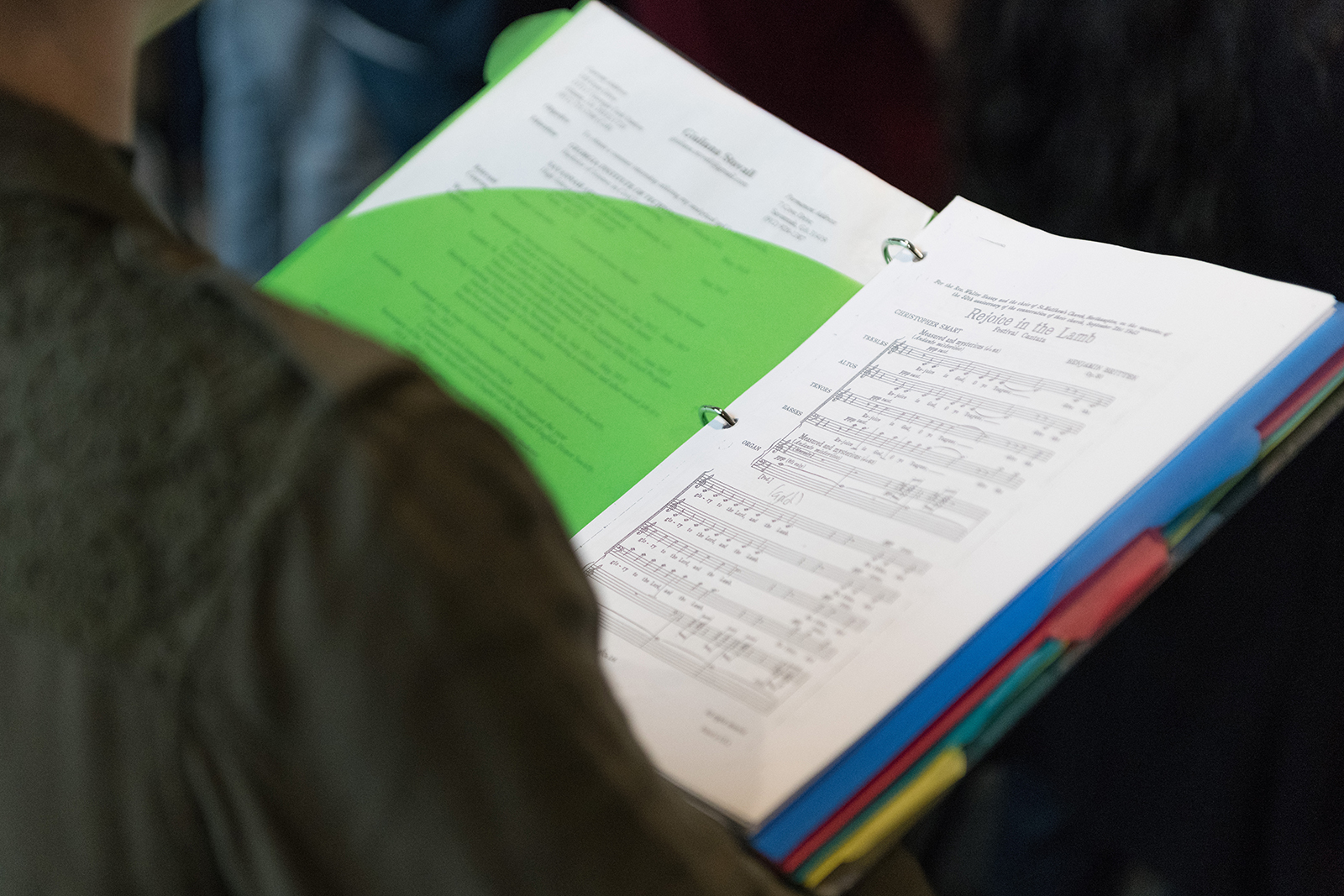 Chamber Choir rehearses for its upcoming performance in West Village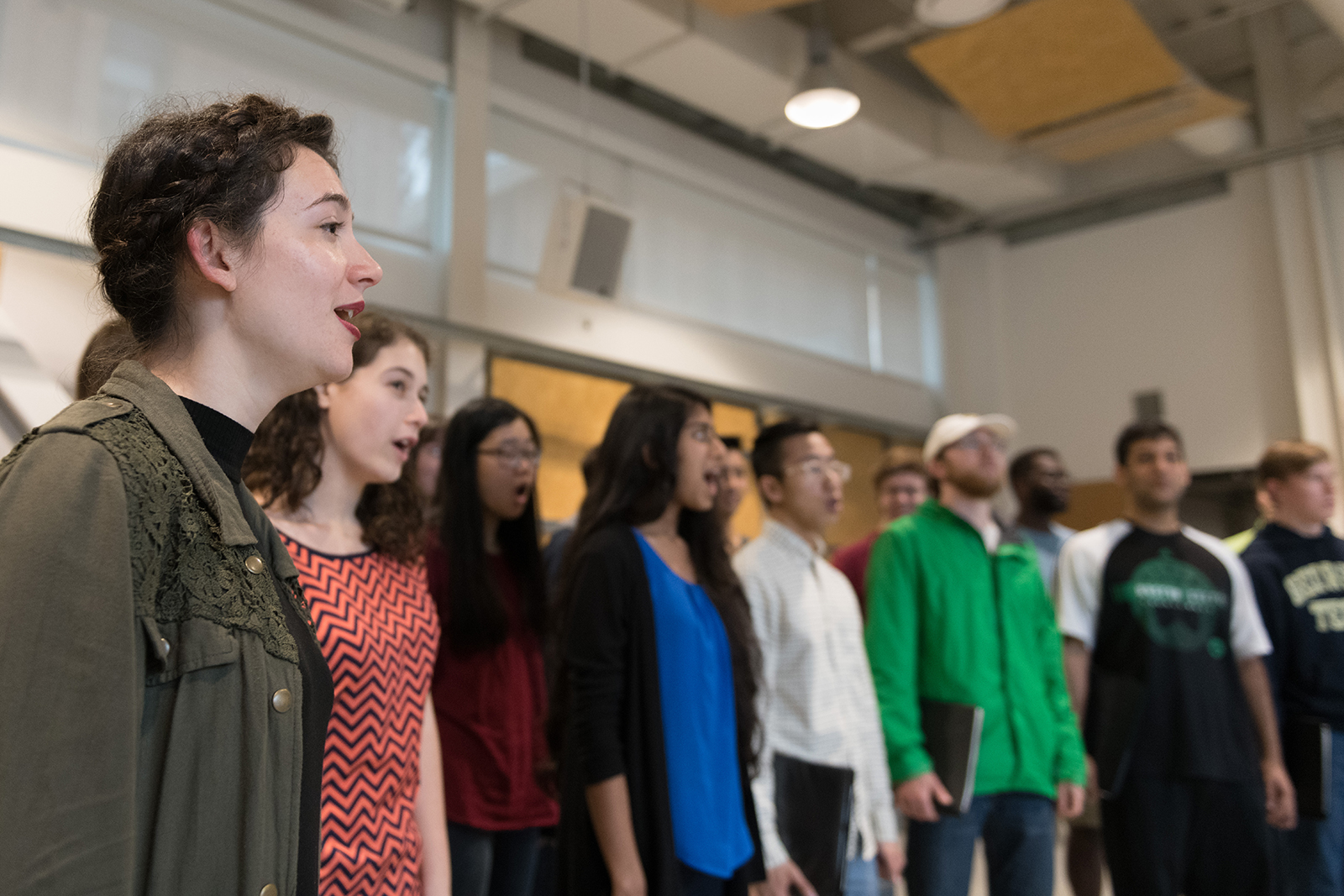 Guiliana Stovall (pictured at left) during Chamber Choir rehearsal