Wall Street on West Peachtree
Stock Exchange-style trading floor at Georgia Tech is cultivating a new generation of finance experts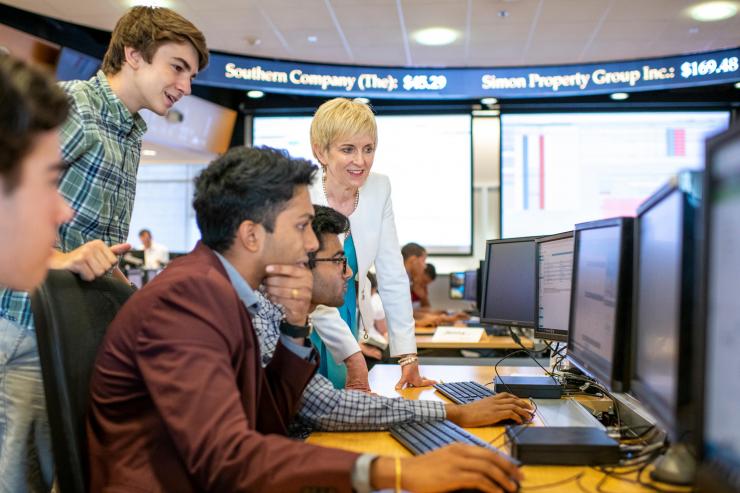 Scheller College of Business lecturer and finance expert Jacqueline Garner advises high school students on stock options at Georgia Tech's Wall Street on West Peachtree camp.
Jul 16, 2018 — Atlanta, GA
Georgia Tech was one of the first colleges in the country to build a Wall Street-style trading floor on campus, and inside we're creating the next generation of investment bankers, stock traders, and financial experts.
During the regular semester, you can find undergraduate students building Excel models and master's students from Georgia Tech's Quantitative and Computational Finance program hard at work in this 2,000-square-foot facility. But when summer rolls around, the high-tech haven is open to high school students who learn the ins and outs of personal finance and investment.
These young minds are starting early, learning how to calculate a mortgage and car payments and even finding about starting a retirement plan as early as possible.
"We talk about risk and return, living below your means, keeping low fees – some of those core fundamental topics of finance," says Jonathan Clarke, associate professor in the Ernest Scheller Jr. College of Business. "The younger you can start these conversations, the better off they'll be long-term."
The dual-display computers and scrolling stock information inside the trading room utilize much of the same technology employed by professional brokerage firms across the world. Students are broken up into groups where they buy and sell stocks based on up-to-the-second evaluations.
"At these workstations we are able to simulate a real-time trading environment," explains Jacqueline Garner, a lecturer in the Scheller College.
At the end of the week, the teams calculate the total profits they have made from their stock trading decisions.
"We discussed different strategies like buying when stocks are down or selling when they're up. I suggested buying Google and Starbucks stocks for my team," high school junior Zavan Croom explains.
"In the beginning we tried to play it safe and invest in what we thought were solid stocks," explains high school senior Audrey Jordan. "We went all in on a risky stock, and luckily it paid off. We went from last place to first."
"I think the competition element really makes this fun for these students," Garner says.
The Ferris-Goldsmith Trading Floor was made possible by generous gifts from a Georgia Tech alumnus and his wife, and the widow of a Georgia Tech graduate: Jere Goldsmith, a 1956 business graduate who retired as first vice president of investments at Merrill Lynch, and his late wife, Barbara; and Joyce Ferris, widow of Dakin Ferris Jr., a 1950 management graduate who served as vice chairman of Merrill Lynch.
"A lot of universities don't have a space like this," Garner says. "We're really lucky at Georgia Tech to have this."
"I love the two screens," Jordan says. "It feels like we're on a real trading floor."
As much fun as the students are having, the faculty are hoping for a more long-term pay off.
"I think a lot of people struggle with even the basics. Understanding how a mortgage works. Understanding how a retirement plan works. The sooner you can start understanding the better," Garner states.
"If we had more 20-year-olds and 30-year-olds prepared to make better financial decisions, we'd all see the benefit of that," says Clarke.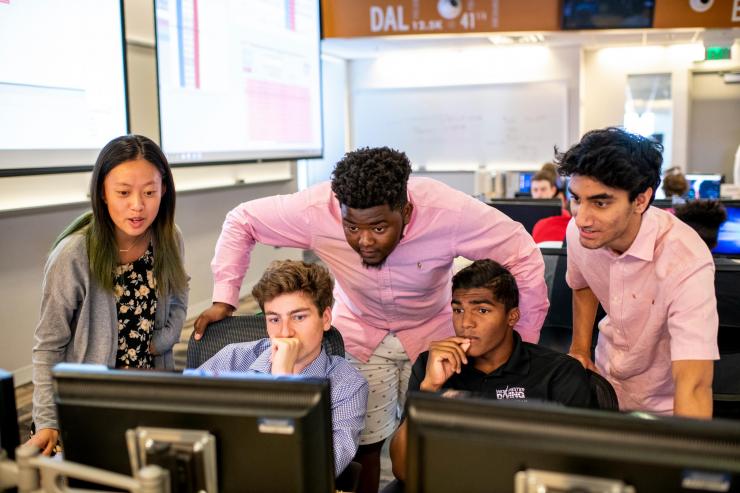 High School students in Georgia Tech's Wall Street on West Peachtree program anxiously watch stock returns as they compete to see who built the best portfolio of investments.