Georgia Tech Opens Newest Student Makerspace
The Van Leer Interdisciplinary Design Commons is the largest electronics-oriented student makerspace in the country.
Sep 27, 2018
— Atlanta, GA
What used to be an auditorium on Georgia Tech's campus is now the largest electronics-oriented student makerspace in the country. 
The new Van Leer Interdisciplinary Design Commons is open to electrical and computer engineering students, as well as students from other majors. Like other makerspaces on campus, this center offers students a hands-on learning environment where they can work together to solve technology design challenges.
Any student who comes to the center with an idea will be able to leave with a prototype they built, said Randy Deng, president of The Hive, the student group overseeing the space. 
"We provide students with equipment, assistance and most importantly, a friendly community to collaborate and create with," he said. "Students are always pleasantly surprised when they learn that this is a dedicated space for everyone to build things."
The makerspace is fully staffed and run by trained student instructors. Deng was one of several speakers at Thursday's dedication of the new space. 
"Speaking with students, I've been met with nothing but excitement over the variety of equipment we have, the projects in the collaboration areas, and the community and people that we attract," Deng said. "It is when students want to be here and find value in this space that we are at our best. I can't emphasize enough just how much this space already means to everyone."
The Interdisciplinary Design Commons is a three-floor building, and each floor has a different technical focus. The first floor features a woodshop, 3D printers, laser cutters and a plasma cutter. The second hosts lab benches equipped with function generators, multimeters, power supplies, soldering irons and additional benchtop equipment. The third floor includes computers and embedded systems equipment.
The $11 million renovation of Van Leer received financial support from alumni and corporate donors. Texas Instruments gave $3.2 million to the project and the plaza and second floor are named for the company. The first floor is named for the Harris Corporation, in recognition of their $2 million gift. 
President G.P. "Bud" Peterson imagined the many innovations that will trace their roots to the Van Leer Interdisciplinary Design Commons
"One of our goals is to instill entrepreneurial confidence in our students through courses, student competitions and spaces for design," he said. "This open, beautifully designed makerspace provides access to premier equipment that is industry standard, giving students access to hands-on design projects that are woven throughout the curriculum."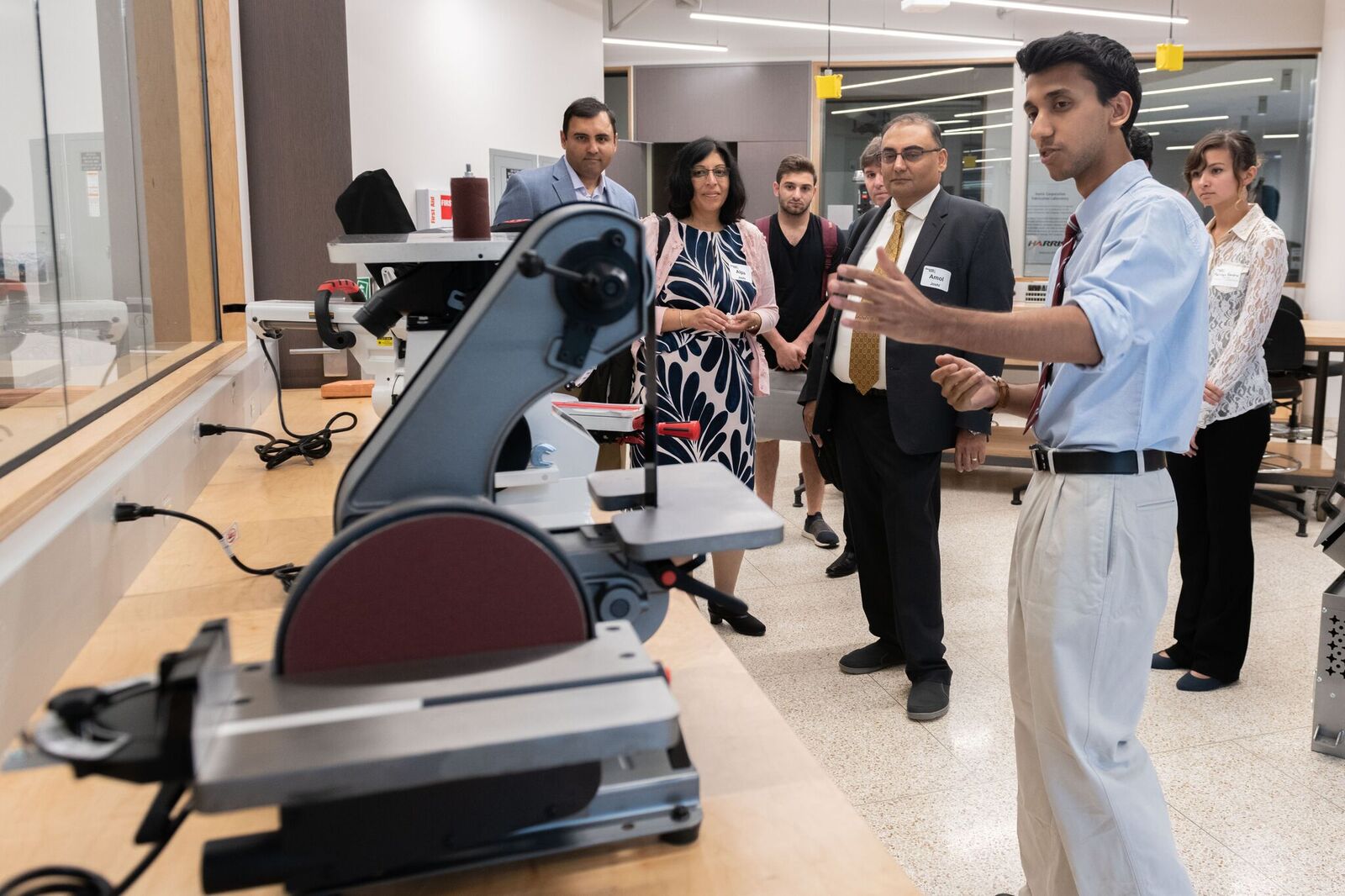 Students show donors and guests the equipment in the new Texas Instruments Makerspace in the Van Leer Building.