Next Class of Yellow Jackets Gets Admission Decisions
Approximately 7,000 students were admitted to Georgia Tech between Early Action and Regular Decision rounds this year. Around 1,750 learned of their acceptance this weekend.
Mar 09, 2019
— Atlanta, GA
As Regular Decision notifications were released March 9, Georgia Tech reported another record for applications, with a total of 36,936 students having applied for admission for the next first-year class. This represents a nearly 4 percent increase from last year.
Approximately 7,000 students were admitted to Georgia Tech between Early Action and Regular Decision rounds this year. Students were admitted from all 50 states and from 96 countries. Around 2,860 learned of their acceptance this weekend.
Although applications have continued to climb in recent years, Tech's first-year class size has remained largely unchanged, which means the admit rate continues to fall. This year, Tech's admit rate is an overall 18.8 percent (37.7 percent for in-state residents, and 14.9 percent for non-Georgia residents). Around 10 percent of applicants received a waitlist offer, and about 6,000 students are being offered a transfer pathway.
Transfer pathway programs provide students the opportunity to complete a set number of classes at another institution and transfer to Georgia Tech the following fall. Tech now has six pathway programs that provide a wide range of students the opportunity to ultimately become a Yellow Jacket.  
"We're seeing these pathways work, as more than 300 students applied for fall transfer this year via a pathway program," said Mary Tipton Woolley, senior associate director for Undergraduate Admission.
Apart from the transfer pathways, about 15 percent of first-year students come to Tech in the iGniTe Summer Program, which helps students launch their college career by focusing on areas such as leadership, innovation, sustainability, and research.
The admitted pool also includes more than 400 Georgia Tech or Atlanta Public School Scholars — students who are valedictorians or salutatorians of their graduating class and received automatic acceptance.
Tech's Undergraduate Admission team delivered some acceptance packets in person on Friday, including in Cairo, Georgia, where families were affected by a recent tornado. In addition to good news for some students, staff members took donations to the school to help with disaster recovery efforts.
Jalyn Ross, a student at Cairo High School, was surprised to learn in person that she had been accepted.
"I thought it was coming tomorrow at noon — I had it marked on my calendar," she said. The early news was welcome, though. "I was just elated," she said.
Her best friend Meredith Renaud was accepted into Tech during Early Action and was also recognized at Cairo High School on Friday. Georgia Tech is Renaud's dream school, and she looks forward to using what she learns in college to help her town keep pushing forward.
"I want to be able to come back during holidays and share what I learn so that I can help Cairo advance into the next generation," she said.
Now that Regular Decision notifications have been released, Undergraduate Admission will direct its full attention to families and students visiting in the coming weeks. Capacity will be expanded for information sessions, and students accepted during Regular Decision are invited to Gold Carpet Day on April 8.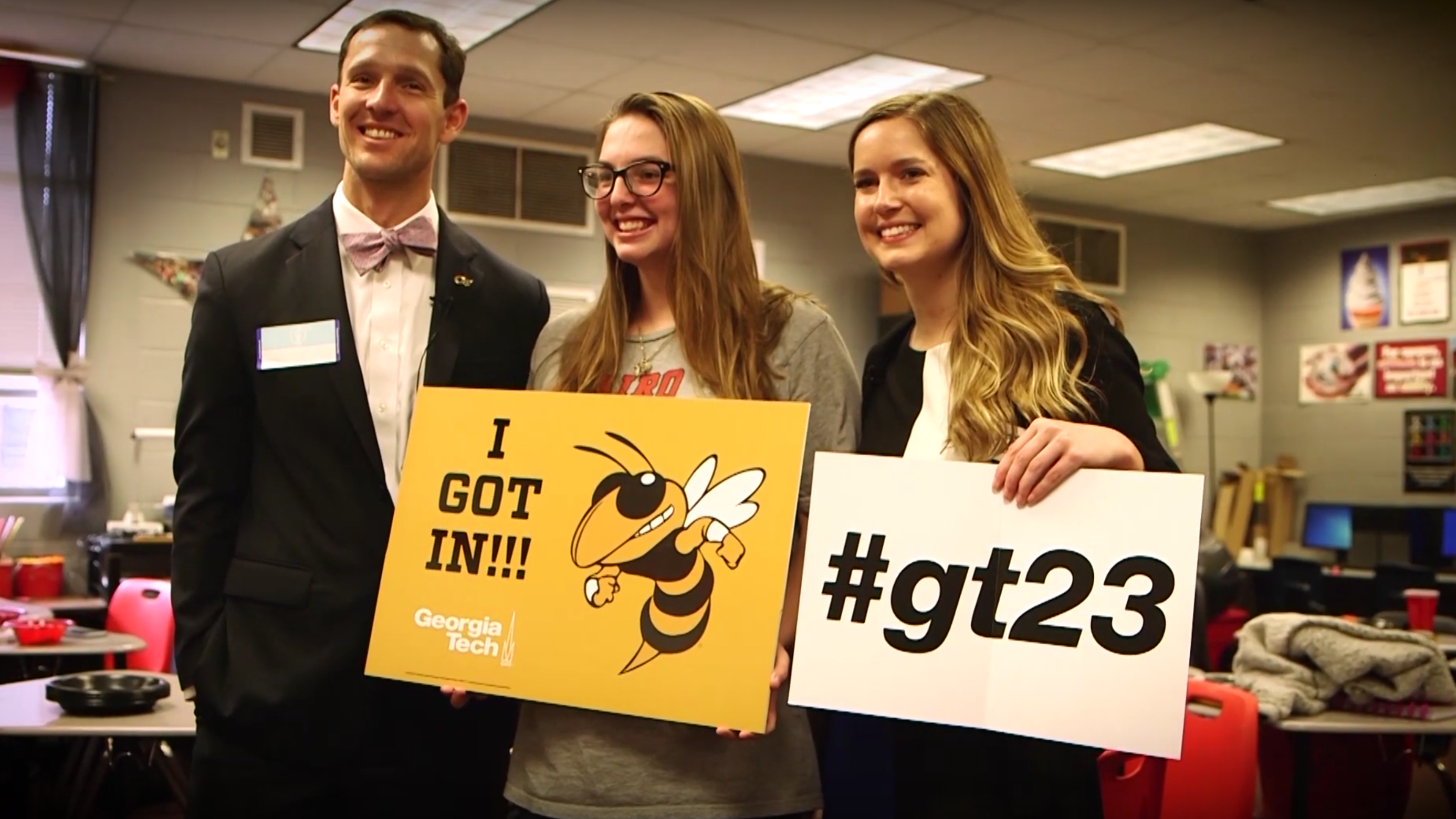 (L-R) Rick Clark, director of Undergraduate Admission; Meredith Renaud, admitted student; Caroline Cox, admission advisor